WordPress vs Typepad vs Squarespace (Alternatives to WordPress 2023)

If you are searching for alternatives to WordPress, there are quite a few alternatives available. Blogger was once one of the most viable alternatives to WordPress. However, Blogger is slowly decreasing in popularity over the last few years. That is why there have been new alternatives to WordPress. Such as Wix, Squarespace, Medium, Ghost, Tumblr and more.
Among many alternatives to WordPress are Typepad and Squarespace. In this article, we are going to compare three different platforms, starting with Typepad, then Squarespace and at the end, WordPress. We will also cover the pros and cons of each platform.
Typepad (Free to try for 14 Days)
Squarespace (Premium)
WordPress.com (free | paid) / WordPress.org (free)
Is Typepad One of the Good Alternatives to WordPress?
Well, it depends. Everyone does not require the same level of functionality. Therefore, one product cannot satisfy all the users. Typepad has been operating since 2003 and has been in the blogging services for the last 15 years. Typepad is owned by Endurance International Group, previously owned by SAY Media.

Typepad is a managed blogging platform like WordPress.com
Typepad is a reliable, flexible blogging platform that puts the publisher in control
To create a website under Typepad, you first have to sign up. While signing up you would be able to choose your preferred subdomain under typepad.com. After signing up and a successful login, you would be greeted with a welcome screen like this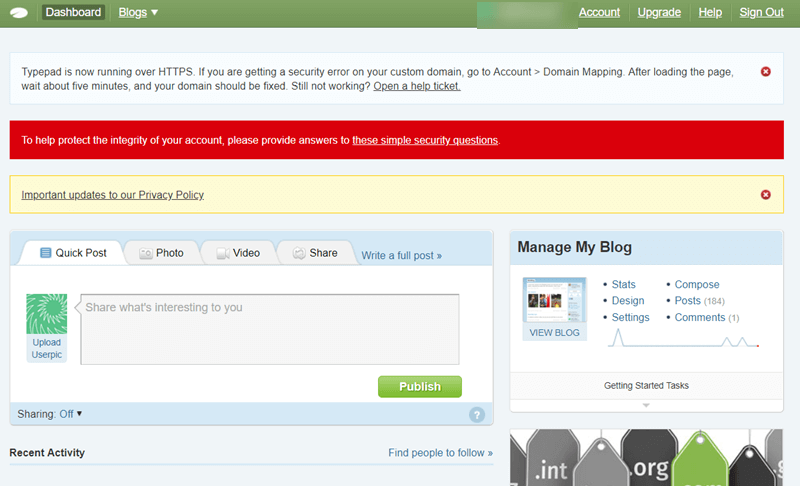 Typepad provides a complete blog management software. They take care of all the hard stuff like domain, hosting etc. You can create blog posts, quick posts using the user interface.
They also provide some recommended contents from other Typepad users.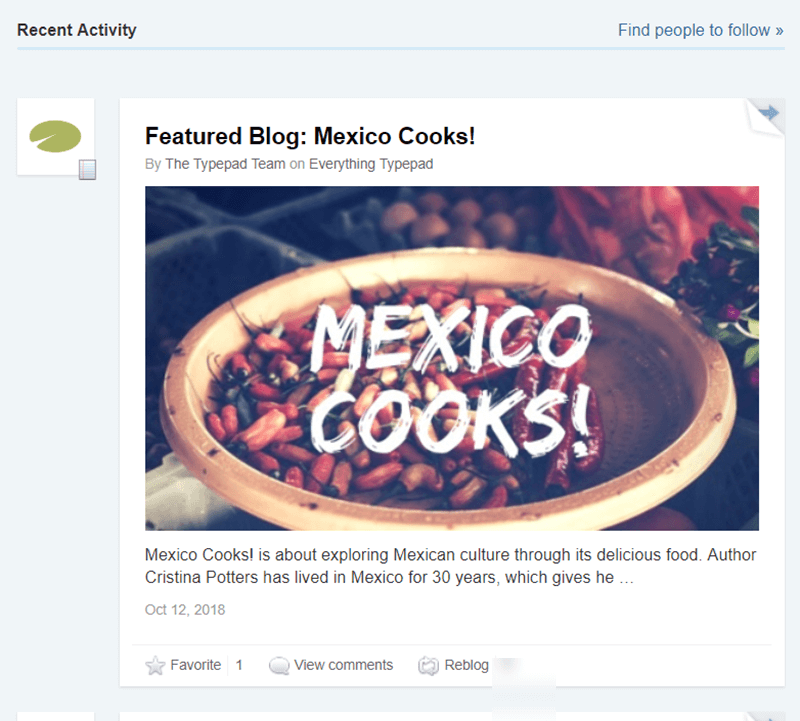 Writing a Full Post in Typepad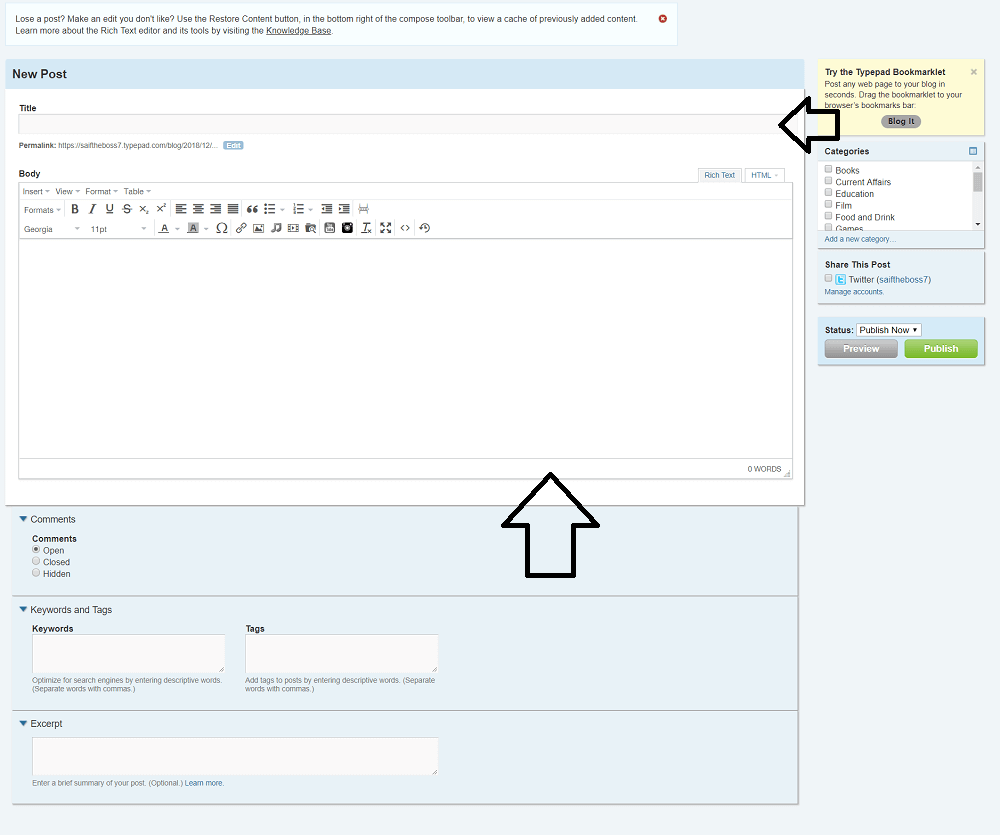 Typepad provides a full writing editor. You can use TinyMCE editor to edit your posts. You can use bold/italic/strikethrough and other standard features to make your content beautiful.
It also provides the option to add keywords and tags which are helpful for SEO. However, as far the customization goes, you are stuck with the default set of options they provide. You cannot add more fields other than the provided one. (which is not the case for WordPress, as you can install plugins)
Design
You can choose new designs for your Typepad blog. However, if you are trying out the free version, you have to pay for using new designs.
Typepad Pros
Hosting, domain etc are managed by Typepad. No need to think about how to scale and host the website
Easy to use UI
Have SEO options
Fully managed.
Security is overseen by Typepad.
Basic Features are free
Typepad Cons
Customization options are limited.
The overall website design looks dated.
You have to upgrade to paid services for good designs. (minimum subscription costs $8.9/mo)
Extensibility is limited
No support for eCommerce or Marketplace
Now, let's talk about Squarespace and compare how it stacks up against the competition.
Is Squarespace One of the Good Alternatives to WordPress?
Squarespace is one of the great alternatives to WordPress. It has been competing in the managed blogging platform since 2003. Squarespace is a completely premium blogging platform. Although you can try the platform without Credit Card.
After signing up, you will be able to choose templates for how your site should look:
Squarespace provides one single unified interface to control everything.
You can change your content
Tweak designs as you like
Add custom CSS Classes
Add support for Google analytics
Control the appearance of social share buttons
Control the basic SEO settings
You can even design your website using drag and drop content builder.
Squarespace also supports eCommerce. Although, the eCommerce support is limited compared to WordPress as you can create multi-vendor e-commerce shop easily. In addition to regular eCommerce features, one of the great features of Squarespace is that it has the ability to send built-in-cart recovery emails. You can also do that in WordPress with 3rd party plugins. Squarespace supports only the following payment gateways,
Apple Pay
PayPal
Stripe
In WordPress, you can add many payment gateways.
One of the major drawbacks of Squarespace in eCommerce is that Squarespace charges 2-3% transaction fee unless you upgrade to the eCommerce plan (costs $30/mo). Hence, if you want to run an eCommerce store on Squarespace and avoid transaction fees, you're looking around $312 per year minimum (which is a lot comparing to WordPress)
Interesting Fact: Did you know WordPress, Squarespace and Typepad – all started in the same year, 2003?
WordPress
When comparing WordPress with the other two platforms we found WordPress is easier than those two. WordPress is the most popular website builder around the web. More than 32% of the websites are now using WordPress every day. WordPress released version 5.0 on December 6 with major new editing features.
14 Reasons to Choose WordPress over Squarespace or Typepad
At least 5x more resources
Completely Free!
Easy to learn as video tutorials are available
Cost-effective
Both managed version of WordPress and hosted version of WordPress is free.
This is the most crucial. Thousands of plugins are available to extend your website's functionalities. (Check our pick of best WordPress plugins)
Great eCommerce support with WooCommerce and Dokan.
Great Pagespeed
Great organization of content with tags, categories, posts, and pages
The WordPress core team and community have made a huge contribution in turning WordPress into an easily accessible tool for beginners and experts alike. And just because Squarespace seems a bit easier at first doesn't mean WordPress isn't easy. When you decide to move forward with WordPress, you'll have more:
Flexibility
Functionality
Ownership
Also, you will save more money.
Wrapping Up
All the three platforms have some pros and cons. But if you think overall, then the answer is pretty clear. WordPress wins! However, if you feel comfortable on other platforms, it is completely okay to keep using that platform.
Security is always important in all the platforms. If you want to keep your WordPress website secured, follow our WordPress Security Guide.
https://wphive.com/reviews/wordpress-vs-typepad-vs-squarespace-updated-2019/
Saif Hassan
Product Manager by passion & profession. Lead Product Manager at weDevs, former PM @ Poptin. Passionate about writing & tech. He's an advocate of Human-Centered Design and believes that websites and the tools used to build them should be well crafted, intuitive, and accessible. Cyclist. Reader. A WordPress ninja 🥷, HCI expert & a design thinker 💡

Subscribe To Our Newsletter