Share the post "3 Easy Ways to Add Social Share Buttons in WordPress [Step by Step]"
Social Media plays a significant role to promote your content or website in the current age. If you are looking to add social share buttons in WordPress, you might be already confused by thousands of WordPress plugins. Fear not, in this article we are going to cover three easy ways to add social share buttons in WordPress.
What are Social Share Buttons in WordPress?
Social Share buttons are links to social media platforms such as Facebook, Twitter, Google Plus and Linkedin. These buttons help users to share an article on relevant social media websites with ease. One can share an article using just one click.

What are the Best Social Media Plugins for WordPress (2018)?
Over time, there have been many social share plugins for WordPress. Some plugins were left by developers; some still are used by thousands of users. Here is a list of some of the most popular social media plugins for WordPress
Currently, Jetpack Social Share looks like this. Jetpack adds the social share bar after every post.

Jetpack
Add To Any Share Buttons
Social Warfare
Monarch
Simple Social icons
Social Media Widget
Social Media Feather
Sassy Social Share
WP Social Sharing (Featured in WPHive's Best WordPress Plugins List )
Juiz Social Post Sharer (Featured in WPHive's Best WordPress Plugins List – Winner)
Using Jetpack to Add Social Share Buttons in WordPress
Jetpack is a great plugin that packs tons of features. The plugin was created by Automattic (parent company of WordPress.com) for WordPress.com websites. Jetpack has many different sections.
For example, site stats, optimization, comments, SEO, and sharing. The sharing module of Jetpack allows one to add social share buttons to WordPress easily. Your readers can instantly share your content on their social media channels.
Currently, Jetpack supports:
Twitter
Facebook
Google+
LinkedIn
Whatsapp
Telegram
… and many more networks
Set up Jetpack to Enable Social Share Buttons
Setting Up Jetpack Social Share is pretty easy too. To install the Jetpack plugin, you can simply search and install the plugin. If you do not know how to install WordPress plugin, refer to Install WordPress Plugins in the easiest way. To begin, select Plugins → Add New from your WordPress menu.

Type Jetpack into the search function and then select Install Now → Activate.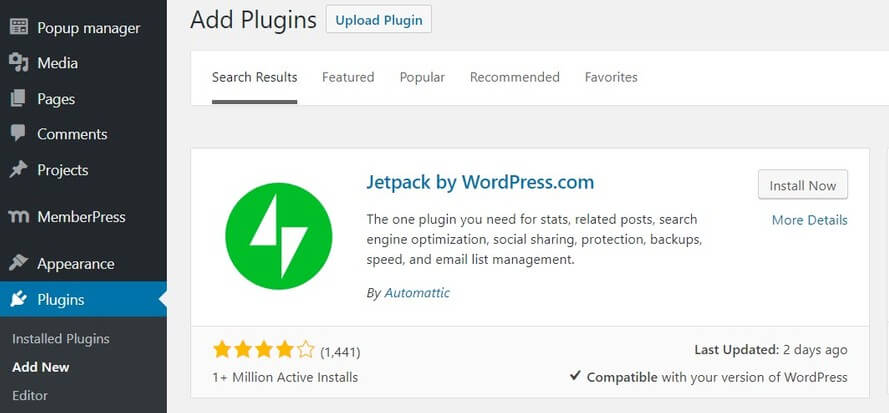 You will now be asked to connect your website to WordPress.com to enable Jetpack to work on your site. To do so, you will need to register with WordPress.com, or simply if you already have a WordPress.com account.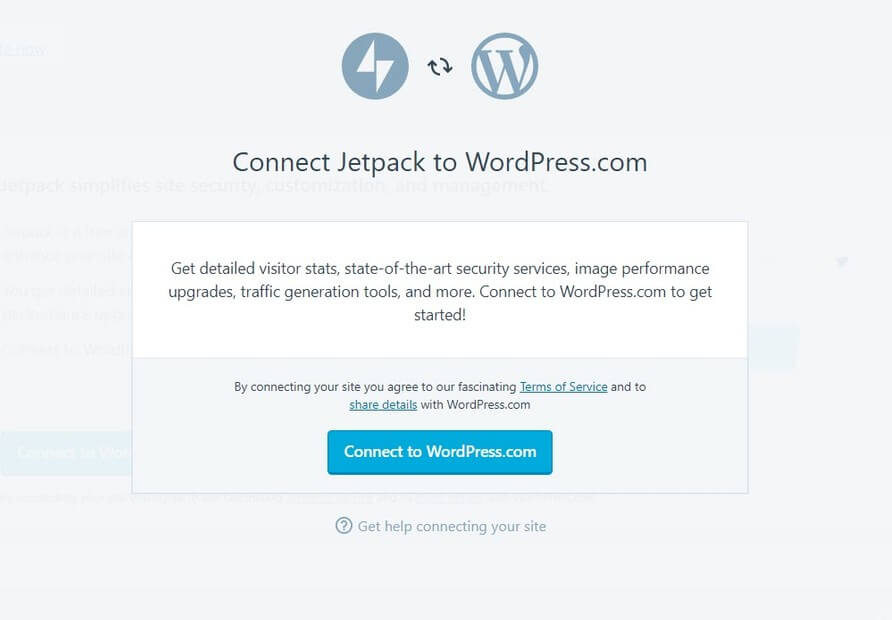 Next, you will be asked to Approve the syncing of your website with WordPress.com.
Once connected, click the Start for Free button to continue (you don't need to pay for the Sharing functionality). You will now be returned to your website where you will find a Jetpack menu has been added to your WordPress dashboard.
Activating Social Share Buttons in Jetpack
To activate sharing buttons, navigate to Jetpack → Settings → Sharing.
Here, under Sharing buttons, turn on the Add sharing buttons to your posts button.

Next, from your WordPress menu, select Settings → Sharing.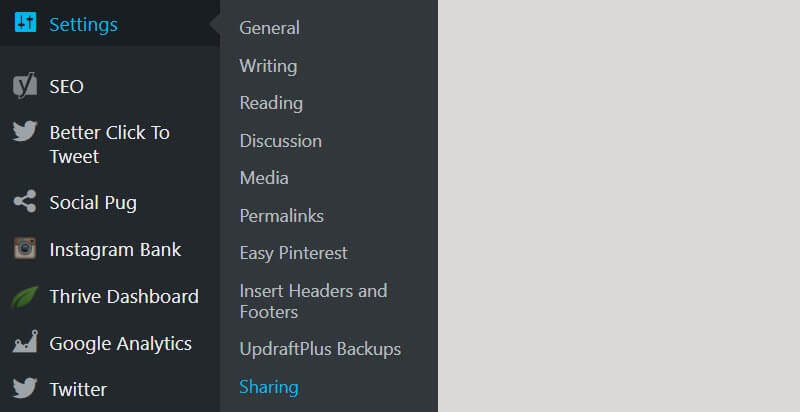 Under Sharing Buttons, drag the services that you want to add in the Enabled Services box. There is also an option to hide services behind a generic share button.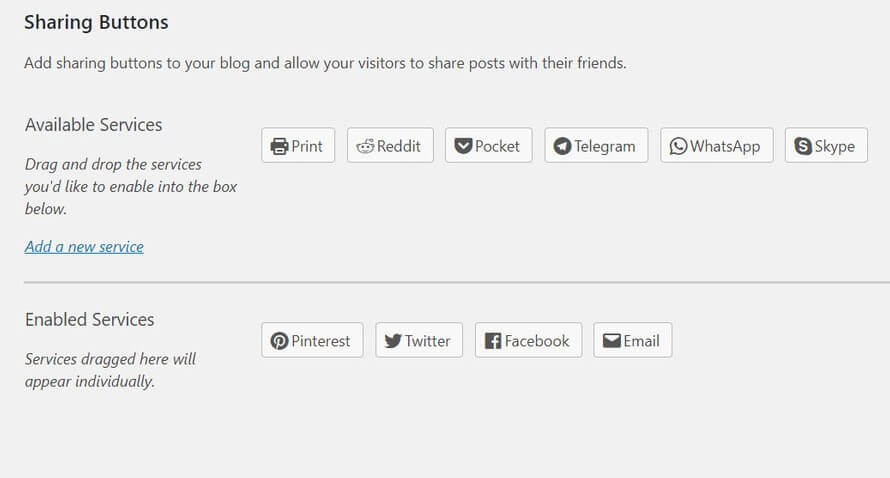 You can also do the following from the settings page.
Modify the look and position of your sharing buttons
Alter the button style
Change the labeling
Decide whether you want your buttons displayed on posts, pages, homepage, and media
Once you've made some selections, you can check your changes under Live Preview to see if they work with your website's design.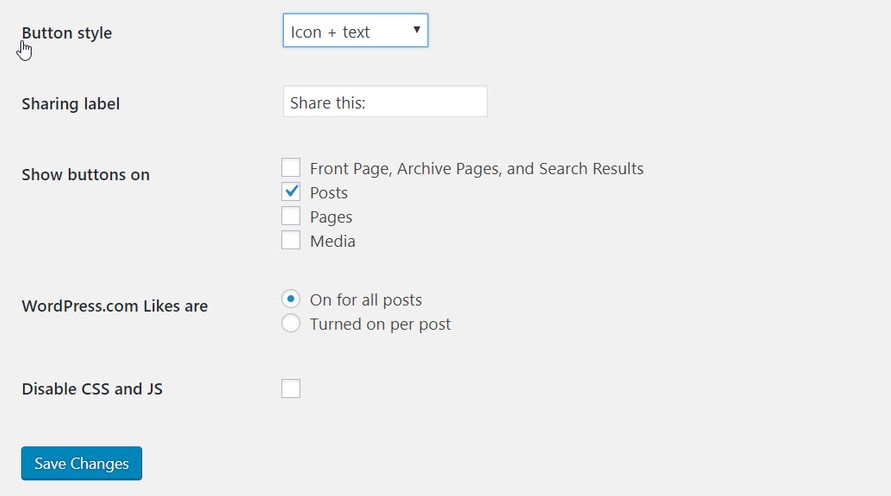 Once finished, select Save Changes at the bottom of the page.
Use Add to Any to Add Social Share Buttons to WordPress
Add to Any is a great social sharing plugin that has been around for a long time. We have used the plugin on and off during the years.

Just install the plugin by typing the name on your WordPress plugins section.
How to Install a WordPress Plugin – Step by Step for Beginners
Once installed, you can go to Settings → AddToAny to configure plugin specific settings.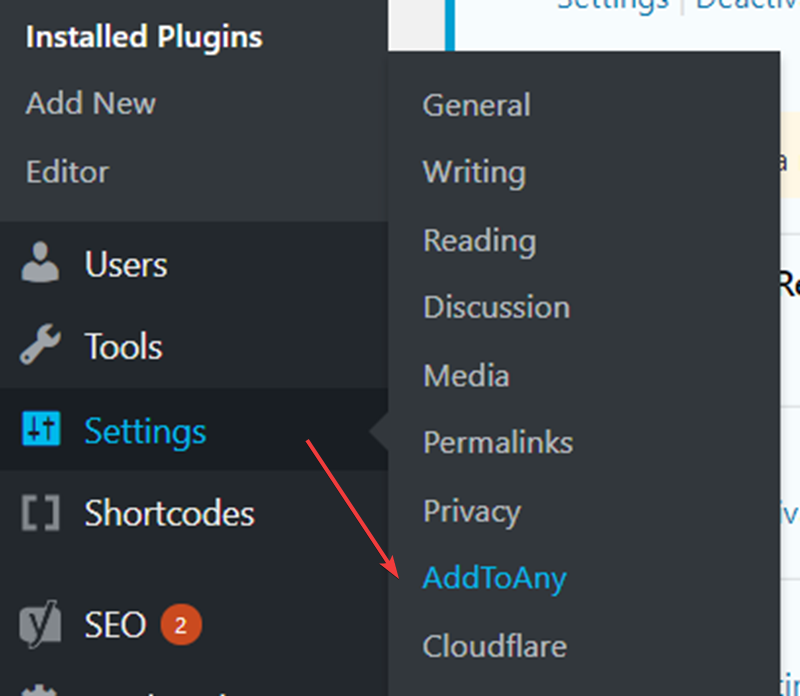 Add to any offers a tremendous amount of customization. As you can see from the image, the plugin supports more than 96 social networks. So you have got all your sharing buttons under one service.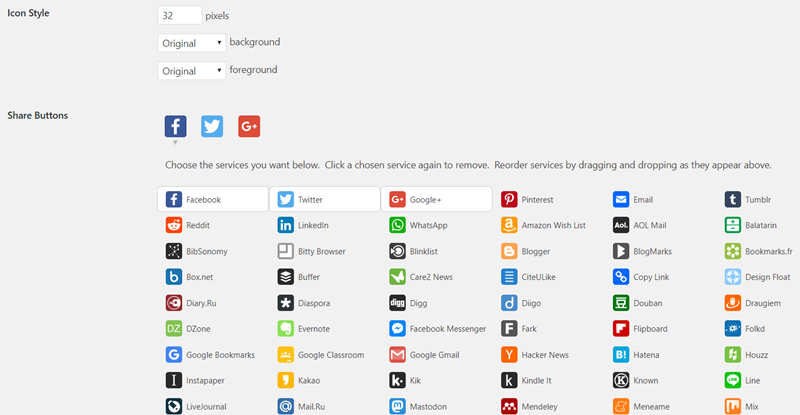 Add to any offers
Great customization
Icon sizing
Hiding other social networks behind a convenient button
Custom CSS Support
Our Favorite: Juiz Social Post Sharer
As we mentioned in our last coverage on Best WordPress Plugins (2018) Juiz Social Post Sharer caught our eye.
If you are looking for something less sophisticated, but fast and simple, then do this underrated plugin a try.
You can add smartly designed buttons after/before your posts to allow visitors sharing your content (includes no JavaScript mode & counters). This plugin has 4.5 stars due to the incredibly fast loading time. Most of the social sharing buttons use a javascript to add social sharing functionality. However, if speed is your primary concern, then Juiz Social Post Sharer can be very helpful for you. Certainly, a fast loading website matters more! Check out the best tips to speed up your WordPress website.
Juiz Social Post sharer currently supports the following social networks
Facebook
Google+
LinkedIn
Pinterest
Reddit
StumbleUpon
Tumblr and more.
Configuring Juiz Social Post Sharer
To configure the plugin, go to Settings → Social Post Sharer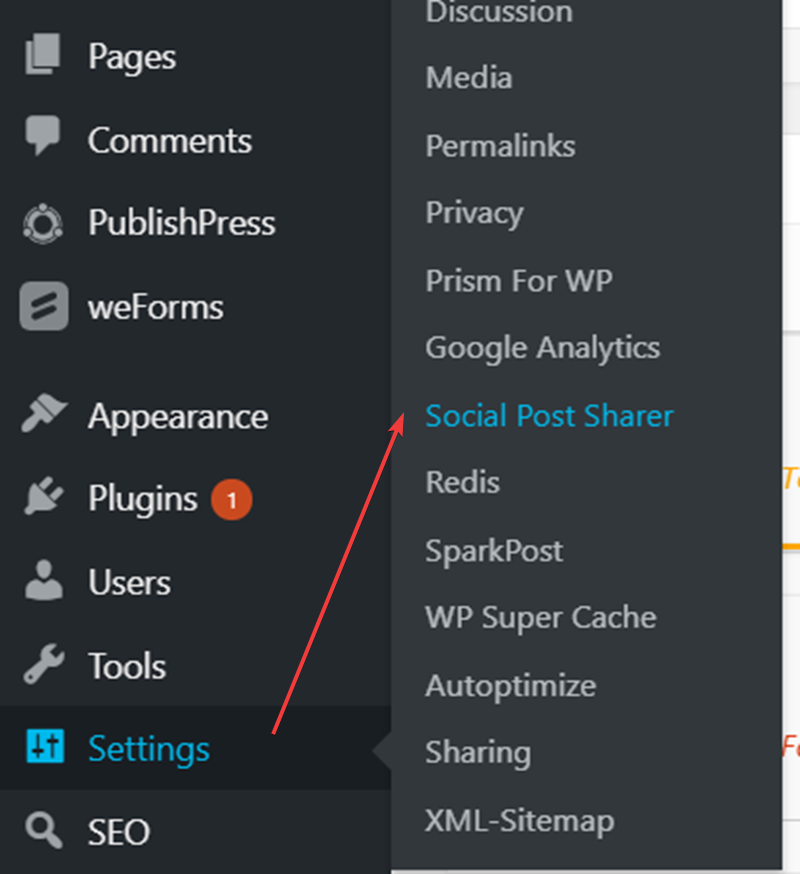 If you go to settings, you can choose from the eight sleek looking different designs that the plugin offers.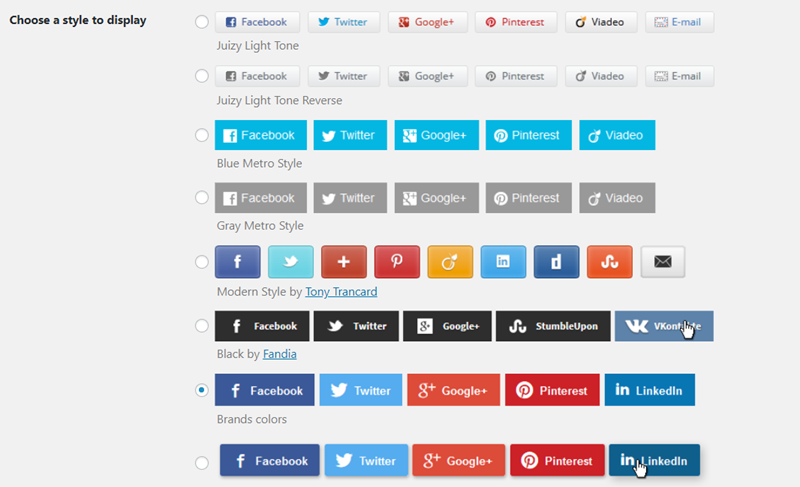 The X Factor
The coolest thing about this plugin is the slid animation. You can check the demo on our website.


To enable this animation, you have to enable "Show only social icon" as following.
Wrapping on WordPress Social Share Plugins
There are thousands of WordPress social plugins out there. We have not tested all of them. If you think we have missed any of your favorites, do let us know via comments.
Also check out our coverage of best WordPress plugins of this year, where we featured some of the best plugins from each category. If you are concerned about your website's security then check our WordPress Security Guideline to fix vulnerabilities of your WordPress website.