Easiest Way To Integrate Google Translator with WordPress (2023)

Does your WordPress website support Multilingual? It is a very important question if you are trying to spread your content around the world.
Nowadays websites are accessed around the world and unfortunately, not every website support multilingualism. Google Translator with WordPress is the best thing to translate a page from one language to another, but it is not 100% accurate most of the time. However, it is one of the quickest and easiest ways to make your site accessible to people who speak different languages.
In this article, I will demonstrate how to integrate Google Translate to your WordPress website using the Google Language Translator plugin.
What is Google Translate?
For those who haven't any idea about Google Translate, It is a service that allows visitors to instantly translate the entire website or blog into different languages.
The visitors just need to click on a button to change the language of any site.
Why Do you Need Google Translate on your Website?
Imagine, you are running a restaurant/hotel in a tourist city. Your customers are mostly tourists from different countries and think about not having a translation feature on your website.
Just think, How will they order food or check out your menus? How will they book rooms?
Google Translate can help fill the void when someone does not understand a particular sentence structure. Many websites are using Google Translate and so should you.
Types of Translations
Translation plugins for WordPress are varied and offer all kinds of different solutions for localizing your site. Typically, translation plugins have three groups:
Machine translation: This type of translation relies directly on online translation services to convert the words on your site into other languages. There's no human interaction and that's why this type of translation is faster, it's usually prone to errors and can output gibberish.
Human translation: This is a professional translation that is done by a real human. Services like Weglot, WMPL, and others offer professional translation services.
Self-translation: Some plugins require to translate content yourself or find someone who can do it for you. You load your translated content into your site and visitors can switch between different languages you've provided. This feature is incredibly time-consuming but allows you to control the quality of your translated content.
Some translation plugind provide one or more of the translation types above. For instance, when using a machine translation type plugin, you can edit and correct any errors via self-translation.
What to Consider When Choosing a Translation Plugin
When it comes to choosing a translation plugin for your WordPress site, there are a few things to be considered. Like,
Price: How much you are interested to pay. Do you need a free solution or willing to pay a monthly subscription for better-quality localization?
Type of translations you need: You need to decide which type of translation you need, detailed or just understandable.
How important is clarity: For sales and other focused sites, professional translation services are a must. But for non-important pages, machine translation is well enough.
Features of Google Translate Plugin
Google automatic machine translation
Opportunity to hide "Suggest better translation" pop-up
Option to hide Google top frame after translation
Google Analytics integration
Translate site, posts, and pages
Translate categories, tags, menus, and widgets
Translate themes and plugins
Right to left language support
Floating language selector
Language bar with flags in the menu
Translate WooCommerce shop
Pros and Cons of Google Language Translator
The pros of this plugin are:
You don't need to handle translations yourself.
Users can select from more than 90 languages, which would be impossible to offer with something manual like WPML.
You don't need to store translated versions of your site.
the cons are:
Google won't be able to index the translated versions of your site. This is a large negative if you're trying to go multilingual for business purposes.
It's exclusively machine translation, which is by no means perfect.
You can't go back and manually edit any of the machine translations to correct errors.
How to Integrate Google Translator With WordPress Site
To add Google Translate features to your WordPress site, you can use a free plugin like Google Language Translator.
While there are some other Google Translate plugins available, I recommend this plugin because it's:
Active Installation: 100,000+ active installs according to WordPress.org.
Last Updated: The last update was 3 weeks ago and the changelog is full of minor bug fixes and enhancements.
Well-reviewed: 5 stars on over 218 ratings at WordPress.org.
Here's exactly how to use the plugin for regular WordPress installs.
Step 1: Install + Activate
To get started, you can install and activate Google Language Translator from your WordPress dashboard.
Just go to your WordPress dashboard > Plugins > Add New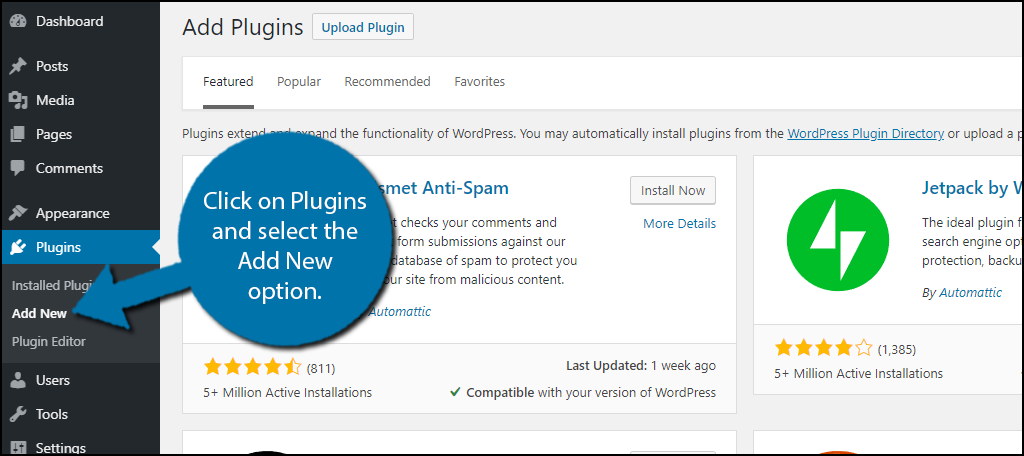 Search for Google Language Translator.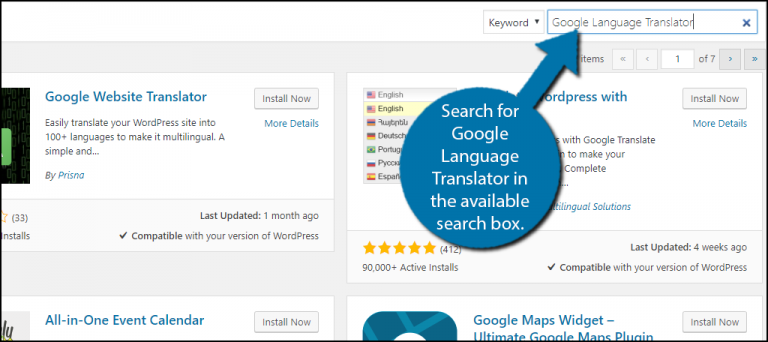 Scroll down until you find the Google Language Translator plugin and click on the "Install Now" button and activate the plugin for use.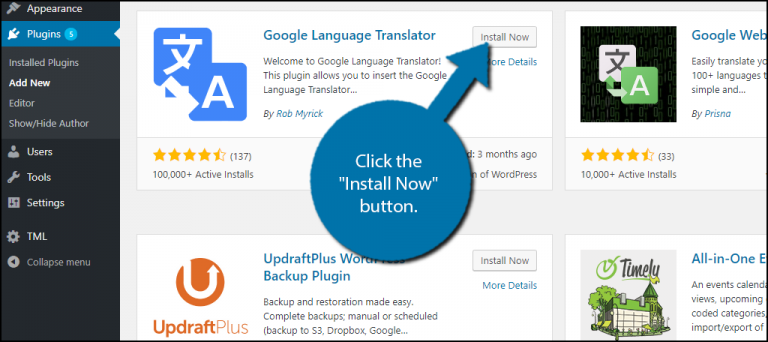 On the left-hand admin panel click on the Settings button and select the Google Language Translator option. This will pop up on the main settings page.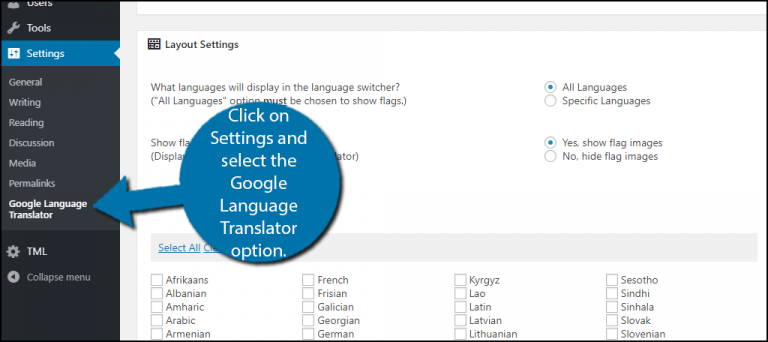 The first thing you need to check the box to activate the plugin, by default it will be ticked. You also select the current language of your website. The plugin should have it selected and it is in English.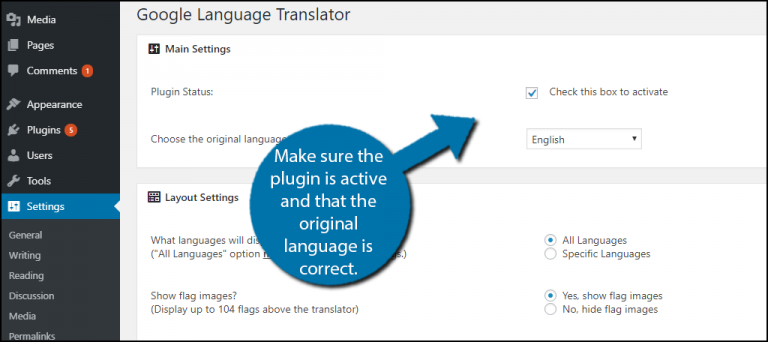 Scroll down to the Layout Settings option. You will see two main options to choose from. The first is What language will display in the language switcher? By default, it is selected to all languages, but you can also choose specific languages you want it to be translated into as well. You can also select to show the flags for every language you choose.
Scroll down to the Floating Widget Settings option. Check to allow the box to allow it to translate.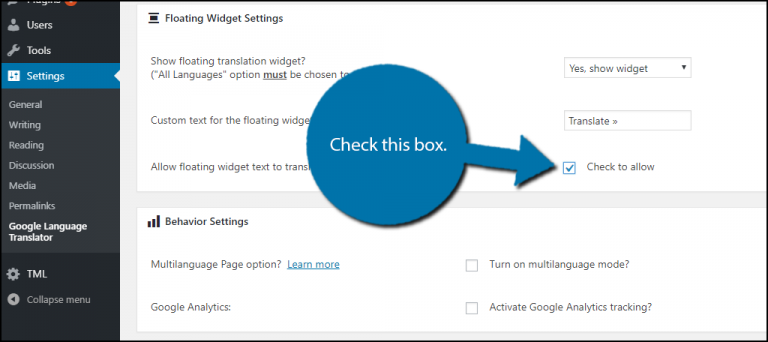 Finally, Click on the "Save Changes" button once you have changed all of the settings.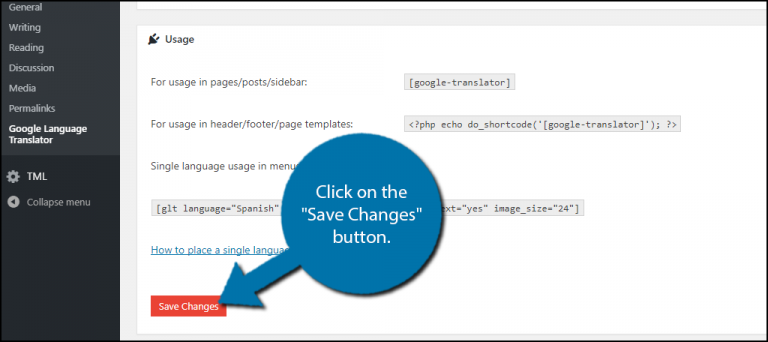 How to Display Google Translate Tool With a Widget
If you want to display the Google Translate tool available on every page of your website, the easiest way to do that is to use the built-in widget.
Go to Appearance > Widgets and drag it where you would like to place it. Now, click on the "Save" button to add the widget to your website.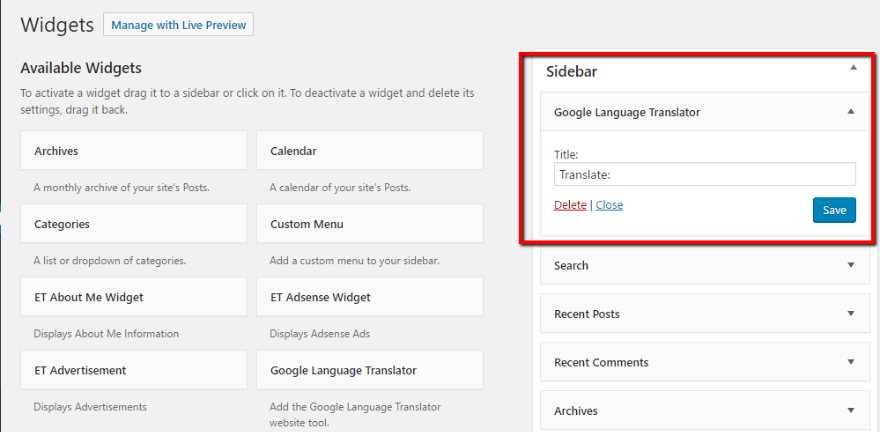 You can now view the translate button on your website. A visitor just needs to click on it and choose the flag for their language and the page will be translated.
How to Display Google Translate Plugin In Individual Posts/Pages
If you'd like to display the Google Translate option for specific posts or pages, you have to use the shortcode.
Note – don't try to use a shortcode AND the widget at the same time – it won't work.
The shortcode works whether you're using the normal WordPress Editor or the other builder.
To use the shortcode in the normal WordPress Editor, I recommend placing it above your content so that your visitors can quickly find the translate button. Just copy and paste in the shortcode:

You'll see something like this on the front-end:

Final Verdict
Many WordPress users confuse this translation feature with that of developing a multilingual site on WordPress.
A WordPress multilingual website is a standalone version for different languages. Each site's content can be indexed by Google.
On the other hand, the translate button will only display the translated form of the site. The translated content that is shown is not indexable by Google.
So if you want to dominate search engines for other languages, you need to create a multilingual site. Simply putting up a Google translate button won't cut it. But if you are into making it easy for your visitors who know various other languages, a simple option to capture their attention is to provide a simple translate button.
With the translate button, you get the feature of translating your site's content to 100+ languages with the click of a button.
At the same time, unlike the content you create in multiple languages, the translate button provides you with machine translation. So, if you want a handy way to help your readers from all over the world, go for it.
If you just want to make your content more accessible and don't care about SEO, cohesive experiences, or business uses, Google Translate is a good option.
https://wphive.com/tutorials/integrate-google-translator-with-wordpress/

Subscribe To Our Newsletter