Best Permalink Structure for SEO in WordPress

SEO friendly permalinks can have good impacts on SEO. Permalinks play a crucial role to boost your SEO rankings, as discussed in our Ultimate SEO Guide for beginners. If you want to learn more about the best permalink structure, keep reading.
A permalink is a permanent URL to your posts, categories, archive or other similar pages. It's the unique link that directs to a specific post.
Permalink setting is one of the most common reasons you could get 404 errors on your WordPress websites. Errors can lower your SEO ranks. Hence, it is essential to have an SEO friendly permalink structure.
What's The Best Permalink Structure for SEO
Well, we cannot tell about the best permalink structure for SEO. But we can suggest. Because, if we recommend a permalink structure as the best permalink structure for SEO and it doesn't work for you, it would look bad.
Best SEO friendly permalink structure should be easy to remember, simple and short. Your permalink should be understandable by humans & machines. So, if we want to define the best SEO permalink for SEO, it would contain these three features
It would be short
Users can instantly guess what the article is about seeing the permalink
Readable by both humans and search engines.
When working with Search Engine Optimization, you always have to remember that one setting does not fit all. So there is no best permalink structure for SEO which will work for everyone. There are different metrics such as quality content, page speed, caching, security among others which play an essential role in SEO. Check our in-depth coverage for the best SEO Guide.
Tell Me Best Permalink Structure for SEO in WordPress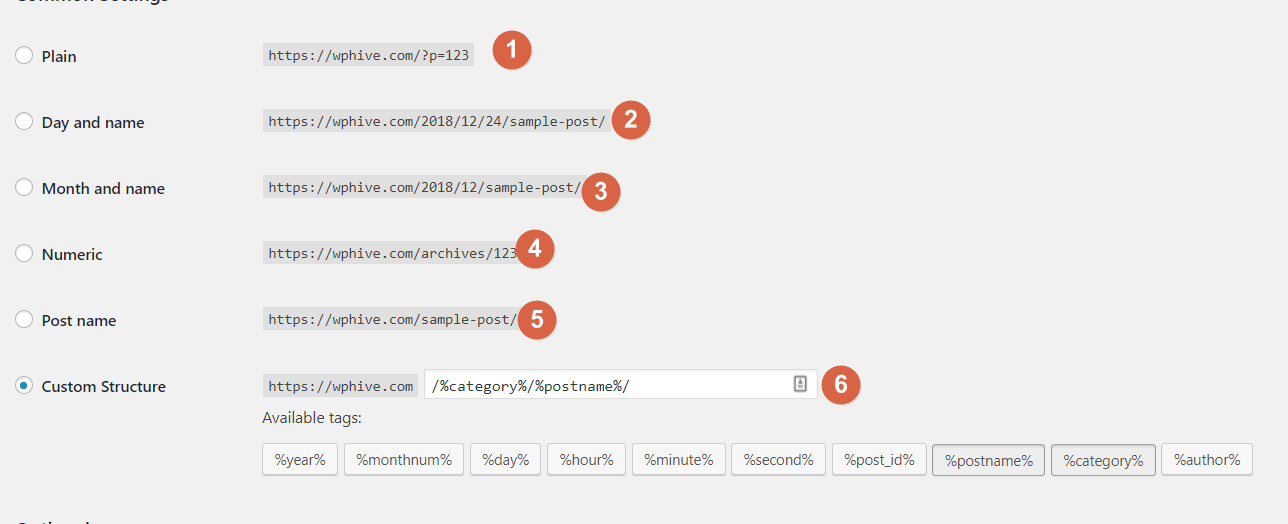 There are total six types of permalinks in WordPress
Plain: Not recommended for SEO. Nothing in the URL describes your article.
Month and name: Also a good option! Similar to day and name, but only shows the month the piece of content was published.
Day and name: Adding name is always good. However, if you update the content later, users will be able to know that the article was published years ago. They might lose interest in the article.
Numeric: Not recommended as an SEO friendly permalink structure. Nothing in the URL describes your pages/content.
Post name: This is the best permalink structure for SEO. It enables you to personalize your URL to match your content topics.
Custom Structure: You can customize your URL as you like. For example, If you want to include categories that are important to your readers, using a tag like /%category%/%postname%/ will add the category to your URL.
https://example.com/Your-Blog-Post-Name/
You can also add categories before your post name if your domain name is short. So your article would look like
https://example.com/category/Blog-Post-Name
However, many bloggers recommend having a simple permalink with only the blog post names. Nonetheless, at WP Hive we have opted for category and post name.
You should use a simple URLs as your permalinks. Search engines can understand simple URLs. Many WordPress users use Yoast SEO for SEO purposes. The plugin was also mentioned in our best WordPress plugins list. Yoast SEO always recommends including your article keywords in your post permalink.
The Best Permalink Structure for SEO should be simple and contain your blog name.
Which is NOT the Best WordPress Permalink Structure for SEO
You should never use time or date in your permalink structure. You may wonder why.
Because even if you update your posts later, visitors will be able to understand that the post is old. They will not be interested to old posts.
How to Change Permalinks in WordPress?
To set your custom permalink structure from your dashboard (such as %postname%)
Go to Settings > Permalinks, from your admin dashboard
Make a note of the current if you want to revert back later.
Select the Post name and click on Save Changes at the bottom of the page.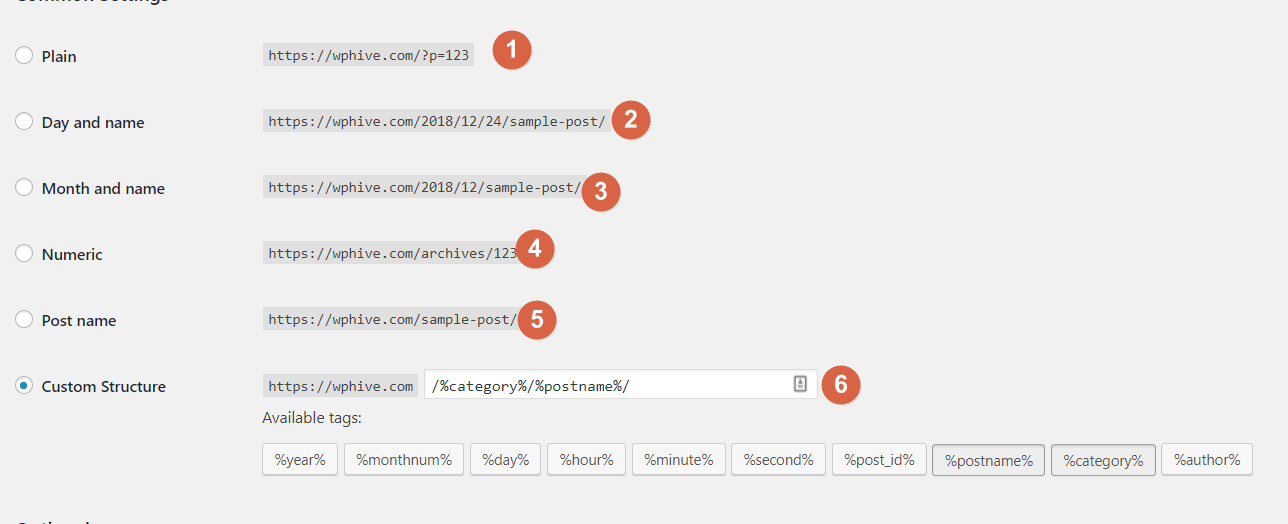 Permalink Structure for SEO – FAQ
What is a permalink for SEO?
Permalink is the permanent address of your web page. It's the full URL that users and search engines see when navigating through your site.
What is the best permalink structure for website?
Tips for creating the best permalink structure for your website –
1. Use your keyword in the permalink
2. Use hyphens in the permalink
3. Don't use dates in your permalink
4. Remove 'Stop' words from your permalink
5. Use HTTPS in your permalink
6. Don't use categories in your permalink
7. Keep your permalinks as short as possible
Does changing Permalink affect SEO?
Yes, changing permalink can negatively impact your search rankings, break any existing links external sites might be used to funnel traffic to your site, and break existing links you might be using on your site that lead visitors to that page.
What is another name for Permalink?
Permanent link or URL is another name of permalink that is intended to remain unchanged for many years into the future, yielding a hyperlink that is less susceptible to link rot. Permalinks are often rendered simply, that is, as clean URLs, to be easier to type and remember.
Why is a permalink important?
Permalink is important because Permalinks help people anticipate what your posts or pages are going to be about, and that makes them more likely to visit them.
Wrapping Up
Only permalink structure will not guarantee success. You need to remember to write how to write great quality content, optimize page speed, optimize caching, have a tight security among other things.
https://wphive.com/tutorials/permalink-structure-for-seo/
Saif Hassan
Product Manager by passion & profession. Lead Product Manager at weDevs, former PM @ Poptin. Passionate about writing & tech. He's an advocate of Human-Centered Design and believes that websites and the tools used to build them should be well crafted, intuitive, and accessible. Cyclist. Reader. A WordPress ninja 🥷, HCI expert & a design thinker 💡

Subscribe To Our Newsletter