Make Your WordPress Journey Easier with WPHive Chrome Extension

WPHive Chrome Extension is another revolutionary step for the WordPress industry.
Google Chrome extensions are like small software that is installed into Chrome in order to change the functionality of the browser. We don't have to tell you the popularity of Google Chrome as a browser.
With over 2 billion users, Chrome is the world's most popular web browser today!
Google Chrome is fast, secure, and obviously easy to use. The interface is clean and simple, even beginners will find it easy to use. No wonder, this browser is so highly rated.
That is why Google Chrome has been the go-to browser for more than 60% of people World Wide.
And it has a very rich collection of extensions. These extensions enable you to make your web browser more customized and personal.
That is why we thought, why not introduce a Chrome extension from WPHive. So that you will get the awesome and technical insights of a plugin whenever you visit the WordPress.org site.
Besides the download stats and plugin introduction, they will get real-time data and will be able to take the right decision on whether the plugin is perfect for them or not.
Why Use Google Chrome Extensions?
Extensions enable you to add more functions and features to your web browsers. And, you don't need extensive coding to do that.
However, the amazing thing about the Google Chrome extension is, it is very extendable. Because you will get a plugin or extension for just about everything you possibly want. Like,
Blocking ads, so that they are restricted from being displayed
Optimizing memory usage so that Chrome runs more efficiently
Adding to-do lists or notes to Chrome
Password management
Making it easier to copy text from a site
Protect your privacy and making web browsing more secure
One-click operations of tools.
However, these are just the main advantages you will find while using Chrome extensions. But you get the idea of what we are talking about.
Also, how you use an extension depends on the particular extension. Some extensions work in the background and perform it's task automatically. While some add menu options to the menu when you right-click on the web page.
However, the most common attribute of a Chrome extension is that it adds a small icon right to the address field in the browser. These icons can be clicked on or right-clicked to access the functionality of the extension.
Introducing WPHive Chrome Extension


It's time to talk about the WP Hive Chrome extension!
Seeing the popularity of Google Chrome and the intention to give WordPress users to use the amazing features WPHive more easily, we decided to develop a Chrome extension version of WPHive.
So, what this extension does? When you visit the WordPress.org page and search for a plugin, you will see all the WPHive insights about that plugin on the right-hand side of the web page.
Cool, right?
That way, you will get all the data you need about the plugin before you decide to download it.
How to Install WPHive Chrome Extension
Well, installing the WPHive Chrome extension is simple as installing any other Google Chrome extension.
Visit the Google Chrome store from your Chrome browser
On the left-hand side, you will find the search bar. Type "WP Hive "
Click on "Add to Chrome"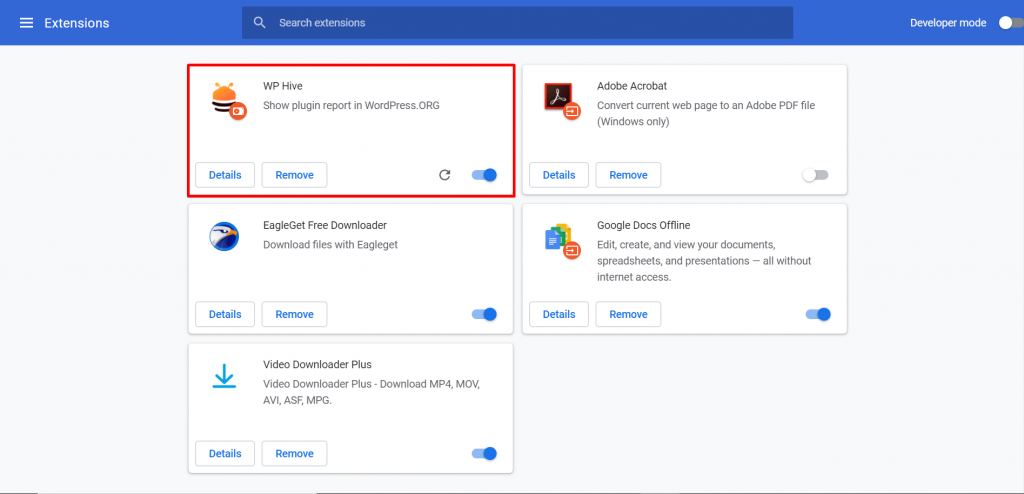 Finally, the extension will be added to your Chrome browser. You will see WPHive icon on the top righ-hand side of your browser. It is as simple as that.


Now, when you visit WordPress.org and search for a plugin, you will see all the insights.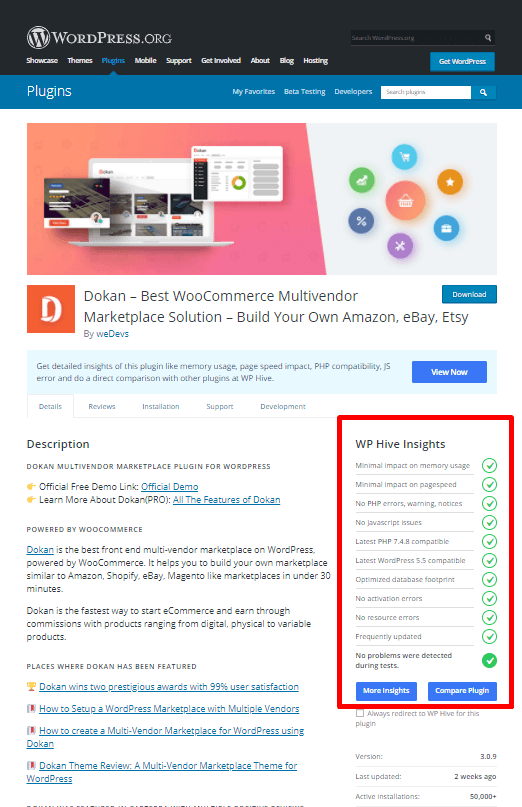 Also, if you want you can compare with another plugin by clicking the Compare Plugin button.
How This Extension Will Prove to Be Beneficial for WordPress Users
The job of an extension is to give users more control and make it more personalized by adding more features to the browser.
WordPress is used by thousands of people all over the world. WordPress is the most used CMS not only because of its user-friendliness but also because of its massive availability of plugins.
However, this huge collection of plugins can also have a downside. As there are lots of similar kinds of plugins available, finding the best one can be difficult.
Sure, you can read reviews.
But, reading only reviews will not tell you how the plugin will perform on your live website.
You can download and test one by one. Imagine how long that will take?
That is why we have introduced the WPHive Chrome extension. It will help you get the technical aspects of a plugin and actually tell you if you should use it or not.
You will get advantages like,
You will get all the information about the plugin
You will know if the plugin is latest WordPress version compatible or not
WordPress.org only shows you the basic stats, WPHive Chrome extension will give you more detailed information
Only one click needed to compare plugins side by side
You can easily take data driven decision now
After downloading, you know you made the right decision.
WPHive: Making the Journey Easier with WordPress
WPHive has always been trying to find ways to make the world of WordPress better and better. From when it was a blogging site to now, when it introduced itself as the new WordPress repository.
And, it obviously made things easier for WordPress users. It works in a very unique way.
It has all the plugins from WordPress.org repository. Then it activates it, logs many crucial data such as page speed, memory usage, JavaScript issues, activations issues and more. You can test it directly from the WP Hive homepage.
It consists of multiple parts.
The management scripts, plugin crawler, testing scripts and so on.
All of them run on a VPS with 8 CPU cores and 8 GB of RAM.
The test sites are hosted on Google Cloud VM instances, one site/plugin per instance. The machine type is n1-standard-1.
Whenever there is a new plugin update – the tool gets it within 1-3 days.
Also, it has made searching for a plugin a lot easier. You can search for plugins using different metrics. Say, if you want a plugin for SEO. In WordPress.org you have to know the plugin name beforehand inorder to search for it.
Not in WPHive. Just like you find apps from Play Store or Appstore – you can find plugins on WP Hive by different categories.
Also, don't forget about the plugin comparison feature.
"If you can compare smartphones before buying, why not plugins."
That's the thought process that went into building this feature. You can compare two plugins side by side just like you do with phones before buying with WPHive.
A winner will be declared after end of every comparison.
So, as you can see we are not wrong when we are claiming that WPHive has made the WordPress industry a much better place and journey of using WordPress a lot smoother.
Conclusion
The main goal of WPHive is to bring a revolutionary change in the WordPress industry. WPHive Chrome extension is just another step towards it.
We want o make using WordPress and it's plugins easy so that even a beginner can come in and become an instant pro. And by providing useful insights regarding a plugin, users are now able to choose the right plugins , instead of relaying o false rumors and gossips.
https://wphive.com/articles/wphive-chrome-extension/
Rabbir Shad
Shad is a WordPress enthusiast along with a passion for technology. He loves football, reading books, watching movies, and tv series in his free time.

Subscribe To Our Newsletter