Best WordPress Hosting Providers in 2023


Choosing the best WordPress hosting is very important for your WordPress site. Your website's performance and health totally depend on the hosting provider you are using. There are different types of WordPress hosting options available such as Free, Shared, VPS, Dedicated, and managed WordPress hosting. In this article, we've picked out the best WordPress Hosting Providers to point you in the right direction.
Things to Consider When Choosing the Best WordPress Hosting Providers


Whichever hosting you're going to choose, keep in mind the five most important factors:
Server Requirements – Should meet WordPress's latest server requirements (PHP, MySQL, HTTPS support, and Nginx or Apache with mod_rewrite module).
Speed – Should faster. Loading time considered to be 1 second. If your WordPress site loads slowly then you should change the hosting.
Uptime – If your hosting uptime is below 99.95%, you should switch it. Uptime is the most important factor when choosing the best WordPress web hosting.
Customer Support – Customer support is another important factor when choosing the best hosting providers. They should help you with any WordPress-related questions, preferably through 24/7 live chat.
Pricing – Pricing is also important. It should be fair and clear. Some web hosts "hide" their renewal fees or are unclear about certain features.
Top 10+ WordPress Hosting Providers
Below I've highlighted some of the best WordPress site hosts you'll want to consider throughout your search for the perfect hosting providers. These are the top 10+ best WordPress hosting service providers in 2023.
Now we'll take a deep dive into this list and eventually find out which one is the perfect solution for you by checking their features, pricing, and stability.
1. Bluehost ($2.95/mo): Most Cost-effective WordPress hosting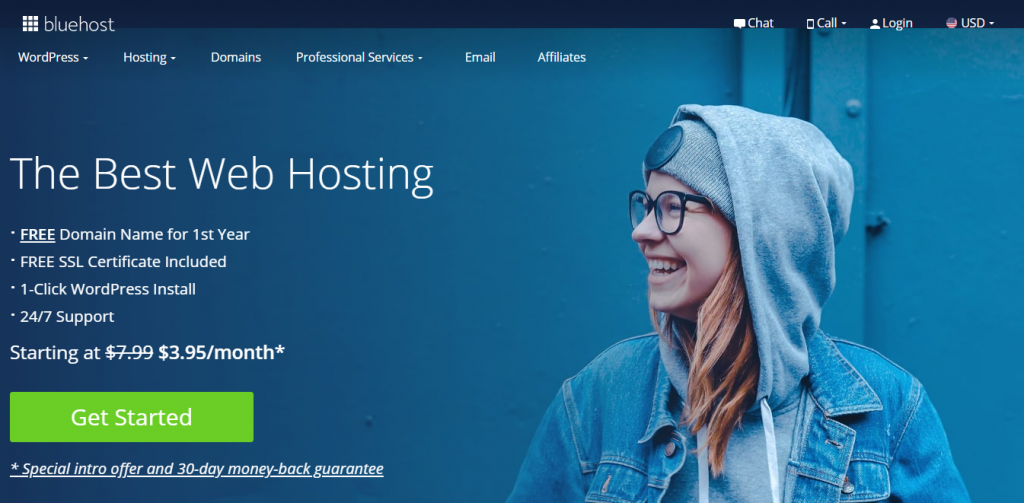 Bluehost is the top WordPress Hosting and web hosting company. They offer cheap and high-quality WordPress hosting plans to individuals, bloggers and small business owners all over the world.
Bluehost doesn't offer a monthly package. Their hosting plan lengths are between 12 and 36 months, so they do require a longer commitment. They are offering a strong money-back guarantee policy that I liked personally.
With the speed monitoring tool Pingdom it is found that the average up-time is 99.99% with only 24 outages and an average page loading speed is 390 ms for the last 12 months.
Key Features of Bluehost:
One-click WordPress installation and auto-updates
Free domain name registration and SSL certificate
Quick scalability, you can upgrade to a VPS solution with a single click
Unmetered MySQL DB, site analytics dashboard, and unlimited parked/sub-domains
An easy-to-use cPanel for easy website management
The Plus plan which starts at $5.45 per month for the first term, adds unlimited websites and SSD storage, and additional features like spam protection, free CDN, and a WP staging environment. If you need more power, BlueHost has another plan called WordPress Pro that has been optimized for WordPress websites, with prices starting at $13.95 per month. These plans have many additional features like unlimited everything, malware detection and dedicated IP, and more.
Visit Bluehost to get $2.95/mo
2. Kinsta ($30/mo): Best Performance Among Managed WordPress Hosting
Kinsta is a managed web hosting provider specializing in WordPress-hosted sites. It's a low-cost budget hosting. Kinsta has the full power of the Google Cloud Platform. It doesn't use the traditional cPanel UI, but instead gives users a custom panel that puts focus on what's important while hiding everything else.
The response times are even more impressive. The average up-time is 99.99% and the average page loading speed is 160 ms. The loading times are great – below 1 second.
Key Features of Kinsta:
Cloud-based infrastructure made for speed
99.9% uptime guaranteed
Awesome technical support
Simple set-up and migration
Great for traffic spikes
Optimized for e-commerce
In addition to the Starter plan, they are also offering Pro, Business and Enterprise plan. Price varies from $600 to $1500.
Visit Kinsta to get $30/mo
3. HostGator ($2.75/mo): Most Popular Mainstream WordPress Hosting
HostGator is another well-known hosting provider for the beginner. Similar to Bluehost, HostGator also offers specialized WordPress hosting solutions, such as "WordPress Hosting."
Their average up-time is >99.99% with only 24 outages and an average page loading speed is 369 ms for the last 12 months. Their total yearly downtime is only 22 minutes, which is rather outstanding.
Key Features of HostGator:
An easy to use WordPress installation and cloud interface
Built-in cPanel WordPress installer
Improved site performance with Global CDN
High-level security protection
Easy to scalable to adjust to higher levels of traffic
45 days money-back guarantee
HostGator generally offers powerful hosting plans for a fair price and its managed WordPress hosting is no exception. Its Starter plan only costs $5.95 per month, and you will get a free site migration, an SSL certificate, automatic malware detection and removal, unlimited email addresses and unmetered storage and bandwidth, and it can handle up to 100,000 visits a month.
Visit HostGator to get $2.75/mo
4. Hostinger ($0.99/mo): Fast and Secure WordPress Web Hosting
Hostinger is one of the cheapest web hosts for WordPress websites. It is designed to be as user-friendly as possible, allowing you to get your site set up in only a few minutes. Each WordPress hosting plan offers access to a one-click installer that already has several performance-based plugins.
Their average up-time is 99.93% with only 24 outages and an average page loading speed is 339 ms for the last 12 months.
The built-in caching plugin works well with the service. If you need more performance capabilities, it offers speed optimization features as well.
Key Features of Hostinger WordPress Hosting:
One-click easy WordPress installer
Cloudflare Protected Nameservers
WordPress Acceleration (LSCWP)
Daily backups available
Pre-installed caching plugin
Free domain with 24/7/365 Support
Hostinger also offers some powerful web hosting plans. Premium Shared Hosting plans cost $2.89/mo with an unlimited number of websites, email accounts, bandwidth, MySQL Database, FTP accounts, and Cronjobs. For daily backups, they are offering Business Shared Hosting which costs $3.99/mo.
Visit Hostinger to get $0.99/mo
5. A2 Hosting ($3.92/mo): Fast WordPress Web Hosting Solution
A2 Hosting is a relatively new provider when looking for the best WordPress hosting. On their homepage, they are claiming of being 20x faster than any other hosting.
According to up-time speed tests, A2 Hosting indeed is the fastest shared WordPress hosting provider at 295 ms.
Key Features of A2 Hosting:
Available Turbo Servers
WordPress, Drupal & Joomla optimized
1-Click website staging
Unlimited storage and bandwidth for shared WordPress plans
Free SSL certificate
Free Cloudflare CDN and unlimited SSD storage and bandwidth.
Their cheapest WordPress plan starts at $3.92/mo for a minimum of 36 months. You will also get 25 email accounts and unlimited website transfers. A2 hosting might be a convenient host for someone who owns many WordPress websites. They offer anytime money-back guarantee.
Visit A2 Hosting to get $3.92/mo
6. GreenGeeks ($2.95/mo): Best Green-powered WordPress hosting
GreenGeeks is fast, secure, scalable and established web hosting for WordPress users. The biggest advantages of the company is that they've been implementing an environmentally friendly approach to hosting websites.
Also, the company claims that for every bit of power that's used, they re-invest three times as much back into the grid through renewable energy via the Bonneville Environmental Foundation.
The performance speed is 375 ms and up-time looks very reliable which is 99.99% – only 36 outages, with a total of only 1 hour of downtime per year.
Key Features of Greengeeks:
One-click WordPress installer with automatic updates
Daily backups to prevent data loss
Customized security systems
Free SSL certificate and a domain name
Improved global performance with a CDN
Free site migration and the choice of over 5 different data center locations
Their cheapest WordPress plan starts at $2.95/mo. The Pro version costs $5.95/mo and the Premium version costs $11.95/mo. Their money-back guarantee is 30 days, but if you took their 'free' domain name offer, your refund would be deducted by $13.95 for a domain registration fee.
Visit Hostinger to get $2.95/mo
7. DreamHost ($2.59/mo): WordPress-endorsed Hosting
DreamHost is another popular, well-established hosting service provider. Like Bluehost and SiteGround, they are also recommended WordPress hosts by WordPress.org website.
Their page speed time is 569 ms and up-time of 99.92%. There's no option to choose server locations outside the USA.
Key Features of DreamHost include:
One-click install option
Easily scalable servers
Cloud server technology
Real-time malware scans and site fixing
WooCommerce integration and support for eCommerce store owners
Free domain, free SSL (https), unlimited bandwidth & storage, backups
DreamHost has "high performance" managed WordPress plans which are more expensive, $16.95/month. Their cheapest plan starts at $2.59/month for 36 months. DreamHost also gives out 97-day money-back guarantee. Email accounts will cost $19.99/year extra and the free domain for a year renews $15.99/year.
Visit DreamHost to get $2.59/mo
8. InMotion ($6.99/mo): Fast Web Hosting
InMotion offers a lot of hosting options. With InMotion, you will get access to a WordPress-optimized server environment along with a dedicated support team. It also offers a variety of WordPress-specific features like WordPress pre-installation, and drag-and-drop theme support, along with a selection of free WordPress themes to choose from.
Their up-time is 99.95% and their average speed is 767 ms during the last 12 months. One of the drawbacks of InMotion Hosting is that there's no instant account access.
Key Features of InMotion:
Pre-installed WordPress with auto-updates
Free daily offsite backups
Web Application Firewall
Unlimited disk space, bandwidth, and email
Unlimited amount of Data Transfer per month
24/7 support from WordPress experts
InMotion offer WordPress Hosting, WordPress VPS Hosting, Dedicated WordPress plans and Shared hosting starting from $6.99.
Visit InMotion to get $6.99/mo
9. Nestify ($9/mo): Powerful Managed WordPress Hosting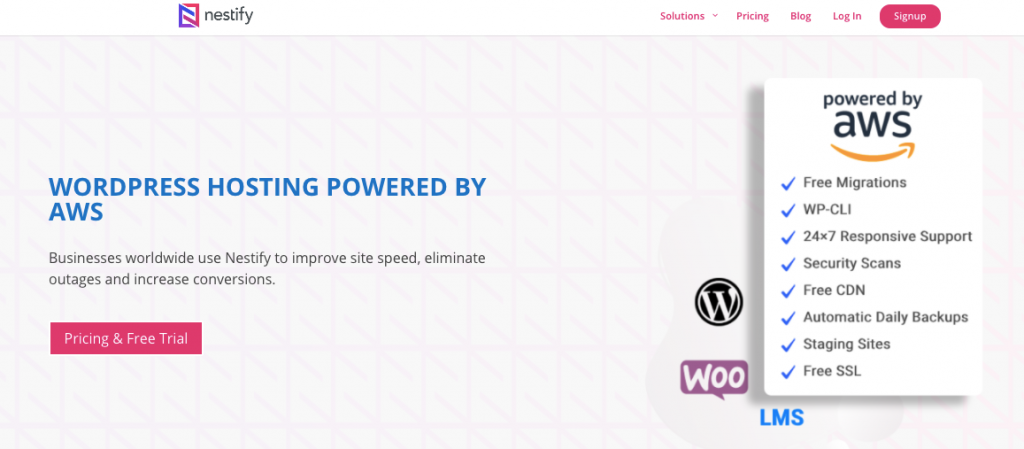 Nestify is the Best Managed WordPress Hosting Provider. It provides special premium services to small and big businesses.
Key Features of Nestify Hosting:
Easily scalable architecture
Site Hacked? They'll take care of it
Free site migration
24/7 support by experts
Free SSL and technical support
Automatic backups
Nestify offers Managed WordPress Hosting, VPS Hosting, and Managed Woocommerce Hosting.
10. Namecheap ($3.88/mo): EasyWP Hosting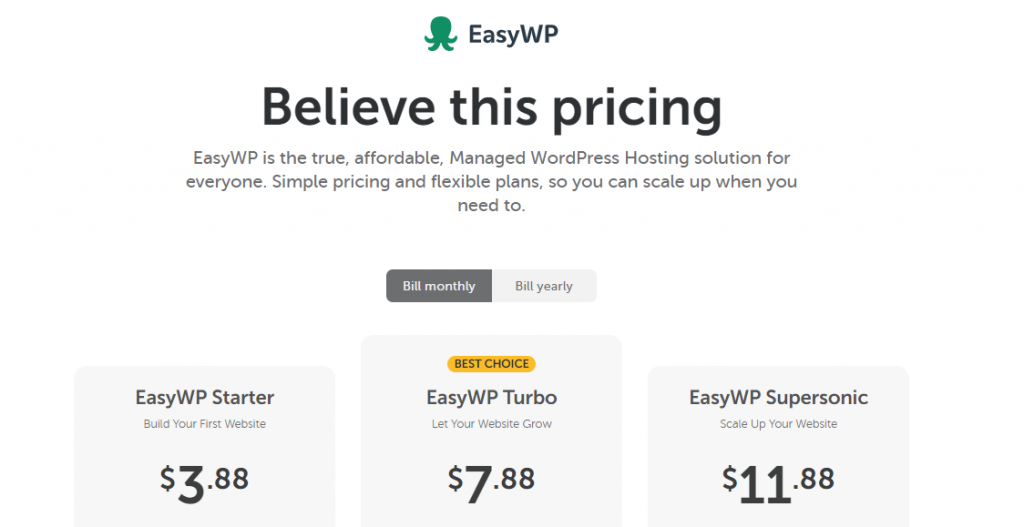 Namecheap is a veteran in the domain name field, but it is also not too far behind in hosting as well. They offer some of the most attractive managed WordPress hosting packages on the market, with incredible free offerings like free domain name*, free SSL*, and many more.
Their up-time is 99.9% and their load time is o.7ms ms which is one of the fastest around. And at this price range, it is certainly very competitive.
Key Features of Namecheap EasyWP Hosting:
One-click WordPress install option
Free domain, free SSL (For Turbo & Supersonic Package).
EasyWP Cache Plugin.
SFTP Files Access.
A truly supportive support team.
While the starter page doesn't offer much, Namecheap certainly has what it takes to compete with the industry's best-managed WordPress hosting services with the Turbo and Supersonic package. Three of their WordPress hosting packages cost $3.88, $7.88 & $11.88 respectively.
Visit Namecheap to get $3.88/mo
11. iPage ($3.75/mo): WordPress Hosting with a free Domain
Though iPage doesn't offer as many WordPress plans as its other competitors. But they offer other features like popular pre-installed plugins and a customized control panel.
Their up-time is 99.94% and load time is 709 ms which aren't bad, the performance, in general, isn't as good as other WordPress web hosting providers.
Key Features of iPage:
One-click WordPress install option
Free domain, free SSL (https), unlimited bandwidth & storage
Easily scalable servers
Real-time malware scans and site fixing
A knowledgeable, helpful and responsive support team behind your site
They have 2 WordPress plans which cost $3.75/month and $6.95/month, both plans come with a free domain name for 1 year. The main goal of iPage is to ensure the best possible experience, from registration to customer support.
Visit iPage to get $3.75/mo
Difference Between Normal Web Hosting And WordPress Hosting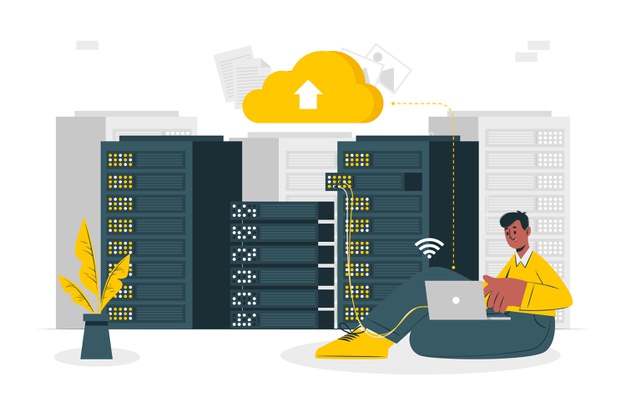 You can host your WordPress website on a normal web hosting like shared hosting.
The difference between normal web hosting and WordPress web hosting is that WordPress servers are finely tuned to deal with sites that run on the WordPress platform.
Features of WordPress hosting are:
Speed and Performance: Performance (load time) much better as there are more server resources available.
Servers are specifically configured to work with the demands of a WordPress site.
Upgrades are faster due to the server being set up to only deal with WordPress sites.
Expanded PHP memory.
Types Of WordPress Hosting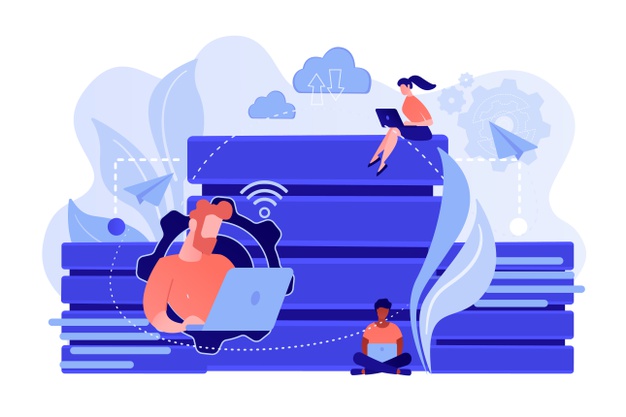 There are different WordPress hosting services available. In this section, we'll discuss the key differences between the various WordPress hosting types available.
Free WordPress Hosting
If you want free hosting for your WordPress site, then you have to go through WordPress.com. With free WordPress hosting your domain name will include the wordpress.com extension, like 'yourdomain.wordpress.com'.
If you're not sure you're ready to commit to run your own site on a dedicated domain, then using this hosting option can be a good choice. The downside to this approach is that you don't have your own dedicated domain name.
Shared WordPress Hosting
Most website owners like shared hosting. Typically it's one of the cheapest options and offers a lot of resources to help beginners to get started. Shared hosting means your site will be on the same server that hosts hundreds of other sites, so you'll be sharing the same server resources, but it also helps to bring individual costs down.
In addition to the cheapest cost, you get access to some pretty powerful and useful hosting features. Shared plans are generally sold with 'unlimited' bandwidth and storage.
Shared hosting provides you with a web-based interface like cPanel, so you can easily manage your server environment. You'll be able to create domain-specific email addresses, set up databases, and easily install WordPress on your site.
Installing WordPress manually isn't too difficult. You can install WordPress and run it in minutes.
VPS Hosting
A VPS hosting is a great solution for sites that might have discontinued a shared server, but aren't quite big enough that they need their own dedicated server. A VPS hosting is still technically a shared hosting, but it operates similarly to a dedicated server environment.
There are some benefits of using a VPS setup, over something like a shared hosting. For beginners, you'll have much more control over your server environment and you'll have more options to configure the server. A VPS is more expensive than a shared hosting plan, but you'll have much more server power and overall flexibility at your disposal. Finally, VPS hosting operates in an isolated server environment, so you'll have improved security overall.
Generally, VPS hosting typically comes equipped with a control panel like WHM, which will make server control and configuration much easier.
Managed WordPress Hosting
If your site continues to grow both in terms of size and traffic, but you don't have the ability, time, or skills to manage your own server, then managed WordPress hosting can be the perfect solution for you. Managed WordPress hosting is available as dedicated, VPS, and cloud hosting plans.
Managed hosting can be a great choice if you don't have the skills to effectively manage and optimize the server environment.
With managed hosting, you're not only paying for the server space, but you're also paying for the support and maintenance. Depending on the managed hosting plan you choose you'll have access to different levels of support, but you'll typically find the following features included in your plan:
Software installations and free upgrades
Site troubleshooting and regular maintenance
Server hardware repairs and daily server monitoring
Fast load time
Higher-level security features
One of the biggest reasons to consider a managed WordPress host is the ability to have your problems handled quickly and effectively. The support team behind you will have in-depth knowledge of WordPress and your server environment, so your site can overcome issues rather quickly.
Dedicated WordPress Hosting
Dedicated hosting is the top of the types when it comes to hosting and the reasonable next step for those who want complete control over their server environment. If your site running with a huge success, then you'll ultimately want to upgrade to a dedicated server.
Dedicated hosting offers you an entire physical server hosted with your provider. This will give you complete access to your server space, processing power, memory, bandwidth, and more. In addition, you'll have complete control over your server security.
The biggest difference between shared, VPS and dedicated hosting is that with dedicated hosting you have complete control over your server environment while having all of its resources at your disposal.
Most dedicated hosting providers will also offer a managed solution, which will take the burden away from managing and keeping your server up to date.
Dedicated hosting is suited for large sites having a high volume of traffic. But, you'll need proper technical knowledge to fully take advantage of the server resources you have available.
Final Recommendations for WordPress Hosting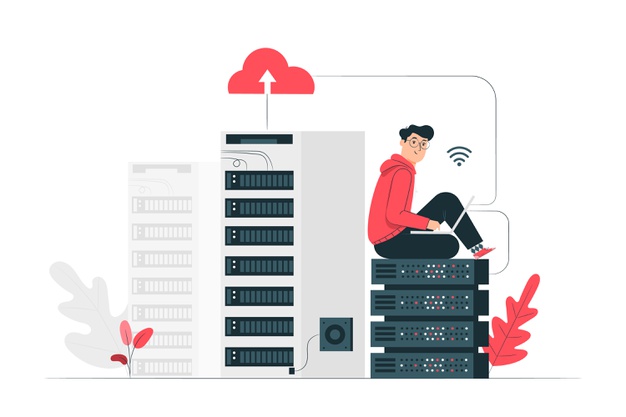 To sort the above WordPress hosts check out our recommendations below. You'll find two hosts that offer shared hosting packages that are helpful for beginners, and another that offers the best WordPress-managed hosting for large-scale and growing sites.
WordPress Hosting for Bloggers
For bloggers who need a WordPress hosting option that's both cost-effective and reliable, then Bluehost is can be a great choice. Overall, they're one of the best WordPress hosting providers to get started and grow your site with.
Beyond its high-performing servers, you'll also have stellar uptime and a dedicated support team behind you. And Bluehost is one of the hosts recommended by WordPress.org.
Best WordPress Hosting for Growing Businesses
If your website is growing and you want a hosting environment that can keep up while improving the existing performance of your site, then Kinsta is the best way to go.
Naturally, it can be a much more expensive option than shared hosting, but it's priced higher for good reason. With Kinsta you get a knowledgeable team of WordPress experts who are dedicated to helping your site grow.
I'd love to hear more about your experience in finding the best WordPress host in the comments below.
https://wphive.com/tutorials/best-wordpress-hosting-providers/

Subscribe To Our Newsletter