PostX- Ultimate Post Blocks for WordPress Gutenberg Builder!

Post block is a common characteristic for online newspapers, magazines, and blogs alike. Most of the homepages of such sites feature different styles of post blocks to present information. Post grids are great for displaying excerpts of a post and you can show multiple of them on a single page.
This brings a great opportunity to display multiple posts on a single page, exactly what is needed for a newspaper or a magazine.
So how can you add such post grids to your website? Well, for WordPress site owners there's an unparalleled solution, PostX Gutenberg Post Blocks. Have you ever come across this plugin?
Well, no worries! Today we are going to review this plugin dedicatedly. And throughout the review, we will try to figure out if it's the best solution to create Gutenberg post blocks. But first, let's get acquainted with the PostX plugin.
What is PostX Blocks & Why You Should Use It


PostX is a Gutenberg post blocks plugin with a great collection of beautifully designed blocks. With the help of PostX blocks, you can easily add a newspaper-like post grid box on your WordPress site.
But why should you use PostX to design and add post grids on your website? Well, there's plenty of reasons why.
PostX is a Gutenberg block-based plugin, so you can get all of the beautiful designs without having to install a page builder, which weigh down your site.
PostX has a lot of premade post grid templates that are ready to be implemented on your website, right from the box.
PostX also have whole page templates for blogs, magazine or online newspaper. You can start building your dream site today?
PostX is developed with modern technologies and frameworks to give you an edge over your competitors.
As you can see, there are enough reasons to start using this tool. Of course, you might want to use other block plugins, which might have an array of different kinds of blocks. But if your site is a blog, magazine, or newspaper, you would not use other features anyway. On the other hand, PostX is a combination of great blocks that are designated for such sites.
PostX Features at a Glance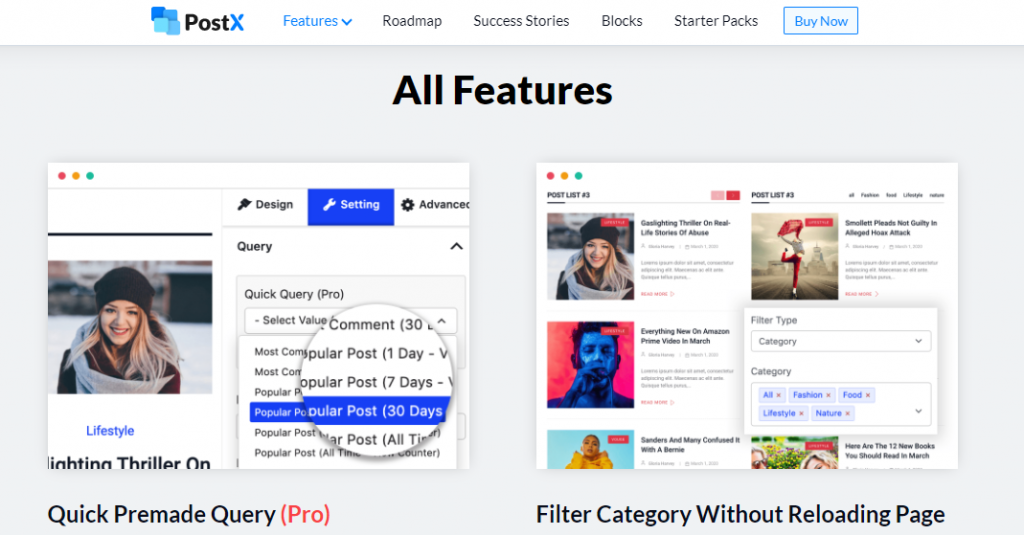 PostX is the most downloaded post blocks plugin based on Gutenberg. The reason behind so many people loving this plugin is the features. And to be honest, there's a lot of them. Let us take you on a ride to let you know the key ones from those.
Advanced Query Builder: PostX is equipped with advance query builder. You can choose from the array of premade queries such as Most Comments, Most Popular, Latest Posts, and many more.
Archive Page Builder: PostX allows you to build beautiful archive pages in the easiest way. By selecting the Archive template type, you can create an archive pages with endless customization options that PostX offers.
Pre-made Design Template: PostX has an array of post block templates as well as full page templates which will help you to decorate your posts in a beautiful way.
AJAX Powered Post Filter: PostX has a post filter option that is AJAX powered. That means your users can filter the posts of a page without reloading.
Pagination and Infinity Loading: You can enable either pagination or infinity loading for a post page. Pagination will allow you to divide your posts in multiple page using page numbers while infinity loading allows you to add a load more button that will allow the customer to load the more posts as he scrolls down.
Save Template & Shortcodes Support: Don't like a part of a certain template? You can easily customize and save the template. Moreover you can use shortcodes to reuse the same template anywhere.
Apart from the above-mentioned features. there's a lot more that you will find in the PostX plugins. Some of the most important ones are –
Advanced Meta Settings
Featured Image Settings
Category Settings
Heading Settings
Custom Post Type & Custom Taxonomy Support
Blocks Layout Variations
Post Grid & List Blocks
Dynamic Post Slider
Now that you know about the key features of PostX, let's look at the types of blocks that PostX currently offers.
Blocks Offered by PostX
PostX offers 100+ readymade blocks. Everything you need to present your post in a beautiful and organized way is available on the postX. There are several types of blocks available on the PostX plugin.
Blocks of each type come in multiple variation and styles. Currently, mainly Post Grid, Post List, Post Slider, Post Module, Taxonomy blocks are available on the PostX Gutenberg Post blocks collection. There are also blocks for image, post block header, and wrapper.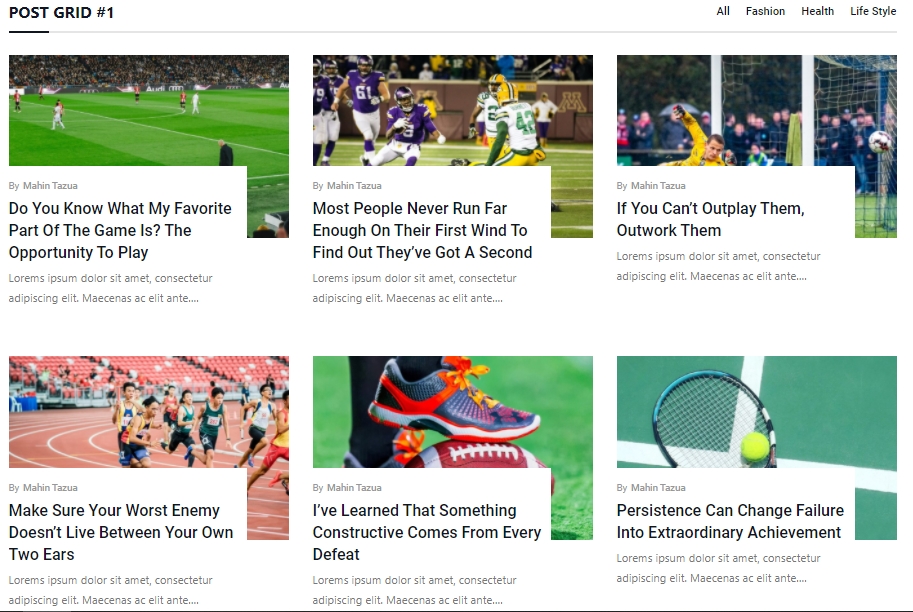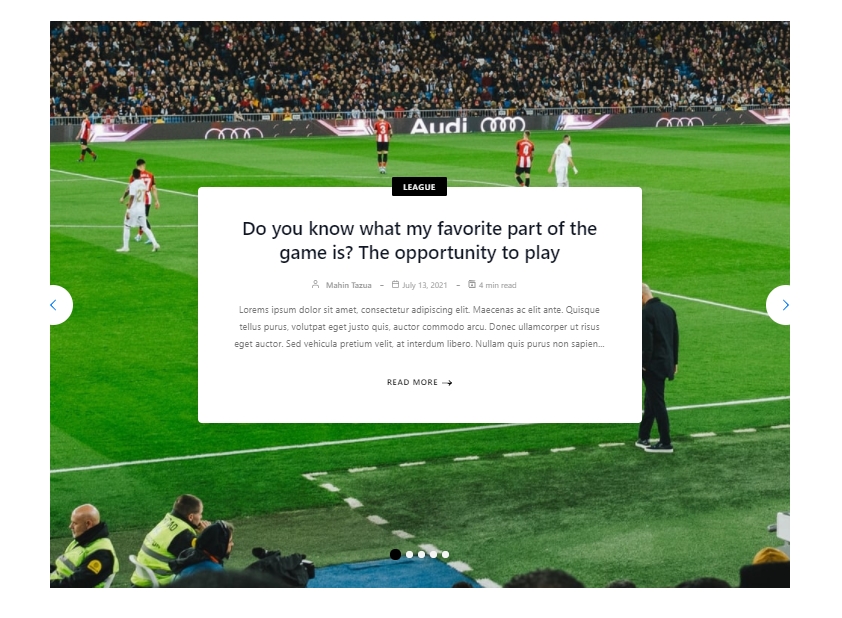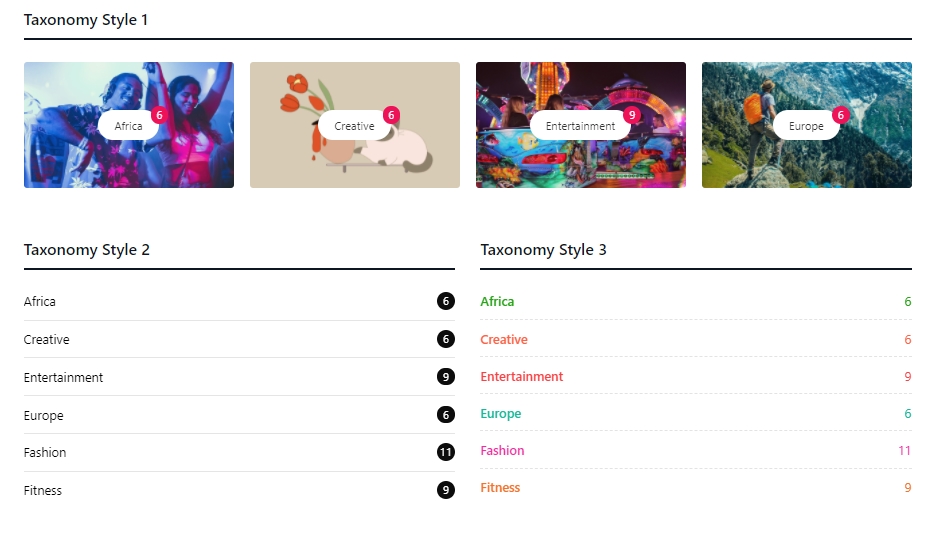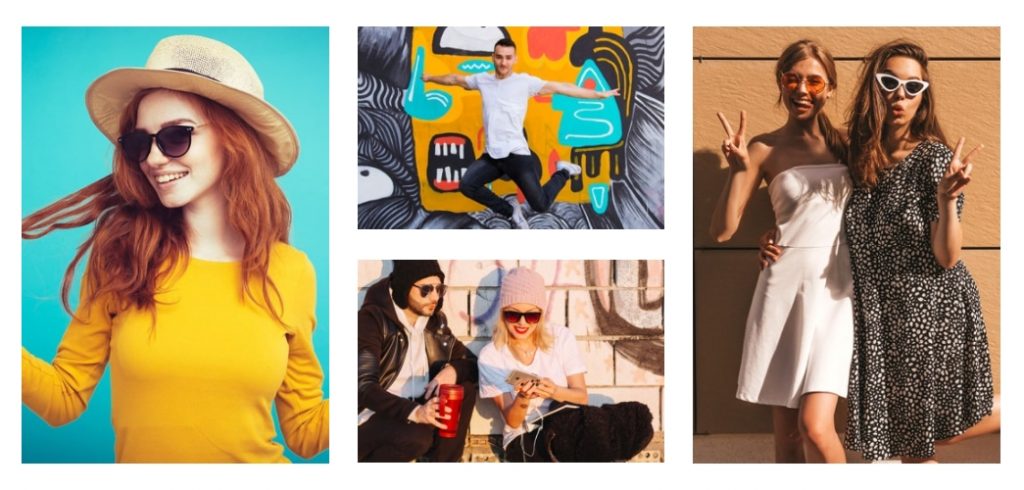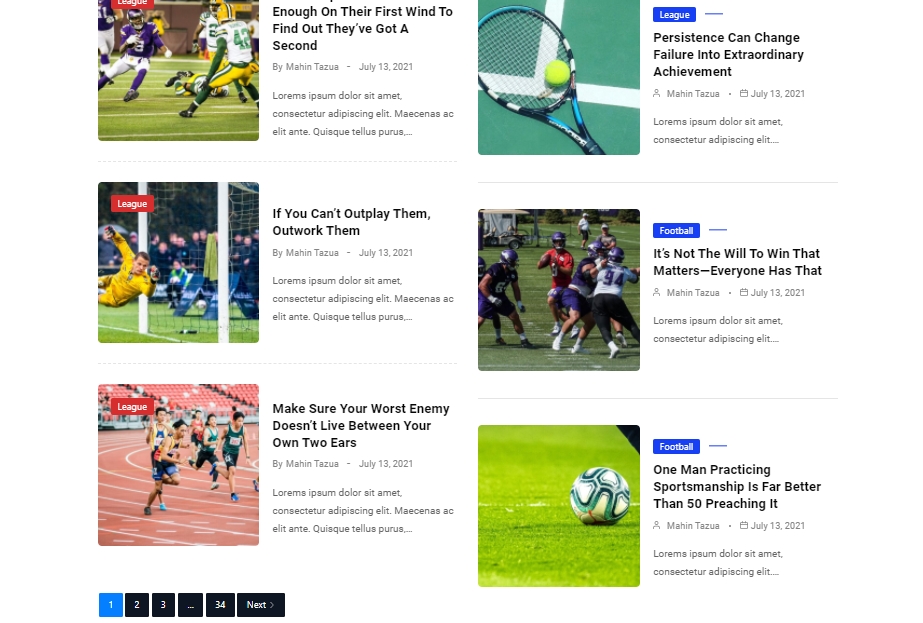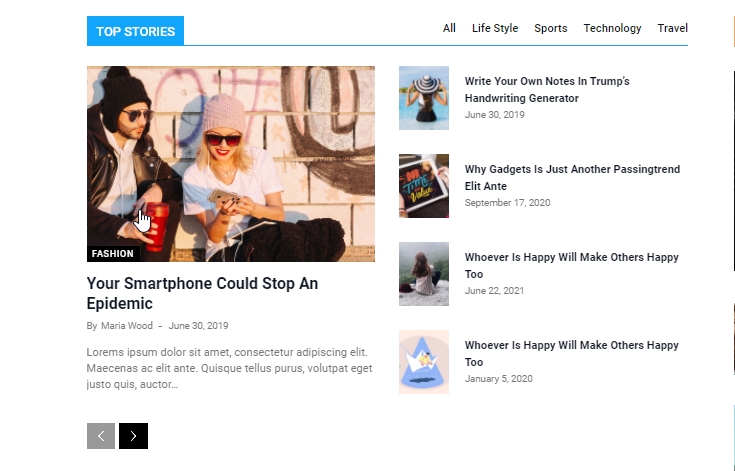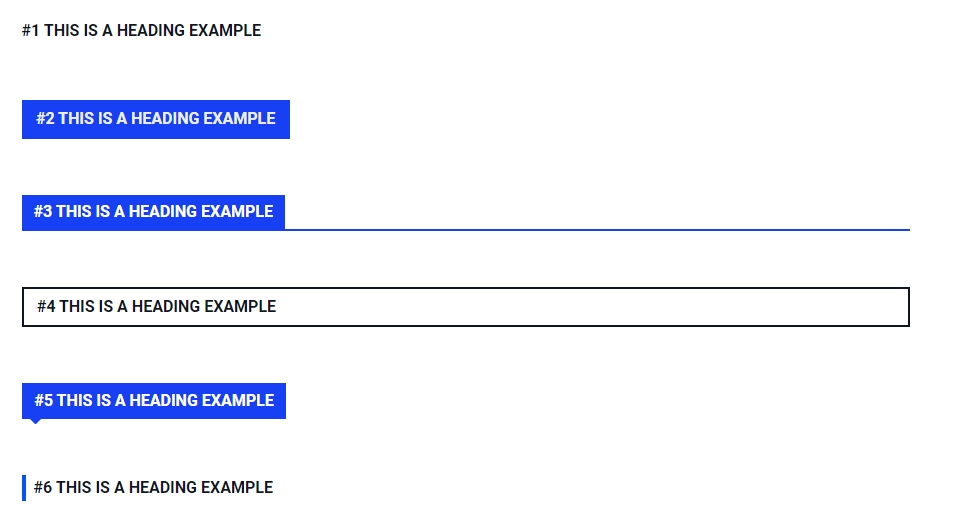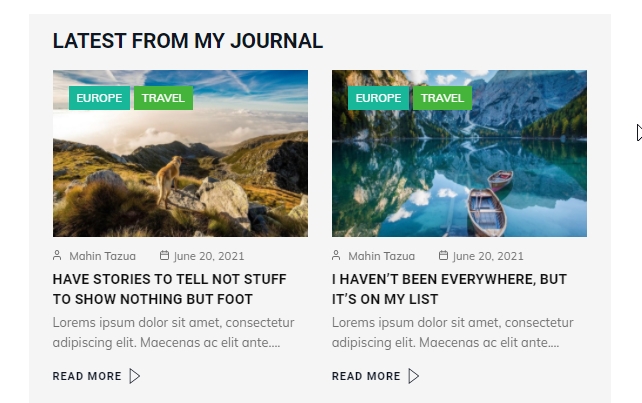 Apart from the blocks that help you customize the webpage bit by bit, you can also checkout the whole page templates that will reduce the design process even more.
Pros and Cons of PostX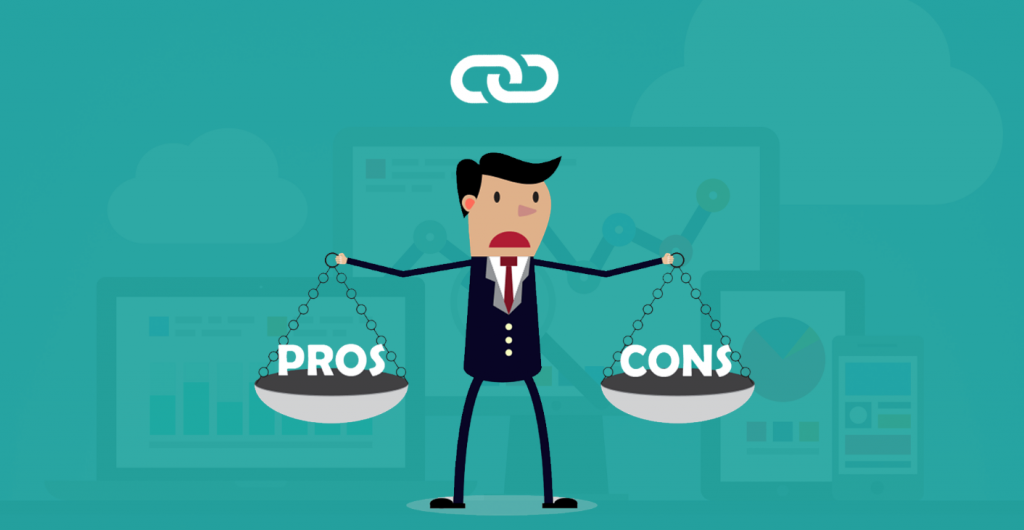 Now that we know how to use this plugin, should you start using it on your website? You might be wondering about the pros and cons of PostX? Well, let's check them out!
Pros:
It's a freemium plugin, you can choose either free version or the premium one with more features on offering.
100+ readymade blocks.
10+ starter packs for one click page design.
Very easy to setup and customize.
There are lots of customization options.
You can create shortcodes to reuse templates.
Frequently updated.
Does not impact the page speed much.
Extraordinary support.
Cons:
Documentation is very limited.
The price is a bit high to some because the plugin only offers post blocks. More versatile block plugin might seem like a better option to some.
PostX Tested by WP Hive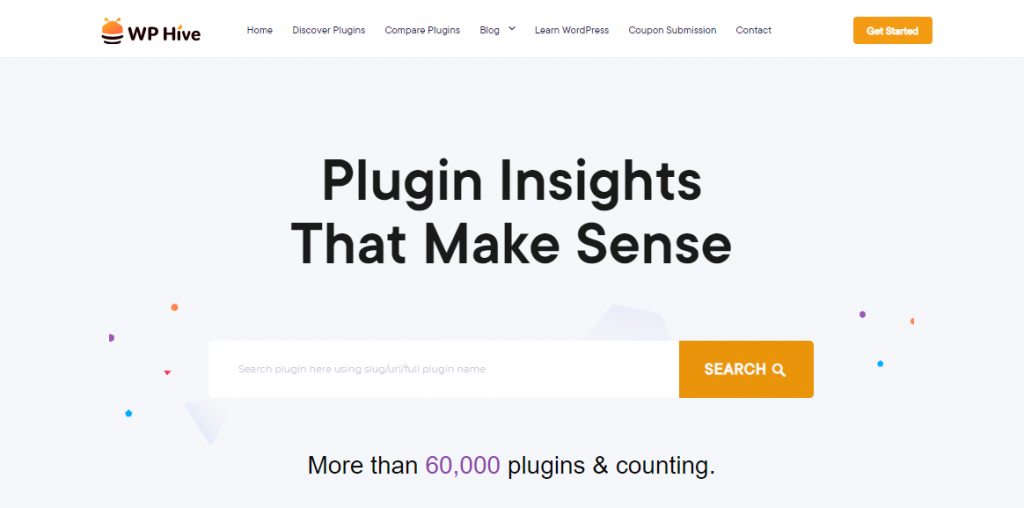 Now let's test the plugin through the WP Hive automated smoke test to see if it is up to the mark in the performance and other sections as well.
Performance: It was a mixed bag of performance for the PostX. While it does need more memories on your server, it actually doesn't impact the page speed negatively.
In the new era of SEO, being positive in the page speed area is always great!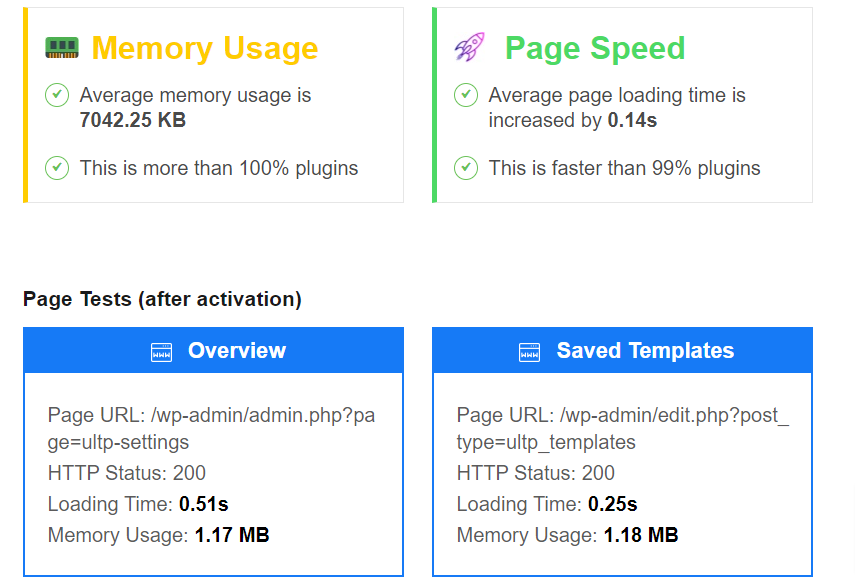 Errors & Updates: The plugin is frequently updated and thus it is compatible with both WordPress 5.8 and PHP 7.4.8.
Our automated test also found this plugin to not have any errors. Thus we would say PostX certainly aced WP Hive Errors & Updates Test.

Pricing Plans of PostX Pro Version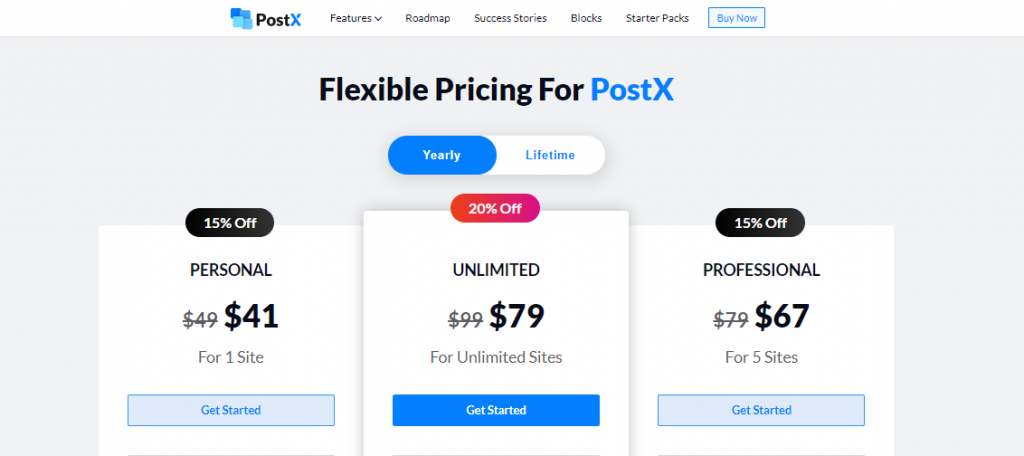 Although the price might seem to be a bit higher, we actually think it is pretty affordable because of the plethora of features and value that it offers to a blog or a newspaper. The pricing plan is as follows.
The yearly plan starts at $41. There is also a Professional and Ultimate plan. The ultimate plan provides unlimited site licenses compared to 1 and 5 site licenses by Personal and Professional plans respectively.
The lifetime package of PostX starts at $126. Which is also moderate compared to the benefits.
Getting Started with PostX Gutenberg Blocks
Liked the plugin up until now? We have a step-by-step guide to get you started on using the plugin. Here it goes –
Step 1: Installing the Plugin
PostX is very easy to install. The installation process is just like any other plugin. There is no need to go to your FTP and install it. Sounds easy enough?
If you want to use the free version, download it from the WordPress repository. Just login to you admin dashboard, navigate to plugins and install the plugin by searching with PostX.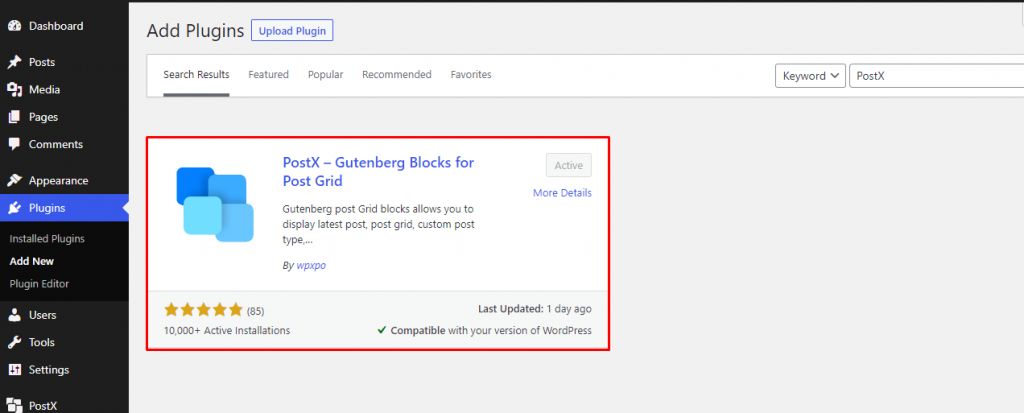 You can also download the pro version for advanced features, which you can find here.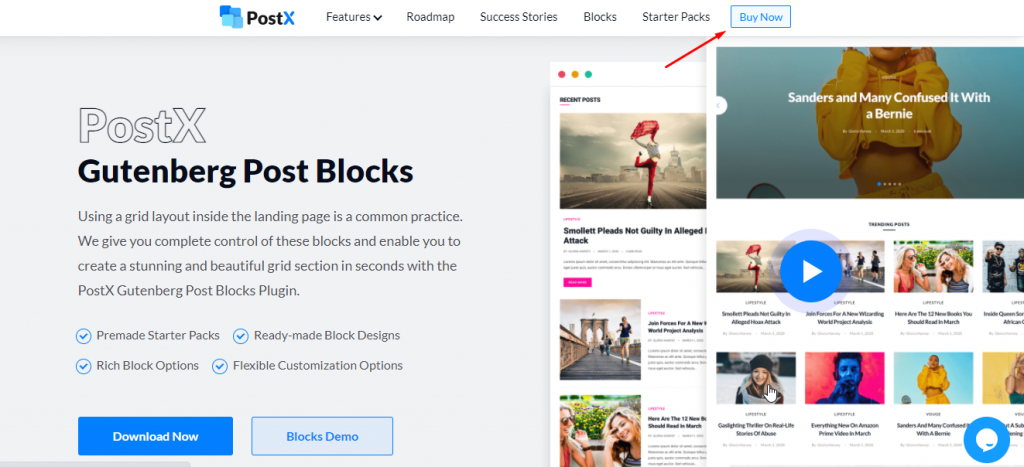 Step 2: Adding Post Blocks to a Page
In order to try some blocks on our website, we have added some blogs beforehand and we suggest you to do the same. We also used one of our already created pages.
You can also create a page by navigating to WordPress Admin Dashboard > Pages > Add New. Give the page a name.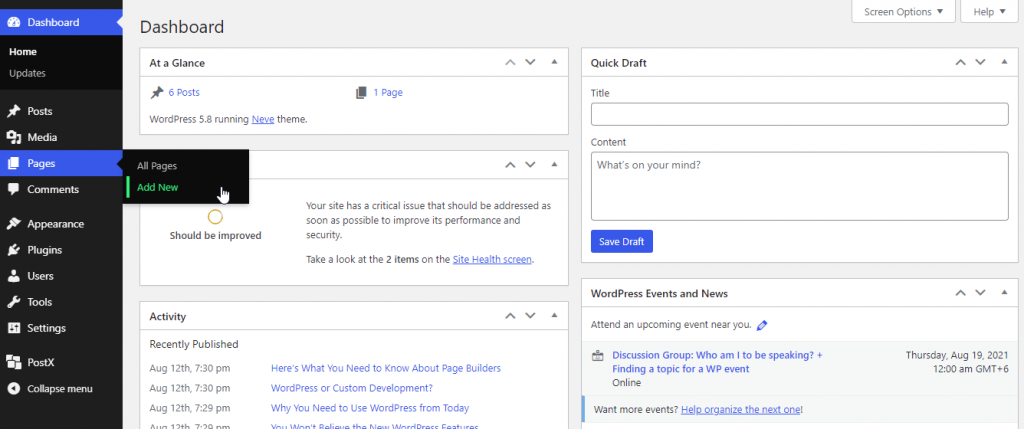 Once you are done, click on the plus button as shown in the below image.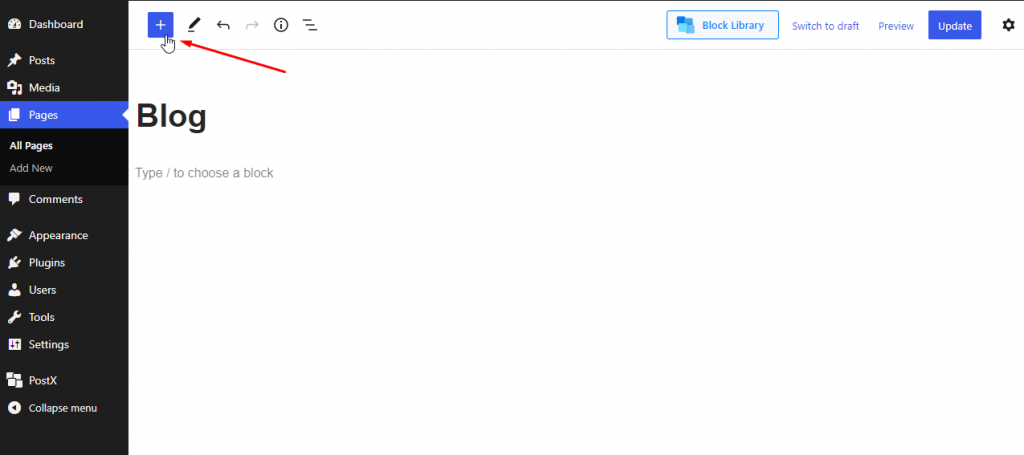 You will see the PostX blocks on top. From here you can click on any block you want to add on the webpage.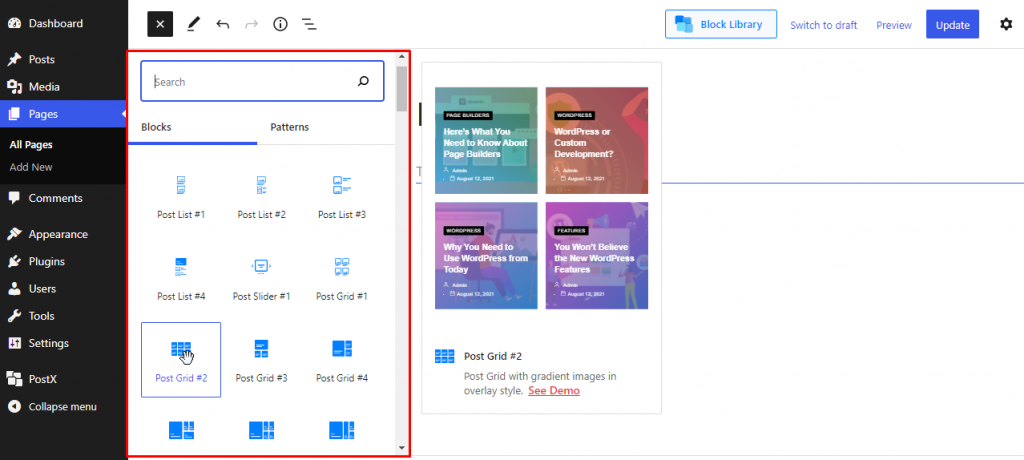 You can also change the header of the post block.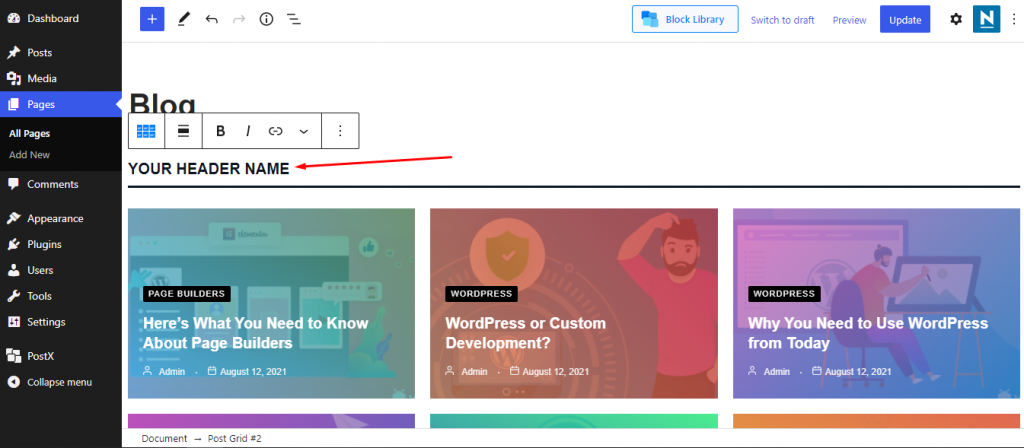 From the settings tab on the right, you can change the design by choosing any premade block template of the same category.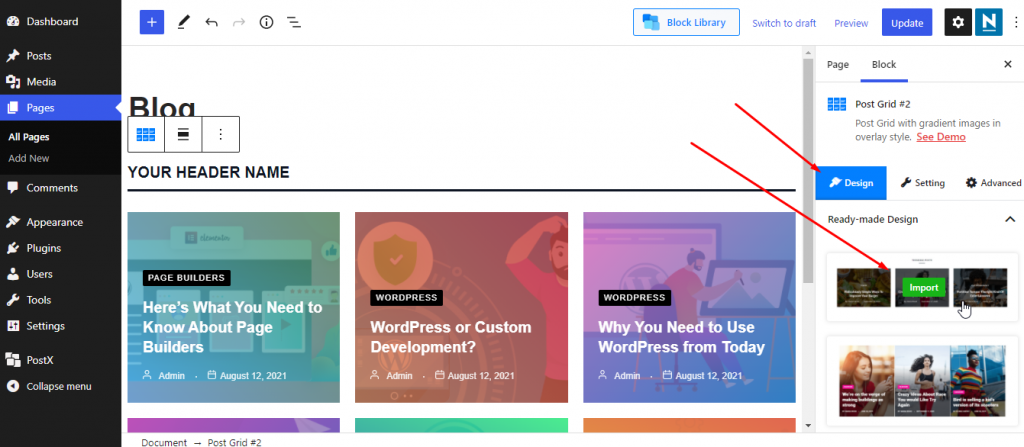 You will also find dedicated settings option in the same place, which will allow you to change different configurations like height, weight, query, title/heading tag size, meta position, category style among other things.
Related: HappyAddons – The Most Innovative Elementor Addons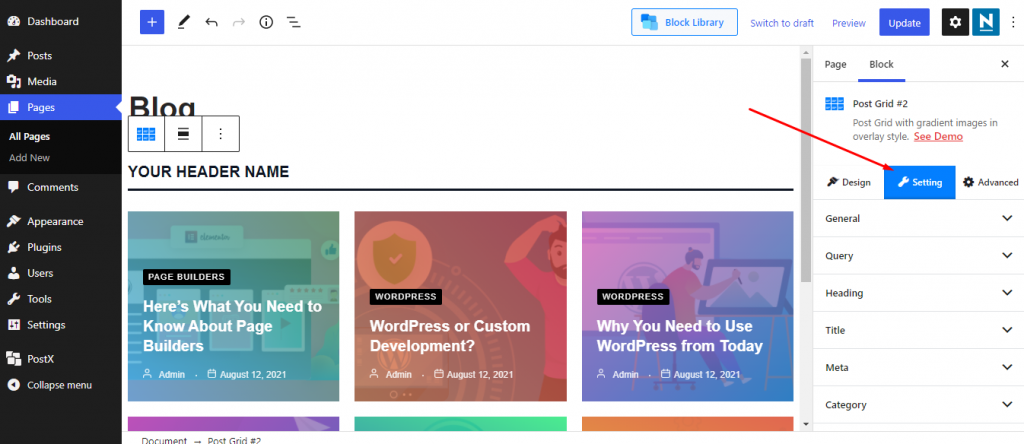 From the advanced section, you can change the alignment, style of the block in a more in-depth way.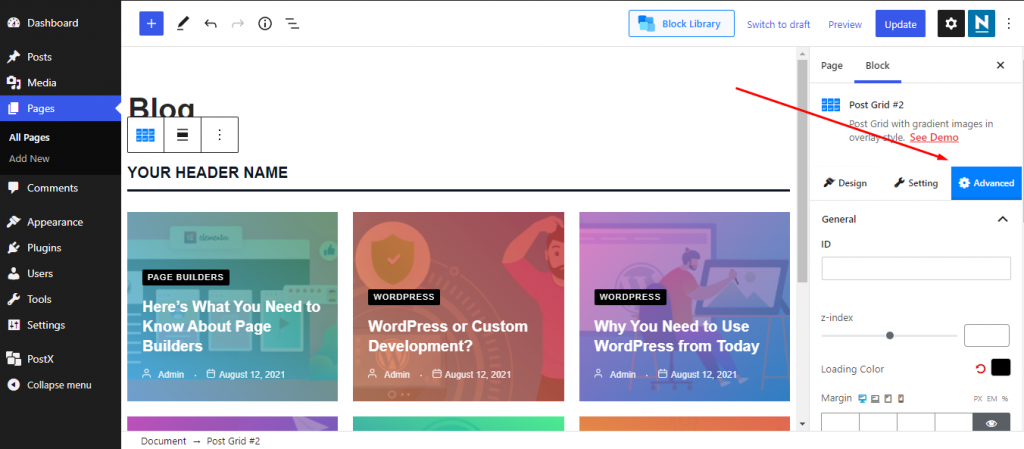 We have added several blocks in the same way, and here are some snaps from our webpage.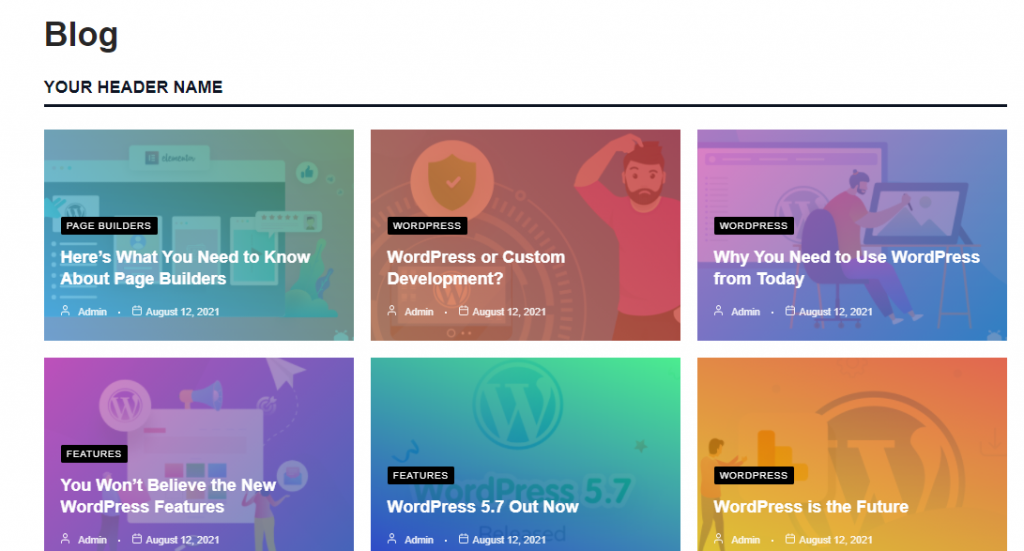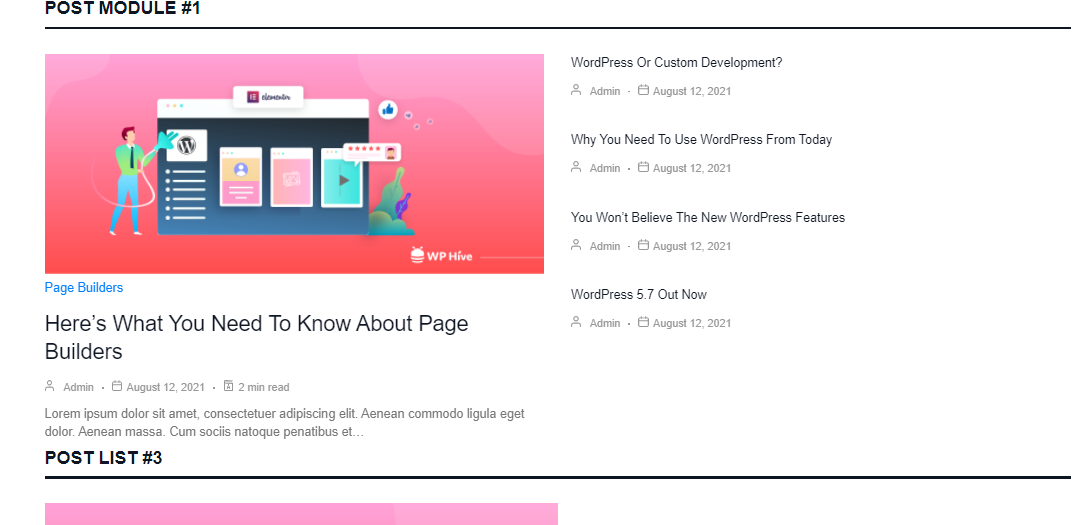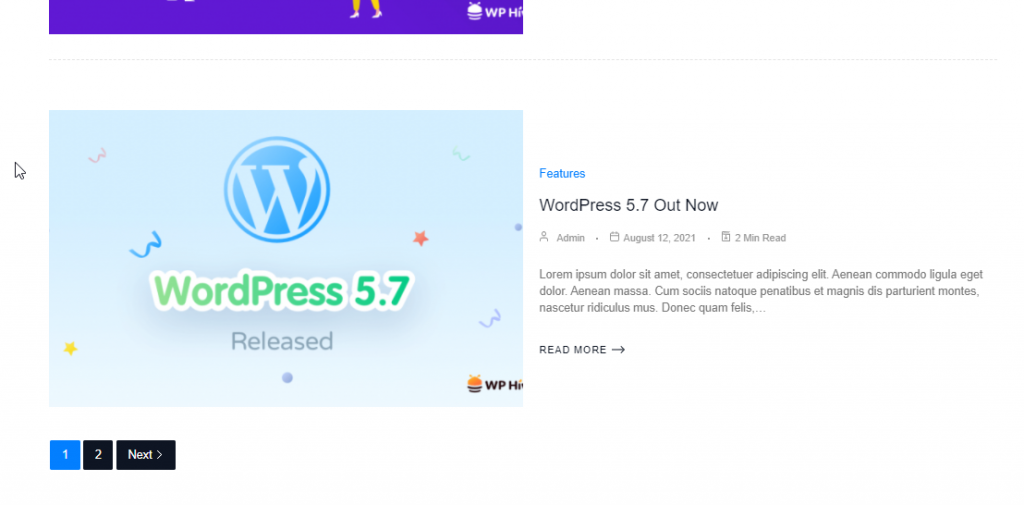 Cool, right?

Step 3: Using Whole Page Starter Templates
If you don't want to customize each and every setting in an in-depth way, you can also add a starter template to decorate your page in one click.
To do that, navigate to WordPress Admin Dashboard > Pages > All Pages and click on edit on the page where you want to add the starter template.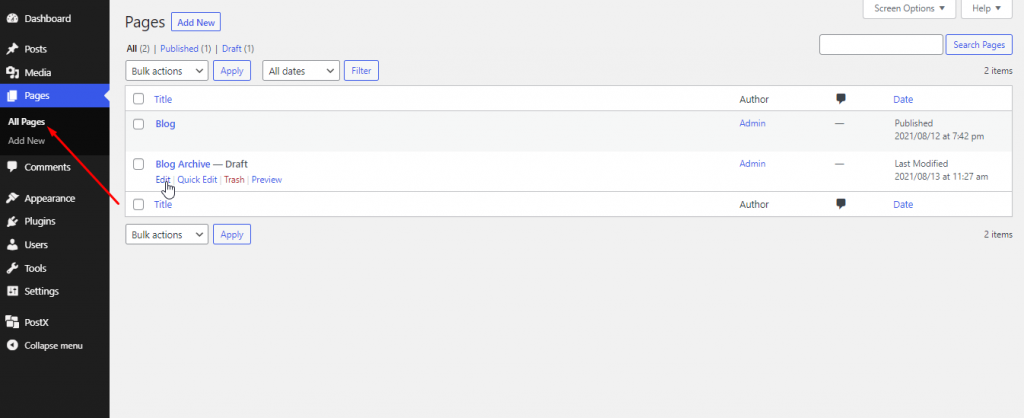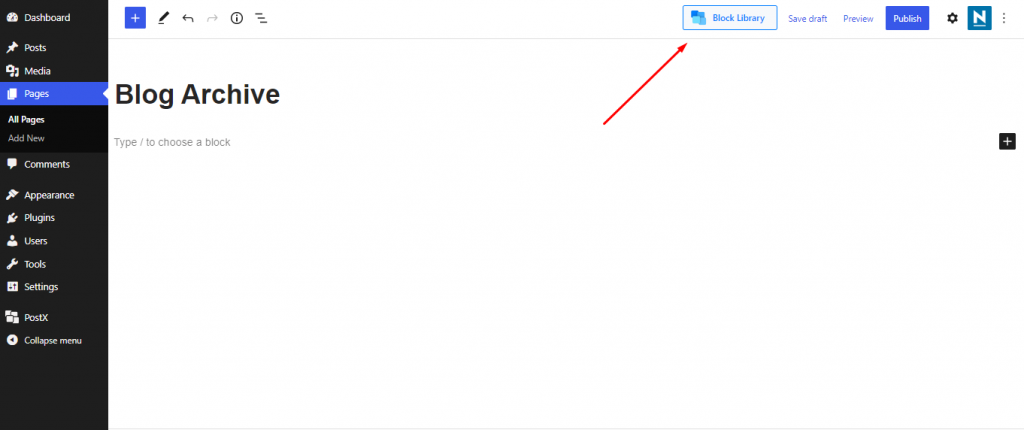 Now you will see a lot of ready starter templates, both free and premium. Depending on your licensing, click on import once you choose a template.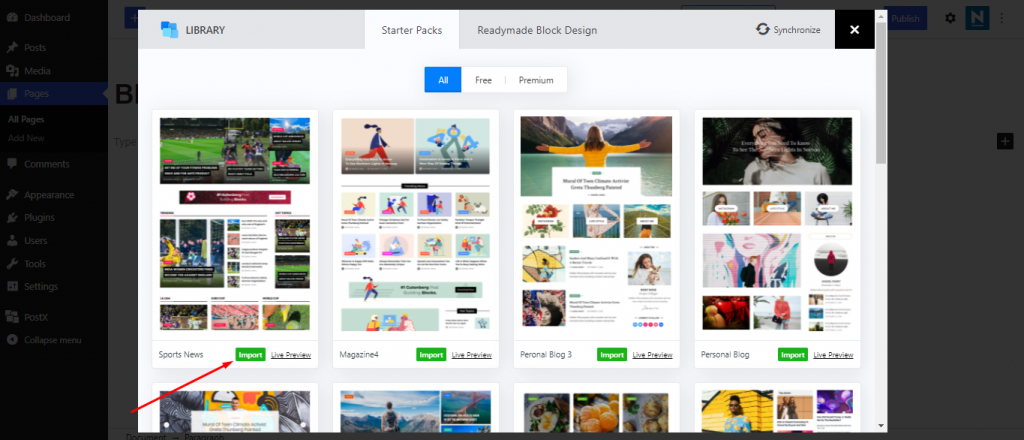 Now make any changes if needed or just publish the page straightway. The whole page is looking pretty and well-furnished now. A beautiful page like the following one within clicks, how easy was that?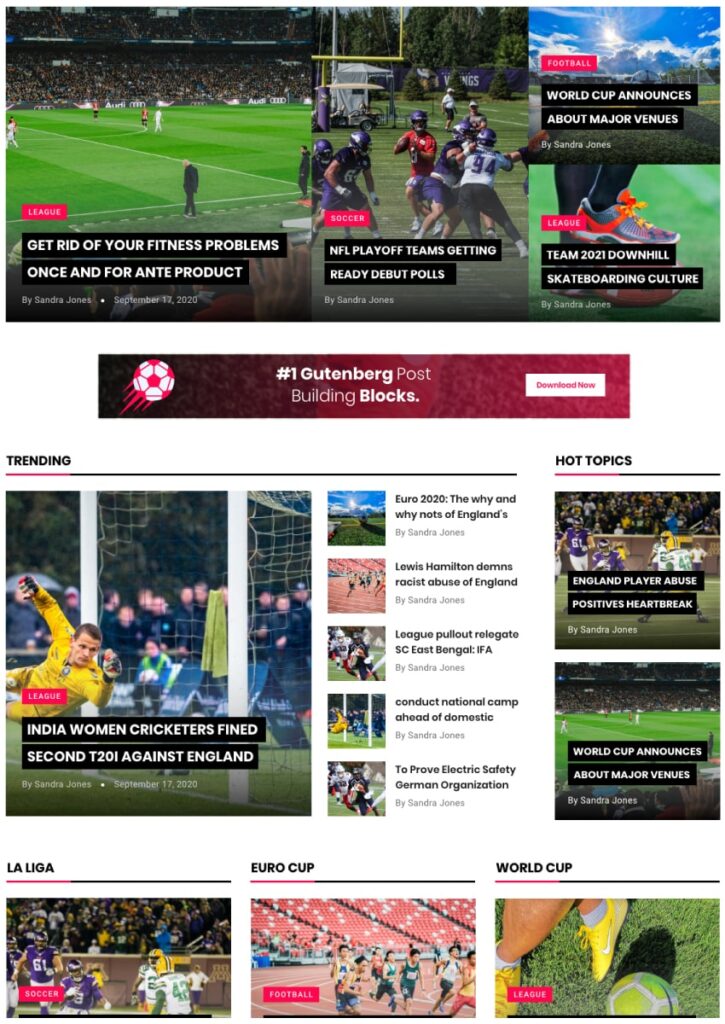 Frequently Asked Questions of Gutenberg Blocks
We have decorated this section with some of the most searched questions regarding Gutenberg Blocks. Check it out to help yourself for gaining more ideas about Gutenberg Blocks and Gutenberg Themes.
What are Gutenberg Blocks?
Gutenberg is a WordPress page builder that helps you to create content in a more visual way. For doing that it uses a library of pre-built elements which is known as Gutenberg Blocks.
How do I use Gutenberg Blocks in WordPress?
Using Gutenberg Blocks in WordPress is very easy. Follow the below steps to get your job done.
1. Go to your WordPress editor for creating a new post or page.
2. Give it a title and save it.
3. Customize your block
4. Save and publish.
What is Gutenberg Block Template?
Gutenberg templates are entirely composed of blocks. This is going to be a vast templates library for Gutenberg users. It already has 100 section templates spread over 12 most needed section types for any website.
What are stackable Gutenberg Blocks?
Stackable is the all in one solution for creating stunning websites with Gutenberg Blocks. Stackable has helped thousands of bloggers, merchants, designers, and web development professionals make the most out of the new WordPress Gutenberg Block editor through these awesome features.
What are the best WordPress Gutenberg Blocks plugins?
This is a list of the best Gutenberg Blocks plugin for you.
1. PostX – Gutenberg Blocks for Post Grid
2. Genesis Blocks
3. Ultimate Addons for Gutenberg
4. Kadence Blocks
5. Gutenberg Blocks and Template Library by Otter
What are the best WordPress Themes compatible with Gutenberg?
Should You Use PostX Right Away?
More and more third-party page builders are coming in the market in recent days. But Gutenberg is still the future of WordPress page building. With that in mind, we can surely say PostX is a great plugin that holds great promise.
The plugin has already been used actively by 10,000+ active users and holds a near-perfect rating (4.8/5). The uniqueness of this plugin is what makes it so popular. There are several Gutenberg post blocks plugins, but feature-wise there is not a single one that is so comprehensive.
The plugin does not just feature a large array of features but is also very easy to use, as you already know through this article. To top it up, the pricing is well-thought.
Overall, if you already have an online newspaper/magazine/blog or planning to start one, this can just be the best thing that your site needed.
https://wphive.com/reviews/postx-gutenberg-post-blocks-plugin/
Faisal Sarker
Faisal is a tech blogger who excels at WordPress Content Writing. Apart from sharing useful info pieces that help people around the world, he also likes to travel and read books of all genres in his leisure time.

Subscribe To Our Newsletter