How to Create a Content Marketing Funnel that Converts

If you don't have a successful content marketing funnel, you can't effectively guide people from simply being aware of your existing brand to finally making a purchase.
A marketing funnel is a smart way to move people from one stage of your content to another and ultimately create leads. It's a multi-wise process where you first create a buzz for your product, consider and evaluate that the product can solve their needs, finally convince them to buy.
Let's clear up the entire process step by step. Before that, you must understand the functions of a marketing funnel that drives sales.
What is a Content Marketing Funnel and How it Works
A content marketing funnel is a process of generating high-quality leads to your product or services through different stages of content.
In other words, it is a system that helps to get more potential customers and guide them through a content flow and finally converts them into paying customers.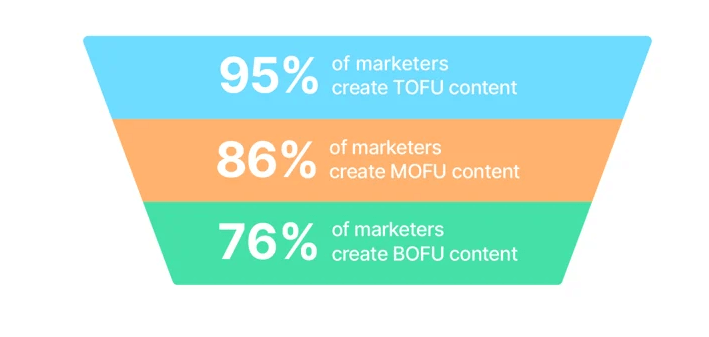 While working on it, marketers separate each piece of content for different purposes. In a content funnel, you find three main content stages like the top of the funnel, the middle of the funnel, and the bottom of the funnel.
Why Should You Create a Content Marketing Funnel
Why create a content funnel? First, you should understand this.
Your main motto when producing content is to search for potential customers who can pay for your product or services. Make sure that you always create high-quality content for your business that has to go through an effective marketing funnel. Without it, you can't survive in this competitive web world.
Content marketing generates 3x more leads than traditional marketing.

Source
Moreover, well-designed content marketing helps you to get more backlinks, page indexing, higher search results and saves valuable time.
Here is a list below that shows why you should use a marketing funnel for your content.
Generate organic search traffic
Increase brand awareness
Drive higher conversion rates
Spend less money on paid ads
Build a Content Marketing Funnel That Converts


Building a content marketing funnel is a smart way to engage new customers and get more leads. When you think about a marketing funnel, you need to focus on the TOFU, MOFU, and BOFU the three stages of your content. You should work on each part of your content individually so that you can produce high-quality content.
Now, it's time to show how to create a content marketing funnel that converts.
Top of The Funnel (TOFU)
The top of the funnel is the primary stage of the customer journey. Most of your clients do not know your company and are not prepared to take up your product. In this part of the content, your responsibility is to attract their attention and present your brand wisely.
To create awareness, you answer the queries of your customers, talk about their problems, and finally, create possibilities to solve their problems.
You prepare content like below to grab users' interest.
Blog Posts: At the top of the funnel of your content, you put a blog post and try to inform your customers about your business. A smart blog post also helps to create leads.
Comprehensive Guides: People love guideline posts or tutorials. It helps to learn a matter properly. And you can design your top of the funnel with comprehensive guides.
Infographics: Photo & infographic tells the visual story of your content. By using infographics, you can catch your customer's attention.
Podcasts: The podcast is an important topic that you may add to your content marketing funnel. Using a podcast, you able to tell a story of your services, promote business, give a recommendation to your customers.
Remember that your users only move on to the next part of your content if you accurately attract them. Try your best to do this, but you can't force them to buy your product here at the top of the funnel.
Middle of The Funnel (MOFU)
After creating awareness at the top of the funnel, your next job is to focus on the middle part of your content. In the middle of the funnel, you speak directly to the users to tell how your business can help them.
Here, you highlight your product or services to your customers and convince them that you can solve all the problems. Besides, you also compare your business with others to show why other people engage with your business.
You may add some of the below things in your content.
How-to Articles: In the middle of the funnel, you can teach your customers about your product by writing a how-to article or tutorial. It'll create a positive impact on the customer's mind and provoke them toward the next stage of your content.
Demo Videos: You provide a useful demo video for your product. For example, you may add a video about how to use your products, its functions, benefits, and more.
White Papers: A white paper report is an authoritative report or guide that helps readers understand a problem, solve an issue, or make a decision. If you add this to your content, your customers get a better knowledge of your products.
Case Studies: Case studies very useful and always makes a smash on the users' mind. It also proves that your products can solve other customers' problems. And new customers freely use your product.
eBooks: You can write an eBook regarding your products or services.
MOFU is the evaluation and consideration stage of your content. You need to give the necessary information about your business and try to educate the customers and earn their trust.
Bottom of The Funnel (BOFU)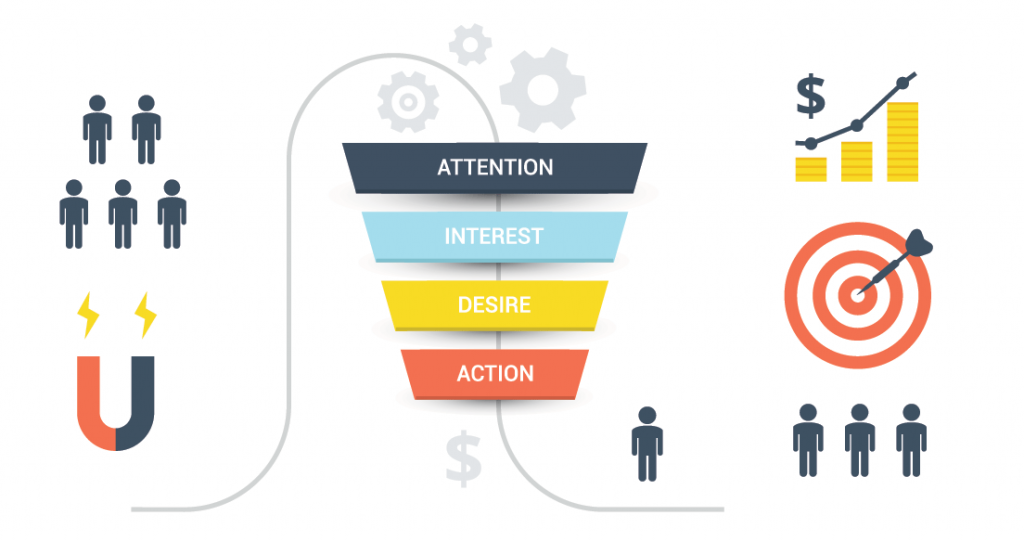 It is the final stage of your content where customers decide to buy your product or services. The content at the bottom of the funnel must be personal and to the point. Besides, you need to answer specific questions about your product if your customers ask.
Furthermore, you also show the difference between the free and premium features of your products so that customers can understand the importance of that.
In addition, you must follow the list below so that you can add these in your content.
Add Testimonials to Other Customers: At the bottom of the funnel, you should tell the audience the products you offer are being used already by other people. To do this, you need to add testimonials of your satisfied customers. If you do, it'll create an impact on your new customers' minds and helps for conversion.
Put Success Stories: Success story is another way to move your customers towards the lead. Try to put some problem-solving success stories of your clients solve in the last part of your content funnel.
Add Positive Review: Most customers are looking for positive feedback on your products. If you have positive reviews from other customers, you should place this in content to generate more leads.
Offer Free Discount: Most of the customers look for a discount and offer. If you offer a discount on your products, your chances of conversion may increase. So try this strategy in your content.
Allow Free Trails: You also can allow free trials of your product or services. And customers are like to use free trials. If they are happy with these trails, they will purchase your products.
Use the CTA Button: CTA (call to action) is one of the vital parts of the bottom of the funnel. Because customers use the CTA button to start the conversion process. You should always use a CTA at the bottom of your content funnel.
At this point in BOFU, you need to be selfish towards your competitors and just write only a perfect sales copy for your products.
Conclusion
Creating a content marketing funnel is not easy. You need to work hard and spend many hours to produce an effective funnel.
You should remember that only 1-3% of customers move into the bottom of the funnel from the top of the funnel. So you have to focus on the content structure and work on each stage of content.
Besides, you also need to do market research, understand your audience, make content interactive, and focus on SEO optimization, and more. Most importantly, you have to test your content before publishing.
If you do the above things correctly, you will be able to create a content funnel with great ease.
https://wphive.com/tutorials/how-to-build-content-marketing-funnel/
Adnan Khan
Adnan Khan is a passionate writer who loves to write and read WordPress related stuff. Besides, he is very imaginative and likes to fly kites and play soccer in his off time.

Subscribe To Our Newsletter