7 Best WordPress Facebook Plugins To Increase Your Traffic

Facebook is the largest social network worldwide. Almost 2.7 billion users are actively using Facebook on a daily basis to expand different opportunities, build community & bring the world closer to each other.
That's why Facebook has become the center of attraction for all marketers, bloggers, entrepreneurs, businessmen, and people from all fields.
But did you know you can trigger that huge user base & persuade them to visit your website? Sounds interesting! right?😯
Yes, it's true! using some top-class WordPress Facebook plugins on the website, you can easily display your social content feed. That's why, in this write-up, we're going to discuss 7 top WordPress Facebook plugins that might help you to maintain a flawless engagement on your website & increase social followers at the same time.
But before we start the discussion, let's shortly check out the simple question below:
Why Use WordPress Facebook Plugins?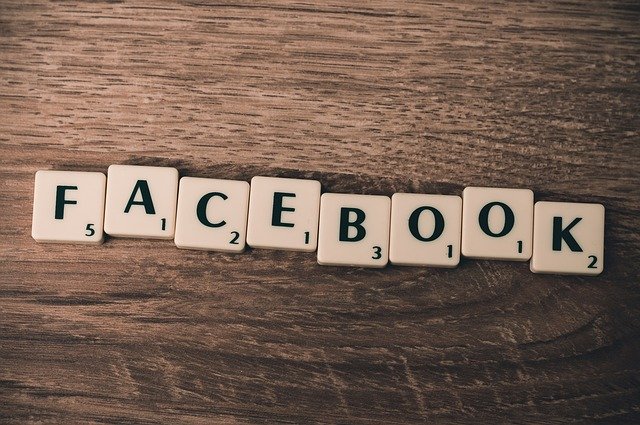 Well, there are several reasons why people should use Facebook as the main marketing platform to sell their online products. That's why 60.6% of internet users also believe that Facebook has given something better than other social platforms.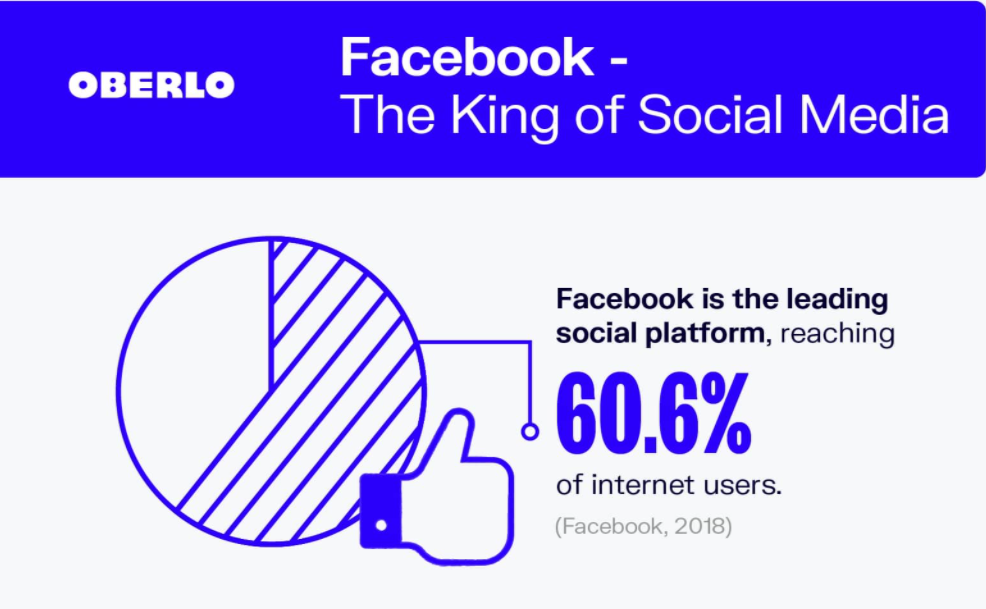 Another research shows that more than 1.62 billion users visit Facebook daily which is almost 74% of the internet. So it clearly shows the intimacy & eagerness of the people for Facebook.
Basically, Facebook plugins have different intentions & functions. But as a website owner, it totally up to you how you want to utilize them on your website. For example, to increase social sharing & followers, for entertainment purposes, or to show contents (announcements, photos, updates), etc.
To help you out, here are some advantages of installing a Facebook plugin on a website. Surely it can add some values & give you a proper reason why you should use Facebook plugins to turn your online preference into an engaging digital marketing platform.
It's great for notifying users about your Facebook business page so that they can follow it
It can be worked as a medium between your website and social channel
Some plugins help users to directly share your blog content & pages with other users on Facebook
You can customize your media ratio such as image size, text amount, height & width, etc
It saves time by generating dynamic, search engine crawlable content on your website
Helps to keep your viewers engaged and interacted with your content
User can follow your social channels through your website clicking on the Like, Follow buttons
Save your valuable time & effort to share updates for users on both platform
WordPress Facebook plugins can work as a ranking factor that boosts SEO efforts
Using Facebook plugins, you can even provide customer service through Facebook
Displaying different content (photo galleries, images, posts, etc) makes your website more attractive & engaging
👉Learn more Interesting facts about Facebook
Top Reliable WordPress Facebook Plugins You Can Use

Adding social contents on a website always gives extra benefits & exposures that make the website more informative to the visitors. For instance, you need to pick up the right tool so that you can organize your content professionally & give your website a nice look.
So the time has come to talk about the top Facebook plugins to you. So, if you're eagerly waiting to integrate Facebook plugins on your website, here we've hand-picked the best WordPress Facebook plugins to help you increase your blog visitor & get more traffic:-
01. Smash Balloon Social Post Feed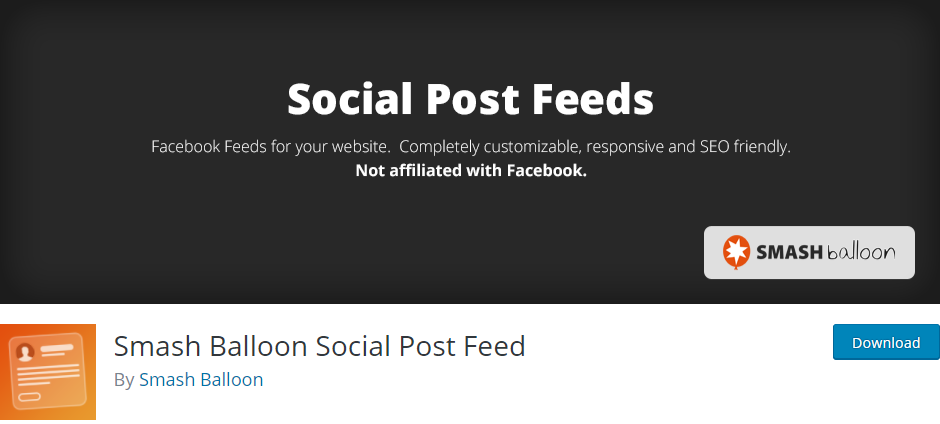 Smash Balloon (previously known as Custom Facebook Feed) helps you to display your Facebook posts on your WordPress site. This plugin is 100% mobile responsive, SEO friendly and you can customize it anytime. Moreover, if you want to fetch more feeds from different Facebook pages and showcase them anywhere on your site, only you just need to use a simple shortcode.
To know more about this plugin, check out some notable features of Smash Balloon.
Key Feature:-
Easy to get started with
Display feeds from the Facebook page and groups as well as
Fully customizable & SEO Friendly
Responsive and mobile-optimized
Add unlimited Feeds from Unlimited Different Facebook Pages
Built for Speed
Like Box Widget and Visual Header
So Much More
Our Verdict:-
Well, initially you can start using Smash Balloon. But to unlock more features and add advanced functionalities, you'll need to purchase the premium version. For example, you can display photos, videos, likes, shares, reactions, and comments. Also, in the premium version, it allows you to add multiple posts, and #hastags, etc.
02. 10Web Social Post Feed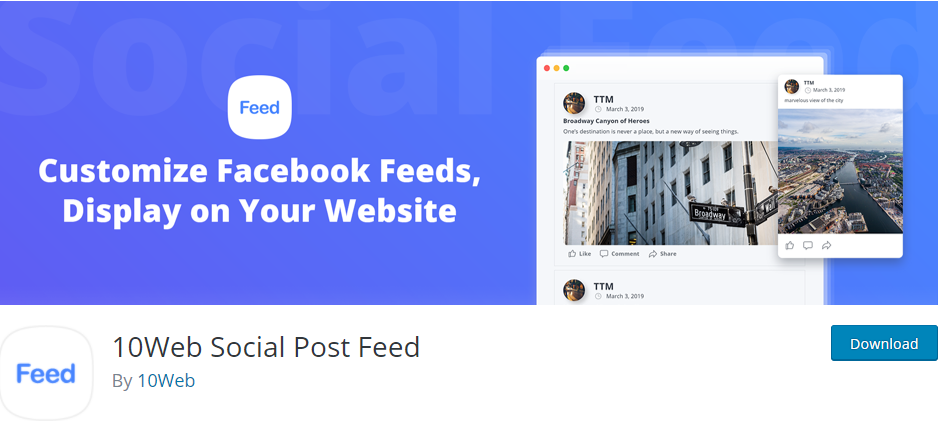 Next we have 10Web Social Post Feed in our WordPress Facebook plugins list. This plugin also comes with some unique & handy features & functions. It gives you different ways to display your social content from any page to control the content length, type and styling.
Again, if you want to display the entire timeline or just a specific portion of your feed, such as photos, videos, links, and statuses from it, you can easily add it by choosing the desired post type.
Anyways, let's check out the key features of 10Web Social Post feed to learn more about this plugin.
Key Features:-
It includes responsive layouts
Unlimited feeds to be added (premium)
Feed updates automatically
Customized Facebook widget
Single and multiple feed layouts
Available themes
Powerful lightbox feature
Auto social sharing buttons
Easy to set up and customize
Our Verdict:-
10Web Social post feed also looks great. It has both free & premium version. Like we said earlier, you can add more functions & features by purchasing the pro version. For example, you can use lightbox supports to display the filmstrip feature. It has 15 transition effects and allows you to display the feed photos in a pop-up window.
03. Widget for Social Page Feeds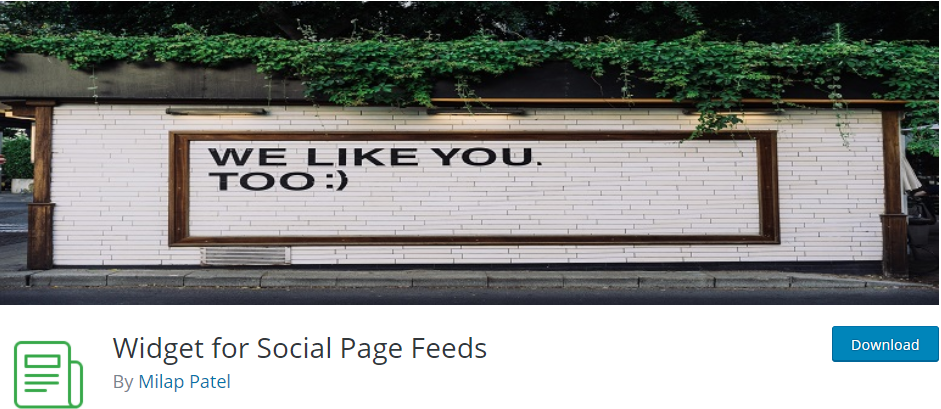 Another great Facebook plugin in our list is Social Page Feeds. It's one of the most lightweight WordPress Facebook plugins that crossed 11,85,000 downloads and 100+ active installs. Basically, users recognize it by Facebook Pagelike widget.
Because of its lightweight and simple configuration system, users find it very handy. Like other Facebook plugins, it also allows users to add different social contents on the website with a few clicks. For example, you can display social posts, likes, shares, hide or show them, also utilize custom CSS to make your content showcase more professional & attention-grabbing.
So without further ado, let's quick take a look at the features of Facebook Pagelike Widgets below:-
Key Features:-
Lightweight & simple configuration process
Easy to add or remove application id from your created Facebook application
Helps you to configure options such as show/hide posts from the timeline, cover photos, profile photos, small header, width options, language selection, custom CSS
You can use shortcode whenever you will need it
Get a quick response from support.
Our Verdict:-
It seems that this plugin has no premium version available. So there is a great chance if you still haven't installed any Facebook plugin for your WordPress site. Other than that it's completely free to use. So you can check out this plugin.
04. Easy Social Post Feed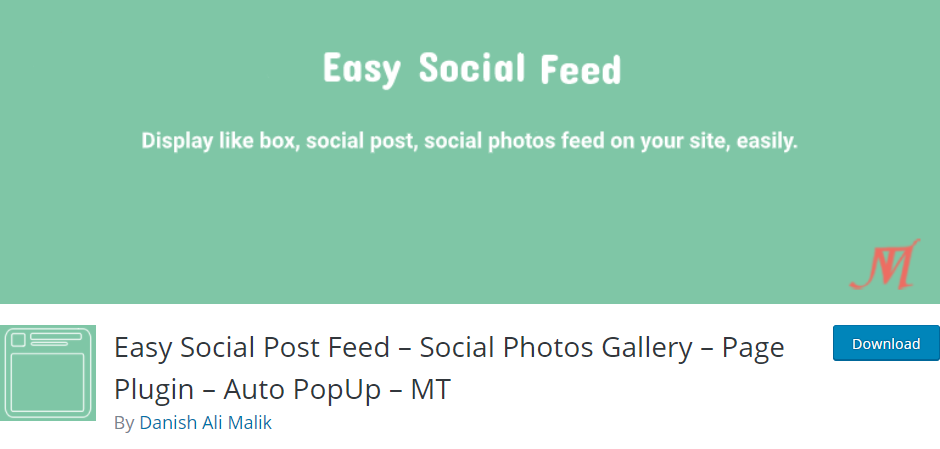 If you're eagerly want to utilize pop-up on your website along social feed, Easy Social Post Feed is right there for you. However, this plugin has all the similar facilities that we have talked about other plugins. Beside that you can add custom Instagram feed, Facebook Feed, and utilize Popup on your website using this plugin.
So, let's check out some key features of this super cool plugin below:-
Key Features:-
It supports the full customizable Facebook feed
Totally responsive and mobile-friendly
Easy Social Post feed makes your content looks better and works stunning on all over the devices & screens
It displays images, videos, and photo albums in the advanced popup. Therefore, your users never leave your site
It easily caches the posts, images and other content from Facebook & Instagram to minimize page loading issue
You can add unlimited feeds on your site
It provides remarkable customer support
Show/hide page for plugin and header is available
You can use read more button to let your readers to go through the full story on Facebook
Our Verdict:-
Well, like other WordPress Facebook plugins, it does also have both free & premium version. If the above features are not enough for you, you can always purchase the premium version. So after purchasing the premium version, you can use different layout, use other Facebook pages that you don't even operate, advanced popup, add events, comments, etc.
05. Social Media Share Buttons & Social Sharing Icons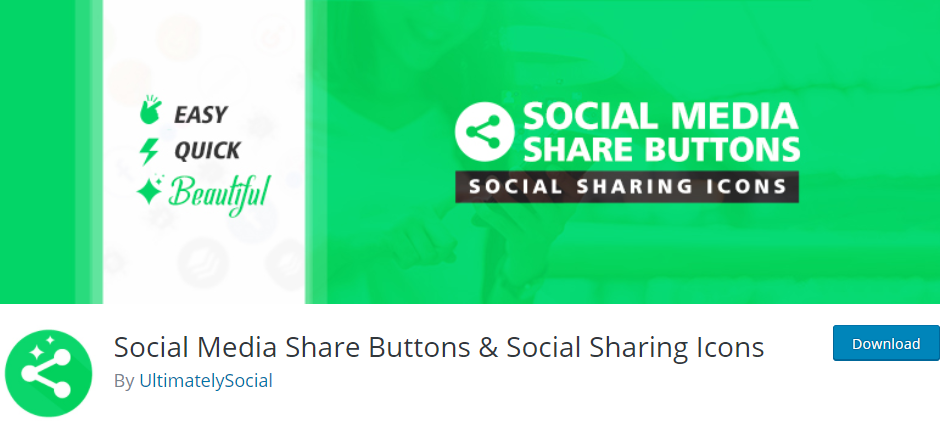 Next, we have Social Media Share button & Icons. Using this plugin you could add your social buttons anywhere on your website. Also, you can add RSS feed, email option, Facebook, Twitter, LinkedIn, Pinterest, Instagram, etc. (covering almost 200+ social handles). And the most interesting fact about this plugin is, you can easily create custom social share icon for your benefit.
So, to unlock more interesting facts about this plugin, let's check out some key features below:-
Key Features:-
You can design your social media icons with 16 different designs
You can give your users to take several actions to one social media share icon. For example, your followers can share your posts through the Facebook icon , and also give visitors the chance to like your page
Decide to give your social media icons an animation such as automatic shuffling, mouse-over effects, etc. This will make your visitors aware of the share icons, increase the chance to follow/share your blog
You can make your social media icons 'float' or 'sticky'
Helps your visitors to subscribe to your blog by Email
You can add 'counts' to share with your visitors
You can select the sharing-buttons and social media icons at the bottom of every post
Our Verdict:-
You can try out this plugin also if you want to add social buttons on every post along with the social feed on your website. Also, it does have a premium version. And the premium version allows you to increase your icons look, and give an elegant look to your social feed. However, you can easily switch to the premium version whenever you want.
06. Mongoose Page Plugin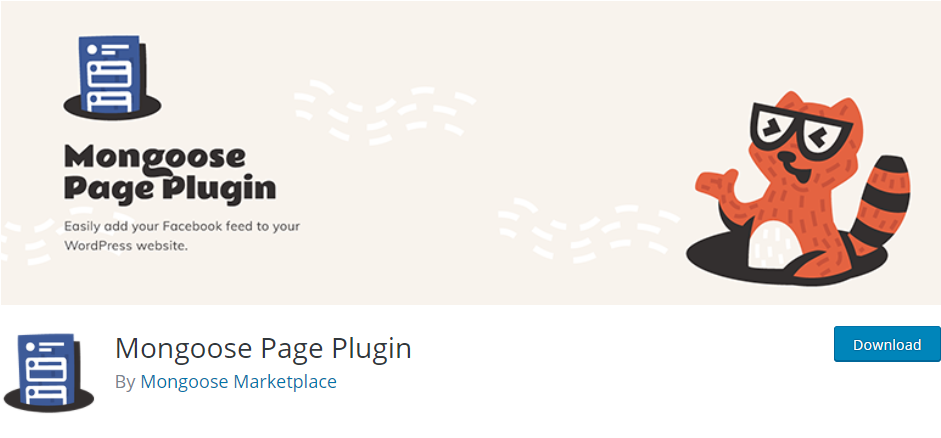 Mongoose Page plugin slightly looks different from the other WordPress Facebook plugins. It has been supporting almost 30,000 WordPress site worldwide. And it can seamlessly add your Facebook page on the website. The main interesting fact of this plugin is, it does have a live preview option.
So before you add any Facebook page on your website, it gives you an opportunity to A/B test your approach whether it looks good or not. And using the [facebook-page-plugin] shortcode, you can add any post, page, text wherever you want.
Let's check out some features of Mongoose Page plugin below:-
Key Features:-
You can generate a shortcode right from the admin dashboard
Although in the WordPress default language settings, you can only use one language. But mongoose allows your to display your Facebook page in all 95 languages that includes English, Spanish, Arabic, German, French, Russian and many more
Our Verdict:-
If you want to use this plugin, then you can easily proceed. All you need to do is, generate shortcodes, and utilize it side by side. As it has been supporting almost 30,000 WordPress sites. So we can say, it's still a great competitor for other WordPress Facebook plugins.
07. Super Socializer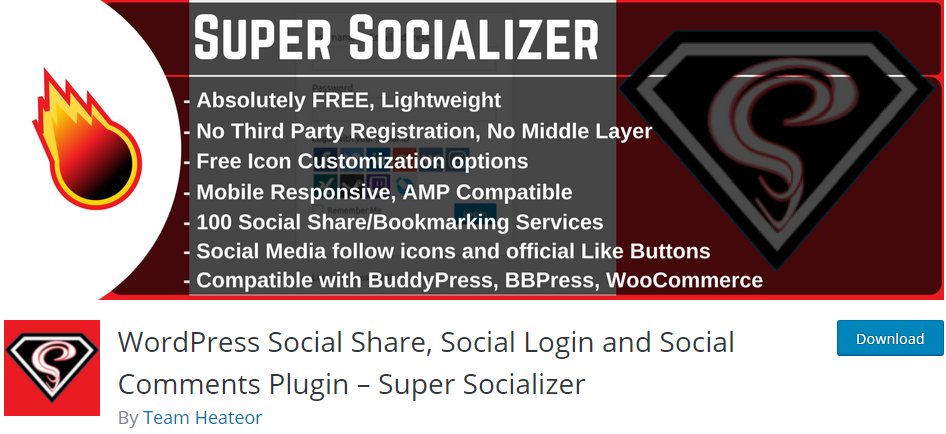 WordPress Social Share, in short, Super Socializer is Completely customizable, responsive as well as SEO friendly. This is really a perfect plugin to add Facebook to your WordPress site. Being a super user-friendly plugin, it helps to match the look of your website with the feed design.
Okay, let's check out the core features of Super Socializer to know more about this it:-
Key Features:-
It's totally free and lightweight
You won't need to add any third-party addons or features
You can customize the layout along with the icons
Mobile responsive and AMP compatible
You'll get 100 social share and book marketing facilities with it
Also, you can add different social share buttons & icons
Fully compatible with BuddyPress, BBPress, and WooCommerce
Our Verdict:-
Using this plugin can be also a wise choice for you. It's a complete package that helps you to add social share, social login, and social comments on your WordPress site. And the most interesting feature of Super Socializer is the social login feature. It will give you the alternative options to 'log in' on your WordPress site instead of using the default login interface of WordPress. Such as Google account, Facebook & Twitter Account, and email, etc.
How to Add a Facebook Page to Your Website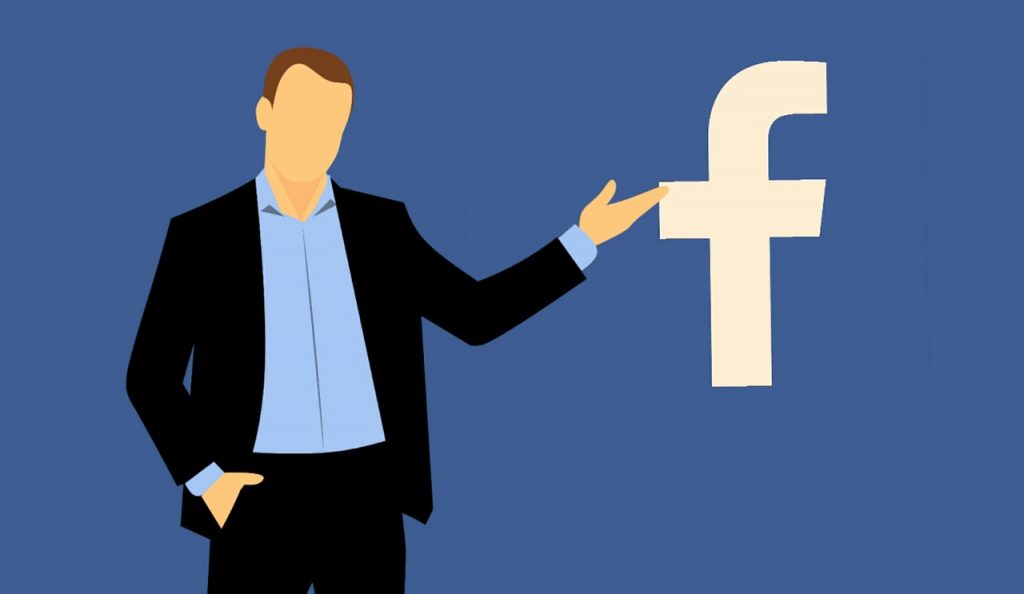 After getting the idea of top WordPress Facebook plugins, we'll be going to show the process of adding a Facebook page on your WordPress. It's easy & simple, so you only need to follow the steps and implement right on your website.
Step One:-
First of all you need to go to Facebook Developer Plugin Page. And then paste your Facebook URL right here. After that you could see the preview of your page.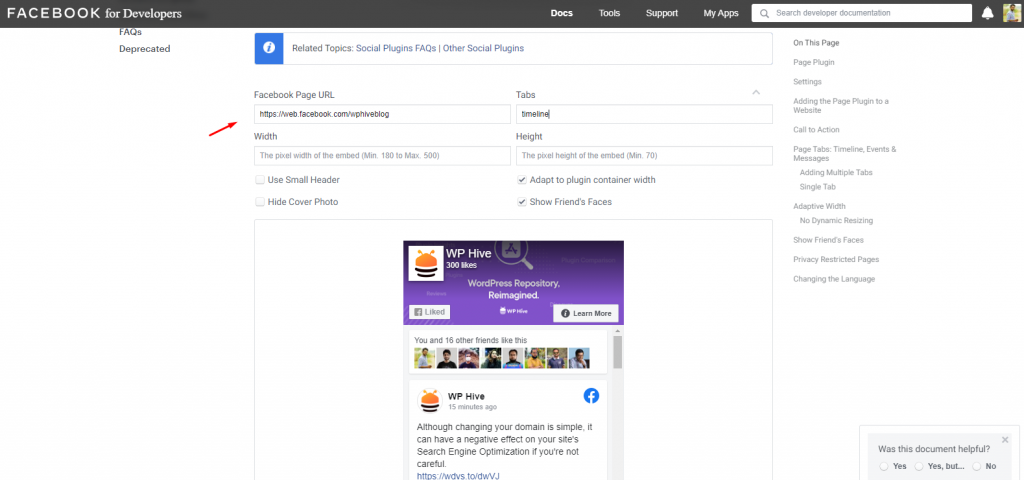 Here you can customize certain things such as tabs, height-width, activate small header or cover photo and more.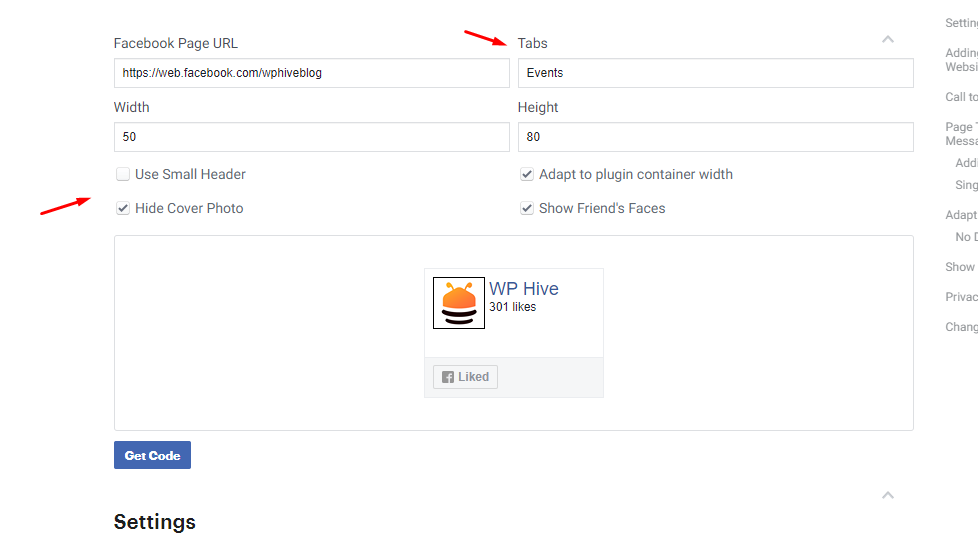 Step Two:-
So after completing the process, now it's time to generate the codes. So click on the Get Code button.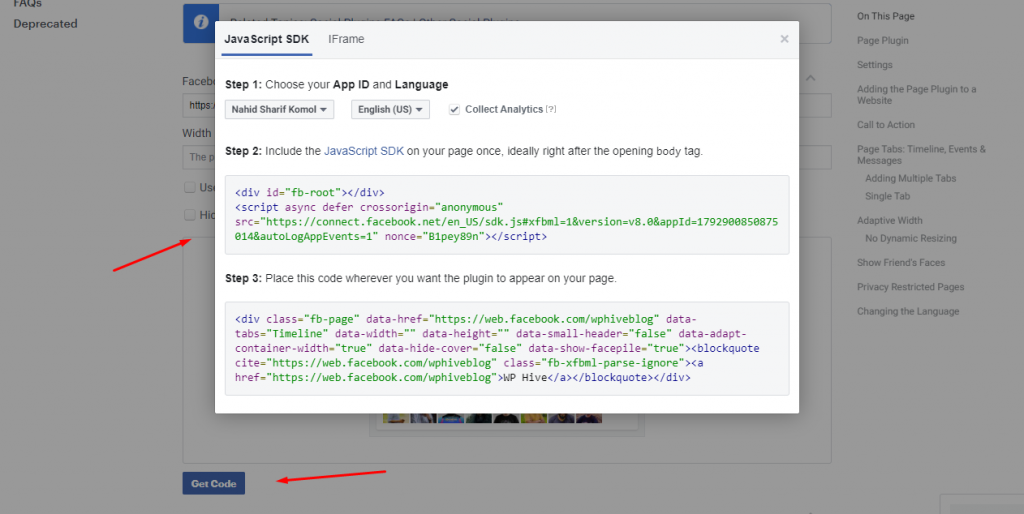 Then your next task is to paste the code one after one on your WordPress site. In this case, copy the first code and then the second one.
Step Three:-
To paste the code, navigate to your WordPress admin dashboard>Appearance>Widget>Select Text>Add it on the Footer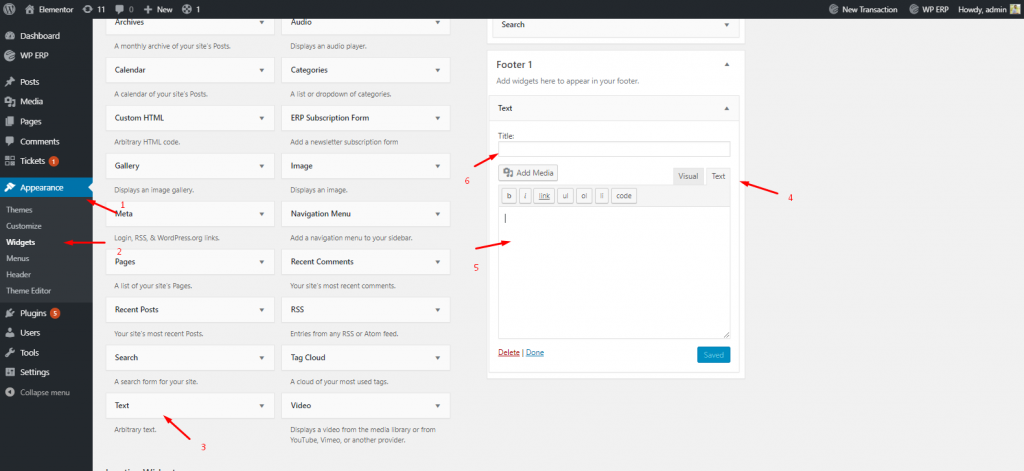 So after adding the code on the footer part of your website, it will look like the example below:-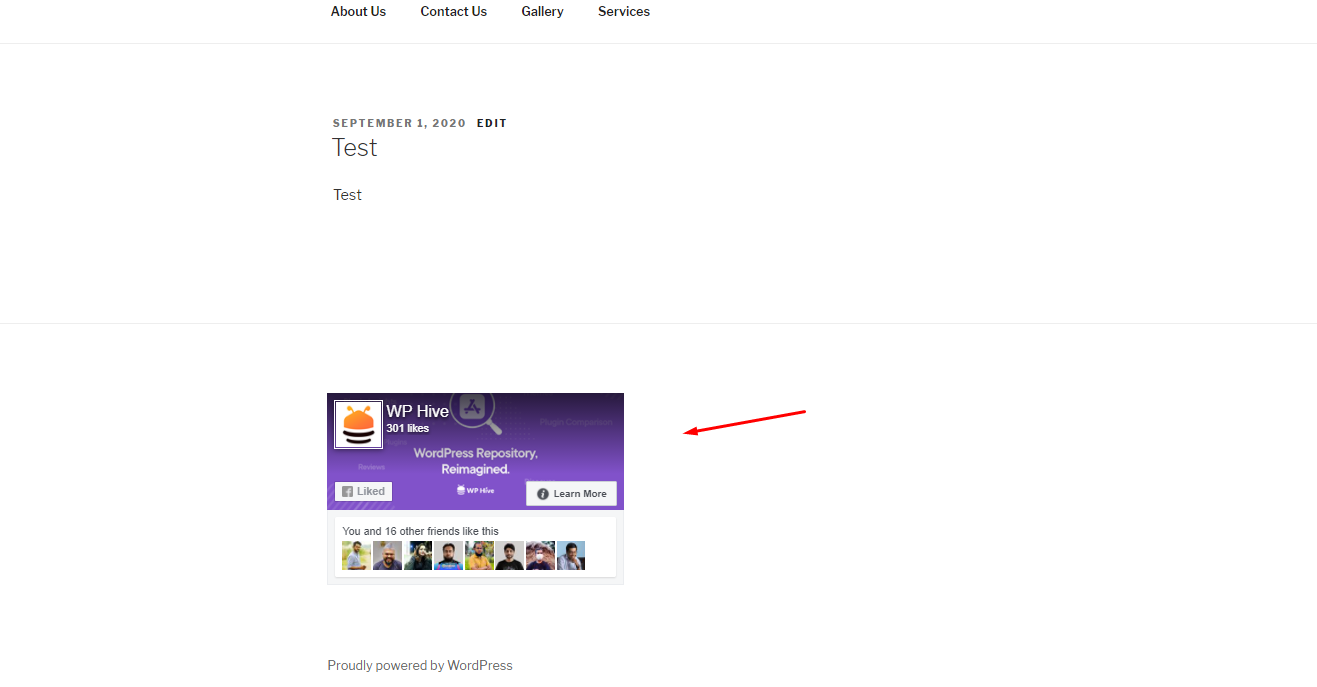 And this is how you can add your Facebook page on the website.
Note:- This will only show interface of you Facebook page. So visitors only can see the post updates and like your page.
Our Verdict
Well, the post has come to an end. We tried our best to show how WordPress Facebook plugins work, and what are the benefits that you'll get using them on your website. In short, we can say all of them are popular and can perform the best with any WordPress site.
You can individually test their performance with WP Hive to analyze which one could bring the best results for your blog & increase more traffic.😉
https://wphive.com/reviews/wordpress-facebook-plugins-to-increase-traffic/
Nahid Sharif
Nahid is a marketer by profession and writer by passion, the feeling of independence and free thinking always keeps him going! If not writing, he's either running his eyes over the science fiction stories or playing acoustic guitar, writing lyrics and taking photos of nature!

Subscribe To Our Newsletter