How to Regenerate Thumbnails or New Image Sizes in WordPress [2023]

Have you ever changed themes and found out that all of your images are broken? Have you noticed that without proper image sizes or featured images your site looks out of the place?
This happens because when you switch your theme, the thumbnails do not change sizes with the theme. Pixel perfect thumbnails can make your website get more attention from your readers and provide a great user experience to your readers. [Also read: Best WordPress Themes for Bloggers]. Proper thumbnails with the help of Wordpress Thumbnail plugins can encourage your readers to get engaged and spend more time on your website. More time on your website eventually contributes to reduce your bounce rate and increase the conversation rate.
An organized and pretty looking website will always get users attention. So it is important for your website to have correct thumbnails to accompany your theme. Many themes have many different layouts. When you switch your WordPress theme, WordPress does not automatically regenerate all of your existing thumbnails. You have to use a plugin to regenerate your thumbnails.
By default, when you upload an image to WordPress, WordPress automatically creates different sizes of those images and save time in the Media Library. Themes take this advantage and create different image sizes as required by the theme. However, the problem occurs with existing images. The themes cannot automatically regenerate existing image's thumbnails. This is why you need a WordPress plugin to regenerate your thumbnails automatically.
There are many WordPress plugins which can help you to generate thumbnails and new image sizers. However, we are covering Regenerate Thumbnails plugin to show you how to generate new image sizes/featured images.

Why Do We Recommend The Regenerate Thumbnails Plugin?
The mentioned plugin has passed about 6 million downloads. The plugin first came out in 2008 when WordPress 2.6 was running. The plugin has been helping millions of WordPress users daily to transition between different WordPress themes. Usually, each theme has different thumbnails and featured image sizes. The plugin takes care of generating pixel perfect featured and thumbnail images for all.
The plugin is completely free.
No private data is sent to other servers
Regeneration of the images is done inside your server
Image manipulation is done by PHP functions.
Lightweight.
Cleanly coded.
6 million+ downloads
1+ million active users
4.5 stars
When talking about the plugin, plugin developer Alex Mills said,
I would never monetize any of my plugins. I write them for fun not profit.
Alex (known as viper007bond in WordPress community) himself is fighting with Leukemia cancer for a while. That is why he cannot update the plugin.
Users are still happy with the plugin because it works really well as it did in 2008.
How to Use The Plugin to Create New Thumbnails or New Image Sizes?
Step 1
First, you have to install the plugin from the WordPress repository. If you don't know about Wordpress plugin installation, you can read our tutorial on how to install a WordPress plugin.
After activating the plugin, navigate to your Wordpress Dashboard and scroll to the tools section.
Dashboard » Tools » Regenerate Thumbnails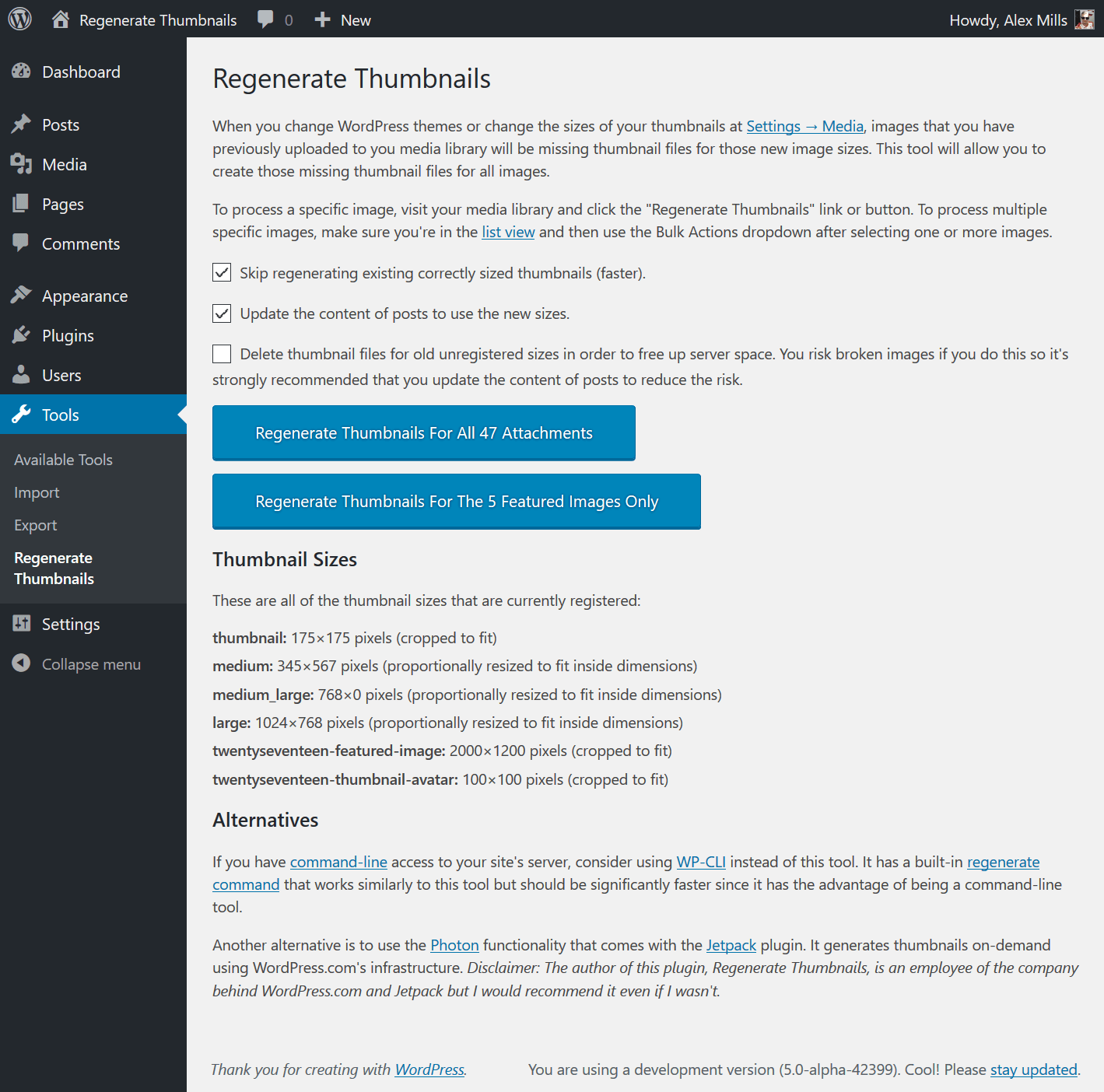 Step 2
The plugin will show all the options for thumbnail regeneration. You can click big blue button to proceed to generate new thumbnails for your website. It will start generating new image sizes defined by your theme or in Settings » Media page. The process may take some time, depending on how many images you have on your website.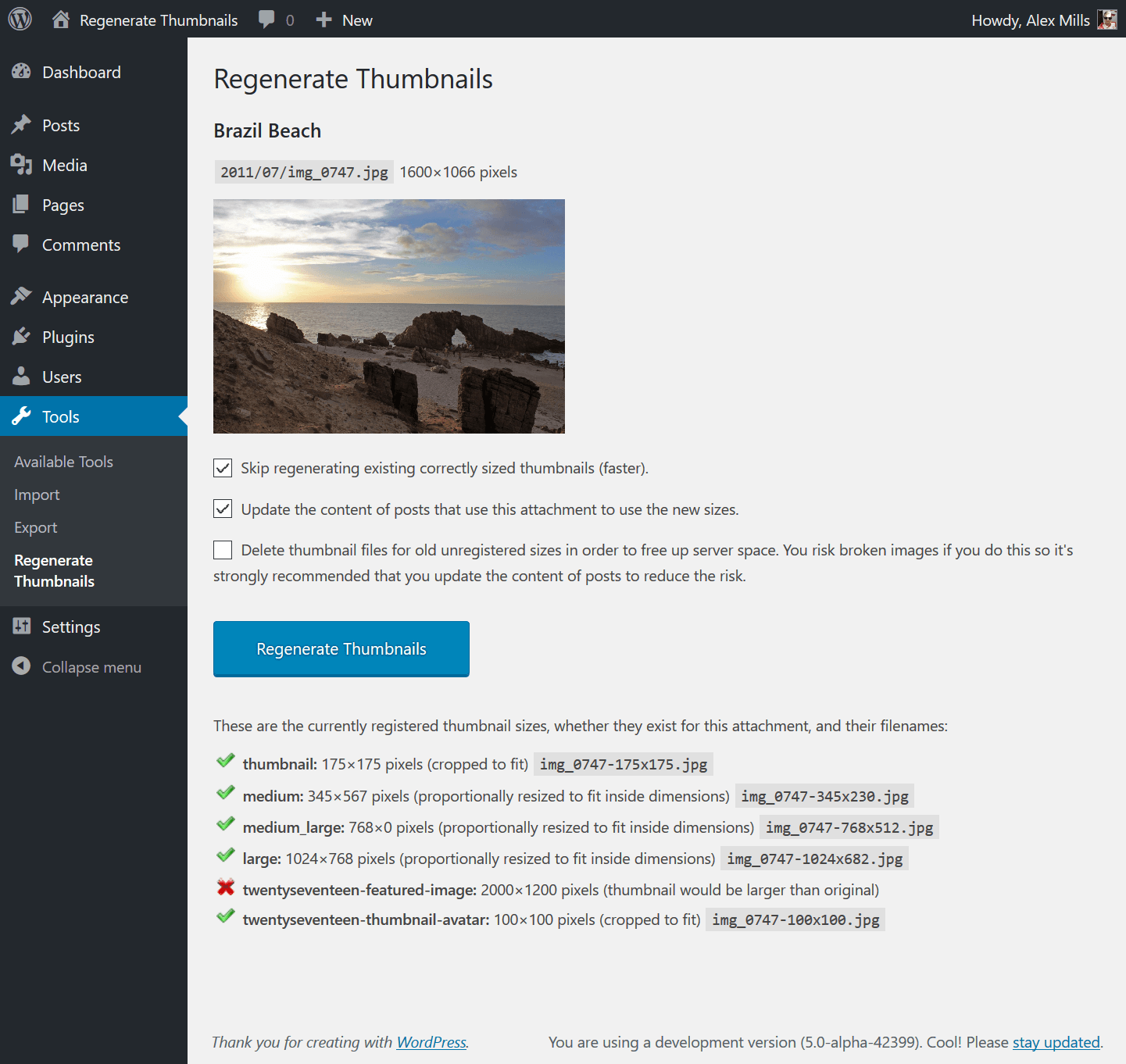 You can also regenerate image sizes for selected images in Media » Library.

Video Tutorial
Follow this video shows how can you the whole thing step by step.
How to Use Regenerate Thumbnails to Delete Old Thumbnails?
One thing you must know that regenerating new thumbnails does not remove your old thumbnails or featured images. You can delete unused pictures if you want. But make sure that those images do not appear anywhere on your website. The plugin only creates additional copies of images in the new sizes as defined by your themes.
If you want to delete old thumbnails when creating newer ones, scroll down below and see our recommendation of "Force Regenerate Thumbnails."
Can WordPress Regenerate Thumbnails without Plugin?
There might be some ways with custom code. But that takes way too many steps and can break down your website if properly not done.
We recommend using a plugin for this purpose. The plugin is serving WordPress users for a long time now. 1 million users can't be wrong!
Final Words
The said plugin has been with the WordPress industry so long that people usually do not use other plugins to do this job. However, there are some other plugins which can help you to do these job too. We are listing some of those plugins with short descriptions.
WordPress regenerate thumbnails plugin
Automatically grabs the first image and makes a thumbnail of it.
Grabs thumbnails from the first video on your post. Generates the thumbnail from video on its own.
Allows you to deletes old thumbnails when creating the newer ones.
When wrapping up, we must say that a pixel perfect website needs excellent traffic. Read our WordPress SEO Guide to know the secrets of attracting readers.
We hope you found this tutorial helpful. If you liked our tutorial follow WP Hive on Facebook and Twitter.

https://wphive.com/tutorials/how-to-regenerate-thumbnails/
Saif Hassan
Product Manager by passion & profession. Lead Product Manager at weDevs, former PM @ Poptin. Passionate about writing & tech. He's an advocate of Human-Centered Design and believes that websites and the tools used to build them should be well crafted, intuitive, and accessible. Cyclist. Reader. A WordPress ninja 🥷, HCI expert & a design thinker 💡

Subscribe To Our Newsletter