How to Send Automated Newsletters with Recent Blogs to Your Subscribers

Email marketing is still a very important part of any digital marketing strategy. It is one of the most effective ways to reach people when they are in front of their computers.
Whether you have an eCommerce site or a website full of content, an email newsletter is one of the best things you can adopt to reach out to your customer.
However, designing and sending an automatic newsletter every week is an arduous and time-consuming task. If your website is powered by WordPress, thankfully you can now automate your blog newsletter.
In this blog, we will show you how to send automated newsletters using weMail and save a lot of time and effort.
Importance of Sending Blog Newsletters


Sending quality content to your subscribers is a key part of maintaining a healthy relationship with them. It's important for you to keep in touch with your readers, especially when they're on the fence about whether or not to buy from you. You can do this by sending email newsletters regularly to your subscribers.
Newsletters are an excellent way to stay in touch with your audience and give them valuable information without overdoing it. They're also a great way to learn more about your readers and get more traffic from their websites.
Your blog subscribers will become more loyal if they feel like they're getting something valuable from you every week. Moreover, you can even automate this type of newsletter. What is an automated newsletter, you ask?
What is an Automatic Newsletter and How Do They Work?


An automatic blog newsletter is like an RSS feed that includes all of your recent posts. but they also have the ability to send out automatic email notifications when a blog post has been updated.
An automatic blog newsletter is the best way to keep your audience engaged, informed, and up-to-date with what's happening on your end. Your blog readers can subscribe to your blog by filling out a simple form on your website.
To implement this in your WordPress site, you can use weMail. The weMail Post Notification feature lets you easily send automated emails to your subscribers with your latest blogs.
You can schedule the newsletters to send every day, week, or month. You can also define the exact time to send the email.
weMail also lets you design your email just the way want. Let's show you how to send automated newsletters from your WordPress site.
How to Setup and Send Automated Newsletters from Your WordPress Site


Sending an automated newsletter from your WordPress site is easier than making a cup of black coffee. Don't believe us? Well, let us show how weMail can help you set up and send automated newsletters within 5 minutes.
Set up once and forget, your subscribers will keep getting the newsletters with recent blogs every week or month.
Step 1. Install weMail
Installing weMail is one of the best things you can do for your blog site.
You can install weMail just like any other plugin. To do that, navigate to WP Admin Dashboard > Plugins > Add New
Search for weMail and install the plugin once it appears.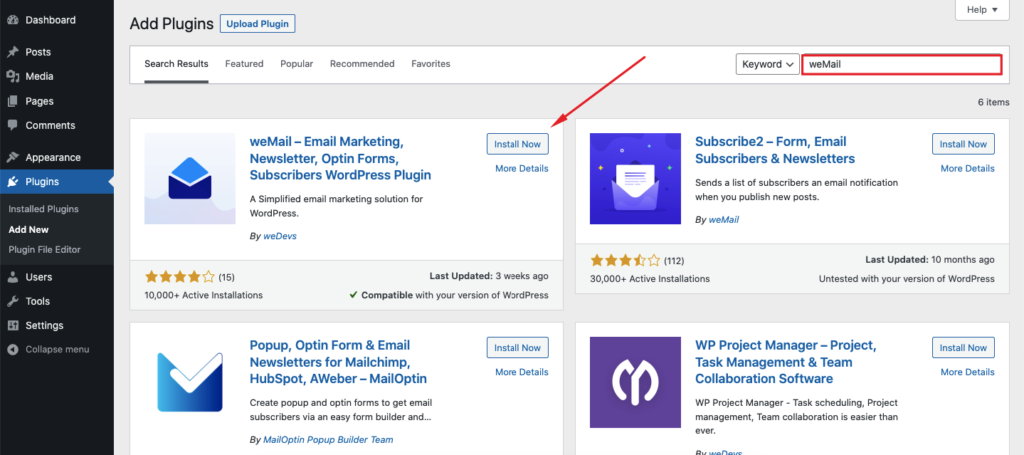 Since weMail is a SaaS tool, after installing weMail you'll have to connect with the server. You'll be automatically redirected to the weMail option after installing and you will have to click on Connect.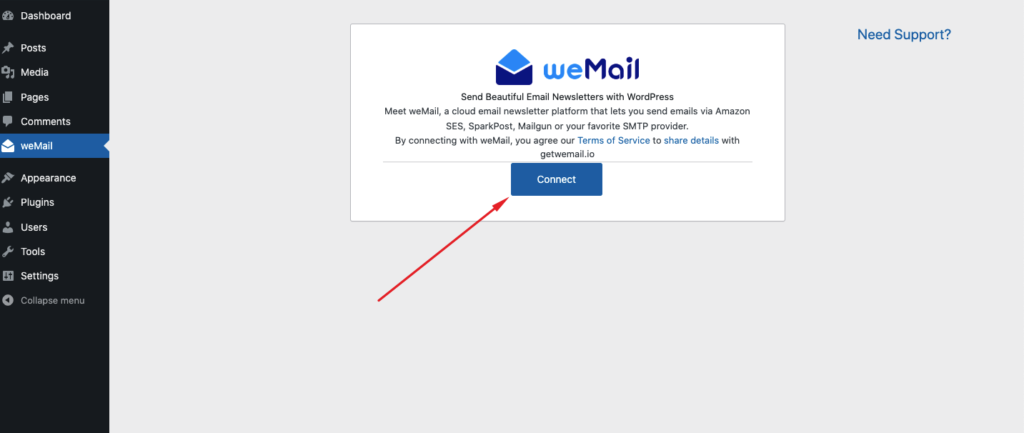 Next, create a weMail account and then allow your site to connect to the weMail server.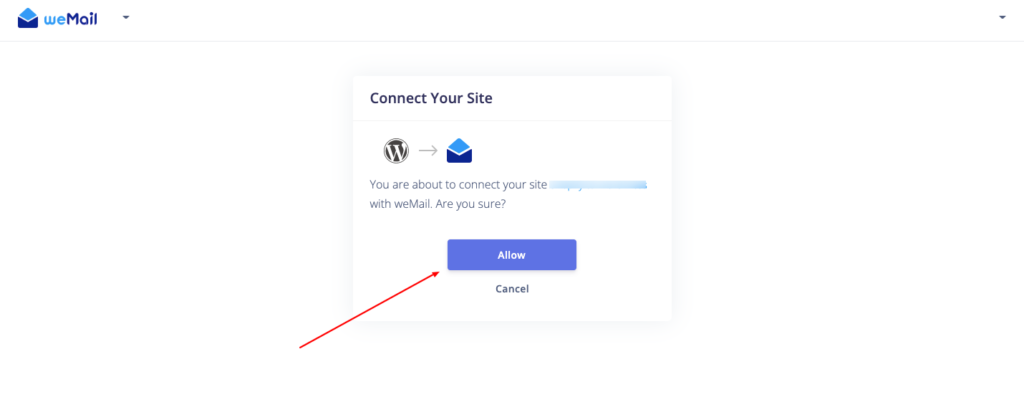 After that, you should get the weMail features on your website. You can run campaigns, change settings, and customize weMail options on the WordPress sidebar menu.

Step 2. Setup Automatic Email Newsletter Campaign
The next step is to set up the automatic email newsletter campaign. To do that, navigate to weMail > Campaign from the admin dashboard.

This is where all your weMail campaigns should be displayed. You can also create a new campaign from here.
We'll get started by clicking on New Campaign.

A popup will appear where you will have to select the New Post Notification tab and set a name for the campaign.
Click next once you have done it.

After that, insert a subject line for your newsletter. You can also decide to personalize the heading based on user data by clicking on Personalize option.
You can choose the sender email and specific email list that you're going to send the email to, and even break it down to a specific segment.
Click on Create Campaign once you are done with it.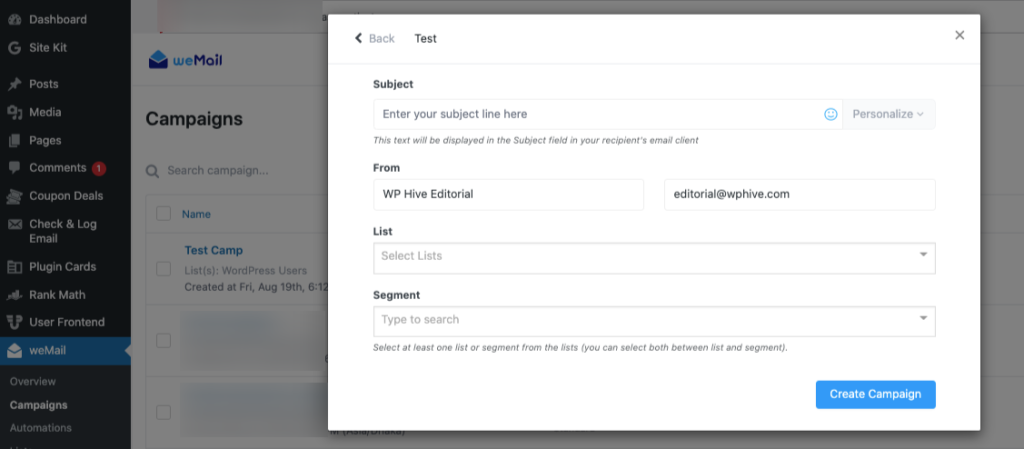 Congratulations! You have set up your automated newsletter.
Step 3. Customize Email
Creating the campaign is not all that you can do. With weMail, you can customize your email to make it look exactly as you want.
After creating your campaign, you will be automatically redirected to the template page, where weMail will display a large number of pre-designed templates.
If you don't have the time to design one yourself (by choosing the blank template), you can just choose one of the ready-made ones and customize it.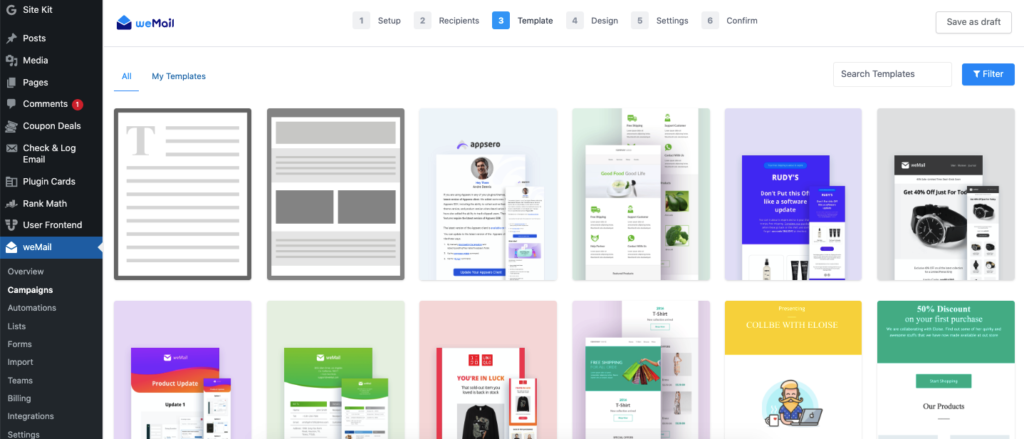 Once you have selected a template, you can further customize it on the next page.
There are multiple elements that you can add and customize. You can also customize the design of the header, footer, body, etc.
After making the changes, simply click on Next.

On the next page, you can again change the email subject and sender details. You can also add a Google Analytics campaign code for tracking.
Most importantly, on this page, you can schedule the newsletter on your preferred period (daily, weekly, monthly).
Click Next after you make the changes.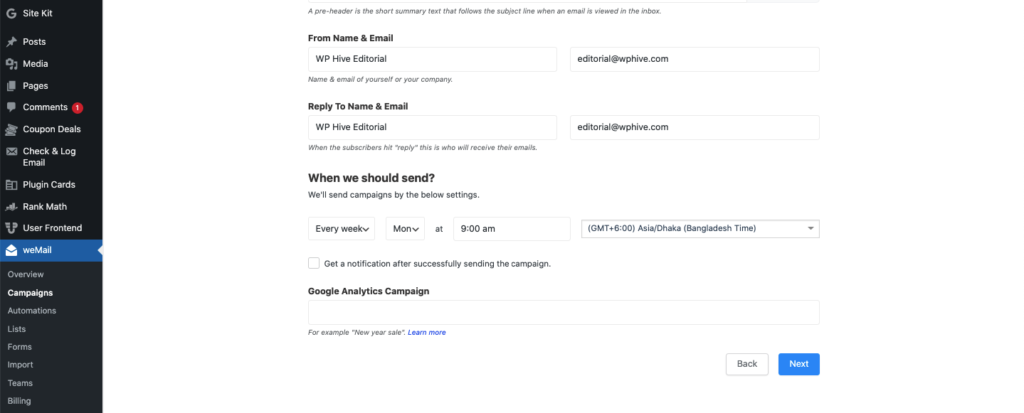 On the next page, you can review the details and send a test mail.
If everything is okay, just click on Next, and your newsletter will be scheduled.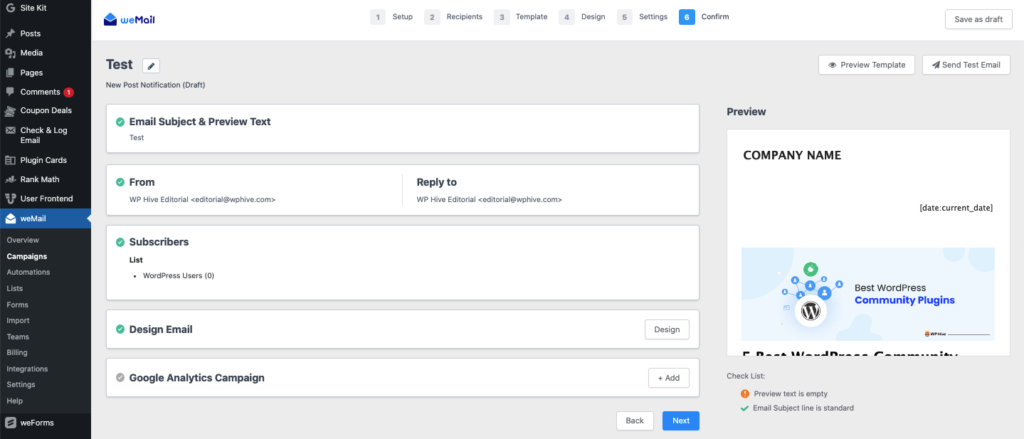 Wasn't that easy?
Now your subscribers will get an automated newsletter with your newest posts, without any manual labor from you. How great is this!
You can also track the reports of the campaign by navigating to WP Admin Dashboard > weMail > Campaign and clicking on the. specific campaign.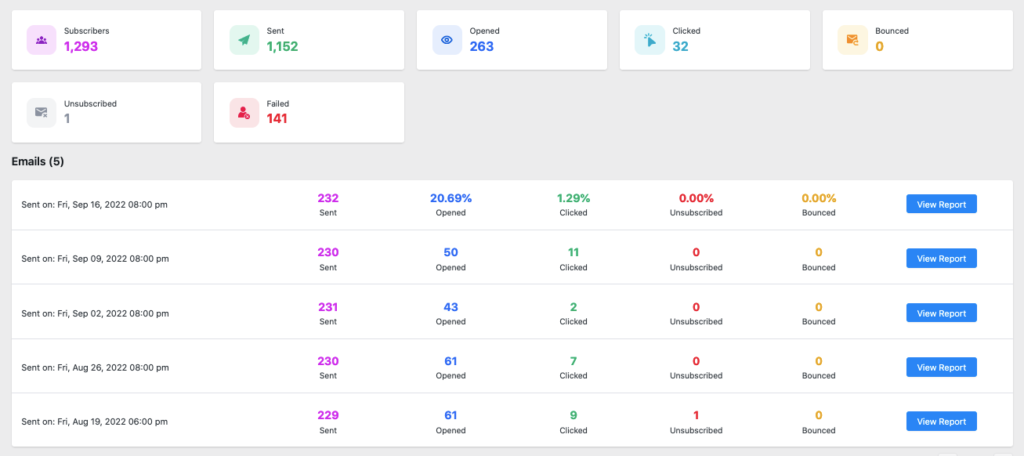 Start Sending Automated Newsletter from Today
Blogs are a great way to get your message out to people who might not otherwise find it. In order for your blog to be successful, you need to reach people in more than one way.
One of the most effective ways to do this is by sending an automated blog newsletter. In this article, we have explained why website owners should send automated blog newsletters and how to send automated newsletters
An automated blog newsletter can help you in getting the most out of the content you create. So you shouldn't hold back anymore. If you need any more assistance, we're here to help you. Just shoot us a question in the comment box below and we will get back to you.

https://wphive.com/tutorials/how-to-send-automated-newsletters/
Faisal Sarker
Faisal is a tech blogger who excels at WordPress Content Writing. Apart from sharing useful info pieces that help people around the world, he also likes to travel and read books of all genres in his leisure time.

Subscribe To Our Newsletter