What is The Future of WordPress in 10 Years?

WordPress is a robust open-source content management system (CMS). It's powering up more than one-third of all websites in the world. Due to its ease of use and rich library, when someone looks for choosing a CMS, nothing can beat WordPress.
Today, WordPress is not just a CMS, but a big industry. Because millions of developers, designers, marketers, and users are directly involved with it. This is why there is no end to people's curiosity about the future of WordPress.
Just like others, you may also get curious to know its latest market share, where WordPress is heading, and what new features it is bringing in the coming days. In this article, we're going to cover all these topics in this article. Keep reading till the end.
Market Share of WordPress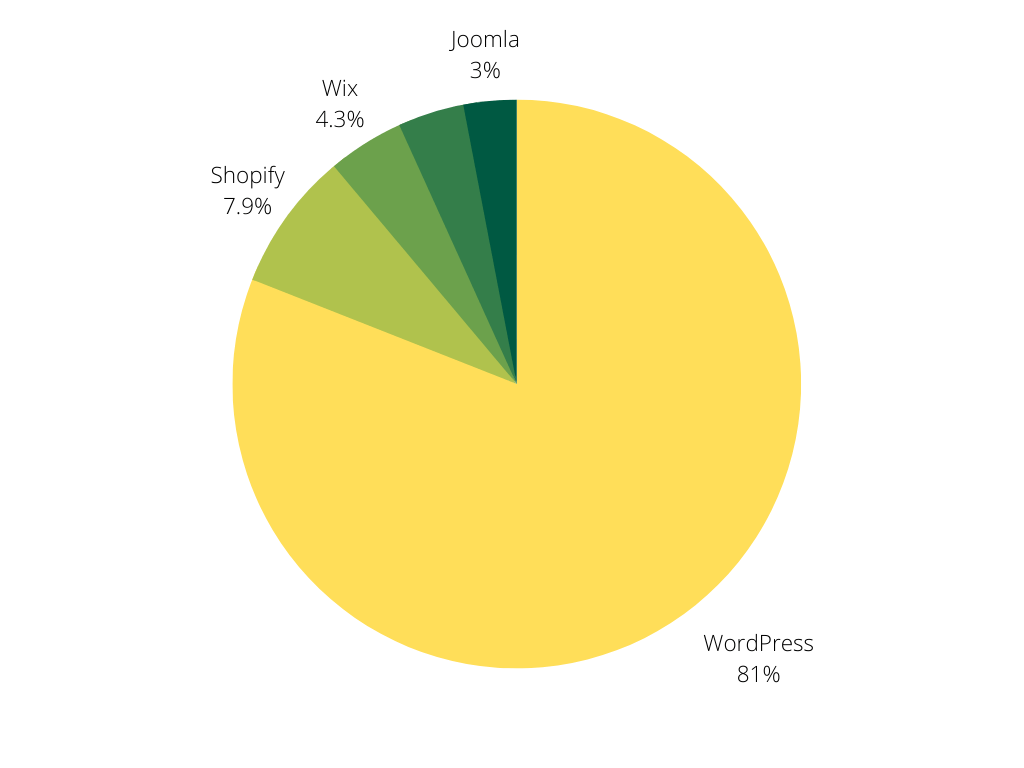 Despite tremendous popularity, WordPress slightly lost its market share this June of 2022 (42.9%) compared to March (43.3%) – according to W3Tech. This left many people bewildered and worried about the future of WordPress.
What does the founder say —
Since W3Tech is changing its way of tracking data, this 'wonky' state of WordPress market share may continue to the next year.

Mullenweg said at the WCEU 2022 Q&A session
However, WordPress's market share started to grow again in June 2022 (43%). Below is a snapshot of the market share of five popular CMS platforms on the web.
| | |
| --- | --- |
| CMS Platform | Market Share |
| WordPress | 43.0% |
| Shopify | 4.2% |
| Wix | 2.3% |
| Squarespace | 2.0% |
| Joomla | 1.6% |
Source: W3Tech, as of 30th June 2022.
Clearly, there is no close competitor that is likely to beat WordPress in the near future. Its popularity in the no-code community will continue to rise along with its new features and upgraded versions.
What is the Future of WordPress

WordPress started its journey in 2003 just as a blogging platform. Today, it powers up almost any kind of website one can think of. Here are some top predictions that are hoped to shape the future of WordPress in recent years.
1. Multilingual Web Support
The final phase of the Gutenberg block editor is to make multilingual support a core component for WordPress and Gutenberg editor. You won't need any translation plugin or specialized theme to make a website accessible in foreign languages.
So, you can foresee. Once this feature becomes available how widened will be the user base of WordPress. People from different corners of the world can use this CMS in their native languages.
This will open a great opportunity for plugins, themes, and SaaS developers. However, the release of this feature may take 2024. Because WordPress is now occupied with other running projects.
2. Multi-Author Collaboration
Gutenberg block editor started with a four-phased plan to ease WordPress content management. It has already completed two phases: easier editing with the block editor and full site editing customization.
The third phase is multi-author collaboration. It will allow multiple users to edit WordPress content in real-time just like Google Docs. So, you will be able to get your blogs proofed by editors before publishing them online.
You can have features like real-time commenting, and suggestion options like Google Docs for multiple people at a time.
This phase is expected to start by early 2023.
3. Better UX of Gutenberg Block Editor


Gutenberg block editor came to the market in 2018. Before that, designs had to be done mostly manually, using raw HTML. The classic editor was not perfect for admins and editors and they needed a well-designed interface to create content.
Using WordPress block editor, now anyone can add different types of content to your website quite easily. However, WordPress founder Matt Mullenweg said, still they are trying to further extend this feature with clear typography, templates clean markup, colors, and others.
The new updates will make it easy to choose the right template, add different types of fonts, highlight key points with a suitable color, and custom CSS. Thus, the continuous development of the Gutenberg block editor will power you to create wonderful web content.
4. Integration of REST API
REST API gives you a way to connect your WordPress site with an external application. So, you can develop apps or software using any programming language and then connect them to your WordPress site.
Suppose, you have an eCommerce site on WordPress. Using the REST API, you can create a mobile app for it. Think again, you have created a lead generation extension for the Chrome browser. REST API will let you link it to your website dashboard.
This feature has widened the scope of WordPress usage. But you must have JavaScript skills to enjoy the full advantage of REST API. If you aren't a coding geek, you have to hire a professional programmer for this project.
5. Quick Adaption of WordPress 6.0
WordPress released its new version 6.0 in late May 2022. Mullenweg said this version comes with a number of robust improvements. It includes 500 enhancements and 400 bugs fixed by hundreds of contributors.
WordPress 6.0 emphasizes a lot on enhancing accessibility, improving performance, offering additional design tools, and smoothening the content creation process.
Nearly 36.2% of all WordPress sites updated to the new version within two weeks of its release. As of today, this number is 42.1%.

WordPress.org
According to the Executive Director of WordPress Chomphosy, this adoption rate has been 10% faster than WordPress 5.9. This shows the acute interest level of WordPress users in its new versions and features.
6. Development of User Interface
If you are a brand new user of WordPress, you will never know how much it changed its admin UI over the years. Look at the picture below. This was the WordPress dashboard in 2005. And the UI of 2003 was even more complex.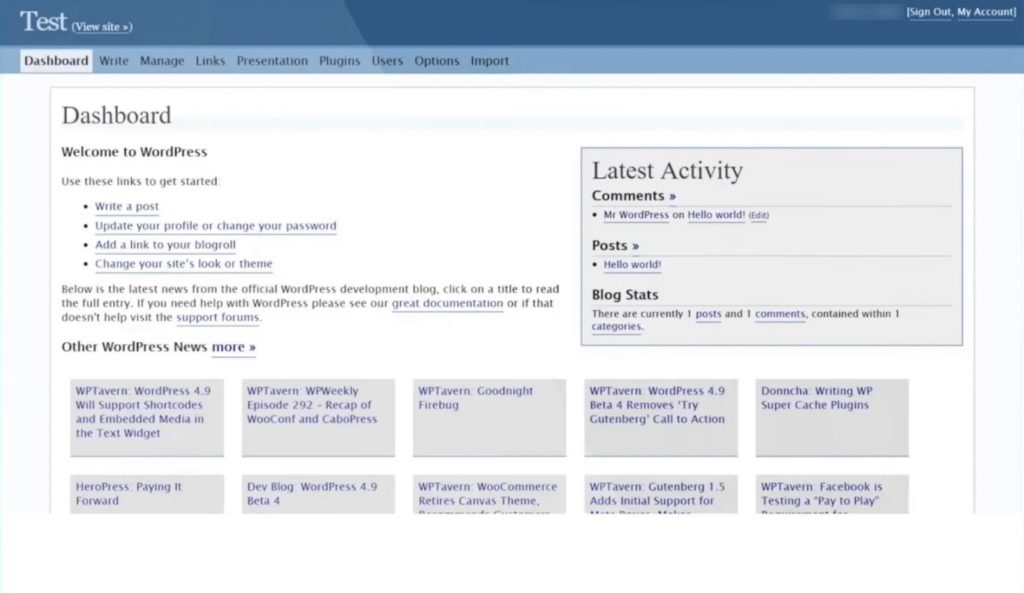 Now if you look at the admin dashboard UI of 2023, you can quickly understand how much WordPress has developed itself. Over time, it has become a safe haven for no-coder website developers. Now, you can create web pages without a single line of coding.
So to make WordPress easy to use, many stressed developing a much better interface on different occasions. We can't say yet what will its UI look like in the next five years. But obviously, there will be something better to wonder about.
7. Higher Security
The more successful your website becomes, the more it becomes a target to cybercriminals. As countless users are using this CMS, there will be increasing threats to WordPress web security. Such as comment spam, trackback spam, DDoS attack, and email spam.
Spamming costs around $20 billion in business losses each year around the world.

Radicati Group, Nucleus Research
This is why WordPress values security as the most important component of any website. Today, you will find countless WordPress anti-spam plugins to safeguard your website from many potential attacks.
Headless WordPress is another wonderful thing. It lets you operate your front-end as a standalone application using any different framework. Then connect it to the backend through an API. It makes things difficult for hackers to harm your web content.
Also, you can set up multifactor authentication systems to add extra protection to your site. Thus, by adding additional security layers, you can make your WordPress site more protected.
8. A Mighty Community with Helping Attitude
It's really difficult to say the exact number of websites at this moment. But we can agree there are 1.6-1.9 billion websites in the world – according to different data centers. And 688-817 million of them are built on WordPress.
So, you can realize how popular this community is. No matter what language or country you are in, you will find innumerable WordPress users within that race or geography. Maybe your next-door neighbor is a WordPress user.
Also, you will find numerous communities on Facebook, Twitter, and LinkedIn in your own language. You can find quick solutions to any of your WordPress-related problems by communicating with communities.
Besides, thousands of volunteer developers are continuously working to keep WordPress bug free. For example, WordPress 6.0 represents the enhancements contributed by hundreds of volunteers.
These numbers will only increase in the near future, as we can guess from the trends.
FAQs on the Future of WordPress

This section is going to answer some frequently asked questions about the future of WordPress.
Is WordPress shifting to Javascript?
In 2015, Mullenweg said, JavaScript and API-driven interfaces are going to be not just the future of WordPress but the whole web (State of Word).
Today, we can see Headless WordPress. It allows you to create a highly responsive frontend by JavaScript and connect it to the backend by REST API.
Besides, many tools like the Gutenberg block editor are developed in Java language. Over time, lots of applications will be developed in this language.
But PHP will still be used for more years at least for the backend. Because PHP makes it easy to fetch things from the database and show them in HTML format.
What are the new features in WordPress 6.0?
WordPress 6.0 have come up with the following features:
1. More template choices
2. Block locking controls
3. Enhanced writing experience
4. Integrated patterns
5. Style switching
6. Better list view
7. Additional design tools
Is WordPress Losing Popularity?
Still, WordPress is the most dominant content management system in the world. People might be anxious as its growth got slowed down in 2022.
Some data centers reported that WordPress lost 0.5-1% of the market share this year. But Mullenweg said at the WCEU 2022, there is nothing to worry about.
He said renowned data centers have changed their way of tracking data. He cited M3Tech as an example. Once their tracking algorithm comes around, WordPress will still be the market leader.
Is WordPress Still Relevant in 2023?
Before answering this question, let's first find out why WordPress has been so popular.
1. Open Source Platform
2. Easily Customizable
3. Enriched Library
4. SEO Friendly
5. Safe Heaven for No Code Users
6. Allows to Create Any Kind of Website
7. Strong Community
8. Market Leader
When you compare these features with other CMSs, there is none close to WordPress. Besides, developers are persistently trying to upgrade this platform.
When other interesting features will be integrated into this platform, it will be unmatchable to other CMS.
Do Big Companies Use WordPress?
You will find many big names on the fortune 500 company list using WordPress to manage their websites. Some of them are:
1. Sony Music
2. Microsoft
3. Target
4. UPS
5. The Walt Disney
6. Best Buy
7. Tesoro
8. Xerox
In addition to these, there are many big companies around the world using this platform.
Get Ready for The Exciting Future of WordPress
WordPress is evolving! It's evolving in response to the demand for modern technology and user expectations. With the advent of internet technology, it has been easier for people to access the web than ever before.
It has opened the gateway to multipurpose online business. Many people have found a way to make a living. eCommerce, multi-vendor marketplace, affiliate sites, digital publications, multi-site networks, and more you can build with WordPress.
In the coming days, WordPress is going to enthrill us a lot with its new features and updates. Hope you have got this article helpful to cater to your needs.
WP Hive is one of the finest WordPress repositories. Here, you'll find regular guidance and updates on various WordPress applications. Subscribe to us for interesting articles. Follow our Facebook and Twitter channels for regular notifications.

https://wphive.com/wordpress/future-of-wordpress/
Fuad Al Azad
Fuad Al Azad is a creative writer who loves to blog on everything in between tech, marketing, and eCommerce. Alongside, he is an admirer of fact, fiction, and philosophy.

Subscribe To Our Newsletter