7 Best WordPress Popup Plugins You Should Give A Check

Popups are one of the highest converting elements of a website. While many might tell you that they are irritating and not good for user experience, it is not actually true. Yes, popups can get annoying sometimes, if you can't pull it off in the right way.
It's important to find the right combination of not making users annoyed, yet building a high-converting popup. There are two things that influence an user to either like or dislike the popup. The copy and the design. While you might be able to write an interesting copy by yourself, you can not really develop a great-looking popup if you don't know how to design and code.
However, if your site is powered by WordPress, then you're in luck. That's because for WordPress, all you need is a handy plugin that will help you build a great popup. No design experience, no coding skill, great popups. Sounds good?
Then here's our list of the best WordPress popup plugins that you can use on your website right now.
Necessity of a Popup Plugin for Your Website


Do you need more leads? Or you might be looking for a way to promote or sell eBooks. Or, do you have a survey for your customers?
For any of the targets above, there's one most effective solution, using a popup. According to Wikipedia,
"A pop-up is a graphical user interface (GUI) display area, usually a small window, that suddenly appears ("pops up") in the foreground of the visual interface."
Now here are some things that a popup can do for you.
Leads:
Popup help build leads for your website. In fact, popup can be the biggest source of leads if you do it right.
Sales:
Popups can even contribute to the increase of your sales directly. Things like free shipping offer and other promotional popups can greatly impact sales.
Studies found that 35% people come back and stick around after seeing an exit popup with discount.
According to Entrepreneur's study, pop-ups helped them increase subscriptions by 86% and sales by 162%.
Overall Conversion:
Be it an eBook download, a survey or a newsletter subscription form, popups influence the users to action. The average conversion of popups is surprisingly higher than you might think.
While popups are often described as bad for user-experience, if implemented nicely they convert more than any other lead generation tool. The average conversion rate for all pop-ups is 3.09%. Some pop-ups get conversions as high as 50.2%!
The average conversion rate of the very best pop-ups is 9.28% (Top 10%).
You can further optimize the average conversion rate by adding a countdown time, for which the average conversion rate is 8.07%.
So it's now settled that popups are important for your website? But how can you choose one for your website? Well, there are several things to look for when you select a WordPress popup plugin.
What to Look for in a WordPress Popup Plugin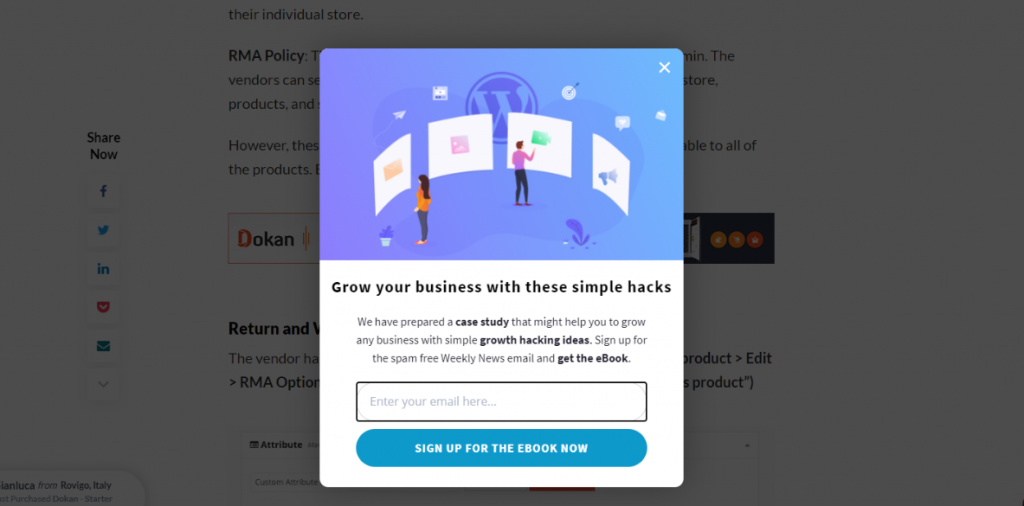 There are a lot of WordPress popup plugins in the market. But you don't need all of them, do you? You need a plugin that is easy to use yet feature-packed.
Now there are three major features of a popup plugin that should on your priority list. They are respectively, Design, Targeting & Trigger. Let's have a look at each of them to let you know what exactly we meant.
Design: Your ideal popup plugins should come with a great design customization option. Without building a good-looking popup, you will only increase the level of annoyance for the visitor. So make sure that the plugin you choose gives you enough options for design customization.
Targeting: You can not just show the popups to anyone. That would only lead to fewer numbers of conversions. The perfect popup plugin should let you target the popup to a specific set of audiences. The target can be anything from geolocation, device, traffic source, or other.
Trigger: You design the popup, target it to a specific audience. But when will the popup appear to the customer? This is what you can determine through a trigger. The trigger option will let you set the action that will trigger the popup, like page entrance, scroll to certain limit, clicks, certain time on page, or exit intent. So, make sure that your WordPress popup plugin have this features, as you can already guess its importance.
So these were the key things you should look into when choosing a WordPress popup plugin. Now let's get to know about the plugins that we gathered for you so that you select the one that suits you the most.
7 Best WordPress Popup Plugins – WP Hive's Picks
When it comes to popup plugins in WordPress, choices are plenty. However, not all plugins will come with all the features that you need. So, we saved your hours of work and listed the best WordPress popup plugins here for you. But there's one special plugin that we want to talk about first.
Featured Plugin: WP Popups by Timersys
WP POPUPS IS PERHAPS ONE OF THE EASIEST POPUP PLUGINS TO CREATE YOUR FIRST EVER POPUP.
Popups are meant to look good. Otherwise, you will never get the result you desire. Luckily, that's what WP Popups is best at. They made it extremely easy to choose a gorgeous premade template for your popup, or build a beautiful one by yourself using their intuitive template builder.
It takes just a few clicks and absolutely no coding is required. What's more, you will get compatibility with all major form plugins. However, with all the customization, you will still find it easy to customize the popups using this plugin thanks to their intuitive UI.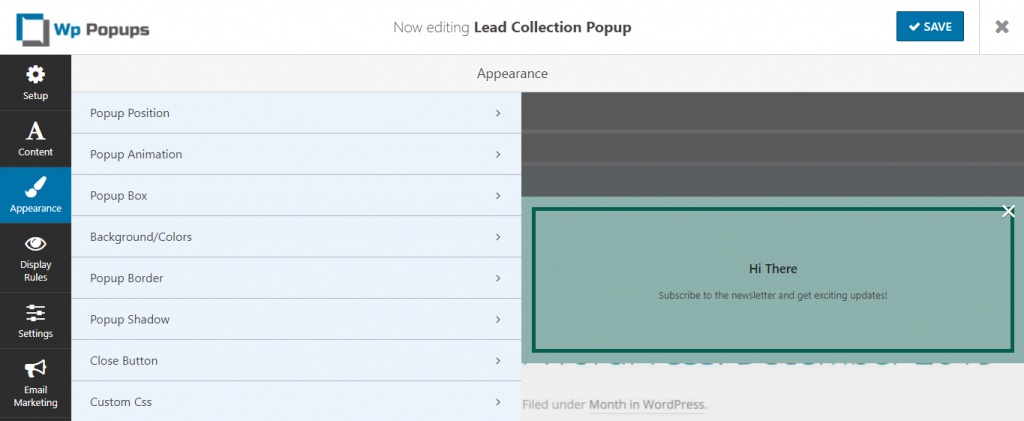 Moreover, with 30+ trigger options, 45+ animations, exclusive integration to several important third-party plugins, and a lot of pre-designed templates, there's no reason that you won't like the plugin. Just look at the feature list!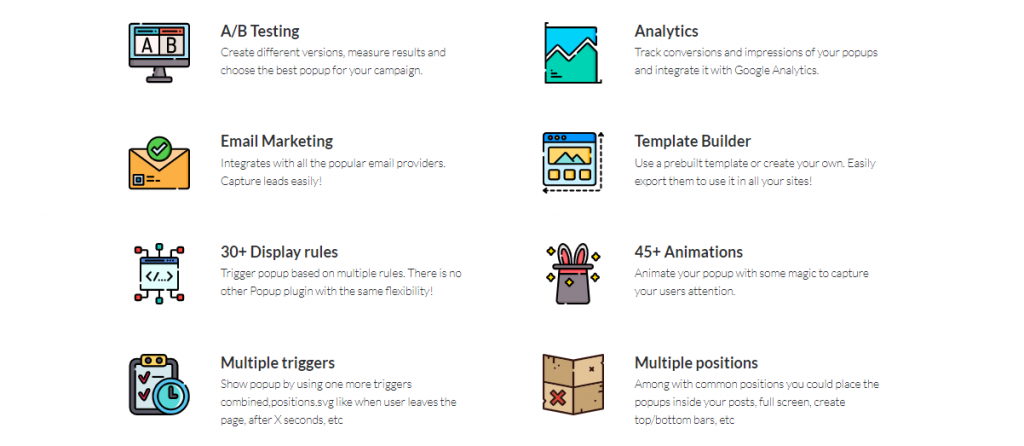 And if you need visual proof of how great this plugin is, you can always track conversions of your popup through their tight Google Analytics integration.
Pricing: The pricing plan starts at $35.00, a total value for money.
Get WP Popups To Create your Popups
Now let's start with our list of top plugins to create a popup!
1. Popup Maker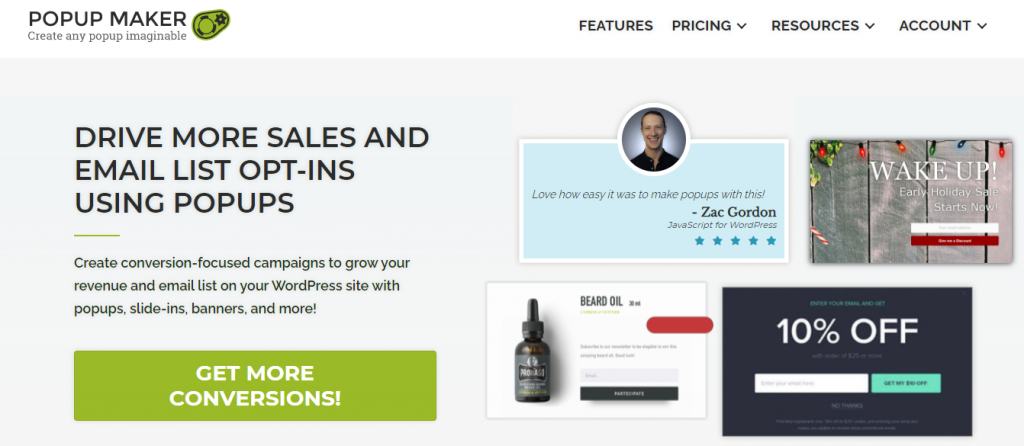 Installed on over 600,000 websites and has over 4,000 5-star reviews. That pretty much sums up everything you need to know about Popup Maker. The plugin is packed with all the features that you can imagine.
You can create unlimited 100% customizable mobile Responsive Popups. It comes with a visual theme builder, precision user targeting, multiple trigger types, customizable animations, popup analytics, and many more features.
Pricing: Starts from $87 for a single site.
Get Popup Maker To Create Beautiful Popups
2. Popups by Supsystic
Popups by Supsystic is an excellent popup plugin. This plugin comes with an array of features, customization for your popup but didn't compromise on the user experience. Just look at the features of this plugin, and how easy it is to use.
With 69 mobile-friendly popup templates, over 18 Popup types, 20+ opening animations, easy to use A/B testing feature, it is not really hard to create a plugin like the below one within minutes. Oh, and did we tell you about their highly useful Google Analytics tracking option that allows you to track your popup performance?
Price: The plugin is very affordable, it starts from as low as $46.
Get Popups By Supsystic to Create Beautiful Popups
3. Ninja Popups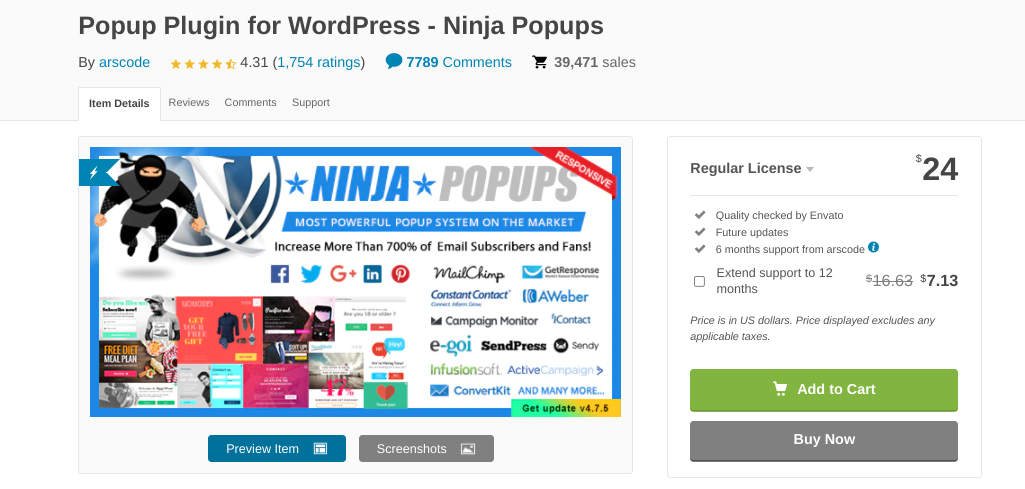 One of the most trusted names, when you think about WordPress popups, is Ninja Popups. The plugin is often praised for its awesome support. Perhaps it could do good with a better visual editor. But it does well with lots of other good features such as exit intent popup, Google Analytics event tracking integration, A/B Testing, traffic bouncer popups and many more.
But the beautiful predesigned popups are certainly the best thing about this plugin. The plugin is not available on the WordPress repository, you need to get it from the Codecanyon market.
Price: The plugin is priced at $24 for the started package.
4. Elementor Popups
More than 5 million sites are powered by Elementor, so we certainly can't ignore the Elementor popups if we talk about popups. The best visual page builder certainly checks the mark on being one of the best visual popup builders as well. No code, just drag and drop to create a popup.
They have pre-built templates for Lead Capture, Email Subscription, Promotion/Sales, Welcome Back/Login, Content Lock, Exit Intent, Announcements, Welcome Mat, Related Products/Upsell, and many more. Elementor Popup is certainly the best option if you are already a user of Elementor page builder.
However, the Elementor popup is only available if you purchase the pro version of the Elementor page builder, which itself is a great investment, to be honest.
Price: Elementor page builder starts at $49 per year.
5. Popup by MyPopus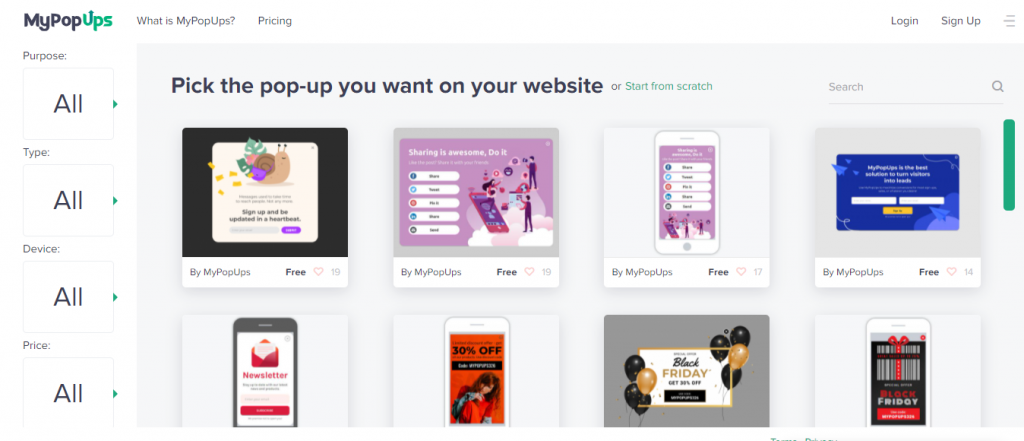 We believe good plugins should not go unnoticed. MyPopUps is a great plugin that is still in its earlier stage. However, in the short span of time, it really impressed us. While there are fewer premade templates (which we think will increase over time), you can build one from scratch easily.
You can create 4 types of popup, which are lightbox, full screen, banner, & side widget. You can make all of them responsive, as you go through the customization process. Overall, it's a handy plugin for popups, that's for sure.
Price: It seemed a bit costly compared to the feature-set, starting at $2.39/mo.
6. Popup Builder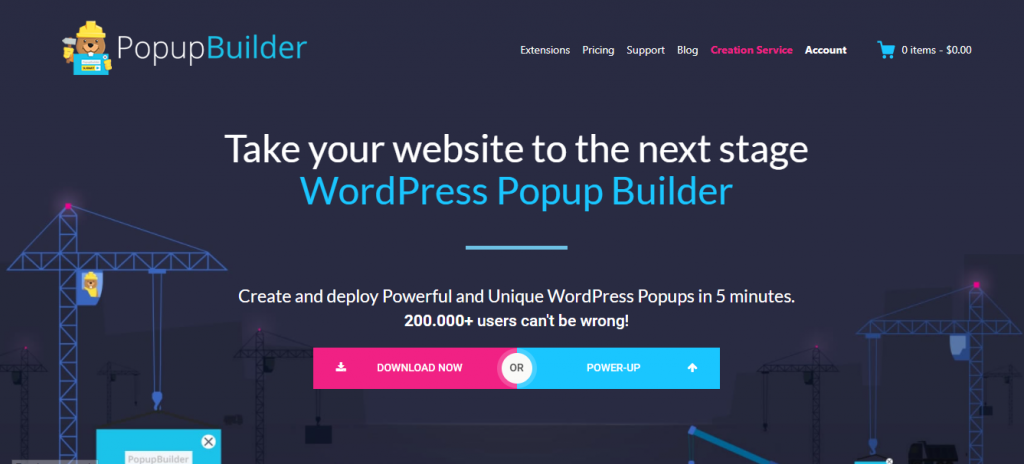 Popup Builder is a simple and easy solution to add popups to your site. They provide a large array of popup features, conditions, and types (Exit Intent Popup, Scroll Popup, Iframe Popup, Contact Popup, Video Popup, Social Popup and many more). For more features and integration, they have multiple extensions that come with the premium version.
Price: The plugin is priced at $39.95 for the starter plan.
Final Thoughts
Popups are a highly efficient way to get visitors to do a specific action. To add popup to your WordPress site there are countless free and premium plugins. But few have the all-round feature list with easy to use interface. We tried to accumulate a list of WordPress popup plugins that are truly the best and we hope that you already found one that you like.
If you want more articles like this do follows us on our Facebook and Twitter. You will get all our recent updates on the go.

https://wphive.com/reviews/plugins/best-wordpress-popup-plugins/
Faisal Sarker
Faisal is a tech blogger who excels at WordPress Content Writing. Apart from sharing useful info pieces that help people around the world, he also likes to travel and read books of all genres in his leisure time.

Subscribe To Our Newsletter