How to Research Blog Topics for Your Website (6 Proven Hacks)

Writing an engaging blog is not easy. The first hurdle you have to overcome is topic selection. If you pick a wrong topic you may start walking down the wrong path and it cost a lot before even you can realize it.
Unfortunately, there is no shortcut or magic recipe to develop better blog ideas for your website. Only detailed research and proper strategy can save your back. Instead of working with your favorite topic, you should focus on your readers' preferences. It will help you to attract the right kind of visitors to your site.
The purpose of this guide is to prepare you to analyze topics in an organized way for your content plan.
Without further ado, let's elaborate the process on how to research blog topics that will not only increase your traffic but also turn them into your potential customers eventually.
Step 1: Build Your Blogging Strategy
A written blog content strategy will double your opportunity to get success. It will turn your good blogs into really great ones.
60% of organizations with a written content strategy are effective, compared to only 32% of those with a purely verbal content strategy is effective.
Content Marketing Institute
You have to be strategic to stand out from the exciting content those have already been published and ranked well on search engines. Remember you are not competing to produce more articles than others, your goal is to win readers' attention.
This planning process is not complicated or time-intensive either. You have to go through the right path only to accomplish your goal. For instance, the blog topics for an eCommerce site will not be the same as your personal branding site. It largely depends on industry type, business niche, company goal, competitors' activities, and others.
Step 2: Define Your Objectives
Having a clear goal to achieve will direct you to stay on the right track. Start your journey with a "WHY". So, how do you define your why…the goal of your blog. Ask yourself and answer. Do you want to-
Get foot traffic to your shop or office?
Boost SEO ranking and get more traffic?
Generate more sales and conversion?
Educate readers about your products or services?
Attract leads from outside of your local area, like from overseas?
Raise brand awareness?
Answers of these questions will help you to set your goal for your content plan. If you know what you actually want at the endpoint, then you can craft the blogs that fit that purpose perfectly.
Make it more precise by setting your goal specific and measurable. For instance-
Increase organic traffic by 30% in the first quarter
Get 20% more sales in a year
Improve the conversion rate of the website by 45%
Boost your email subscribers by 30% in 3 months
After setting your goal, now you can focus on publishing the exact type of content that will help you to achieve them. Hence, you can track the progress and match the output with your target easily after a certain time period.
In order to build smart blogging goals, use the SMART goal-setting template: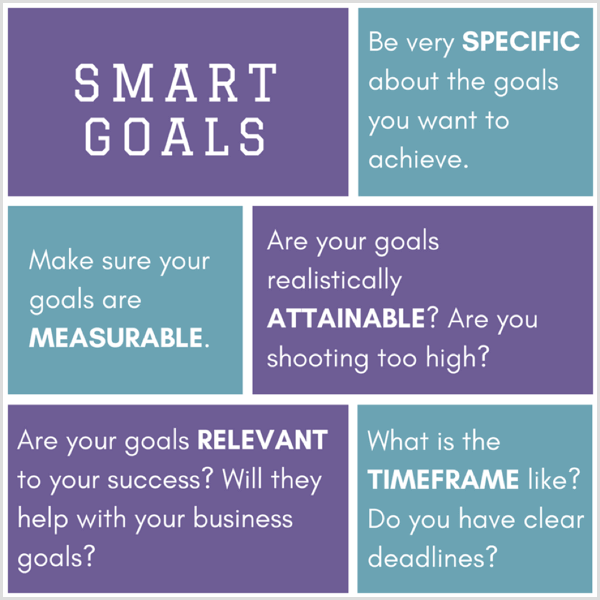 Step 3: Conduct Audience Research
If you can't realize your readers' pain points and give them the right solution through your blogs, then you will fail to attract their attention. That means you need to produce something that adds value to their lives.
Most of the companies have a clear picture of their customer's demographic (who they are) but they are not aware of their psychographics (i.e. why they buy). For getting more ideas about your target market, you can follow the advice of Brad Smith-the content expert of Codeless.
Successful blog posts follow the old Problem Agitate Solution (PAS) copywriting principle. They begin by introducing the root problem reader's are facing. Then they agitate those problems by digging into the symptoms and pain points. Finally, they present a solution (whether that's an idea, tip, hack, or simply positioning their product/service as the solution).

Brad Smith
In order to do it effectively you need to understand:
What you're readers are trying to achieve
What's preventing them from doing it, and
What's going to happen to them if they don't achieve it
Once you get your all answers through surveys, interviews, social media, or others then you will be able to create blogs that your readers actually want. These blogs will bring a better result for your website (more traffic, clicks, conversions, share, etc.).
Moreover, based on this information you can establish some readers' persona to understand their needs and interests more deeply.
Suppose you have a persona named Maria age 27. She has an online shop and struggling with the ranking of her site. Now identify what does she like to read that can help her in the SEO of her shop. In this way, you can gather more details about your readers and plan for the blogs that your audience needs or want from your website.
After getting the idea for who you are writing for proceeding to the next step-
Step 4: Run a Competitor Analysis
It's quite possible there are multiple companies that are doing great with their content in your industry. After all, around 2 million blogs are published every day, so it would be weird if there is nobody.
Following your competitor's footsteps can be an effective way to find out what's working in the market. As similar brands have similar audiences to attract, so it's natural that people who are reading their blogs are also the kind of people you want to be your readers.
You can use Buzzsumo to identify the popular blogs of your competitors' sites. Enter the URLs of your competitors and check which of their posts are shared most-
Also, figure out the word count of the blogs that get a maximum share on social media. However, your target is not to copy their ideas. Your objective should provide something better that makes you different from others.
For beginners, ask yourself a few good questions:
What have they missed?
How can I add a unique flavor to my blogs?
Can I make them more relevant including personal experience & story?
Should I use statistics & data-driven approach to make it more realistic?
Are they really capable to solve the key problems my readers have?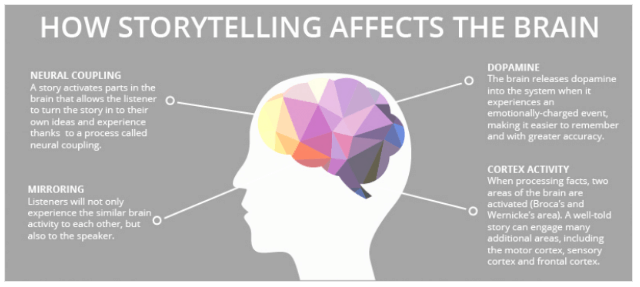 Moreover, you can scroll through Quora to know about the questions people have around your niche. So, you can understand your readers more deeply and serve them better through your blogs.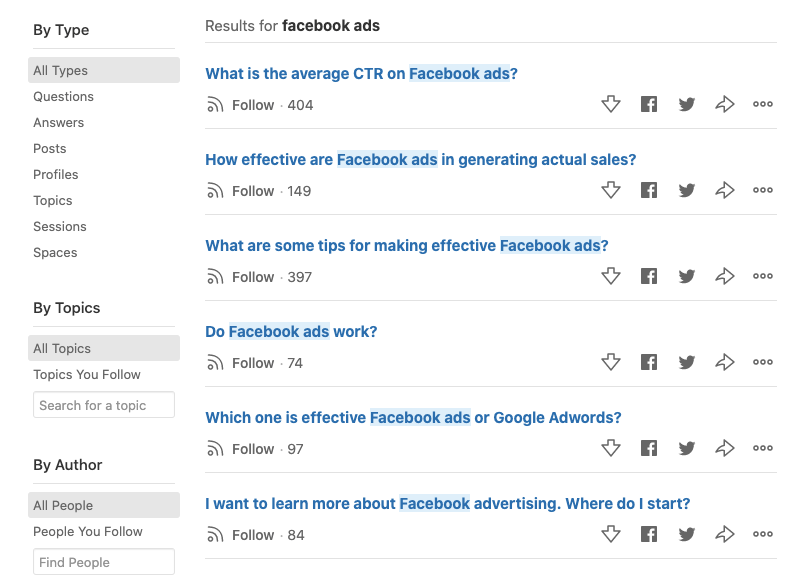 Another good idea is to browse relevant subreddits. So that you can find out your target audiences' queries and the posts other people are posting around that topic.
Use tools like Feedly and Flipboard to find out the latest content published from your niche. You can also subscribe to the top publications and relevant topics in your niche.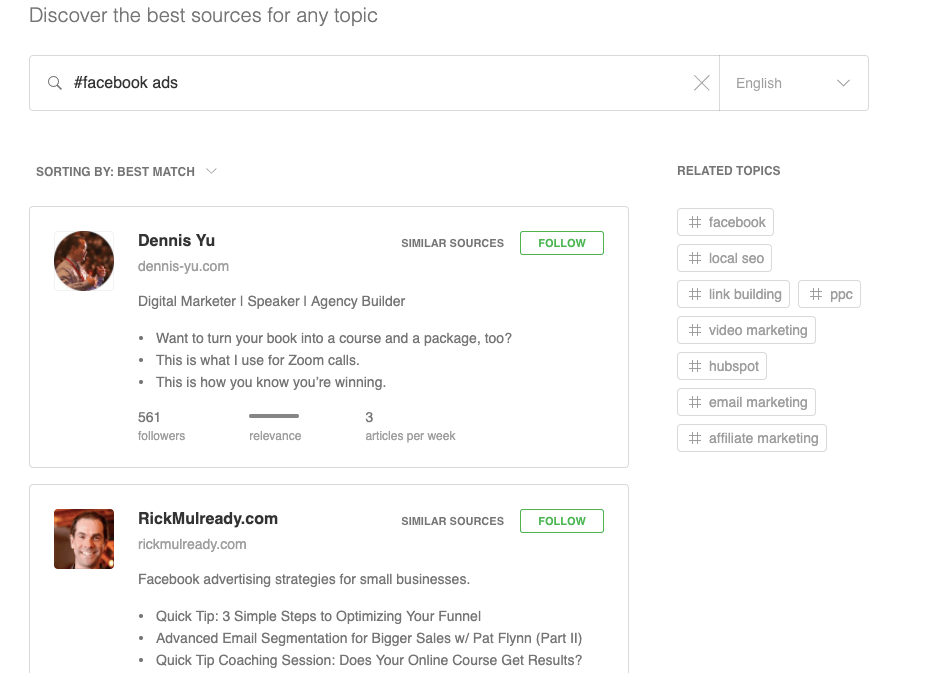 Bring all of these together to form a concrete content strategy for your business.
Step 5: Come up with Blog Post Ideas
After going through the above 4 steps now you have at least some ideas in your mind about the blog topic. Once you know your goal, what content works best for you, and who you want to reach, now it's time to seal the ideas with great remarks.
In order to keep things interesting for your readers, it's a great idea to mix up the types of content. Rather than creating only plain text, you can include other content formats as well. Such as infographics, videos, lists, and others.
User guides
Descriptive articles
Listicles
Product reviews
Case studies
eBook
Infographics
Videos
Podcasts
Success story
Interviews
Studies and research papers
Interactive content: quizzes, polls, contest, personality tests, and so on
These content types are useful to explain your products or services widely. Also, a variety of content never lets them get bored. Nevertheless, it will broaden their knowledge regarding a specific niche.
Finalize each topic considering your main goal and the reader's persona. Prioritize your readers' preferences to produce useful content for them. Go through these tips to come up with a year's worth of blog post ideas.
Tip 1: Create Pillar Contents
Determine your pillar topics. Let's think about the problems your readers are suffering from and how your products or services can solve them. By combining these ideas come up with a common topic that you can cover in your blog.
Product (or specific feature) > Specific user problem topic > Pillar topic
Suppose you have a plugin for creating an online marketplace with ease. Nowadays people are also looking for some extra income source. Now you can write a blog on passive income where you can merge people's needs and your plugin's effectiveness together. And establish it as one of your pillar articles.
Tip 2: Find Trendy Content Topic
During competitor analysis, you have already learned about the topics you should focus on. So list down those ideas. Then expand your topic list using multiple sources like-
brainstorming
find out competitors' keywords
follow the current trend of social media
If you have fan followers on social media or a decent-sized email list, then you can conduct a survey. So that you can discover what type of content your audience wants to see.
Use Google Trends, enter topics you have generated by brainstorming and then check their trending status. You can figure out the related queries as well in this way.
Tip 3: Use Keyword Research Tool
Use keyword research tools to find out the key phrases people use to find out the similar type of products or services you also provide. So that you can utilize those keywords in your blogs and improve the overall SEO of your blog. These tools also give you new ideas about your topic including search volume, ranking blogs, SEO difficulty, CPC rate, and others.
Our recommended tools:
SEMrush
Ubersuggest
Google Keyword Planner
The HOTH
Take the suitable keywords for your blog posts and generate ideas to explain the topics. For instance, take the following analysis and generate some blog ideas like:
How to define Managerial Accounting?
What are the management accounting systems?
What is Managerial Accounting and How It Helps Managers?
Tip 4: Update Your Top Performing Blogs
Represent Popular topics with new flavor. With Google Analytics you can easily find out the best performing blogs on your website. Set your preference from there and sum up some ideas you can insert into your content plan. It would be a great idea to find out those blogs generated the most traffic from you. Then think about how to elaborate those topics that can add more value to your readers' lives in the present day.
Tip 5: Check Comments Regularly
Check out the comments you got on your previous blogs. So you can identify the queries of your readers and get an idea of what they want to know more.

If you don't get enough comments on your blogs then search for similar types of blogs that covered the same topic. As they also target the same group of people so you can understand their views by reading those comments as well.
Well, these are not the only ways to find suitable blog ideas for your business. There could be other ways to do so. But these are the proven tactics to generate a profitable plan. Hence you can bring a large number of traffic to your site and convince them eventually to turn into your permanent customers.
When you got all the ideas, now it's time to assemble them in one place.
Step 6: Add Your Content Ideas to the Calendar
Now you have got your goal, defined your target audience, learned about your competitors, and found the topic ideas you want to produce. It's time to create your calendar. Open a new spreadsheet template in Google Sheets or Excel.
Use multiple sheets to manage your editorial calendar. The first sheet of the calendar should be an overall plan and content blend.
1- Mix Different Types of Content
As we said above, use a blend of content that your readers find interesting. It is not just about content but also about formatting. Readers also get bored easily with the same type of blog or presentation. So, mix your content plan with video tutorials, infographics, eBooks, and others. However, it depends a lot on your niche.
Insert the type of content into your calendar and distribute the topics you have generated above under this sub-heading.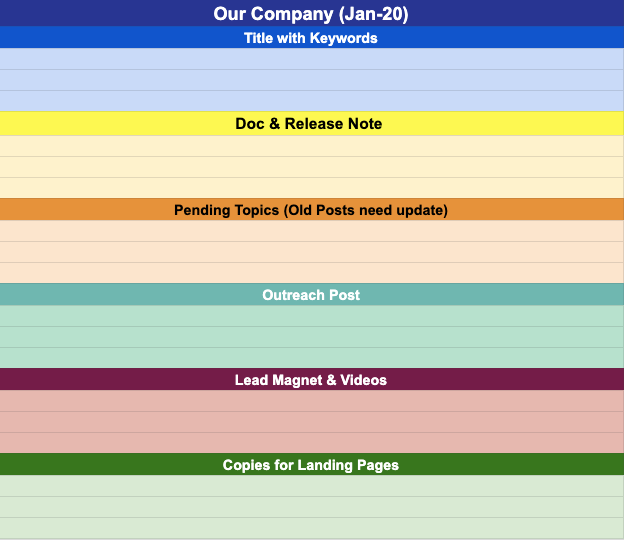 Use multiple colors to differentiate the topics and highlight the content types.
2- Number of Spread Sheet
It is better to use an individual spreadsheet for each month. You can use a sheet every six months if you want, but using one every month will make your job easier.
In each sheet, you can put your necessary information such as what to do, when to do it, how to do it, what are the main keywords, purpose, opinion, etc.
Do not forget that people will work on this plan and you should consider the possible vacations in the editorial calendar. This will help you to get the job done on time. Depending on the type of business, you also need to remember when your audience needs what type of content the most.
3- Sketch Your Social Posting Lineup
To be thriving, you need to build a great content release lineup and stay as consistent as possible. You should set the deadline according to your audience's availability and their desired solution.
Also, consider the time to promote your blog on social media. Find out through social media analytics the exact time of the week when you should publish your content and post them to get maximum response. Once you have a good idea put the time of weekly or daily posting in this calendar.
As your WordPress site starts growing you may need to add custom user roles on your WordPress site. Here are the steps to create a custom user role using custom code or plugin.
4- Add Content Idea in Schedule
You have to cite the content idea in the Calendar where you set a deadline to start, draft, and final submission. The schedule informs you what and when to do and who is responsible for that. Assign the task among your team members in a strategic way.
5- Be Thoughtful while Scheduling
Schedule your content in the days when you can get the most view. Like your target is to sell beauty care products on your online shop. Now if you are writing about the beauty niche, you can put product reviews in the middle of the week and put beauty salon review just before the weekend. You can also schedule an educational blog at a particular time when it gets the highest hit. In short, define the deadlines and publish date following an organized time schedule.
Moreover, it's good to put more information in the content heading along with your schedule. Such as-
Category
Product type
Target audience
Add some extra columns to measure the performance of your blogs after a certain time period.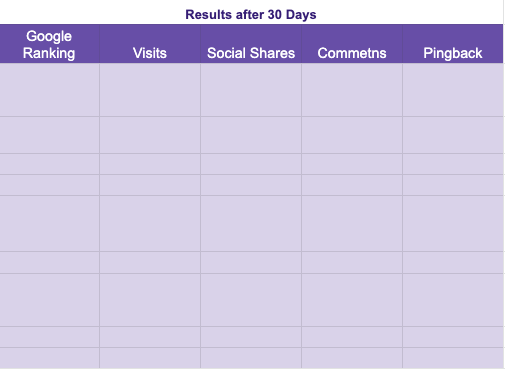 Finally, your plan is ready for the next one year. Now go according to this plan. But review it regularly, maybe you need to update the plan with the evolving situation of the market.
Final Thoughts
There is no doubt, it takes a long path to find out the specific blog topics that your visitors actually want to read. But you have to spend time on it as it's better to publish nothing rather than posting useless content.
Select the topics only that can add value to your readers' real life.
Don't work with a topic just because you see others make money working with it
Don't pick a topic you are passionate about, but very few of others are
Don't go with the topic, you have little knowledge or less experience about
Sometimes it's like looking for a needle in a haystack. But we promise you if you can do this in the right way it will surely help you to attract a significant portion of your target audience. And bring fortune to your business with great sustainability.
But always remember, just because we love our posts it does not mean our readers will also love it. Sometimes a well-written blog also fails to connect with the audience just because of the wrong selection of the topic. So, keep patience and go through the steps we discussed in this blog.
Still have any queries regarding how to research blog topics for your content plan. Use the comment section below and share your thoughts with us. We will definitely attend to you shortly!
https://wphive.com/articles/how-to-research-blog-topics/
Sabirah Islam
Sabirah Islam is a creative content writer who loves to work on diverse topics. She has a deep interest to work with new marketing strategies and different buyer persona. In free times she loves to play with her twin boys.

Subscribe To Our Newsletter