The White House Uses WordPress to Relaunch Their Website (With a Stunning Dark Mode)

2021 is a fresh start from many perspectives. One of the biggest of them is a new administration in the White House. However, with this came a piece of good news for WordPress. The White House has relaunched its website with a new design and for the second time in a row, the White House administration chose WordPress to build its website.
The website relaunched on the same day that the new administration took over. The new slick and clean design immediately caught the eyes of many and became a talking point for tech enthusiasts.
Here at WP Hive, our team loved the all-new look. If you are a WordPress lover, join us, as we talk about the new design, what changed from the previous one, and what this relaunch means for the WordPress community.
When Did the White House Start Using WordPress?


The White House website www.whitehouse.gov has been powered by CMS for a long time. It was Drupal, which was the choice of successive administrations from 2009 to 2017. However in 2017, the new administration migrated from Drupal to WordPress, and it was time for WordPress to power the prestigious White House website.
It was on December 15, 2017, that the White House first launched their website with WordPress, which was an auspicious occasion for the WordPress community. The move was welcomed by many as WordPress is arguably the most stable CMS out there.
Why White House Uses WordPress – What We Think
Why WordPress is preferred by the White House is a question that can be asked in the opposite way, as well. Why wouldn't WordPress be the choice for the White House?
By 2017, WordPress was already the engine that powered more than 30% of the website out there. It was and still is the developer's choice, as you can see from more than 50,000 plugins available on the WordPress repository (higher than any other CMS) and countless free and premium themes. Add to that the world-class security plugins, and you are all set for a powerful and stable website.
Andrew Nacin, one of the WordPress lead developers, joining White House's U.S. Digital Service was thought to be one of the prime reasons behind the White House's move to WordPress, although he later said that he didn't have any part to play in the transformation.
However, even if Nacin did not have many roles in the process, it was not a hard decision to make. Because of the advancement that WordPress made on all fronts, starting from Functionality, SEO, Speed Optimization, and Security, to Stability, it was in fact an easy choice to make.
What's New – White House Website Relaunch with WordPress
The recently depreciated White House website, as seen in the image below, was already a simple one.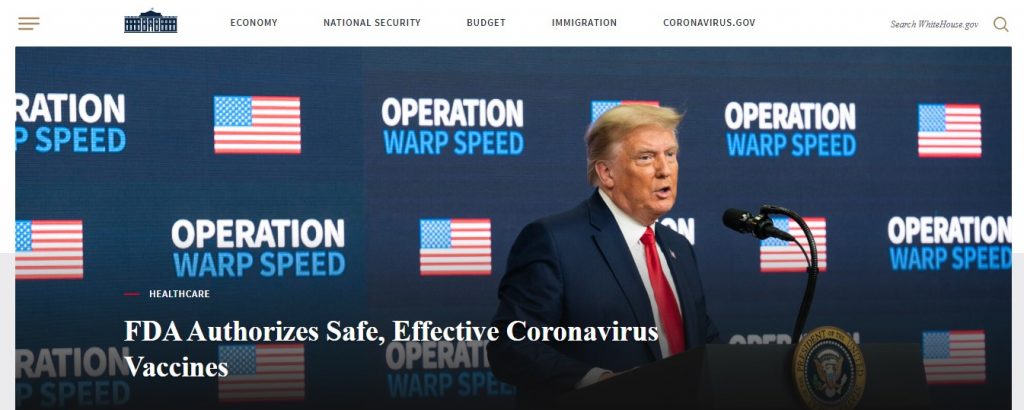 However, the new website is even cleaner looking. With the new navigation bar, the option to translate the whole website into Spanish make it more meaningful. The website is as follows:

If you look closely, you will see that there are two little buttons on the left side of the screen. What are those? We have solved the puzzle for you. Those two buttons are there to let you toggle between "Large & Small Font Size" and "High & Low Contrast Mode".
Wait a minute, what does High Contrast Mode mean? Well, yes you have guessed it right, the White House now has Dark Mode support.
However, as you know we like a bit of Sherlock Holmes here at WP Hive, naturally, we sneaked under the page source and found this for you. See the green texts?

Yes, inside the source code, there's a recruitment message by the United States Digital Service. Don't look at us like that, we were equally surprised seeing the Easter Eggs!
Apart from the dark mode support, new design, they also did quite brilliant work optimizing the website. As you can see from the tweet from @webos, the new website is rocking on all fronts. Hats off to the White House development team!
How Does This Affect Us All
If you search on Google, you will find countless articles on why you should not use WordPress to build your website, terming it as slow, insecure, or even outdated. Yet, WordPress is being used more than ever, and now powering more than one and a half quarter of all websites.
What's more, WordPress is now in the middle of a multiple-year-long modernization project that will make it even more appealing to build websites using WordPress in the near future.
As more and more important sites like the White House uses WordPress, it is becoming even more apparent that WordPress is becoming a more reliable way of building and managing all sorts of websites.
So if you are a WordPress lover, this means that all your love is not going in vain. If you are not quite fond of WordPress as of yet, it is perhaps the time to acknowledge the big stride WordPress is making. And if you are interested to build your next website with WordPress, we have a comprehensive guide to do just that!
https://wphive.com/news/the-white-house-uses-wordpress-to-build-website/
Faisal Sarker
Faisal is a tech blogger who excels at WordPress Content Writing. Apart from sharing useful info pieces that help people around the world, he also likes to travel and read books of all genres in his leisure time.

Subscribe To Our Newsletter