Best WordPress Chrome Extensions that you Must Have in 2023

In 2008, there was no Chrome. In 2023, Chrome now has a market share of more than 65.86% Chrome has always been one of the most feature-packed browsers that helped users to choose it more than just browsing websites. One of the ways Chrome achieved this feat is through Extensions.
There are more than 190000 extensions in the Chrome Web Store
Therefore you can now get all sorts of features right in your browser. WordPress being one of the most used website builders, there are now many extensions built solely targeting this user base.
Today our article is about the best WordPress Chrome extensions that you must have in 2023. This is an always-updated list, so make sure to check it out from time to time, if you are a WordPress user and interested in finding some nifty extensions for everyday use.
Why You Need WordPress Chrome Extensions
Chrome extensions can do literally everything. And we mean it!
Whether you want to check your grammar right when you are typing something on your browser window, need to take a screenshot of a portion of the page, or even when you need to secure yourself by using a VPN, all of them have something in common.
Yes, all of them can be done using chrome extensions!
Here is a pie chart with chrome extensions per category. A huge list, to be honest. But a big chunk of them, specifically 24.9% is categorized to improve productivity, while 7.2% is categorized as developer tools.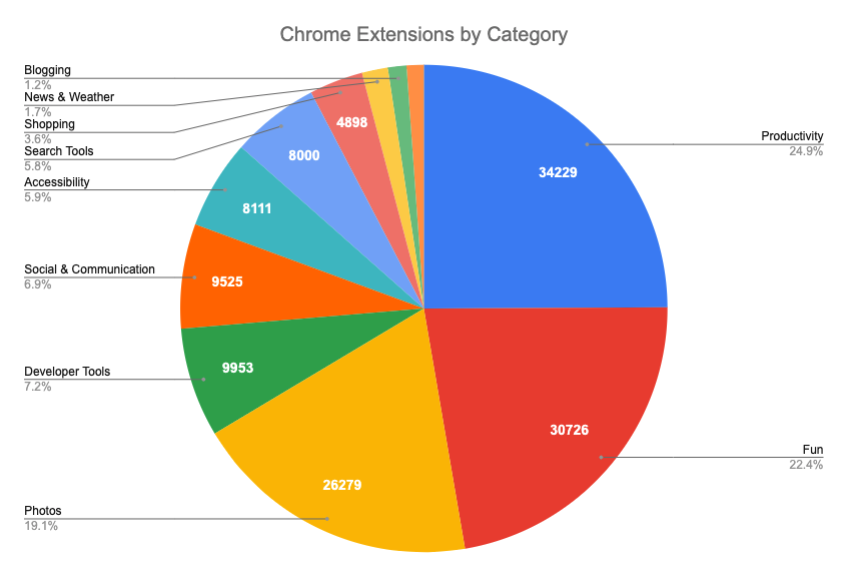 If it weren't for the chrome extensions, you would have to use individual apps for all the features that we have pointed out here. This is how Chrome extensions help us out with useful functionalities.
Even when it comes to WordPress, it has some exciting extensions to offer, and that is what we will cover in this article. Ready for it? Let's start with the list then!
13 WordPress Chrome Extensions that You Should Have as a Marketer
1. WP Hive
Finally, we are at the point of sharing the selected extensions. But you do have the chance to share any extensions that you like in the comment section, and if we think they are a must-have, we will add them to our blog.
So without wasting any further time, let's get to the list.
Yes, we now have a chrome extension for WP Hive, and we have featured this extension on top of our list. Before you start raising your eyebrows, hear me out!
We are a team of WordPress enthusiasts and the reason behind building WP Hive was to help you find the plugins from tons of options and get crucial insights, which we were tired of doing.
Well, the WP Hive chrome extension will help you do that even more easily.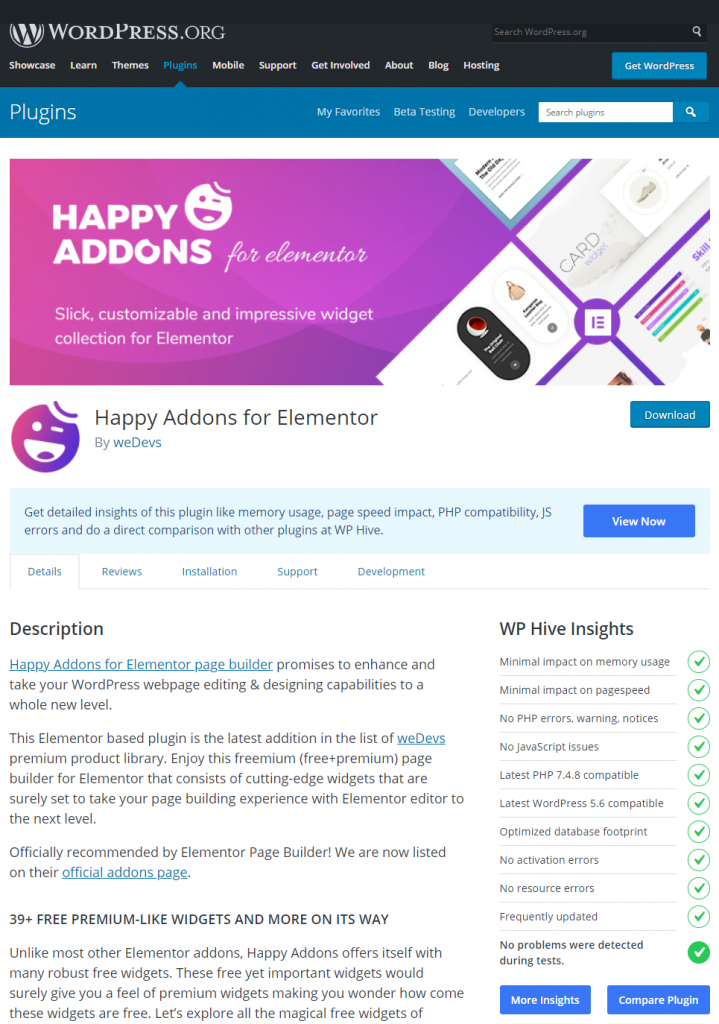 Once you install this extension, whenever you visit any plugin page in the official WordPress repository you will see the key insights of that plugin in the sidebar, just like the image above.
And if you need more detailed insight about the plugin, you can click on the More Insights button or Compare Plugin button, if you want to compare the plugins with any other.
This chrome extension is available for free, just like all our features. And there's no reason not to download this extension today.
2. BuiltWith Technology Profiler
If you are a WordPress enthusiast, or even someone who is remotely interested in what web technology is used to build a website, BuiltWith is an extension that you will surely love.
Using this extension, you can get to know the technology used to build a website. This includes whether the website is built with a CMS (i.e. WordPress) or not. If yes, which are the themes and plugins powering the website? All this information is presented in a very simple and intuitive way.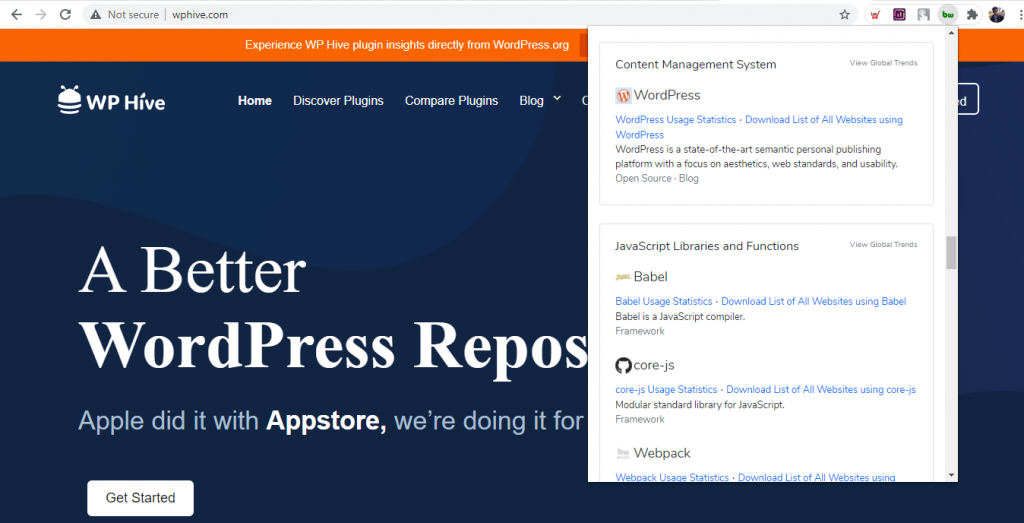 As you can see from the image, by clicking on the bw icon from the menu bar, you can get to know the technology behind the website you are currently in.
This is also a free extension, available in the chrome web store.
3. Grammarly
This is an extension that everyone should have, and if you are someone who uses WordPress as a medium to publish blogs, Grammarly is even more important.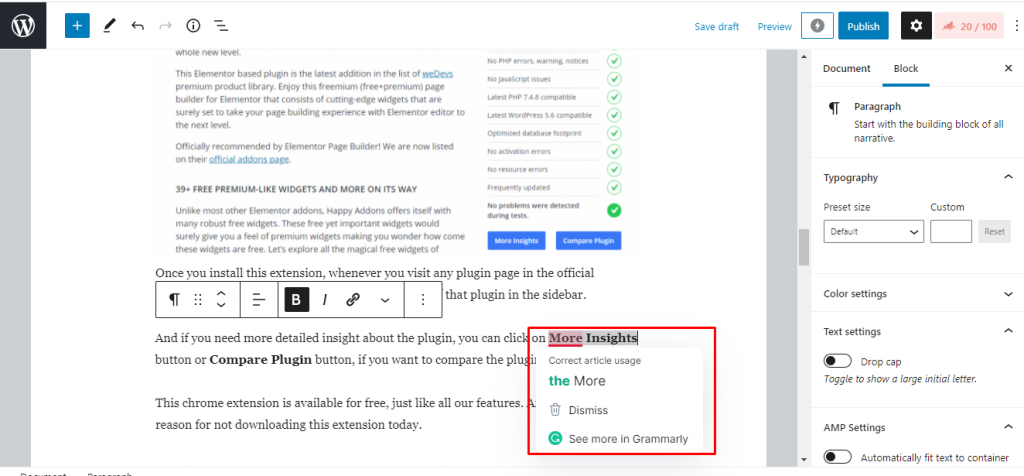 Grammarly will help you with grammar, spelling, and even your spelling tone. It also helps you avoid errors in writing and suggest better words in a sentence. What's more, you'll get real-time feedback. Grammarly is available on Gmail, Google Docs, Twitter, LinkedIn, and of course on WordPress!
4. FATRANK
For a marketer, FATRANK is the kind of tool that you need every day. It helps you track the SERP ranking of a webpage or blog for a certain keyword. To get such kinds of functionalities in the browser is almost unbelievable, but thanks to this chrome extension, you can do that with ease.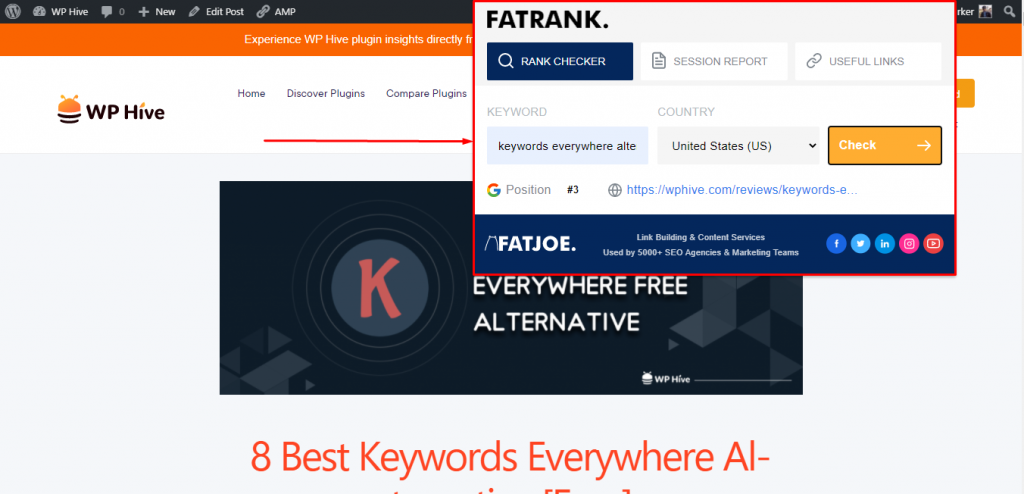 Have a look at this image, where we checked the ranking of one of our blogs for a certain keyword, and it gives back the result in a flash.
5. SimilarWeb
SimilarWeb is a popular web traffic analysis tool. With this tool, you can get all-in-one website analytics & compare website traffic and performance. Which can help you with your future strategies.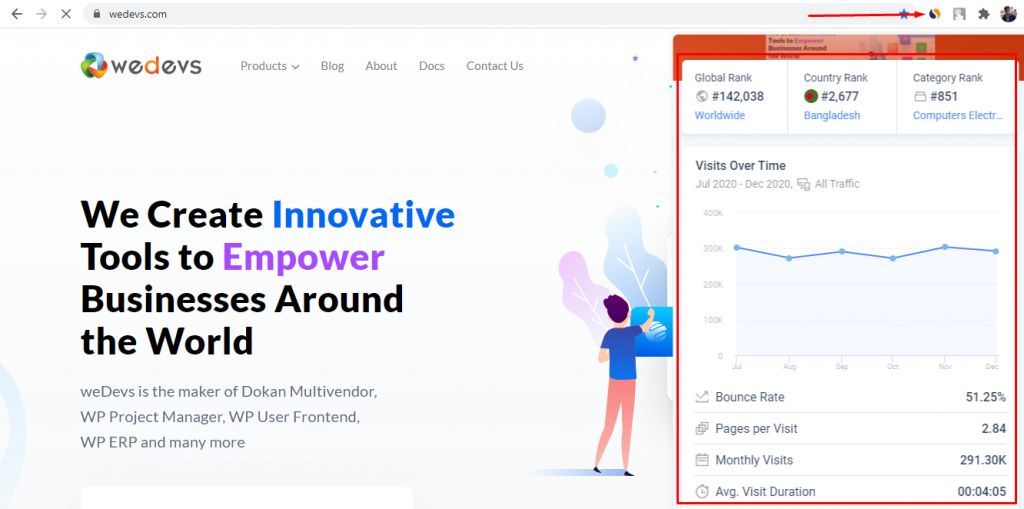 And with the extensions of SimilarWeb, you can literally do it all without even leaving the website you are in.
6. WPADMIN : WordPress Site Manager
WPADMIN, known more by the name WordPress Site Manager is another chrome extension that you must need in 2023. If you own multiple WordPress sites, it can come in super handy.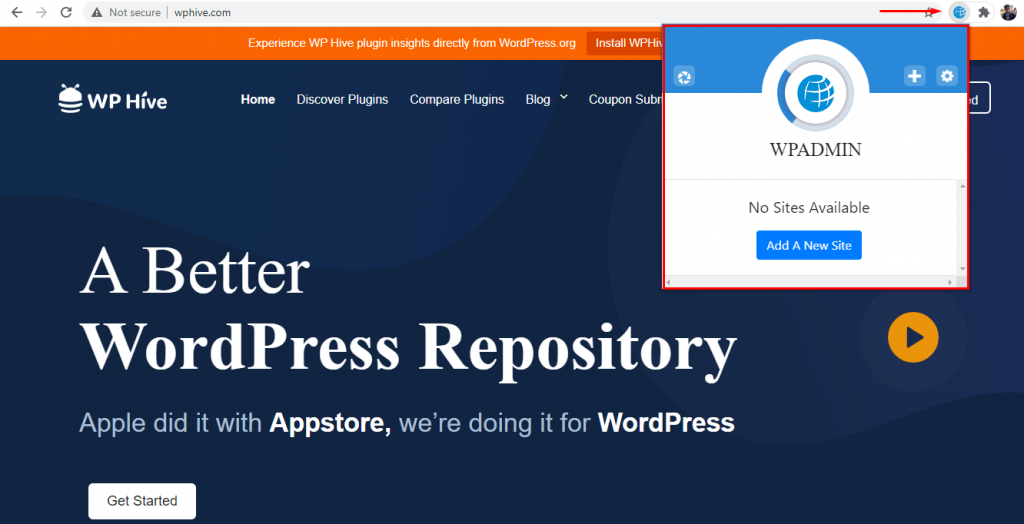 This WordPress Site Manager lets you add multiple WordPress site credentials so that you don't have to input the credentials every time. If you're like us, you know the hassle of remembering and inserting the credentials every time, so this extension will surely come as a relief.
7. WP Sniffer
Ever visited a WordPress site and liked the design so much that you wanted to know the theme being used to design the website? Well, you're not alone. We found ourselves in the same situation quite often.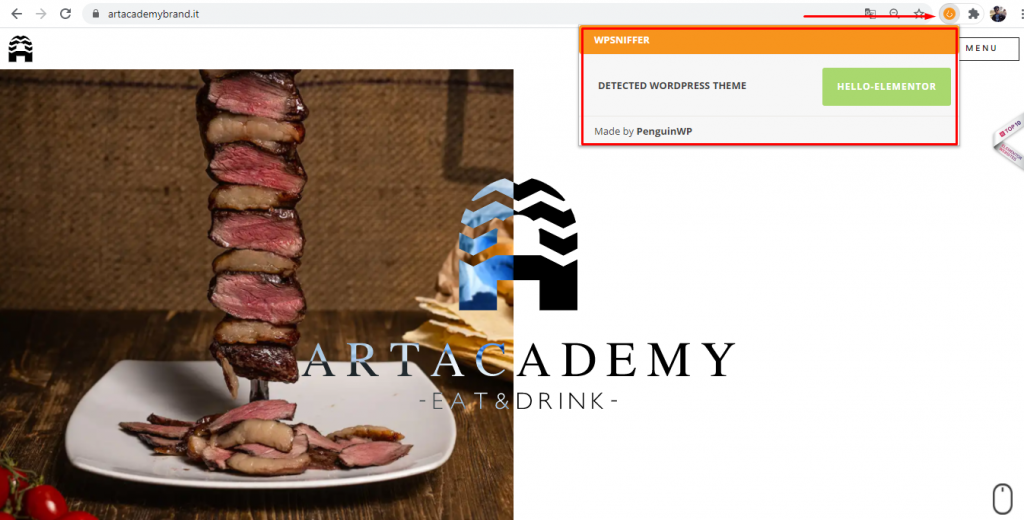 This sniffer has a nose like a bear and can tell you the theme being used to build the website if it is built with WordPress. If it is available in the WordPress theme repository, you'll also get the link to that. If not, the button will redirect to the Google search page with the term "Theme name + WordPress theme".
(N.B: Some website owners disable the option to display the theme name, WP Sniffer will be unable to sniff the theme in that case, even if the site is running WordPress.)
8. WhatFont
Sniffing theme isn't enough for you? Fancy another website's font as well? Well, we hate to disappoint you, so here's an extension to that!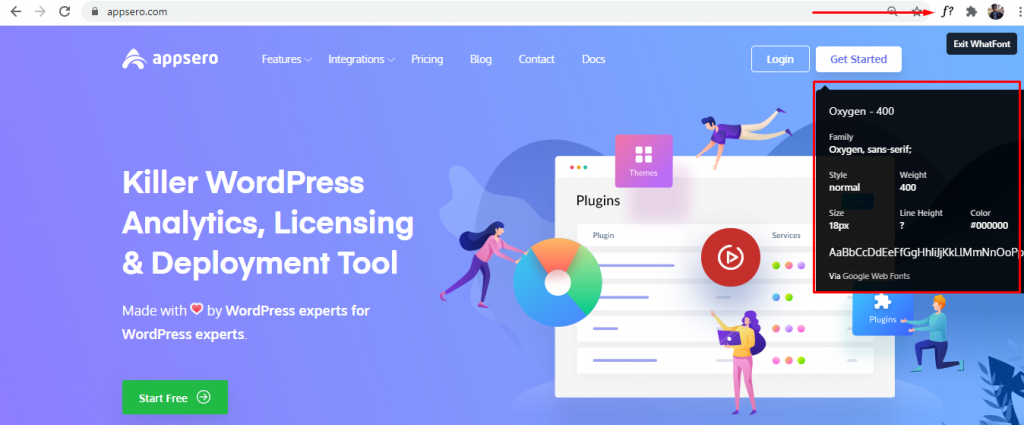 WhatFont is an excellent extension for marketers and developers alike. This extension can find out which font is being used on a website. It will also help you get information about font size, weight, style, and even a link to the font.
Still not using the extension? Now's the time to install it.
9. WPintel – WordPress Vulnerability Scanner
Ever visited a website and thought to yourself, whoa! I need some intel on that. Well, neither did we.
But as WordPress enthusiasts, we did feel the need to know the WordPress version in use for the site, if it has any vulnerabilities, which plugins & themes are being used, and who are the users using this website.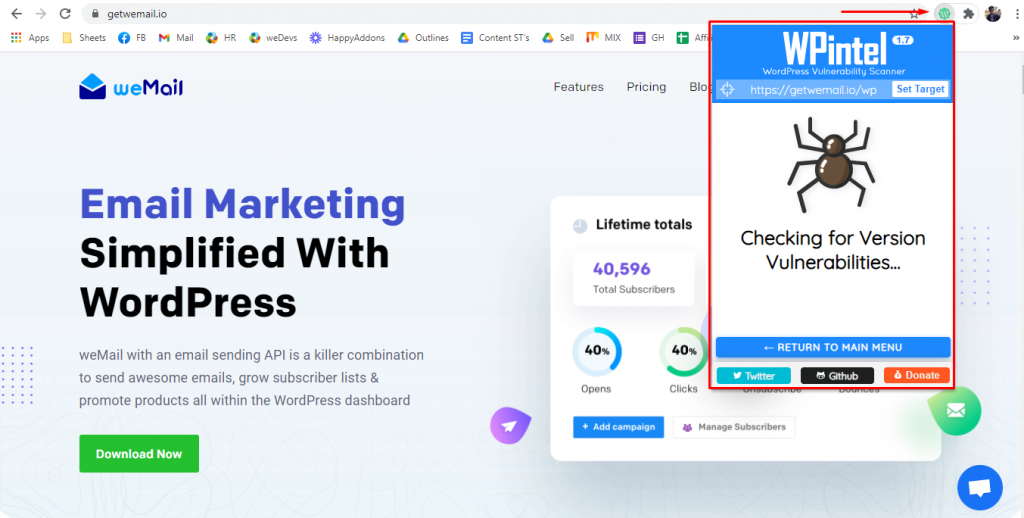 However, this free extension often fails to acquire the information, if the site owner blocks anyone from accessing this data.
10. Keyword Surfer
Remember Keyword Everywhere? Doesn't matter if you didn't know about it, Keyword Surfer is as good as a Keywords Everywhere alternative as there can be.
With Keyword Surfer installed, every time you search for something on Google, you will see the search volume of that term. Moreover, you will also get the related search keyword volumes.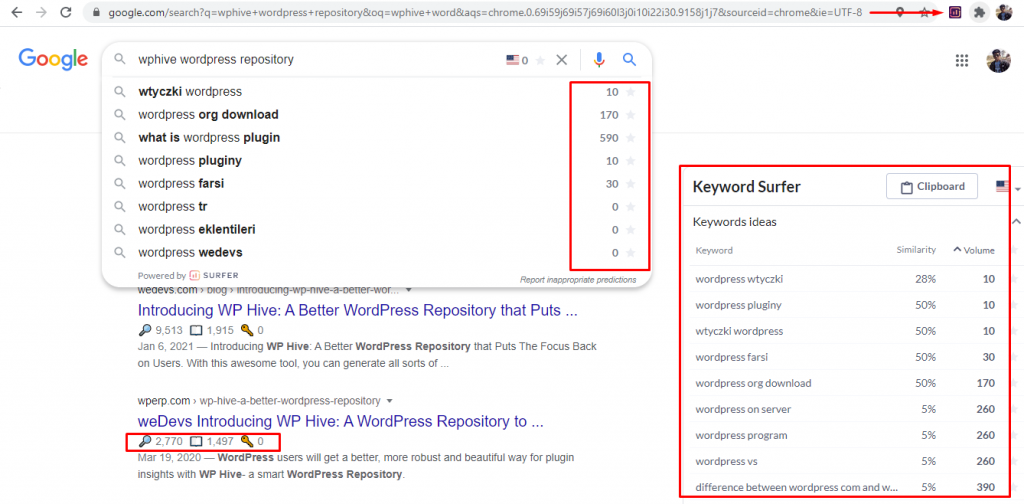 As you can see from the image above, Keyword Surfer also presents some nice keyword ideas from time to time. Besides, article length and estimated monthly traffic for the domain is also something that can help any marketer.
11. Check My Links
Whether you are a content editor, marketer, or SEO specialist, you need this extension on your browser. Because of all these things, broken links are the kind of thing that you don't want on your webpage.
And if you ever manually checked broken links on your website, you know how much of a hassle it is. Check My Links is your instant solution to this time-consuming problem.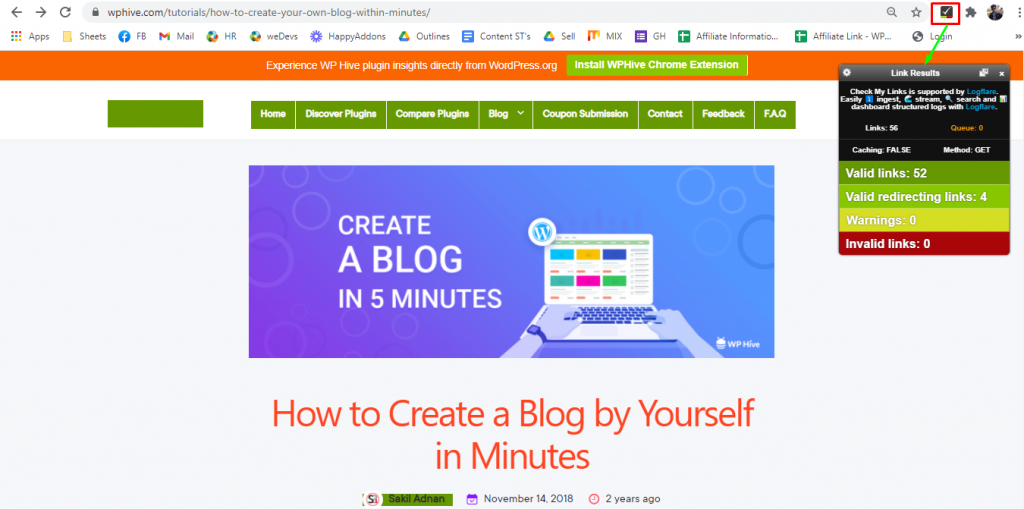 Check My Links checks all your links and finds those that are going nowhere, which eventually hamper your ranking. Broken links are not something that you want on your site and if you are as tired of searching for broken links as we are, add this to your browser today.
12. Post to WordPress
Post to WordPress is a relatively lesser-known chrome extension, but we don't mind that as long as it brings convenience for you.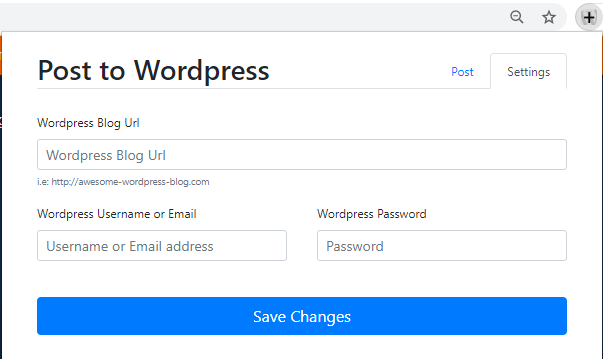 With this extension, you can connect your blog and publish articles to it without even accessing your site. Once you are logged in to your WordPress site with adequate permission, all you have to do is insert a title, content, select categories (right from your blog) and tags and then publish your blog. You can also save the post to draft.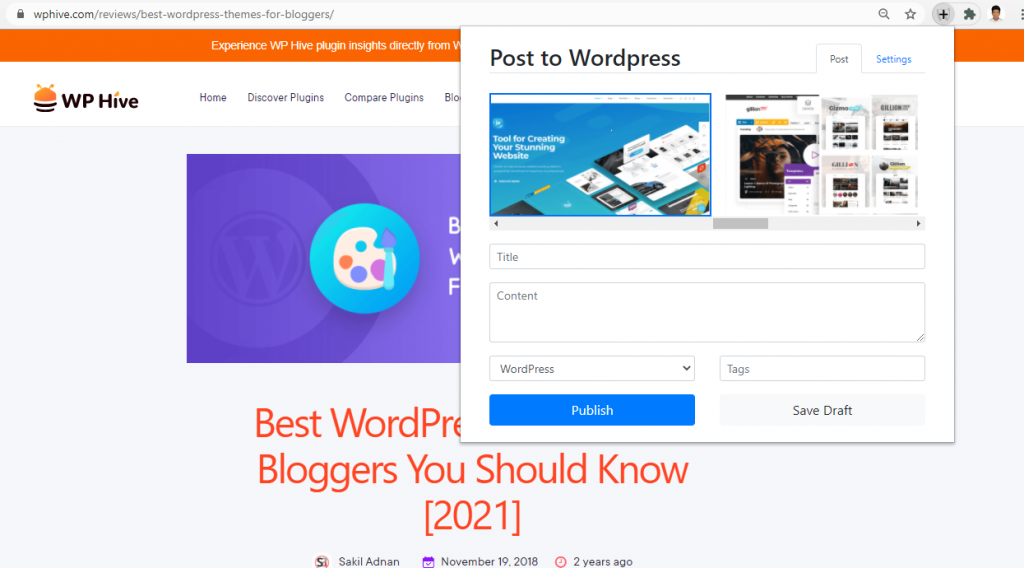 Besides that, you can source images for the blog you are publishing from the page you are currently in. Pretty nifty, right?
13. Eye Dropper
We sniffed themes and font, so why not sniff the colors as well? Eye Dropper is an excellent plugin that helps pick out colors from a web page.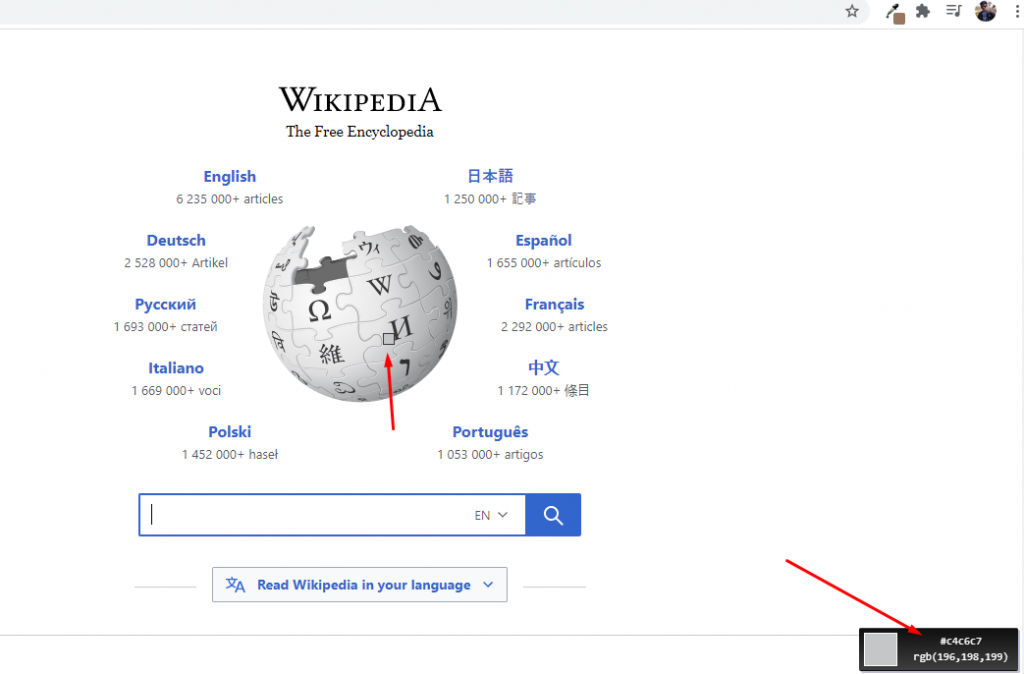 After adding the extension, all you need to do is hover your mouse over a part of your page and you will get to know the color with codes at the bottom of the page. The plugin is absolutely free, so you can install this extension without thinking of spending a penny.
Finishing Up
Behind the ever-growing popularity of Google Chrome, the usage of extension is termed as of the main reasons. There are a lot of extensions that are available in the chrome web store right now, and with huge demand, the number of WordPress chrome extensions also increased. So we picked out the chrome extensions that we think are a must if you are a WordPress enthusiast, marketer, or even a web developer.
Got any plugins that you think deserve a shoutout here? Let us know in the comment below!
https://wphive.com/wordpress/best-wordpress-chrome-extensions-that-you-must-have/
Faisal Sarker
Faisal is a tech blogger who excels at WordPress Content Writing. Apart from sharing useful info pieces that help people around the world, he also likes to travel and read books of all genres in his leisure time.

Subscribe To Our Newsletter