7 Best WordPress Slider Plugins You Should Consider

When created with the right tool, WordPress sliders can make your site more engaging, more interactive, and more fun. That is why WordPress slider plugins have become increasingly popular over the last few years.
If you want to customize your site and attract more users or customers to your website, slider plugins can be of great help.
However, the challenge is to find the one that works seamlessly with your website and it's design.
So, to end your dilemma we have compiled the list of the best WordPress slider plugins in the WordPress repository.
Before that, let's learn a little more about what you should be concerned about before selecting a WordPress slider plugin for your site.
Features to Consider Before Choosing a WordPress Slider Plugin


WordPress slider plugins are used to add a visual slideshow in a website.
There is no question that you need to choose the right slider plugin for your site in order to give your site the perfect look.
You need to look into the plugin's functionalities, design, size, loading time, and many other necessary things. These functionalities ensure you are installing a quality plugin on your website and not some bogus ones.
Therefore we are going to create a list, which if followed can help you in choosing the best WordPress slider plugin. Here is the list you need to follow.
Works for different types of WordPress themes
Compatible with different devices (Mobile, Desktop, Tab)
Offers drag & drop functionality
Easy to set up
Able to create a dynamic custom slider from scratch
Provides better support
SEO friendly
Offer reasonable prices
Choose From the 7 Best WordPress Slider Plugins
There are more than 700 slider plugins available in the WordPress plugin directory. Among them, we picked the most popular and advanced slider plugins. Using the following plugins, you can easily create your custom slider on your website.
Quick checklist:
Nivo Responsive WordPress Image Slider
MetaSlider
10Web Responsive Image Slider
YITH WooCommerce Zoom Magnifier
WP Slick Slider and Image Carousel
Slider by Supsystic
Timeline and History Slider.
Note: We have organized our list based on the number of active installations.
1. Nivo Responsive WordPress Image Slider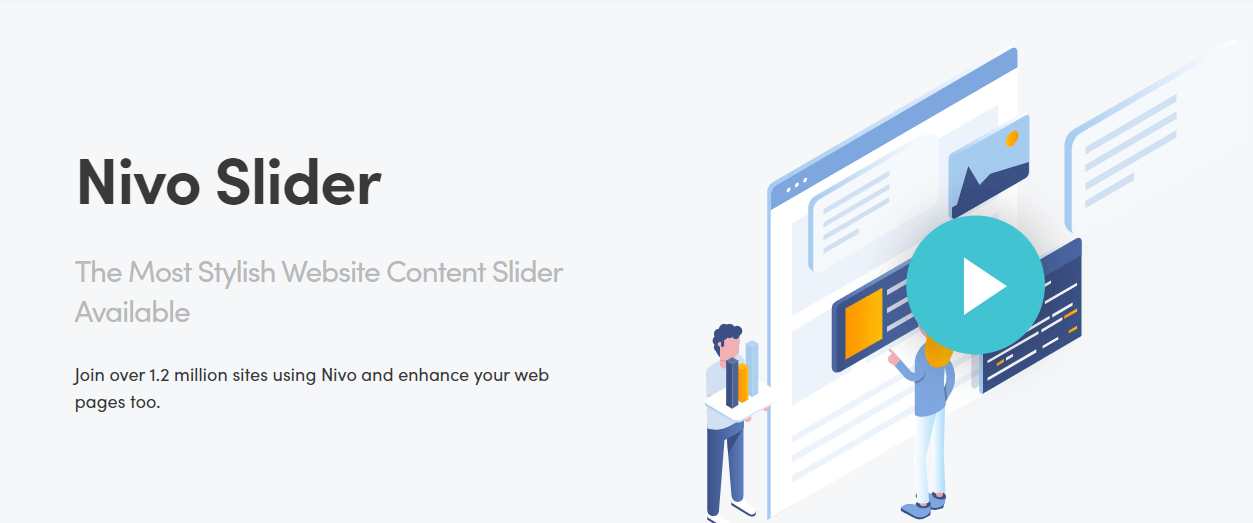 Nivo Slider is one of the most stylish website content sliders that is used in over 1.2 million sites.
This slider works with both WordPress websites and the non-WordPress site. If you are a WordPress user, you chose the WordPress version. And the other users choose the jQuery Nivo Slider.
It is a powerful tool that comes with many advanced features. Moreover, it can be fitted with all WordPress themes. Even, you can create custom sliders for individual pages of your website or blog posts. If you're looking for an easy-to-use dynamic WordPress slider plugin, you may consider Nivo Slider.
Key Features
Easy-to-use in WordPress
Built with jQuery
Dynamic custom slider themes
Compatible with all themes and different sites
Make sliders for blog posts
Create sliders for galleries
World-class customer support
Fully mobile-friendly
Active Install: 925.7K
Downloads: 1.2 Million
2. MetaSlider

If you are looking for a slider plugin that is super fast, SEO optimized, and capable of creating a slideshow in minutes, you can consider MetaSlider.
It comes with drag-and-drop functionality that allows you to create responsive slideshows with ease. Also, it offers a live theme editor, thumbnail browsing, advanced customization options.
With MetaSlider, you can easily create a slideshow of your eCommerce products. While making a slideshow, you need to use a shortcode or template to embed the slideshows on your site.
Key Features
Simple and intuitive design
Create full-width slideshow
Drag and drop slide reordering
Better image cropping
Extensive developer API (hooks & filters)
Multilingual support
Import/Export slideshows
Lightbox support
Create thumbnail navigation
Active Install: 800K
Downloads: 10.5 Million
3. 10Web Responsive Image Slider

If you need a multipurpose slider plugin that comes with modern-day advanced functionalities, you may give a check 10Web Responsive Image Slider.
It's called the most functional drag & drop slider plugin for WordPress. Using its drag & drop feature, you can easily make a custom slider with great ease.
Moreover, you also can create Video Slides and Carousel Slider for your post or different pages. It allows you to export & import slider from popular video sharing platforms like YouTube, Vimeo, etc. In short, it is one of the popular slider plugins that can be suitable for a non-technical person.
Key Features
Endless slides & sliders
Social sharing button
Different layer effects and transition
Parallax & carousel compatibility
Easy image watermarking
Easy to set up and use
Better customization
Video slide support (YouTube slider and Vimeo slider)
Support for posts in the slides
Active Install: 50K
Downloads: 1.9 Million
4. YITH WooCommerce Zoom Magnifier

YITH WooCommerce Zoom Magnifier is an amazing slider plugin that is specially built for eCommerce sites.
Using this powerful tool, you can implement the zooming feature of your products. Besides, it also adds a slider below the featured image with your eCommerce product gallery images.
Moreover, this slider plugin supports 3 different languages and world-class customer support. If you want to magnify your online store products as you see on the other eCommerce sites, go with YITH WooCommerce Zoom Magnifier.
Key Features
Able to enable or disable it on mobile devices
Create a slider to display product image thumbnails
Easy to display a larger product image when hovering the mouse
Add a zoom function to your products
WPML support
Customize carousel behavior
Set custom image size
Active Install: 70K
Downloads: 2.2 Million
5. WP Slick Slider and Image Carousel

90+ awesome preset layouts and 30 image slider layouts make WP Slick Slider and Image Carousel more advanced and unique than other best WordPress slider plugins.
This plugin is easy to set up and also easy to use. Even without coding skills, you can implement a slick slider and the image carousel.
To create both of the slider you just insert a piece of code. That's it.
2 Shortodes to create slider…
[slick-slider] and [slick-carousel-slider]

Here's the Template code…
<?php echo do_shortcode('[slick-slider]'); ?>  and
 <?php echo do_shortcode('[slick-carousel-slider]'); ?> 
Key Features
Over 90 awesome preset layouts
30 Image sliders designs
Touch navigation
Create a header image slider
WP template features
WPBakery page builder support
Custom CSS plugin configuration option
Easy to use shortcode with robust parameters
Active Install: 20K
Downloads: 277.2K
6. Slider by Supsystic

Slider by Supsystic is a very stylish, advanced, responsive, and one of the fast loading slider plugins in our list.
This plugin is specially designed for those who are working on big-sized images. Using this powerful tool, you can create an image and video sliders in minutes.
It also allows image and video importing options from popular social platforms. In fact, it comes with the full compatibility of different sliding options and supports muli-languages. Check out some other features below section.
Key Features
Awesome slideshow themes
Simple sliders builder interface
Thumbnail navigation sliding option
Post feed slider
Easy to import from (Flickr, Tumblr, and Facebook)
Attach links to image slider
Multiple slider options
Active Install: 8K
Downloads: 374.4K
7. Timeline and History Slider

Timeline and History Slider plugin is a unique WordPress timeline plugin that displays your company history or your life story on your WordPress site.
It displays the post in a horizontal order based on the year and date of your blog posts.
Therefore, it is highly compatible with Gutenberg block editor and supports the popular page builder plugins. So it allows you to do any customization in your slider design.
Let's see the following video tutorial. And learn how to create a slider with Timeline and History Slider.
Key Features
Gutenberg shortcode block
Compatible with WordPress post
Visual Composer/WPBakery page builder support
Fully responsive
Simple scrolling navigation
Active Install: 6K
Downloads: 50K
Check out some other popular WordPress slider plugins.
Bonus: Let's Analyze 2 Plugin's Performance Side by Side
Surprised? Don't be. If you are in the WordPress industry long enough, you ought to know that there is a new platform called WP Hive, that helps you comparing two plugins side by side.
It takes into account Memory, Page speed, other criteria and declares a winner at the end.
So, we went ahead and compared MetaSlider with 10Web Responsive Image Slider. Let's see who wins.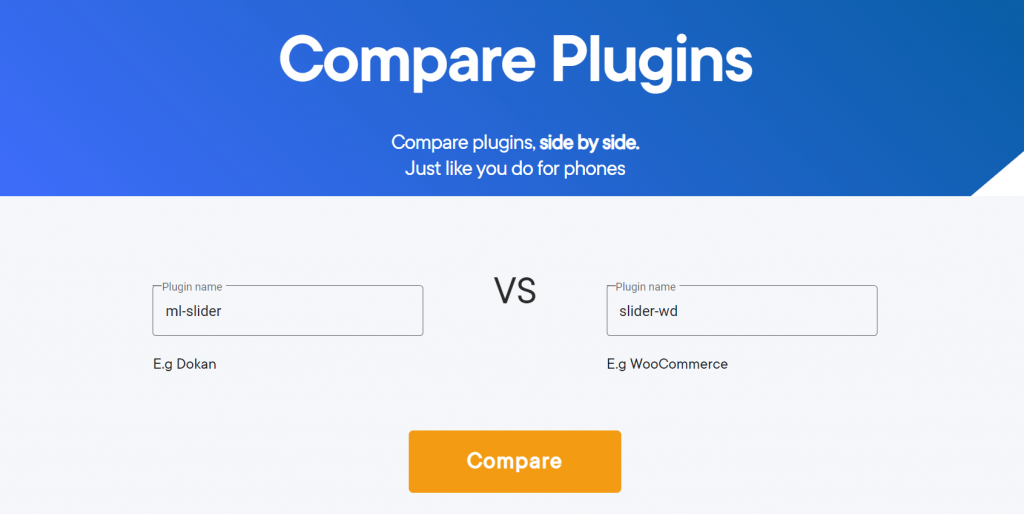 Memory Usage
In the battle of memory, 10Web Responsive Image Slider clearly comes out on top. It uses only +184.97KB of memory whereas MetaSlider uses +261.36KB of memory.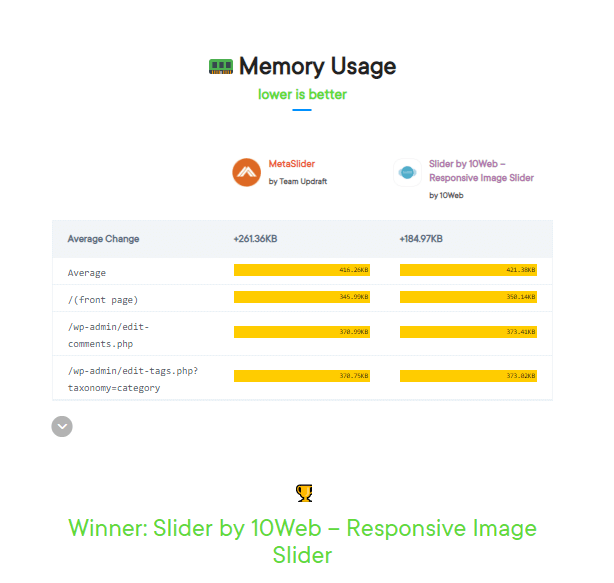 Page Speed
Here is also you can see that 10Web Responsive Image Slider uses the minimum time to load it's pages then MetaSlider. That is -0.03s compare to MetaSlider's +o.o1s .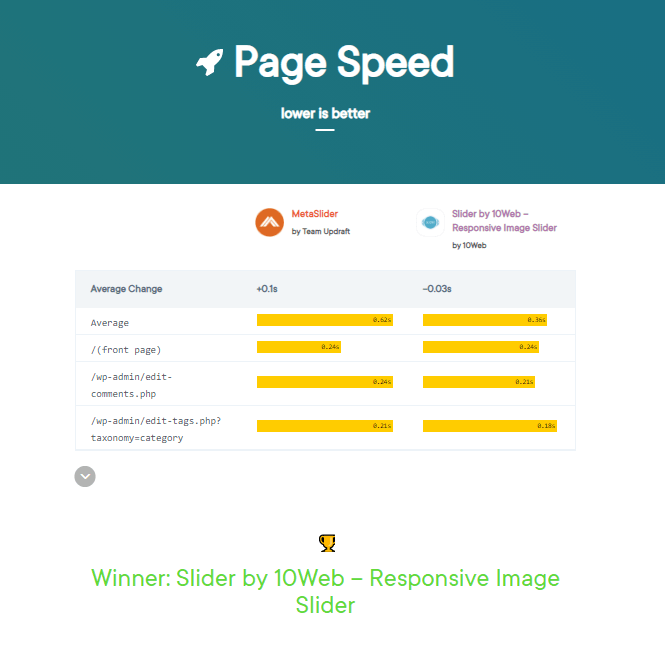 Other Criteria's
Also, you can view the other criteria's as well from the below screen grab.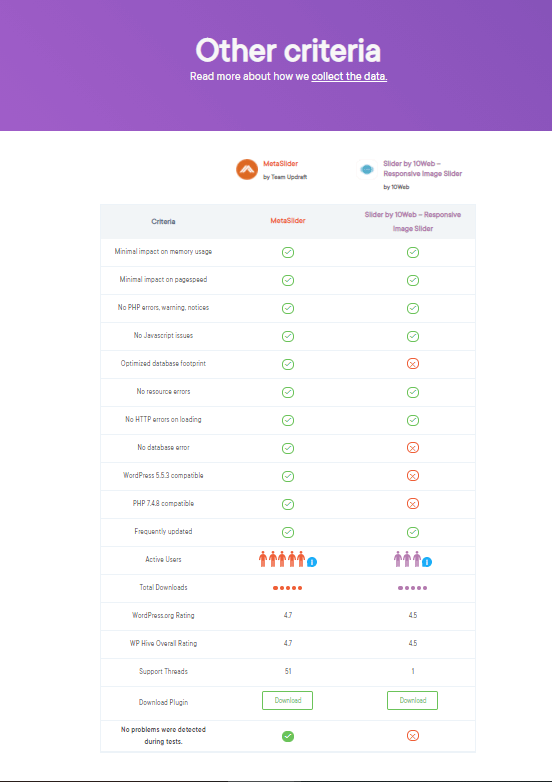 Cool right? So, if you want you can,
Conclusion
We have tried to list the best WordPress slider plugins that are easy-to-use, advanced in function, responsive, fast, and more premium features.
Before choosing any of the above plugins, we recommend you deeply analyze the plugins and focus on the compatibility with your website design. Then pick the right plugins for your project.
You can also check out another blog where we've reviewed some premium slider plugins.
If you're still stuck regarding this blog or slider plugins, do let us know.
https://wphive.com/reviews/best-wordpress-slider-plugins/
Adnan Khan
Adnan Khan is a passionate writer who loves to write and read WordPress related stuff. Besides, he is very imaginative and likes to fly kites and play soccer in his off time.

Subscribe To Our Newsletter