7 Best Ads Plugins For WordPress in 2023

During the '90s and even in the early 20th century, advertisers had to rely on promoting their products on television screens, newspapers, and roadside banners.
Now, the time has turned, and it has turned sharply.
Today, we see ads on social media, websites, online newspapers, and different types of web platforms. That's because there is a golden rule in marketing,
" Promote where your prospective customers are."
And now, there are more people you can reach online than simply through any other medium.
In this digital world, advertisement is a great way to earn money. That's why marketers and business organizations allow advertisements on their websites. Many blog sites depend on ads as a principal source of income.
Digital Marketing experts estimate that most Americans are exposed to around 4,000 to 10,000 advertisements each day.

Red Crow Marketing INC
To get the best result from your ad, you shouldn't just rely on manual ad management. Instead, use the modern WordPress ads plugins for better customizations and flexibility.
But, the main concern is to find the best ad plugin that will suit your business.
That is why to help you, we will introduce some of the best Ads plugins for WordPress and help you understand the pre-consideration of the WordPress ads plugin.
Let's get started.
Features You Should Consider Before Choosing the Perfect WordPress Ads plugin

Most WordPress themes don't allow you to display ads on your website. Some themes don't have a dedicated place for ads.
This is why you need to edit theme files to insert ad code on your website. To solve this issue, an ad plugin can help.
A WordPress Ads plugin comes with lots of functions that will help you to manage your website Ads. However, you need to find features that are compatible with different ad networks and work on major themes.
With that view in mind, we have prepared a list you can follow. If you find all the advanced functions in your ads plugin, then you can go choose that plugin.
Here are some pre-considerations of the WordPress Ads plugin,
Advanced features
Simple installation
Easy to manage
Responsive ads design
GDPR-compliant
Geo-targeting
Update frequently
Better customer reviews
Top 7 Ads Plugins For WordPress That You Should Consider
There are lots of Ads plugins available in the market. Among them, we have picked 7 of the best Ads plugins according to their active installation.
We kept in mind that these plugins are easy-to-use, responsive, advanced in features, and can optimize with any WordPress theme. Here they are,
Let's dive into the details:
Popup Maker

If you are looking for a WordPress popup plugin to display popup banners & Ads on your website for marketing purposes, you should go with Popup Maker. It is one of the most customizable popup plugin chosen by 6,00,000+ users all over the world.
Using this plugin, you can increase email subscribers and able to generate leads. Besides, you can create marketing overlays, opt-in forms, and popups for your site.
Additionally, you can display popups from any section of your website.  Even, you don't need to add other tracking tools to track the ad's performance. Moreover, it comes with full WooCommerce combability and is able to show upsell and cross-sell popups.
Check out more features below.
Key Features
Unique popup editor
Advanced targeting conditions
Email subscription pop-ups
Content update pop-ups
Lead generation pop-ups
Contact form pop-ups
Coronavirus / COVID-19 announcements
Compatible with popular form plugins
Active installations: 6,00,000+
Ratings: 5/5
Q2W3 Fixed Widget for WordPress

Q2W3 Fixed Widget is the perfect WordPress plugin for creating sticky widgets on your WordPress website. This plugin allows you to display the content of your widget when the page scrolls up or down.
Using the Q2W3 Fixed Widget plugin, you can grab customer attention and increase conversions with great ease.
Most importantly, before choosing this plugin for your website, make sure that the plugin will work with your WordPress theme because it's not working with all themes.
Let's see its other options.
Key Features
Maintain unlimited ads
Easy Schedule ads
Lazy loading ads
Tracking & reports
AMP compatible
Flexible ad types
Able to manage your ads.txt file
Active installations: 1,00,000+
Ratings: 4.5/5
Advanced Ads – Ad Manager & AdSense

Advanced Ads is a popular ads manager plugin that comes with tons of powerful features. This plugin works with all ad types and networks. It is even compatible with Amazon ads, Google AdSense, Google Ad Manager (DFP), or media.net.
With this modern WordPress ads plugin, you can create & display limitless ad units, rotate ads, and schedule your ads. Additionally, you can set the position of your ad from different sections of your site.
If you want simple ads plugins for WordPress to manage all types of ads with the best customer support, try Advanced Ads.
Key Features
Display unlimited ad units
Display responsive image ads
Support multiple ads position
Works with popular ad types and networks
Gutenberg block for ads compatibility
Inject HTML, CSS, Javascript, or PHP code
Support ads.txt
Add rotate ads
Active installations: 1,00,000+
Ratings: 5/5
AdSense Plugin WP QUADS

WP QUADS is a height-rated WordPress ad solution used by over 60,000 users. This comes with Google Adsense support that allows you to set Google ads on your website.
Besides, it has a powerful Ajax searching option and supports a custom image banner. Like the plugins above, it also offers a free and premium version so you can easily power up the plugin using its premium features.
It supports AMP and AdBlocker. Also, you can insert custom HTML code to design your ads. What you need to check out more is the below.
Key Features
Integrates with AMP
Google Adsense support
Ad Blocker support
Geo-targeting option
Different ads positions
Custom image banner support
HTML code support
Allow background ad
Easy Ajax-based search
Active installations: 60,000+
Ratings: 5/5
CM Pop-Up Banners for WordPress

The popup banner plugin lets you promote events, display WooCommerce products, and show special offers on your website.
With this amazing plugin, you can create a responsive ad banner and place it anywhere on your site to attract customer attention and ultimately get leads.
It also comes with lots of customization options and is able to track banner clicks and impressions. Besides, it provides dedicated customer support.
Try CM Pop-Up Banners for WordPress and simply manage your website ads banner.
Key Features
Create banner campaigns
Design any custom banner
Show a popup ad on the center or footer
Dynamic popups with HTML and images
Restrict banners to specific posts or pages
Easy track banner clicks and impressions
Active installations: 10,000+
Ratings: 3.5/5
WP Simple AdSense Insertion

There are a lot of plugins that help to insert Google Adsense into your posts, pages and sidebar. In fact, there are so many that it sometimes gets confusing to choose one from them.
While it is true that Adsense Manager or Adsense Deluxe are some of the most featureful plugins when it comes to integrating Adsense throughout your website, they can sometimes be a bit complicated to use.
That is where the "WP Simple Adsense Insertion" comes in. Being one of the easy-to-use plugins of its genre, it allows you to add Adsense by using a shortcode or modifying the PHP function of the theme's template file.
There is no unnecessary complexity, and that is what we love about this plugin.
Key Features
Insert Google Adsense to your posts
Able to insert Adsense code
Add shortcode text into the posts, pages, and sidebar
Allow unlimited customization
World-class customer support
Support different devices
Update plugin frequently
Active installations: 10,000+
Ratings: 4.5/5
Custom Banners

Custom Banners is an Ads plugin for WordPress that allows you to maintain several ad banners and display them on your website easily. The most important reason to use Custom Banners for your website is not that it allows you to use banners throughout your website without writing any code, but fact that you can create banners once and reuse them anywhere.
Yes, once you create your banners, you can use those on any part of your website, unlike most other plugins!
The plugin is currently used on more than 7,000 websites and this number is increasing very fast because of the convenience this plugin offers for displaying ads on your website.
Apart from the above-mentioned features, it also lets you automatically publish new banners at a specified time. And if you are into customizing how your banners should behave, then the pro version can help you do that by offering options to add living, Flipping, and Tiling banners throughout your site!
Key Features
Allow creation of reusable banners
Update banners without touching code
Add captions and call-to-action buttons
Shortcode compatibility
Manage banner from the WordPress admin panel
Support different types of content including YouTube videos
50 amazing themes
Active installations: 7,000+
Ratings: 3.5/5
Bonus: Let's Try to Create a Popup Banner Using a Plugin from the List
In the above section, we've talked about popular ad plugins and their use case. Let's create our first popup banner using one of the best WordPress popup plugins "Popup Maker."
Installation
To install the Popup Maker in your WordPress Dashboard, first, you have to visit Plugins->Add New.
Then, write the plugin's name into the search bar. And finally, click on the Install Now button and Activate the plugin.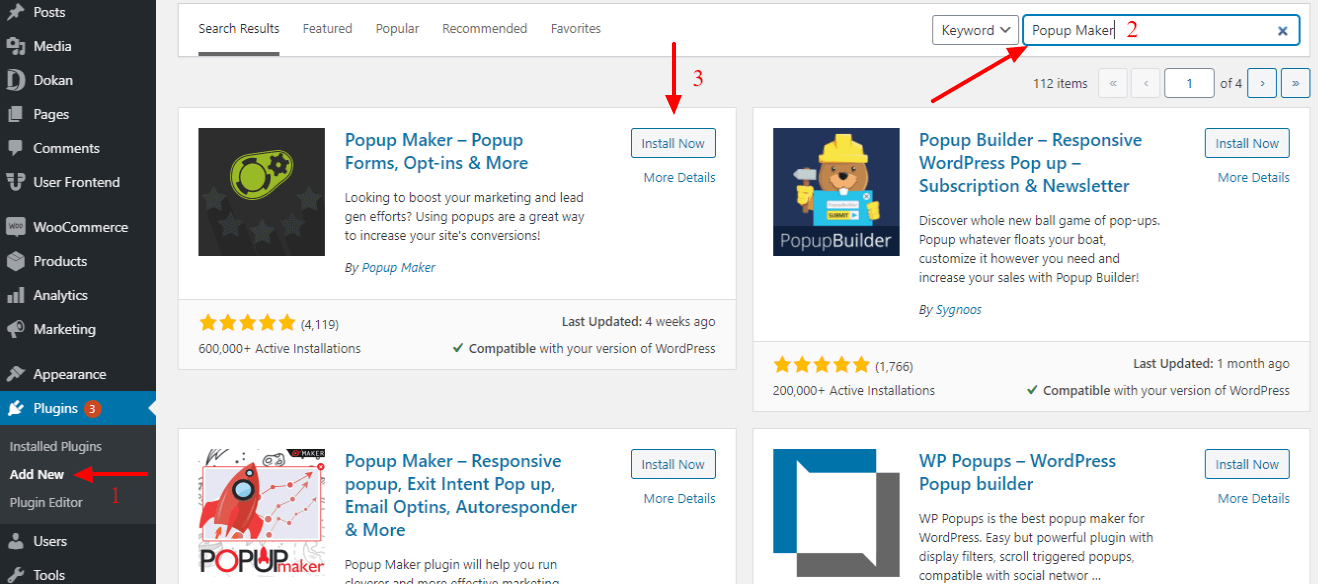 Create Popup
After adding the Popup Maker plugin to your WordPress admin panel, your next job is to create your first popup banner.
First, go to the Popup Maker->Create Popup.
Then write the Popup Name, Popup Title, and write a Description of your popup.

Now scroll down a bit and you see some valuable settings of your popup banner. Here, you need to define four major things.
Triggers: Here, you have to create a new trigger and add a cookie to your popup. The trigger works on how your popup opens and the cookies control the repeated display of your popup.
Targeting: It indicates the location of your popup, like where to display and where to not.
Display: Here, you control the display position of your popup.
Close: You can edit the close button in the popup.
Advanced: You can easily disable the automatic re-triggering and accessibility features of your popup in the Advanced tab.

After setting all the necessary things finally you have to click the publish button to save the changes. That's all.
Let's check out the popup that we've created in the image below.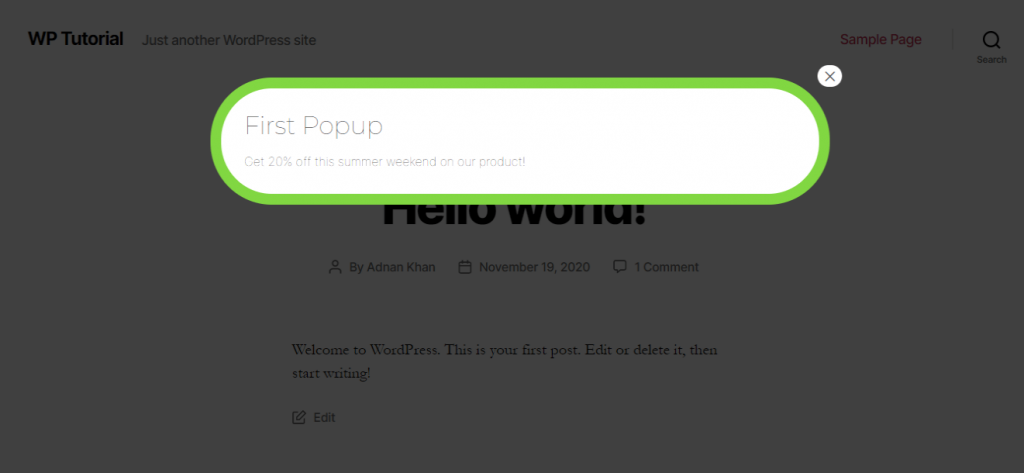 Conclusion
Well, you have seen some of the best Ads plugins for WordPress that can simplify your WordPress website's ad management tasks. All the solutions here are free to use, but if you need more advanced features, you can try their premium solutions.
Before choosing any of the above plugins, carefully read their terms & condition, and check out their features.
If you need, you can test or compare any plugins using WP Hive.
https://wphive.com/reviews/best-ads-plugins-for-wordpress/
Adnan Khan
Adnan Khan is a passionate writer who loves to write and read WordPress related stuff. Besides, he is very imaginative and likes to fly kites and play soccer in his off time.

Subscribe To Our Newsletter