Ahrefs vs SEMrush: Which One to Choose As Your SEO Tool

Ahrefs vs SEMrush is like a debate of Messi vs Cristiano, right?
As you know these two Search Engine Optimization tools are the biggies in the WordPress SEO field. Each one is capable of taking over your whole SEO sector. However, people choose one over the other in terms of their perspectives and requirements.
Ahrefs is probably the best SEO tool for strictly SEO-related tasks, with an incredibly accurate link database. They pride themselves on being "the world's best backlink analysis tool".
On the contrary, SEMrush is "the world's leading competitive research service for online marketing". With all its features, it's sort of like the "Swiss Army Knife" of the SEO world.
Now in today's article, we are going to do a detailed comparison to help you decide which one to choose.
Why Do You Need An SEO Tool For Your Website


An SEO tool not only plays a major role in getting higher rankings in search engine results but also helps with many factors like,
Competitor Analysis: An SEO tool helps to analyze the competitors. You will be able to track their traffic numbers and rankings. It also helps you to evaluate your competitors' product growth and marketing strategy.
Backlink Analysis: Using an SEO tool, you can see from what websites your competitors' backlinks are coming from, the authority of those sites, the anchor text, and much more. Also, it will help you to determine what to do to get ahead of your competitors.
Keyword Research: Keyword research is one of the most crucial tasks. Without proper keyword research and the right keywords, your site won't get a better ranking or enough traffic. An SEO tool can rescue you from this situation.
SEO Audit: Manually auditing things like missing page titles, missing meta descriptions, broken links, poor page depth, and page server errors are time-consuming. An SEO tool will do all these tasks automatically.
Track SEO Progress & KPI: You can track the progress of keyword rankings, domain authority, number of backlinks, traffic, form fills, sales, shares, clicks, and many more using an SEO tool.
Ahrefs VS SEMrush: Head to Head Comparison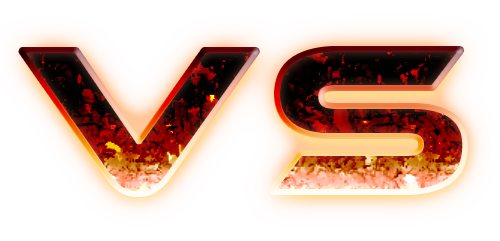 Both of these tools are serving hundreds of thousands of companies around the world. So, it is difficult to compare both of them. However, we have pointed out some key factors that will be our parameters to compare Ahrefs vs SEMrush. The parameters are,
Domain Analysis
Keyword Research
Backlink Analysis
Site Auditing
Rank Tracking
Pricing
Now it's time to discuss these points in detail. So, let's get started.
Domain Analysis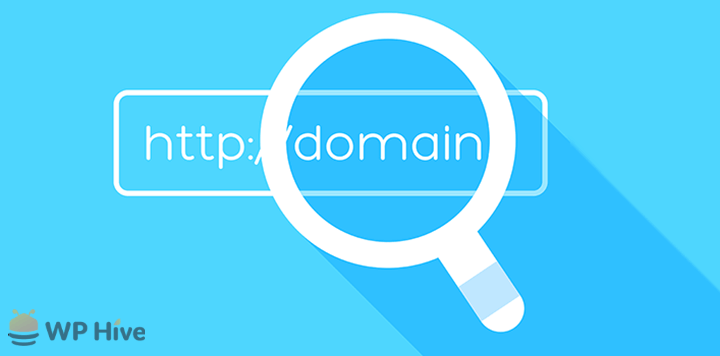 Domain analysis gives you the basic idea of a website like the number of visitors visit the site per month, website ranking, domain score, and so on. Generally, both of these tools perform domain analysis in the same way. Both of them show:
An 'authority score' which gives you an at-a-glance indication of how well a website is likely to perform in search results
Total number of visitors to the website per month
Total number of external links — backlinks — pointing to the website
Total number of keywords the website ranks for
Anchor text commonly used in links to the website
Competing domains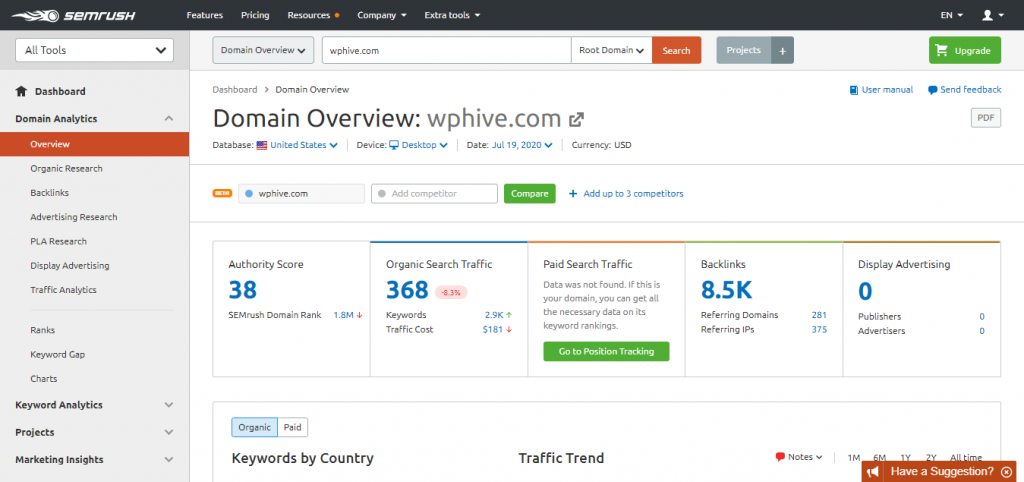 The quality of the domain analysis in Ahrefs and SEMrush is similar. Almost every time both of them show the same data.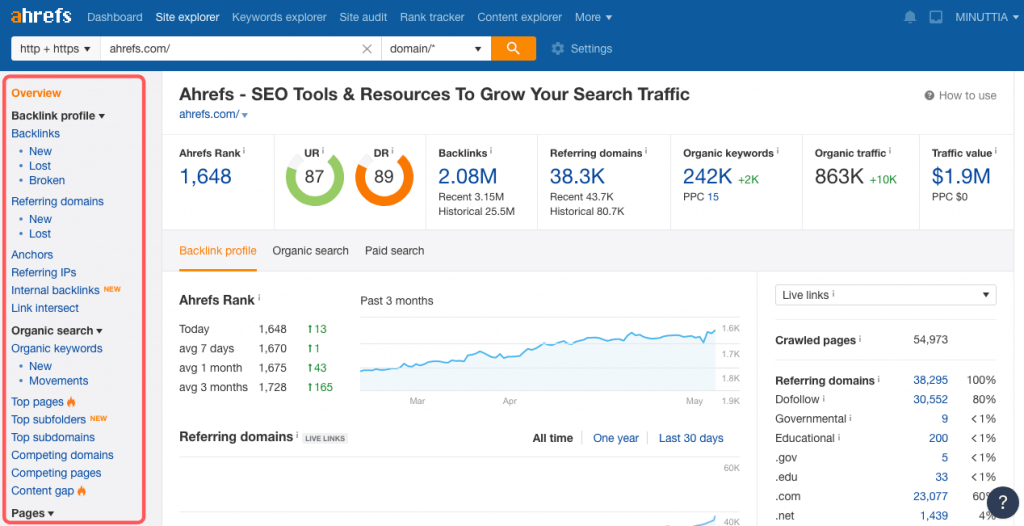 However, there is a unique feature in SEMrush that Ahrefs doesn't have is its "Competitive Positioning Map". It shows how the competitors are performing right now and indicated whether they are ahead or behind you.

Keyword Research


Keywords are crucial. And, keyword research is one of the first tasks that we do before starting content. Keyword research defines:
How many people are searching for a particular keyword
How difficult it is to rank for that keyword
Finding out who is already ranking for that keyword
Getting suggestions for other LSI keywords.
Both Ahrefs and SEMrush make it very easy for you to find out all the above information.
Here, we searched the keyword "Ahrefs vs SEMrush" in SEMrush, you can see the output. It shows the search volume that means how many people are searching for this particular topic exclusively in the USA and worldwide as well. It also shows the keyword difficulty, related keywords (LSI), and who is already ranked for this keyword.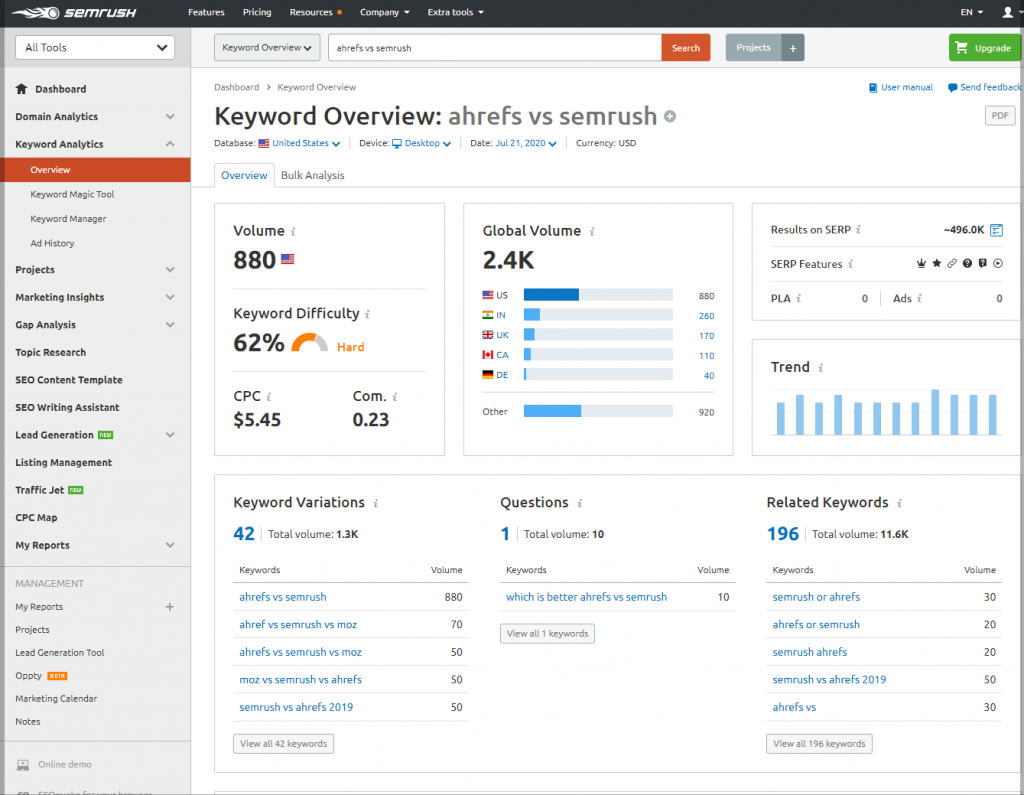 Whereas SEMrush only provides data for Google searches, Ahrefs lets perform keyword research for 9 other search engines, including big hitters like Youtube, Yahoo, and Amazon. This is a small difference between these two tools in terms of keyword searches.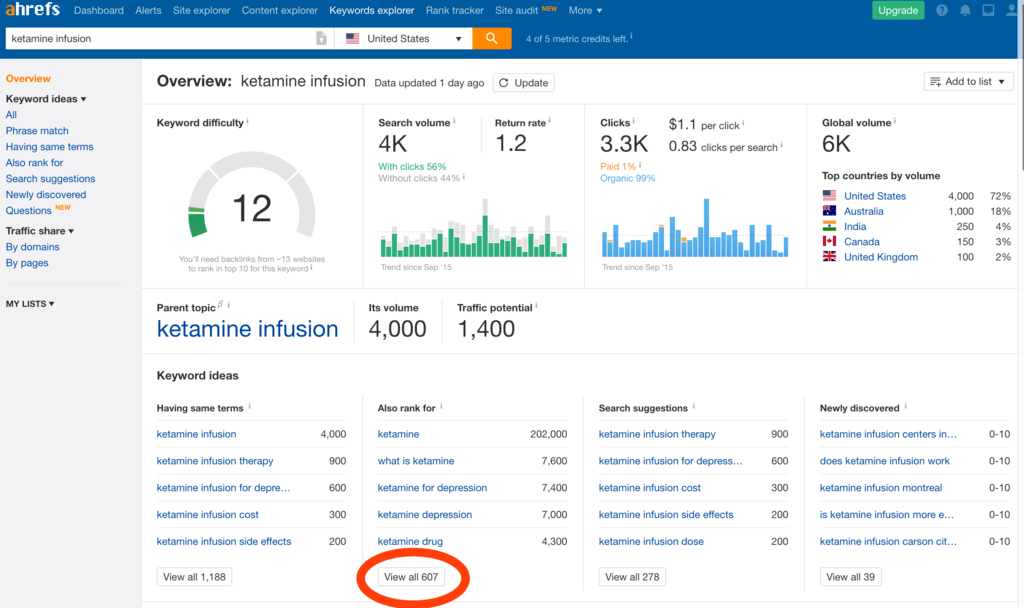 Backlink Analysis
Next, we have another crucial SEO task, analyzing competitor backlinks. Backlink analysis helps you find link building opportunities, catch bad links to disavow, and see which of your pages has the highest authority for internal linking, among other things.
Paste your website URL or any others' website URL you want to check to the Domain overview search box on SEMrush. It will show you the number of backlinks the site has alongside some more information.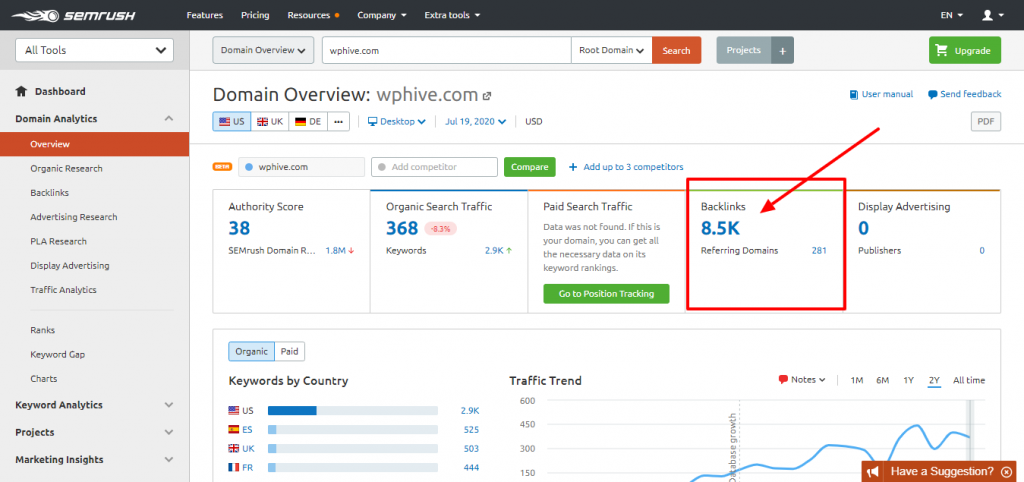 An SEO tool should show up the below-mentioned information while analyzing backlinks. The good news is both of the tools come with this information.
The number of 'dofollow' links vs 'nofollow' ones
The country of origins of backlinks
Anchor text used
New vs lost domains
Linking domain types (government, education, etc.)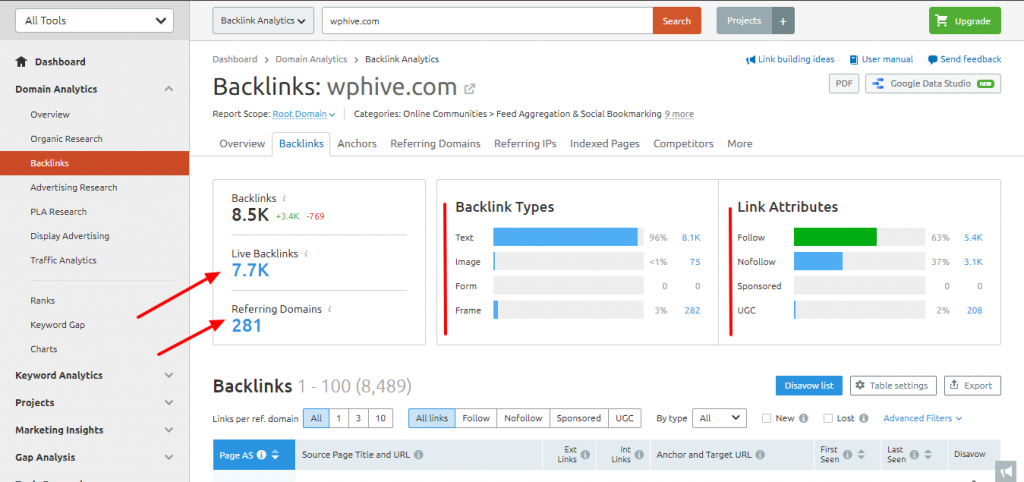 Based on the figures published by Ahrefs and SEMrush, SEMrush's database of domains is considerably bigger than Ahrefs', containing 580 million domains to Ahrefs' 160 million.
This means SEMrush should be able to provide a more comprehensive domain and backlink analysis than Ahrefs.
Site Auditing

Both Ahrefs and SEMrush provide 'site auditing' features that allow you to evaluate how well your site is performing from a technical SEO and on-page SEO perspective. SEO audit provides you with,
Site health
On-page SEO
Slow-loading content
Duplicate content
SSL problems
Crawl errors
Missing headers
Overuse of keywords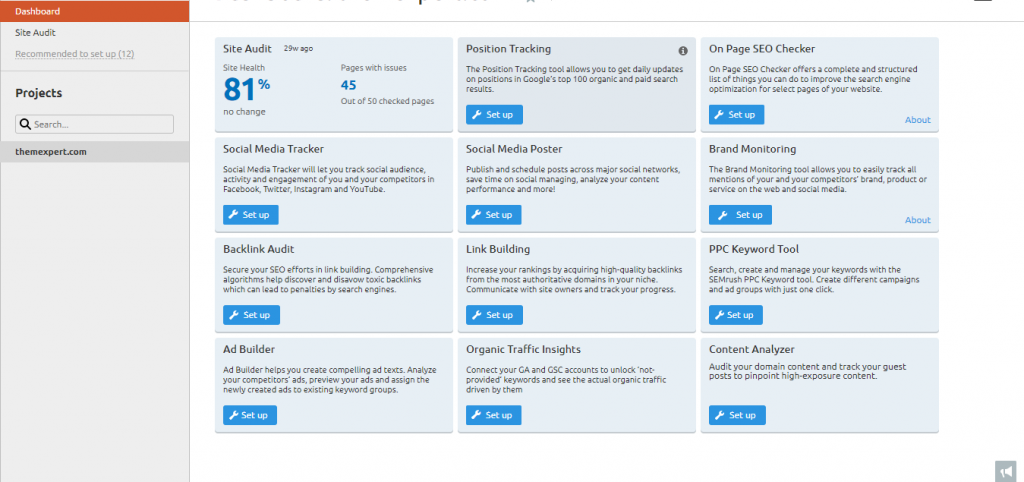 Though Ahrefs does a good job providing a fairly accurate picture of the errors affecting your site's SEO, it takes a long time to scan your website and generate an audit report. On the other hand, SEMrush's Site Audit tool is easier to use, more accurate, and contains additional features such as crawl comparison, historical chart, etc.
Rank Tracking

If you're looking to determine your position in search engines, rank tracking feature is what you need.
You can also keep an eye on competitor's rankings, as well as see rankings only in certain locations or on certain devices, your average position across all tracked keywords, how much traffic you get, and more.
Ahrefs Rank Tracker is the easier-to-understand tool – mainly because there's just one page without many additional features. Use Rank Tracker by typing in the domain you're interested in testing and some keywords.
For rank tracking, SEMrush has a tool called Position Tracking. It is a project tool, so you need to set up a new project for it. As for the most popular SEMrush Position Tracking features,
Daily data updates and mobile rankings, available for all subscribers by default
Opportunity to track lot's of SERP features including Local Pack tracking
Intuitive reports that allow you to change which pages and keywords are being tracked.
Pricing
Pricing is a key factor between Ahrefs & SEMrush. Because SEMrush offers a free version (limited features) for you whereas Ahrefs doesn't have any free version. However, Ahrefs has a trial version of 7 days that will cost you $7.
Premium Version Of Ahrefs
Ahrefs comes with the monthly and annual billing system. Starts from $99 to $999 for the monthly plan. And, for the annual plan, it starts from $82 to $832 for the Agency plan.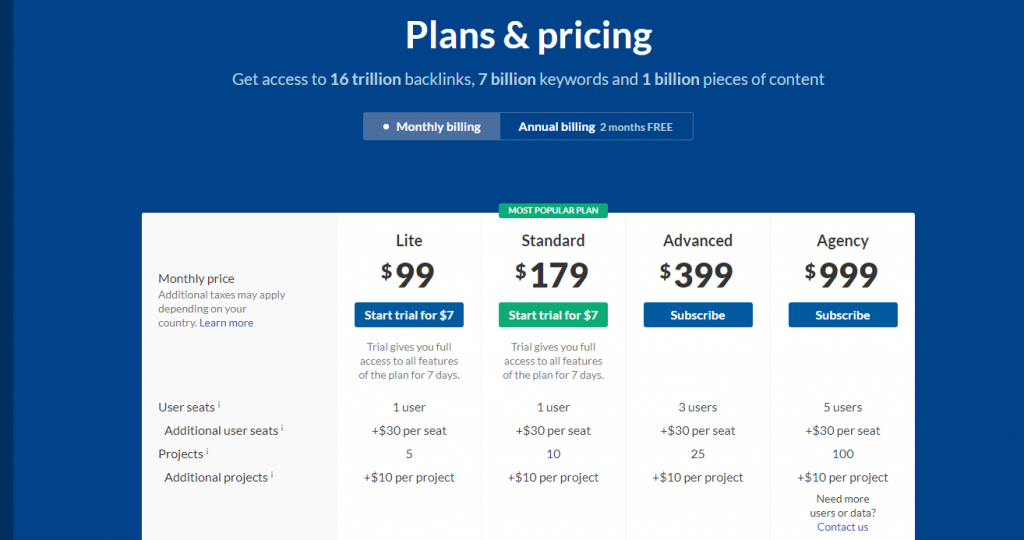 SEMrush Premium Version
Like Ahrefs, it also comes with 2 pricing plans. One is for monthly that starts at $99 to $399, another is annual pricing that starts at $83 to $333.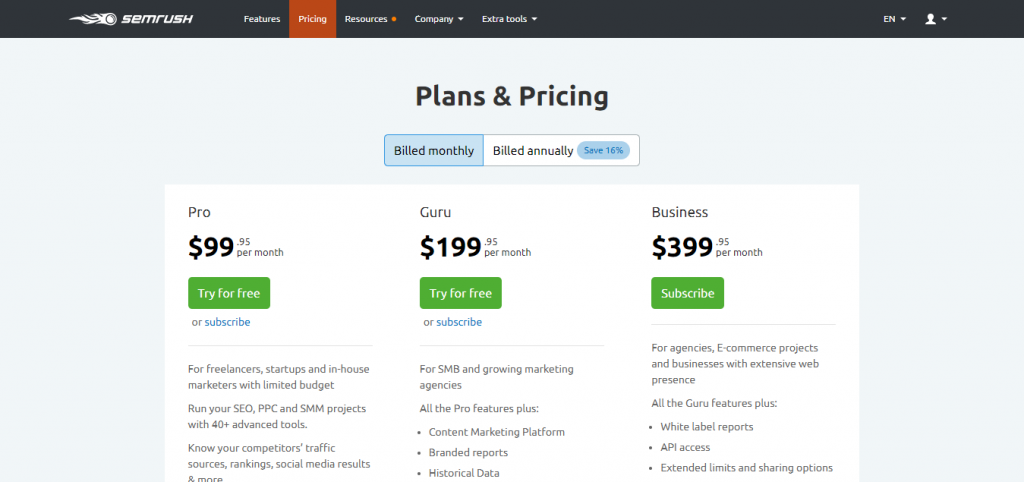 We can clearly see that in terms of pricing, SEMrush is less expensive than Ahrefs. In addition, as mentioned earlier, Ahrefs doesn't offer a free trial.
Ahrefs VS SEMrush: Which One to Choose


Before making the final decision, let's find out some valid reasons to choose one over another from the comparison of Ahrefs & SEMrush. We will discuss some reasons and hopefully, it will help you get a clear idea.
Reasons To Choose SEMrush Over Ahrefs:
Based on figures published by both products, SEMrush's domain database is the larger of the two
Its site auditing features are more comprehensive and easier to use
The tool provides a lot of niche data visualization features that aren't present in Ahrefs
Phone support is available for SEMrush — this is not the case with Ahrefs
A totally free trial is available — Ahrefs charges you to try the product out
Reasons To Choose Ahrefs Over SEMrush:
Ahrefs is generally a bit easier to use than SEMrush. It comes with an easy to understand interface
It gives you a helpful estimate of how many backlinks you'll need to rank for a particular keyword — SEMrush has yet to introduce a similar feature
You can use Ahrefs to perform keyword research for a variety of different search engines — SEMrush only works with Google
Backlink auditing and broken link analysis are possible in Ahrefs without needing to set up a 'project' — this is significant because both Ahrefs and SEMrush limit the number of projects you can create
Its higher-end plans permit you to have multiple users accessing your accounts; by default, SEMrush limits user accounts to 1 across all plans (with SEMrush, you have to pay more for additional seats, no matter what plan you're on).
Our Verdict
We have stated all the facts in front of you in this Ahrefs vs SEMrush topic. Now, it is up to you. Because both of these tools are very popular in their own right. So, before choosing anyone, find out your requirements and what is the main goal for your website.
Choose an SEO Tool & Ensure More Organic Traffic
You need to know everything about SEO if you're serious about your business. In this internet-enabled world, an SEO friendly website gets more advantages than other random websites.
You can get your On-page SEO job done using an SEO plugin, but an SEO tool offers something more like competitor analysis, keyword research, content research, and many more.
So, choose an SEO tool between Ahrefs and SEMrush, and make your site SEO friendly. Don't forget to let us know your feedback about these two SEO tools.
https://wphive.com/seo/ahrefs-vs-semrush-best-seo-tools/
Shams Sumon
Shams is a content writer with a passion for making WordPress topics easy to understand for everyone through conversational and storytelling approaches. With a background in the WordPress industry since 2019, he has developed a knack for breaking down complex technical concepts into digestible bites. When he's not crafting engaging content, Shams can be found watching football matches, catching up on the latest movies, or exploring new destinations to rejuvenate himself.

Subscribe To Our Newsletter