How to Change WordPress Themes Without Losing Content- Step by Step Guide

There are lots of new themes being released for WordPress sites all the time. Apart from that, the popular themes are also coming up with exciting updates. So if your current theme does not cut it for you, there are surely many more in the market that will have the feature that you need.
In that case, the easiest solution is changing your theme unless you have a development team to implement particular features. However, changing your theme can seem like a hazardous task.
Worry not, if you follow a proper process it isn't actually as hard as it looks like. In this article, we will describe the process step by step, so you can get a detailed idea of how to change WordPress theme in a hassle-free way. We also shared some great themes you can migrate to at the end of the article.
What to Consider Before Changing WordPress Theme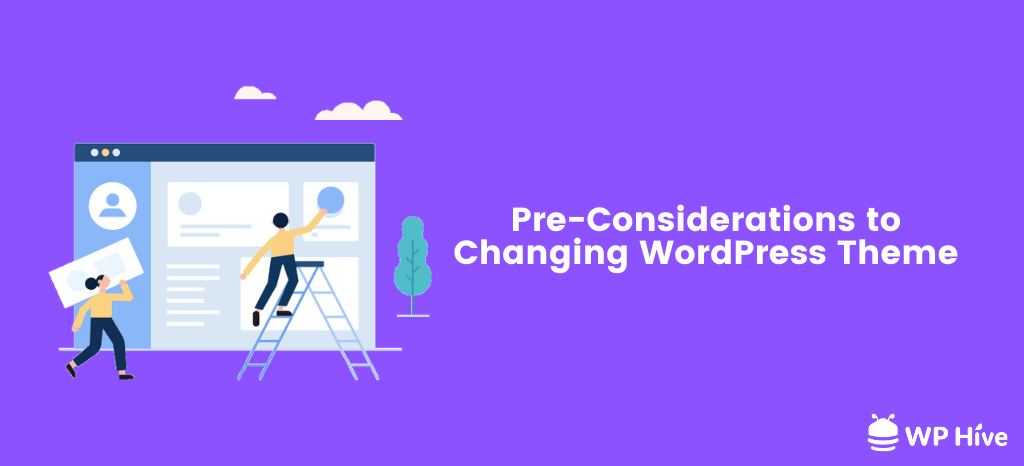 If you want to change the WordPress theme, it does come with some unique challenges. Like, will you lose all the features of your site? What will happen to your pages or posts? Get to know what you need to know before you start changing your WordPress theme.
Things That Can Break If You Change WordPress Theme
There are some parts of your website that you can expect to lose or break when you change your WordPress theme. These include the following –
The Homepage (And Design of Other Pages): There's a good chance you will either lose or break your homepage when you change your theme. On top of that, the design of WordPress pages will also be affected by the theme change. That is because, most themes features out of the box functionalities to decorate WordPress homepage and other pages to equip these with advanced features. So naturally, you will have to say good bye to these designs.
Themes-based Widgets: Some themes offers widgets to add specific features to WordPress sites. With the changing of themes, these widgets will also make way.
Shortcodes of Theme: Like widgets, often themes also offers shortcodes. If you're using this type of shortcodes, then you will also lose their functionalities when you change WordPress theme.
Other Theme-Specific Features: There are also theme-specific features such as navigation bar, header, footer and other features that you may lose when changing a WordPress theme.
So these are things that you can lose while changing your theme. However, not everything needs to be redesigned when changing a WordPress theme. Below are the things that will stay as they are while changing your site theme.
What Will Be Intact When Changing a Theme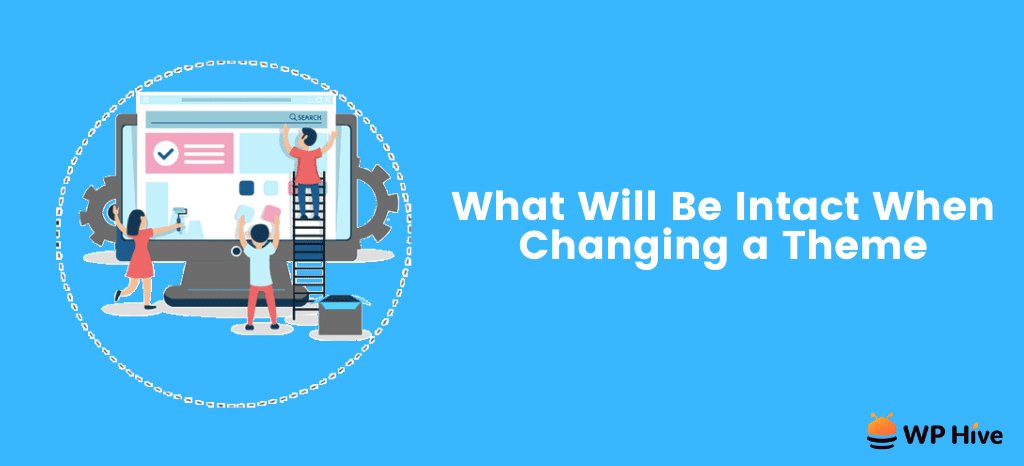 You don't have to worry about redoing everything from scratch though. Following are the themes that will stay as they are when changing a theme.
Your posts and pages: WordPress page and posts will remain when you change the theme. So the content you create will not be in risk in the process of changing theme.
WordPress settings: Any core settings that you might have made using WordPress default settings will be intact.
Your Plugins & Their Files: Your plugins that are not affiliated with the theme will operate just like they were before when you change a theme.
So now you know what you will lose and what will remain as they are when you change a theme. Now we'll quickly get into the process of safely changing your theme and getting your site back to how it was before.
How to Change WordPress Theme without Breaking Your Site

Now you know what to consider when changing a theme, it's time to get to the main tutorial. First, let's get to know what to do before you change your WordPress theme.
i. Prerequisite to Changing Your WordPress Theme
To keep your migration smooth, there should be some protective measures that you should take before you initiate the process. This includes the following-
1. Backing Up Your Website: There are chances that the theme changing process can go wrong, you should back up your website before you install the new theme. Moreover, you can also change your mind and like your previous theme better than the modified one.
Thus, keeping your website backed up before you change your theme will ensure that you can get the site you had before if something goes wrong or change your mind. Check out the 10 best WordPress backup plugins to back up your site.
2. Having a Staging Site: Another thing you can do to make the migration process easier, is to create a staging site. A WordPress staging site is basically a clone of your live site. Once you create the staging site, before applying the theme to your live site, run a test case on the staging to make sure everything goes as planned when doing it on the main site. Here's how to create a WordPress staging site.
ii Install New Theme
After keeping the backup and creating the staging site, you can start to install the new theme. (First do it one the staging, as we already informed you above.)
You can install the themes from both WordPress.org (Free version) and the respective website of the theme (Pro version).
To install the theme, first, log in to WordPress Admin Dashboard and navigate to Appearance > Themes.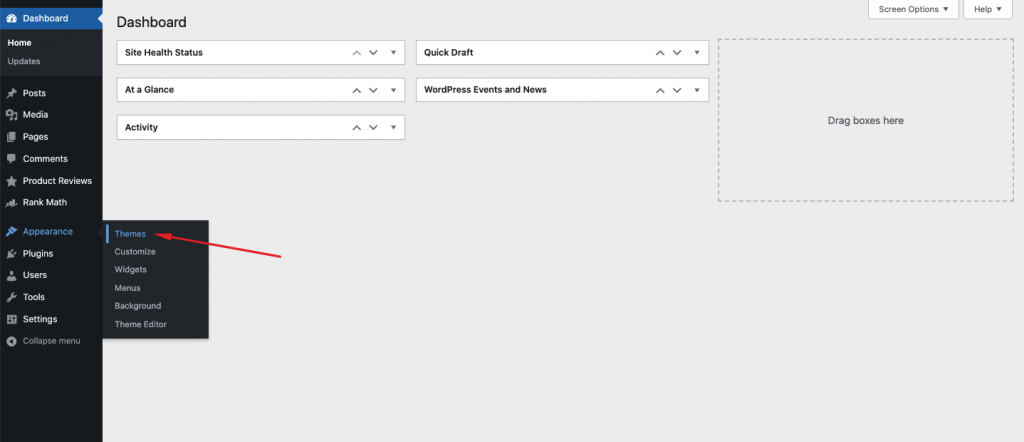 Now click on Add New.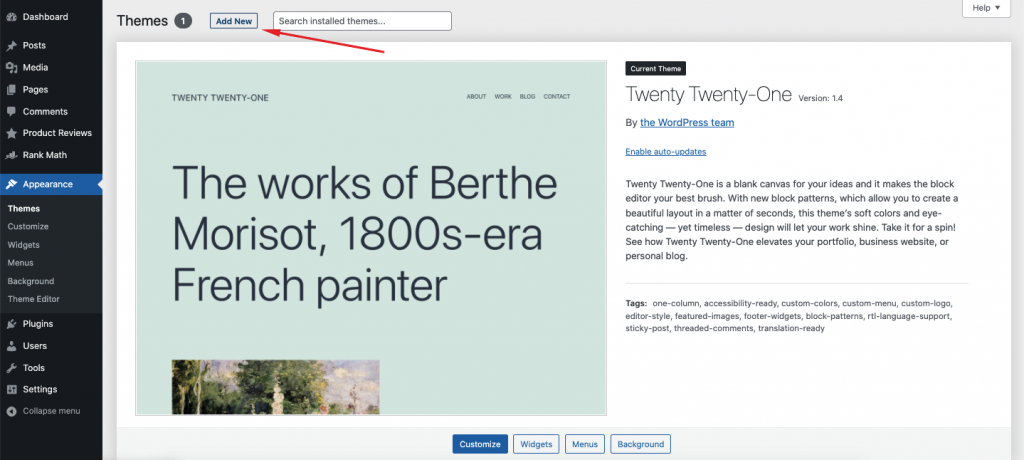 On this page, you can see the free themes that are available on WordPress.org by simply searching for them on the search bar. From here you can install WordPress themes by simply clicking on Install. Or you can also upload your purchased premium themes by clicking on Upload Theme and then uploading your theme in the file insertion box.

We choose to upload a theme, click on Activate.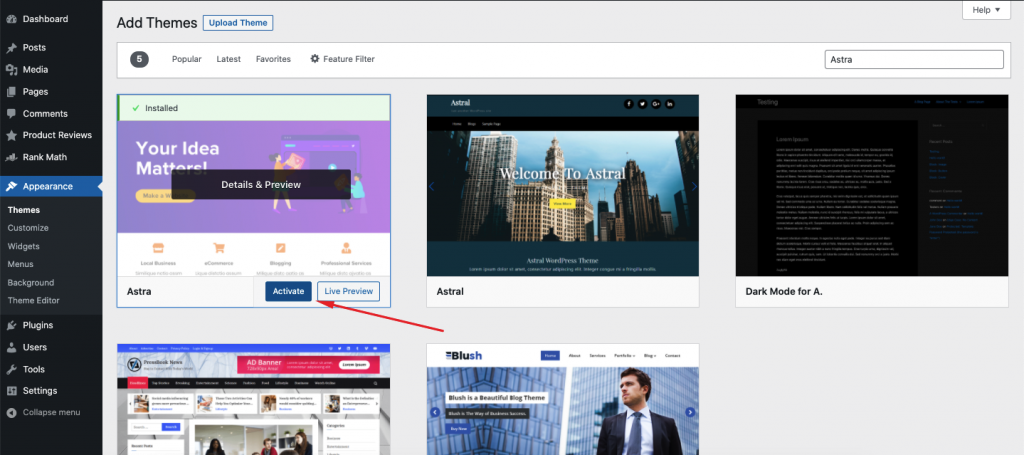 iii Preview with Customizer
Once you are done installing the theme, check the preview of how the website looks from the WordPress Customizer option.
You can access the customizer from WP Admin Dashboard > Appearance > Customizer.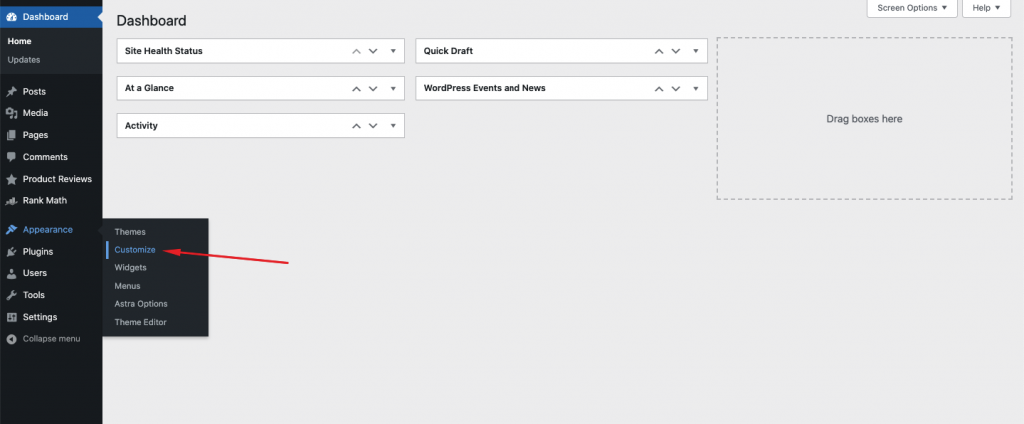 From here, you can get an idea of which parts of the website are broken and needs to be restructured.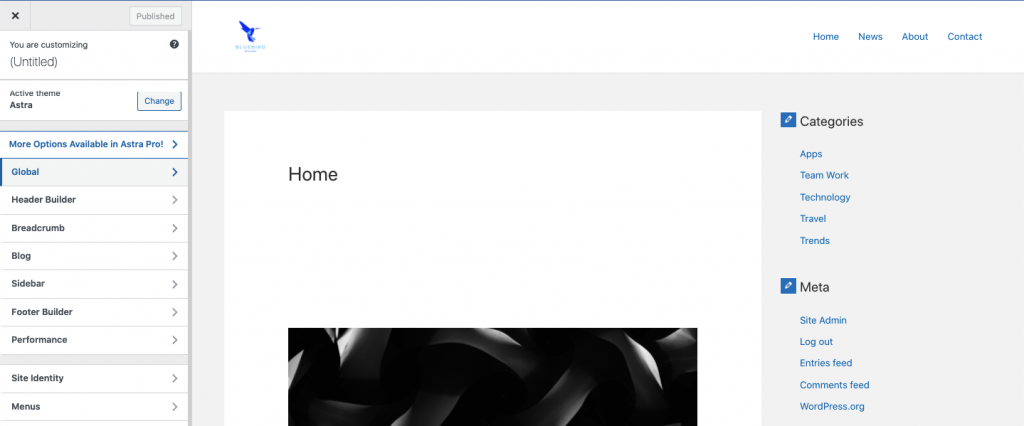 iv. Redo Theme Specific Features
The first things you need to redo are the features provided by your previous theme, which you will lose along with the theme. Theme-specific features can be special blocks, widgets, author bio, or even the breadcrumb feature you see on a page.
You can try to recreate those features with the new theme. However, you may need to leave some of the features behind, if it is not possible to create with your new theme.
v. Rearrange the Widgets
The next thing you should start working on is to rearrange the widgets as they were before. You can access your widgets from Appearance > Widgets from WordPress Admin Dashboard.

From the WordPress widget section, you can add, delete widgets and customize them as per your need.

vi. Decorate the Menu
The next thing you need to work on is to decorate or add the menu again. WordPress menu can be added or edited from Admin Dashboard > Appearance > Menu.

From the menu page, you can access all the menu bar like the header navigation menu or footer menu if there is any.

vii. Update Custom CSS
The last thing that needs to be updated is the custom CSS code that you might have added to the previous theme file. While most theme-based CSS's are unique, you can always customize WordPress theme-specific CSS and match them to the new themes class.
Custom CSS option can be found at WordPress Admin Dashboard > Appearance > Customize.
From there, scroll down to the end of the sidebar and you'll find the custom CSS option.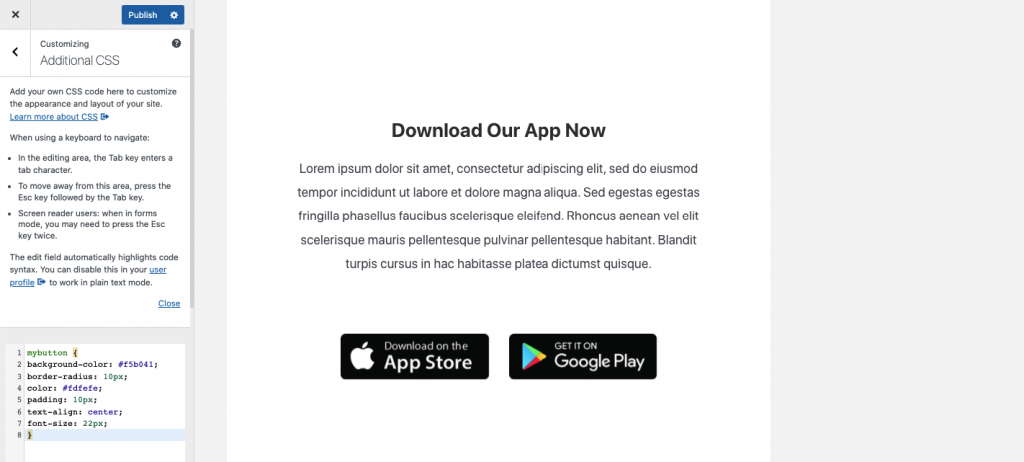 Remember that while theme-specific custom CSS needs to be changed, other custom CSS can be directly used to the new theme, if they are not directly related to the theme class.
v. Test & Publish your Site
After you have made all the changes, the next thing you need to do is publish the site. But before that, you need to test if all the changes are working.
If everything works fine from the staging site, then replicate the changes on that main site and publish it.
And with that, your theme migration process will be successfully done. Wasn't that smooth?
Bonus: Some Great Themes You Can Migrate Your Site to

So now that you know the process of migrating from one theme to another, you might be seeking a great theme that you can opt for. Well, we have got you covered. In this section of our article, we will let you know about some great themes to choose from.
WP Astra
WP Astra is a fast and lightweight WordPress theme. With a claimed load time of 0.5 seconds, it is certainly one of the best in the market when it comes to speed. Apart from that, Astra is packed with all the essential features as well as lots of innovative ones.
Key Features
jQuery-free and fast loading time.
Lots of custmization opportunities, including dedicated header-footer builder
Popular page builders compatible
Lots of free and premium demo sites
GeneratePress
GeneratePress is another highly popular WordPress theme. This theme is also highly optimized for speed. It also offers a lot of features and offers great demos. All in all, it's a great theme that is SEO optimized and well-maintained.
Key Features
Fast and lightweight
Ability to disable unused features
Highly SEO-optimized
Page builder compatible
OceanWP
The popularity of OceanWP knows no bounds, and it already has nearly 4 million downloads on WordPress.org. It is a theme that has been a proven performer with its array of features. With 21 extensions and 210 pro demos, your website-building experience will surely be great.
Key Features
Lightweight and very fast loading time
Highly customizable with lots of extensions
Advanced mega menu
Blocksy
Blocksy is one of the newest kids on the block when it comes to powerful WordPress themes. Blocksy offers lots of features for free and the pro version is even better. Blocksy works great with Gutenberg, Elementor, Brizy, and Beaver Builder. It is a blazing fast theme and performs great on Core Web Vitals as well.
Key Features
Code Splitting for loading JS codes only when needed
Core web vitals ready
Fully responsive
Free header-footer builder
Zakra
Zakra is a multipurpose theme that you can use to build any kind of website. Zakra has more than 65+ pre-made templates. The theme supports multiple page builders as well. Furthermore, Zakra is fully SEO-optimized.
Key Features
65+ pre-made templates
Easy customization
High performer based on speed tests
SEO-friendly
Change WordPress Themes Without Any Hassle
Themes are the main way of decorating and adding features to your WordPress website. Thus, changing WordPress theme is a big step for site owners. It is normal to worry when you change your WordPress theme, but if you follow a tight process, changing theme can be hassle-free and secure.
In this article, we shared the process of how to change WordPress theme safely and securely. We also shared the things to do before changing WordPress theme such as keeping backup and creating a staging site for testing the new site before publishing.
The main process included the redoing of features, widget, navigation bar, and other theme-based customizations such as custom CSS.
If you follow the process, we hope changing WordPress theme would not be very hard. And if you do get stuck in any part of the article, do let us know, as we'll gladly help you out with it.
https://wphive.com/tutorials/how-to-change-wordpress-theme/
Faisal Sarker
Faisal is a tech blogger who excels at WordPress Content Writing. Apart from sharing useful info pieces that help people around the world, he also likes to travel and read books of all genres in his leisure time.

Subscribe To Our Newsletter