How to Install a WordPress Theme (Three Easy Ways for Beginners)

The first hurdle for a beginner like you is to make a site looks good. Luckily, there are countless ready themes available in the WordPress repository to turn your ordinary-looking site into a beautiful one.
You don't even need to write a single line of code to design your site. All you need to do is, download, install and activate a theme on your website.
However, as easy as it may sound, installing a theme can get a bit tricky for beginners. That is why how to install a WordPress theme is one of the questions that we often get from people who are new to WordPress.
So we have put together a detailed step-by-step guide to installing a WordPress theme. Carry on reading, as at the end of the article, we have also added a section with some great themes that we think can be your starting point.
How to Install a WordPress Theme: Three Easy Ways


Let's get to the point straightaway. As the title suggests, there are three easy ways that you can follow to install a WordPress theme.
Install Theme from WordPress Theme Directory
How to Install a Theme Manually Using Zip File
Install WordPress Theme from Your FTP
1. Install Theme from WordPress Theme Directory
While you might not find some of the top premium themes, WordPress.org still has the best WordPress themes collection. The themes of the WordPress repository are free to use, so you certainly don't have to think about any cost. If you want to buy a theme, trying out the free version of that theme from WordPress.org can also be a choice.
To install a theme from the WordPress.org theme directory, you need to log in to your admin dashboard first. Once you are logged in, navigate to Appearance > Themes.
From here, click on Add New, and you will be on the Add Themes page. From this page, you can search if you already have a preferred theme.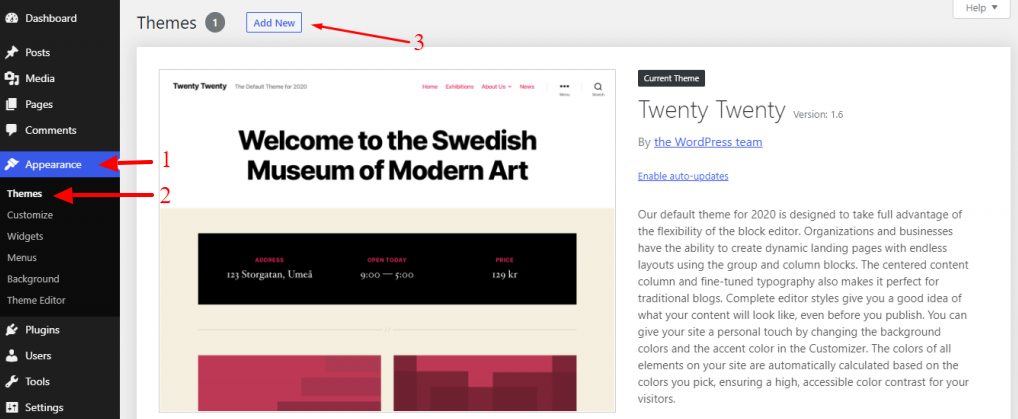 However, if you don't have a preferred theme yet, and you're looking for a theme that suits the type of your website, you can look for it in the Featured, Popular, or Latest theme section. One option that we suggest you use, is the Feature Filter.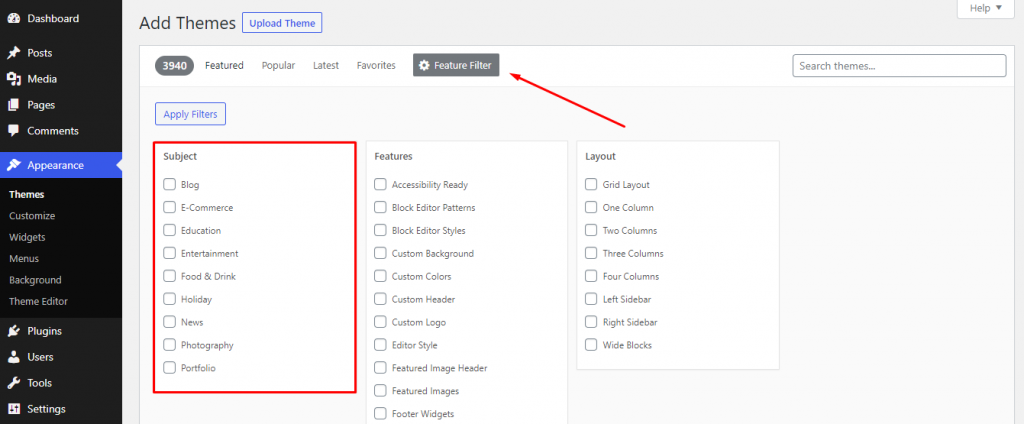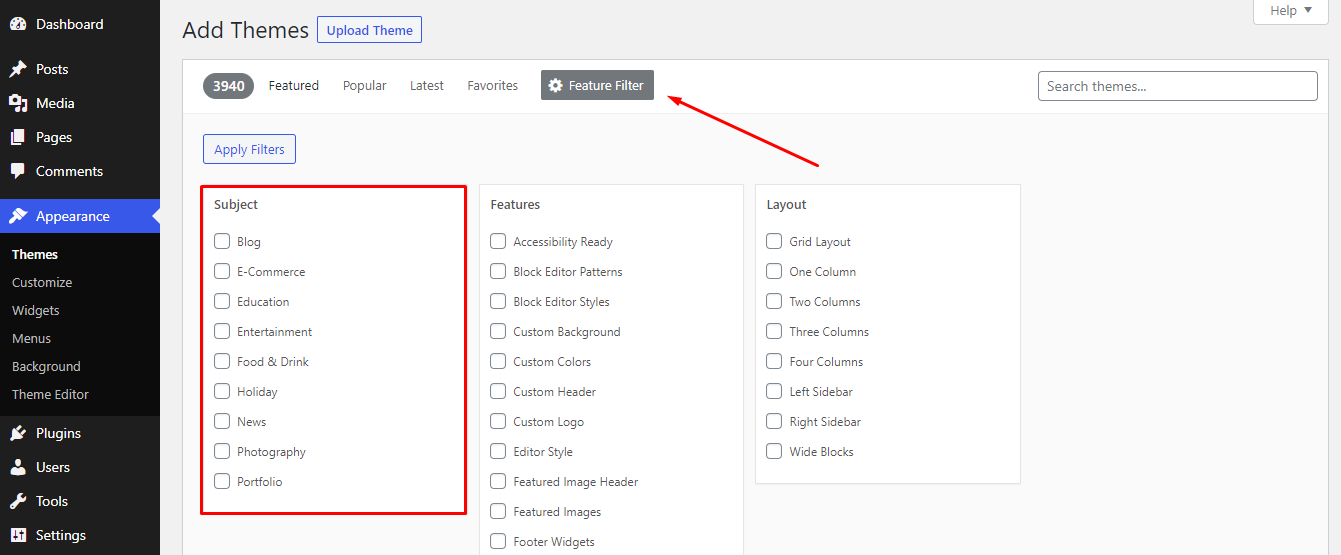 The Feature Filter lets you choose the subject of your website, the features that you want, and the preferred layout of the website and show the themes that match your selection.
This way you can easily find the most suitable theme for your website.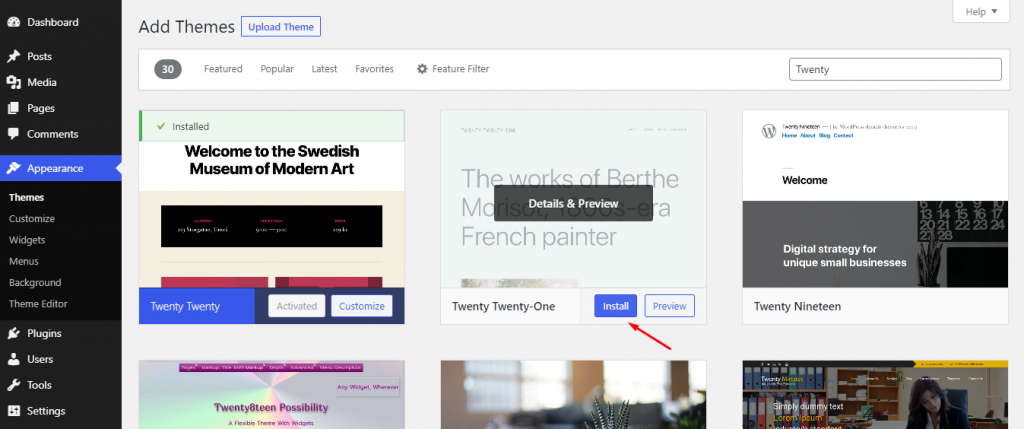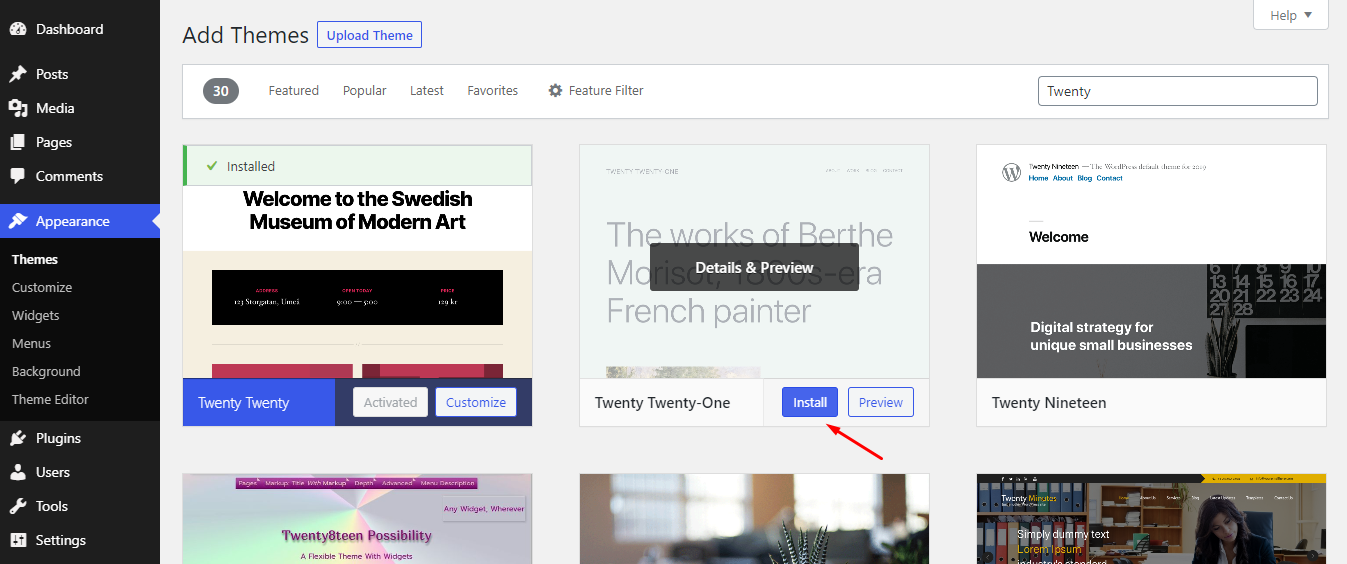 Once you find the perfect theme for you, just hover your mouse over it and you will find the Install button. Do keep in mind that installing a theme doesn't necessarily mean that the theme is active on your website. In order to activate the theme, you have to click on the Activate button, which can be found once you install the theme.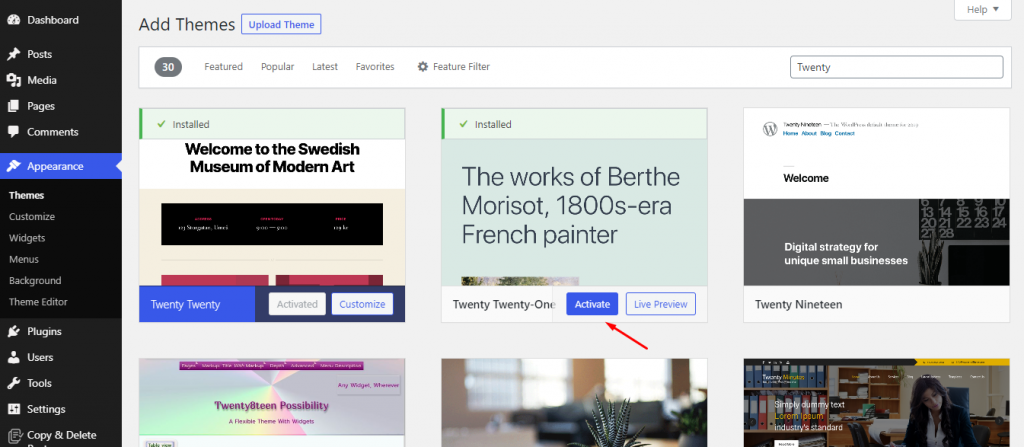 Once you are done with activating the theme. You can further customize the looks from Appearance > Customize. Some themes also have a setup wizard that follows after you activate the theme.
2. How to Install a Theme Manually Using Zip File
The second way that we will talk about, is installing a theme from a Zip file. If you download your WordPress theme from elsewhere other than the WordPress repository, you will get a Zip file to install it on your WordPress website.
To install the Zip, navigate to Appearance > Theme once again.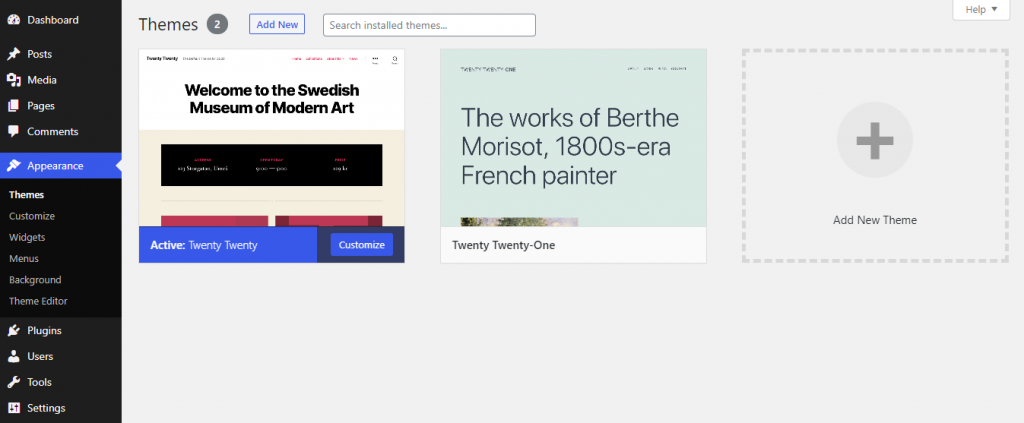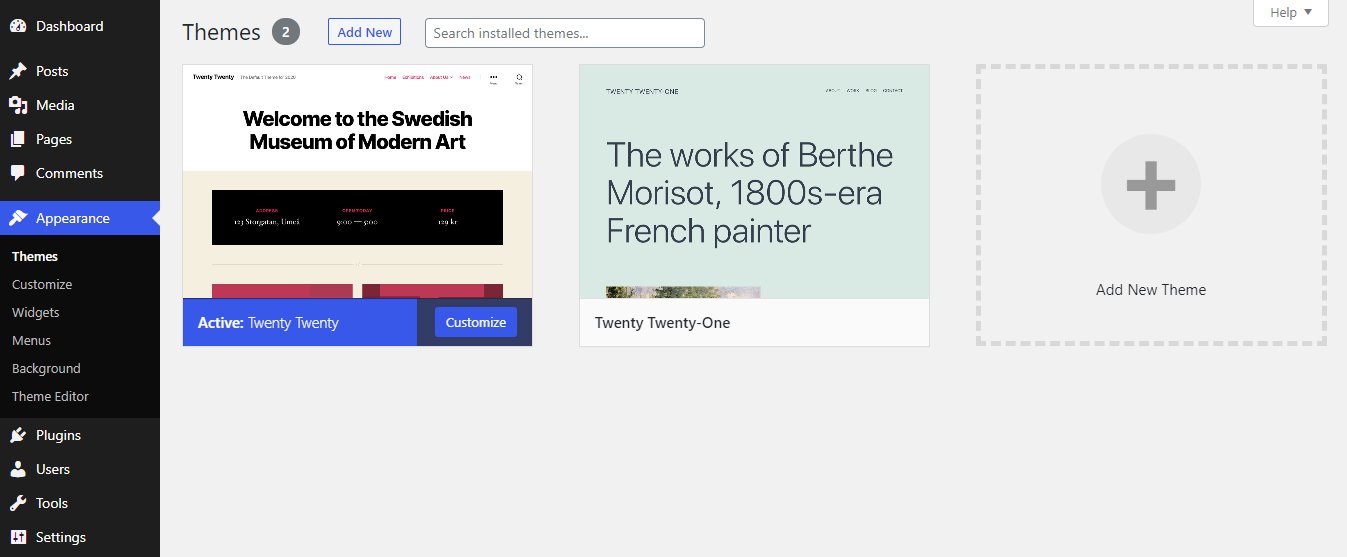 From here, click on Add New and then Upload Theme. The upload theme button will trigger a new section on the page, which allows you to upload the downloaded Zip theme file.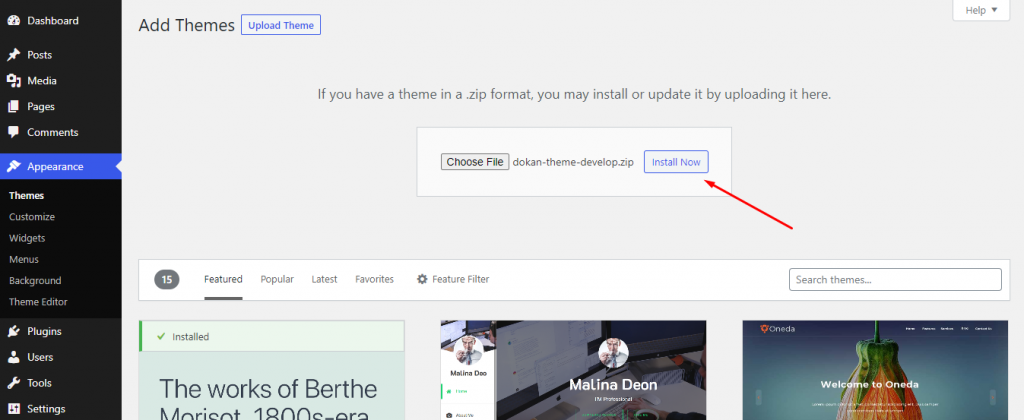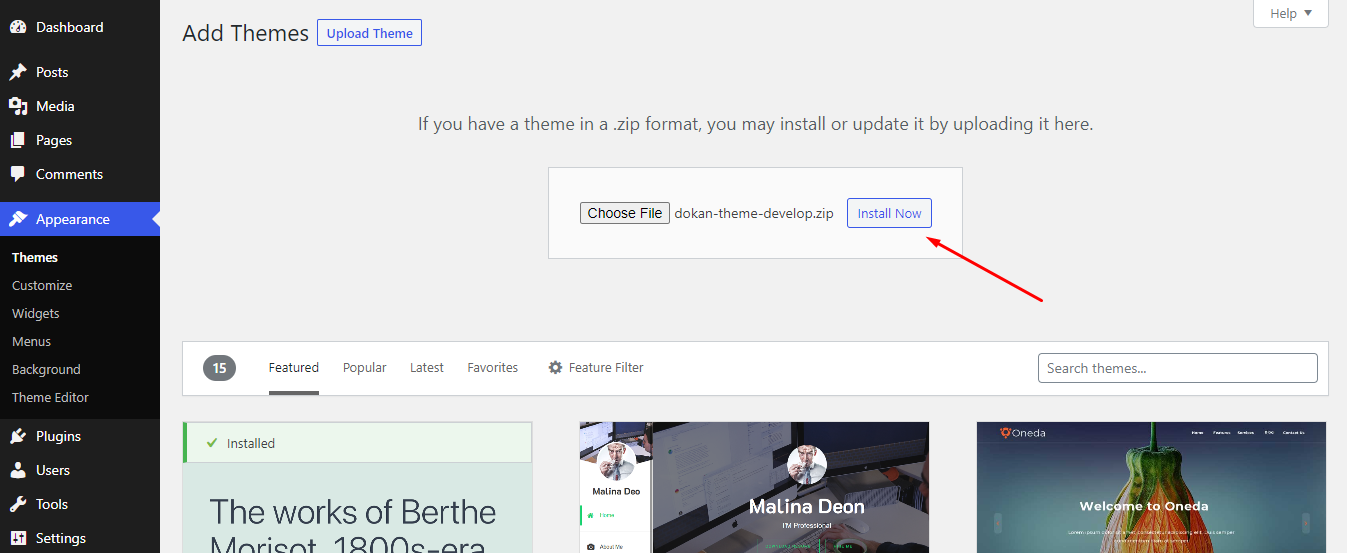 After uploading and installing the Zip file, activate the theme just like before.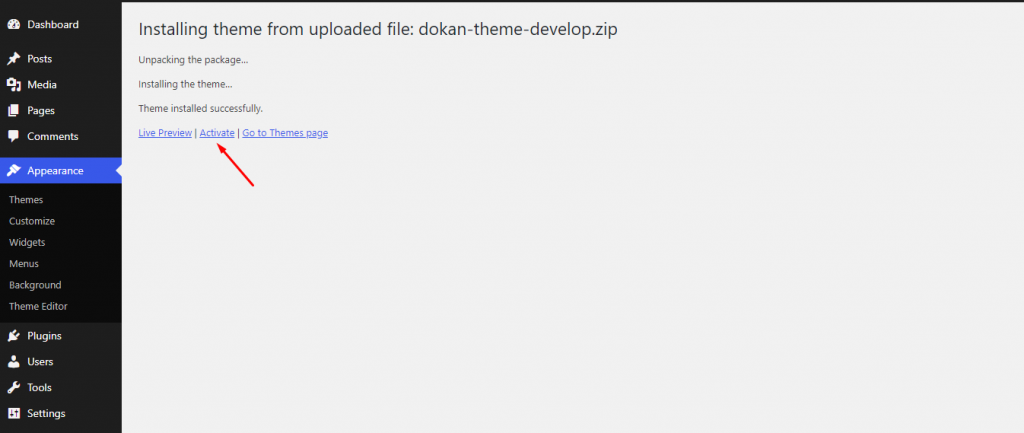 Activating the theme will make it your current theme. Depending on the theme, you may or may not find a setup wizard afterward. After that, you can start customizing your theme as you want.
3. Install WordPress Theme from Your FTP
This is the last and final method that we will talk about. The reason behind talking about this method, at last, is that it is by far the most complex way to install a theme for a beginner.
To install a theme from your FTP, you need to have a WordPress site set up on web hosting.
Related: Best WordPress Hosting Providers in 2023
At first, unzip the Zip theme file on your PC and extract on a folder.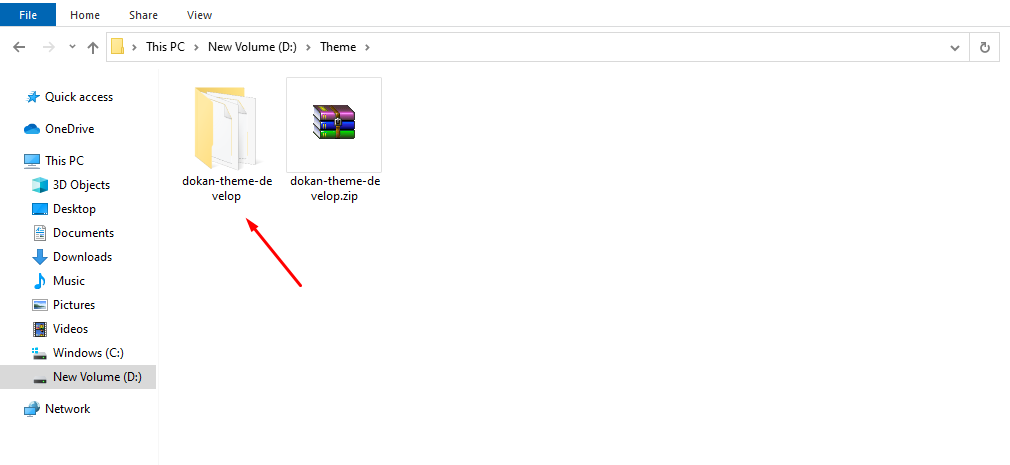 Then login to your FTP and go to /wp-content/themes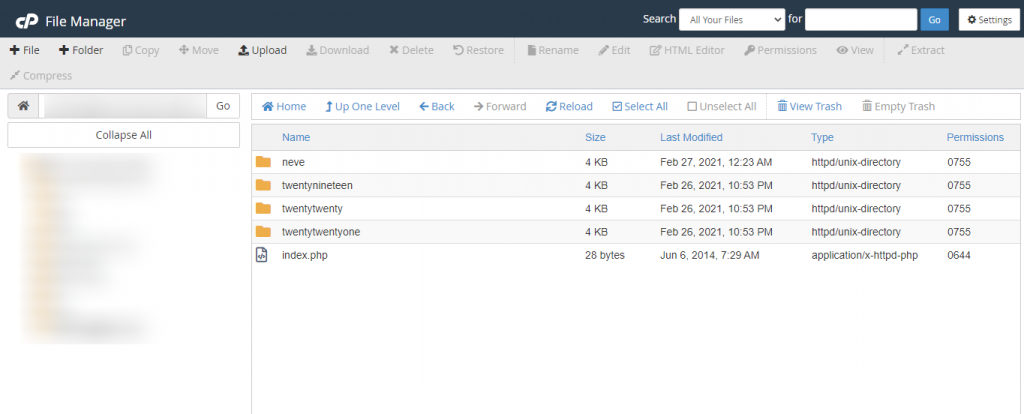 Here, you can find all the themes that are currently installed on your website. Upload your folder here, and your theme will be installed on your website.
Now logout from your FTP and login to your WordPress Admin Dashboard. From here, navigate to Appearance > Themes, and you will see your theme ready to be activated.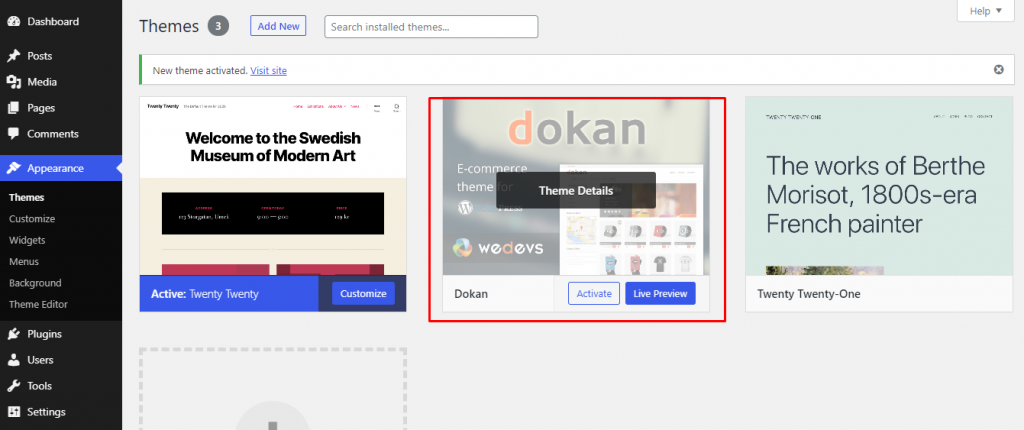 Activate the theme and it will be set as the default theme of your site.
So these were the three methods you can follow to install themes on your WordPress site. You will also have to update your WordPress theme regularly. Moreover, with so many themes that are available for WordPress, you can't just install a random theme on your website. You have to consider and ensure some crucial things when choosing a WordPress theme.
Wondering what they are? Below are some expert tips.
Things to Consider When Choosing a WordPress Theme

Here at WP Hive, we experiment with a lot of plugins and themes and check their impact on WordPress sites. As per our experience, the following are the points that should be on top of your mind while choosing a WordPress theme.
Lightweight and Fast: If you are creating a website, you want to get noticed by people. And people like to visit websites that are fast and super-responsive. Choosing a lightweight theme means that you are getting an edge on creating a fast website. Website speed is also an issue that is highly valued by Google as a core web vital.
SEO Optimized: Even if the coding structure of a theme is unorganized, it can look perfectly well from the frontend. But for SEO, this can be disastrous, as search engine spiders will have a hard time crawling and finding information from a site built with such a theme. So it's very important to know if the theme is well-optimized for SEO before using it on your website.
Customization Opportunity: The ability to customize a theme for your website is a must-have requirement. Many themes have separate options for customizing everything from the header, footer, navigation bar, and more. These types of customizability give you more design freedom.
Responsive Design: Gone are the days of only focusing on desktops. With more and more people connecting to the internet with smart handheld devices like smartphones and tablets, it's quite mandatory to use a theme that supports responsive design.
After-Sale Support: A lot of things can go wrong when building a WordPress website. Things like a plugin can collide with your theme, and an update to the theme can cause the site to crash. Good after-sale support from your theme developer can come in really handy in disastrous times like these.
That's why we decided to share some themes with you that are well-known for great customer support while also having some great features to make your site look good.
Let's a take look at these themes, and know why we think they are great for a beginner.

5 Best Themes for WordPress Beginners
So, you know how to install a theme, right? It's time to pick one and make it ready to use.
Here are the top 5 themes that are perfect for a beginner like you.
1. Astra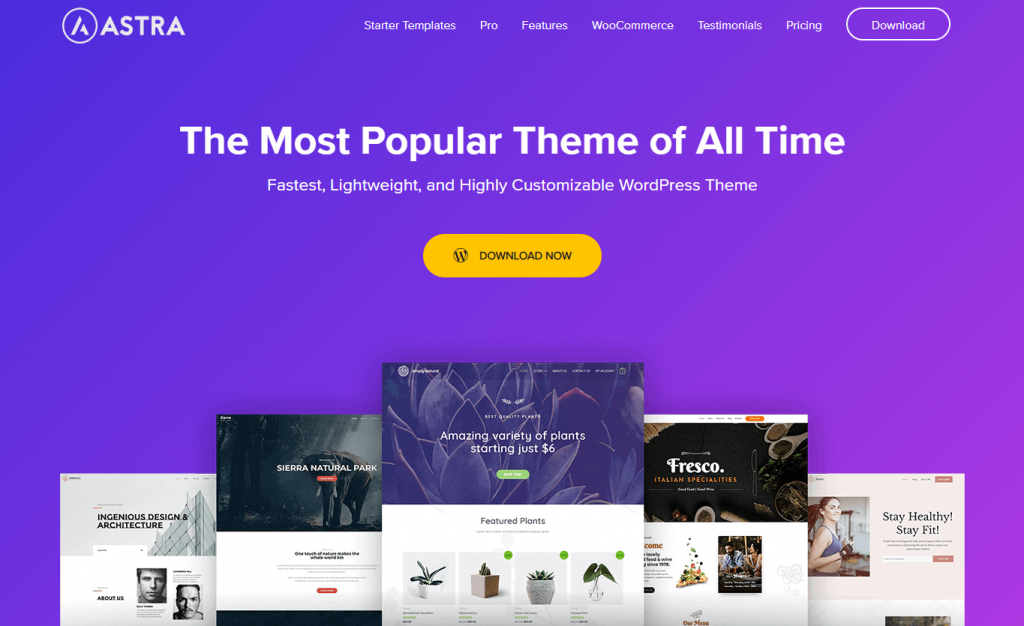 Astra is a theme that has been the choice for hundreds of thousands of website owners. Want to know why? That's because it is fast, highly customizable, and packed with modern features. If you want to spend less time, yet come up with a great design with great features for your website, Astra can be an easy choice.
The price of Astra starts at a highly competitive $49/ for the premium version.
2. Divi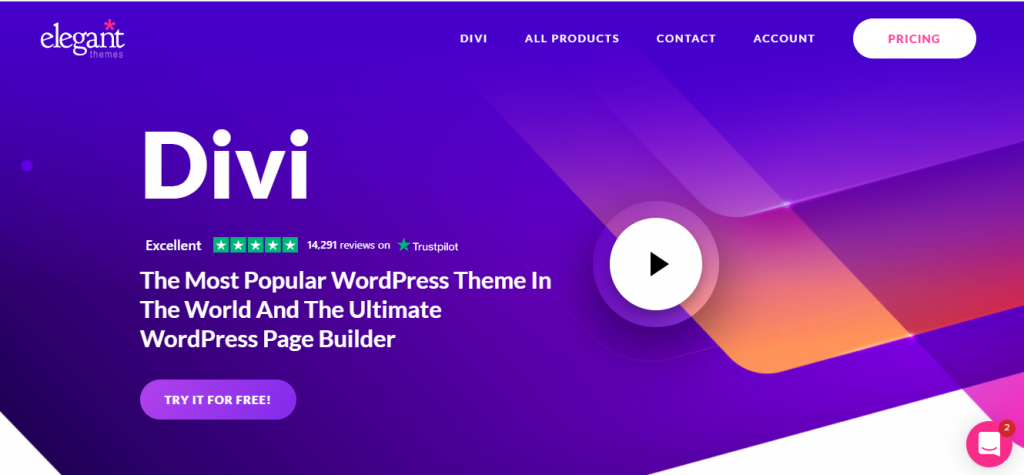 Divi is another bestseller theme that people love. Termed as one of the best multipurpose themes for WordPress, this is one such theme that is suited for all.
Divi is fast, responsive, and highly optimized for SEO. With its large number of ready-made starter sites, you can just install and use the theme right away. But if you want to customize Divi also has one of the most powerful WordPress page builders, that will allow you to do so.
The price of the Divi starts at $89, which includes the cost of premium support.
3. Blocksy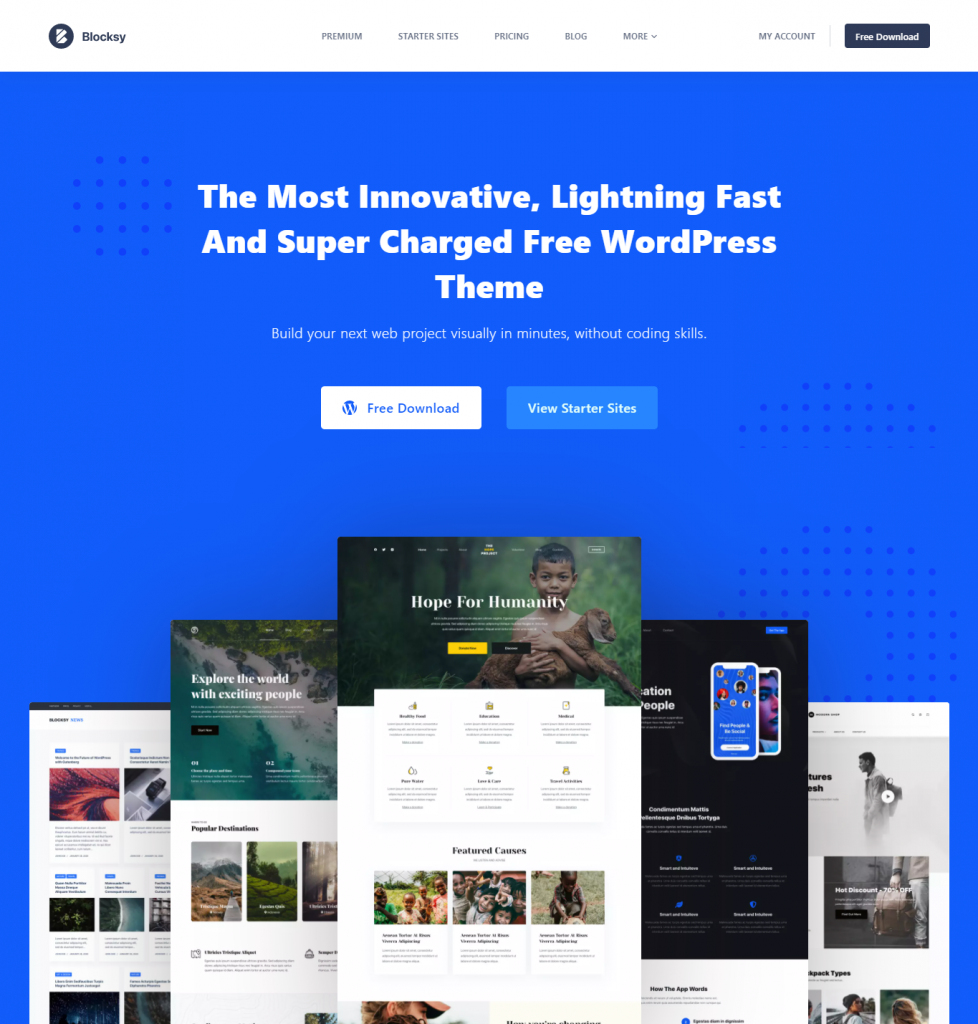 A modern theme that has it all. Blocksy free offers more options than most of the premium themes in the market. It is a minimalistic, featureful, Gutenberg block-based theme that has a custom theme customizer that is appraised by the whole WordPress community.
It has not been around for a long time and the pro version just launched in November 2020. The pro costs $49 for a single site, which we think is a great deal for such a great product.
4. Tesla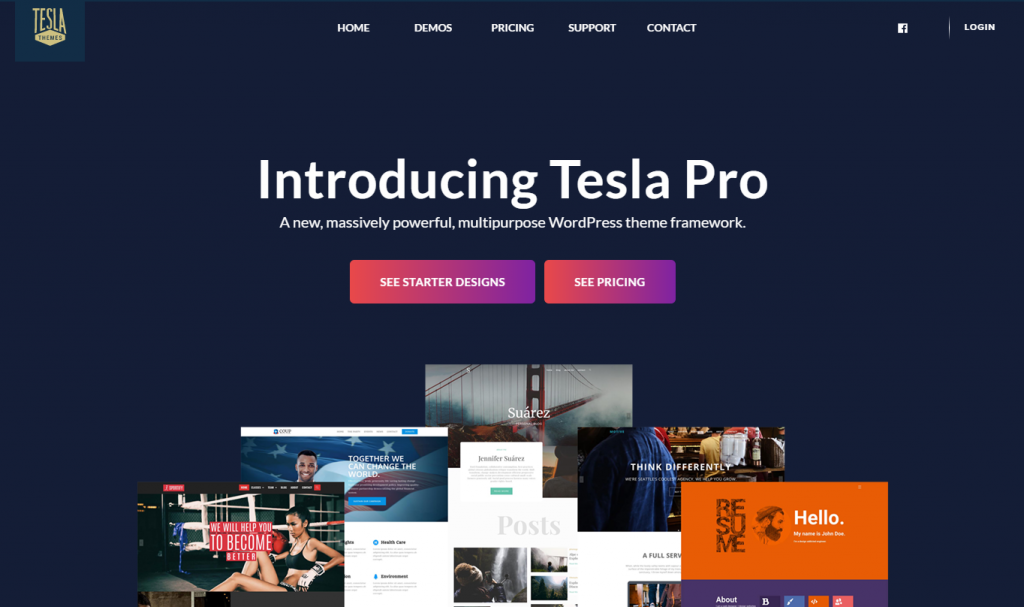 Tesla is another veteran in the WordPress market that matured well with age. With time, Tesla has become easier for WordPress site owners of all experience levels.
It can be used in many types of websites. Whether you want a business website or a personal portfolio website, Tesla is a theme you can trust to build it. It provides a lot of simple and easy customization options that will help ease the pressure of a beginner.
Tesla pro starts at $79 per year.
5. Ultra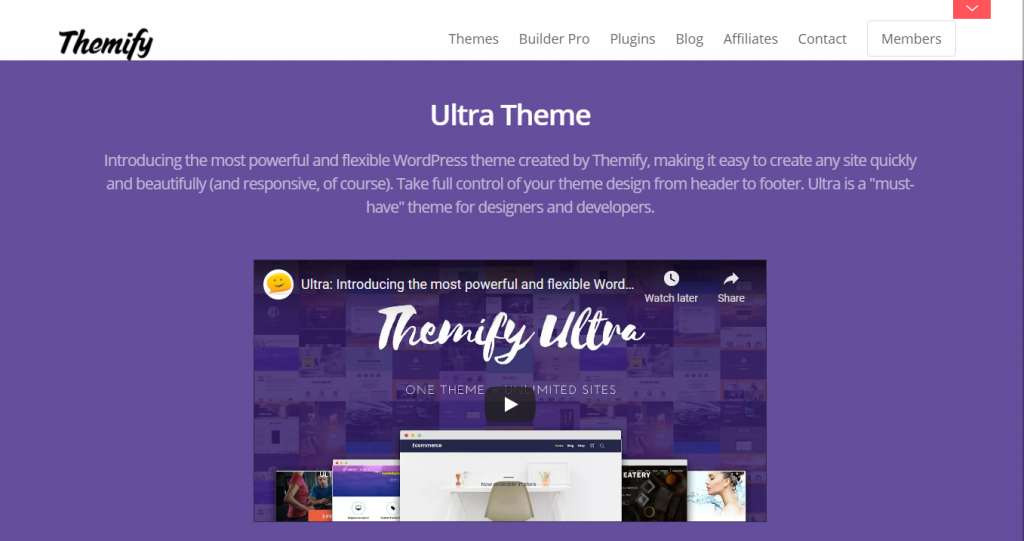 Here at WP Hive, we love multi-purpose themes. Especially for beginners, popular multipurpose themes can be the easier choice, as they usually offer a couple of demo sites for a faster installation and setup process.
Ultra is one such theme from Themify. One of our most favorite themes, Ultra lets you take control of every aspect of your website. The end result is often beautiful while also maintaining a proper coding structure.
Ultra starts at just $59, just like any other theme at Themify. This price also includes the Themify Builder, an intuitive page builder that helps you build beautiful webpages in minutes.
FAQ on WordPress Theme Installation
There are a few common questions that we get from our readers regarding how to install WordPress theme, so here are the answers to those questions.
What are themes in WordPress?
Themes are a collection of files that determine how your WordPress site will look. These files are usually kept together in a Zip file or folder for a smooth and fast installing experience.
How do I manually install a WordPress theme?
To manually install a WordPress theme, simply login to your WordPress Admin Dashboard, and go to Appearance > Themes > Add New > Upload
From here, upload the Zip file, install and activate it.
Why doesn't my WordPress theme look like the demo?
The demo sites are usually full of content and professional photograph that makes them looks appealing. However, naturally, your new site does not have any content, which might make it look a bit underwhelming.
How do I make a theme look like a demo?

Premium themes often come with a one-click demo importer or some starter sites that lets you import all the content that you see on the demo site. Importing those files will make your site look exactly like the one you see on the demo.
Why does my WordPress site look like a blog?
WordPress sites usually have a sidebar by default, which makes it look quite like a blog site. Removing the sidebar might work well to make your site look like a regular one rather than a blog.
Finishing up
If you a regular reader of WP Hive, you know we like to share information that is truly helpful. That's because we try and test every aspect of it before writing it down for you.
How to install a WordPress theme is a true beginner's guide, where we showed you three different methods to install themes on your WordPress site. They are – installing themes from WordPress Theme Directory, installing a theme manually using Zip file, and installing a theme from your FTP.
Apart from that we also showed you some important aspects that you should look out for while selecting a WordPress theme, while also sharing the 5 best WordPress themes for beginners.
We hope this article helps you on your journey to learning WordPress.
Also Read: How to Install a WordPress Plugin – Step by Step for Beginners
https://wphive.com/tutorials/how-to-install-a-wordpress-theme/
Faisal Sarker
Faisal is a tech blogger who excels at WordPress Content Writing. Apart from sharing useful info pieces that help people around the world, he also likes to travel and read books of all genres in his leisure time.

Subscribe To Our Newsletter