7 Proven Hacks to Optimize Content for Google People Also Ask


Google has been trying to make its user experience better since the beginning. That is why Google often introduces new SERP (Search Engine Results Page) features like featured snippets, image carousel, shopping results, product star ratings, site links, and so on.
One of the dynamic Google SERP features that's becoming popular these days is "People Also Ask". If done right, as a website owner, you can optimise your pages for PAA (People Also Ask) snippets to get more traffic from Google.
If you're wondering how to do it in the right way, then don't be panicked. As this article is exceptionally designed to let you know everything about Google People Also Ask boxes. So, be relaxed and keep reading this blog till the end.
What Is People Also Ask or PAA in Google and Why It Matters


The "People Also Ask" (PAA) box refers to a Google SERP feature that provides answers to the questions relating to a user's query. Every answer to these questions comes from a particular web page. Below each answer, Google provides a clickable source of information.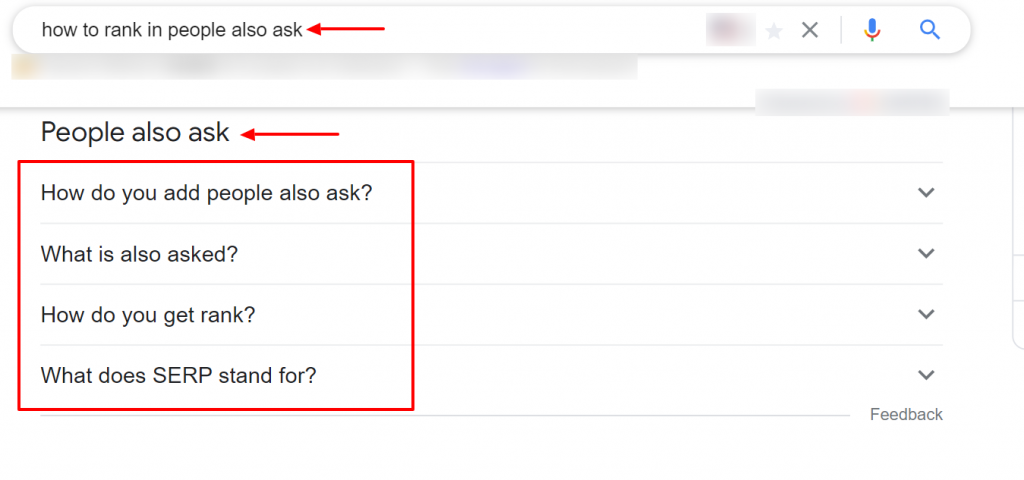 Each time a question is clicked, it gives a featured excerpt from the site answering it. That can either entice the user to go to your website, or it might lead to further questions.
One of the cooler aspects of the Google People Also Ask box is its dynamics: When you select a tab, it can take you in a new direction by showing even more questions. Each time you choose, you get more to choose from.
So, Why Google People Also Ask Is Important?
Multiple Positions on SERP: PAA can occupy different positions on the SERP. That can influence your organic results' click-through rate (CTR), especially on mobile.
More Clicks: According to Search Engine Land, a Featured Snippet gets approximately 8% of all clicks. So if you're able to get your content in the Featured Snippet, you can give your organic click-through rate a serious boost.
Upward Trend for People Also Ask: As per the study, UK is the leading country with the highest percentage of queries containing PAA results for desktop searches. And substantial increases in PAA results have been seen in the past year for most of the countries included in the study.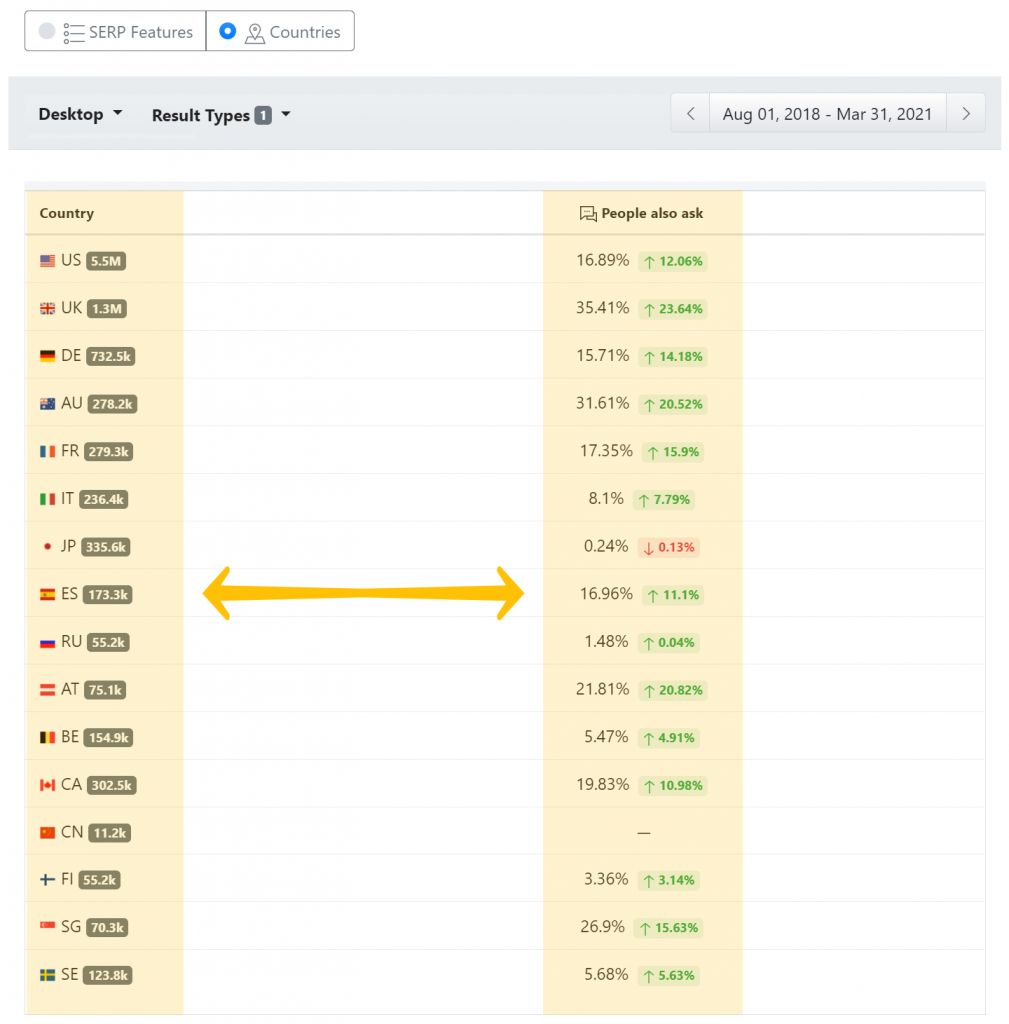 Apart from these, People Also Ask helps to –
Enhance your users' experience on your website and make their customer journey easier by leveraging Q&As properly.
FAQs help to reduce your site's bounce rate; this is another important ranking factor for SEO purposes.

How to Target, Optimize and Track Ranking for People Also Ask


We have organized this segment into three sections. This is the order that we'll follow:
Following this order, you will be able to find a specific question for PAA, then optimize that question's answer, and finally track that answer to know how it's performing. So, no more delay. Let's get started!
How to Research PAA Questions (3 FREE Tools for You)
There are number of free tools available for researching PAA (People Also Ask) questions. Among them, here we have listed the top three tools which are easy to use and come with handy features.
Answer The Public
Chrome Browser Extension – Scraper
AlsoAsked
1. Answer The Public
To research the PAA questions, Answer The Public is a popular platform. You can type any topics here, and it will return you all the possible questions of that topic.
For instance, we have searched "SEO for WordPress", and here is the outcome of our search. It returned 16 possible questions of our query.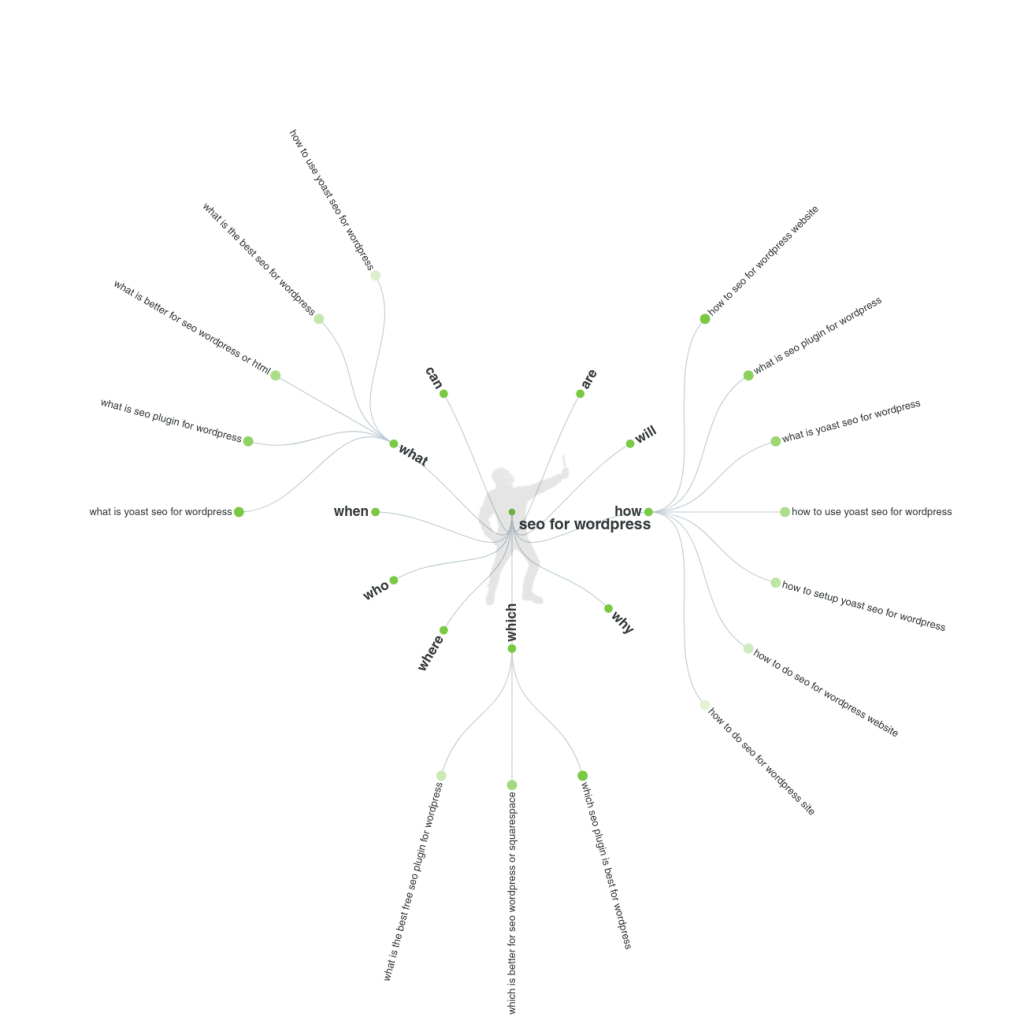 Not only that, this amazing tool also gives you data in multiple ways including;
Questions
Prepositions
Comparisons
Alphabetical
Related
2. Chrome Browser Extension – Scraper
You can also use the free Chrome browser extension called "Scraper" to scrape people also ask queries into Google Docs.
Just install and enable this Chrome extension and once you're on the PAA box for any search term, right mouse button on any one of the questions and from the context menu choose "Scrape Similar"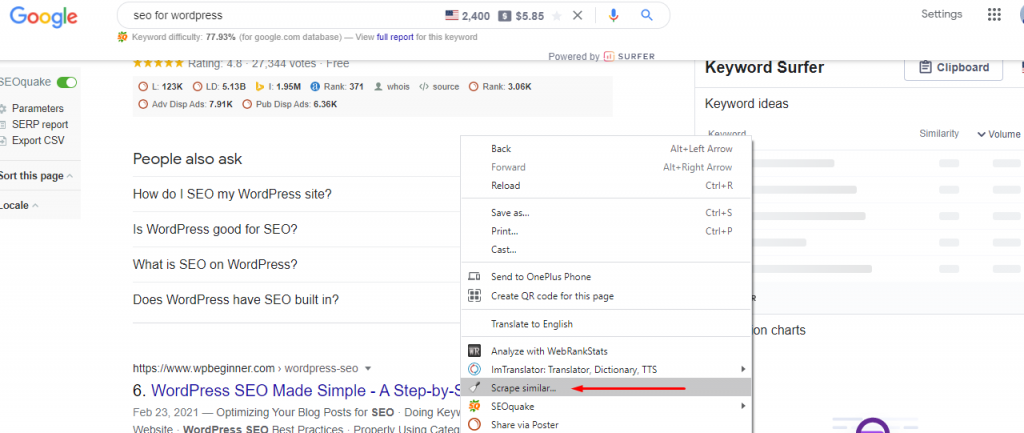 That's it, you can now scrape all those related queries and copy them all into Google Docs.
3. AlsoAsked
Go to AlsoAsked website and enter any search term to discover PAA related queries. It instantly generates a list of all the related queries for that search term in a visual form.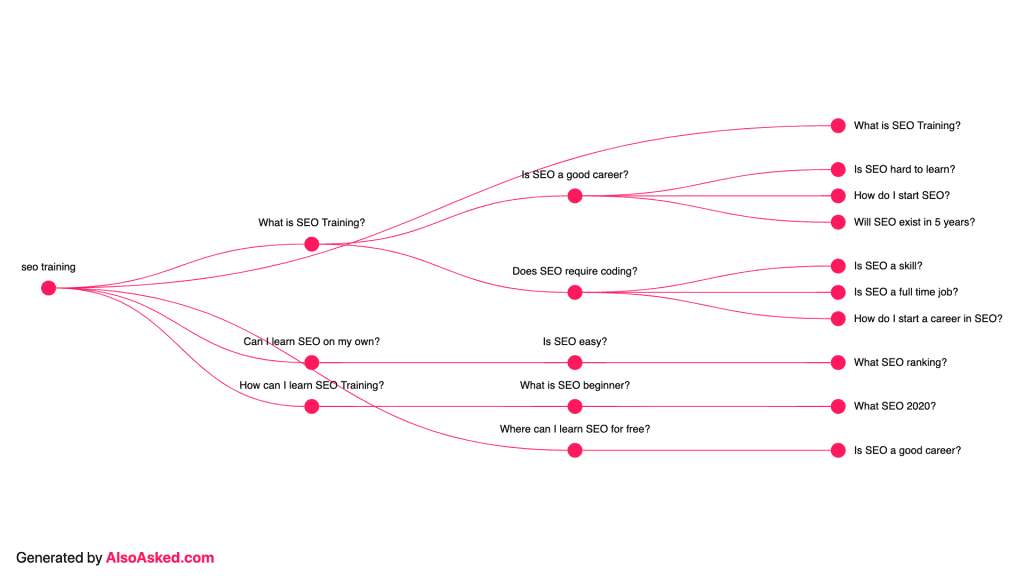 How to Optimize Content for People Also Ask
After researching the questions for People Also Ask, it's time to know how to optimize them so that they could appear in the PAA boxes.
Here is the list of the proven tips that we follow every time we optimize content for PAA boxes.
Let's make a deep dive to know how these points work.
1. Check That You're 'Eligible' to Rank in the PAA Box
Most of the answers Google chooses for the PAA box seem to come from one of the top ten rankings for the question itself.
For example, if you search for the 'best WordPress localhost server', you'll find our content on the first page. The possibility of being on the PAA boxes, this content has a huge opportunity.

So, unless you're already ranking in the top 10 for the question itself, chances are your page isn't an eligible answer source. If that's the case, go back and choose a different question to potentially optimize for.
2. Make Your Answer Clear and to the Point
This is the point that we all know. But while answering the question, somehow, we can't follow it appropriately. However, our answers really need to be clear and to the point, if we want to get the rank in the PAA boxes.
For doing that we can follow some strategies. Like,
Provide short, but complete questions and answers
Write in plain, non-salesy, language
Write content with the questions you found during research in mind
Another trick is to start the answer where the question ends. Like,
Question – What is content repurposing?
Answer – Content repurposing is the practice of reusing all or elements of existing content in order to expand that content's reach.
3. Don't Make It Over Lengthy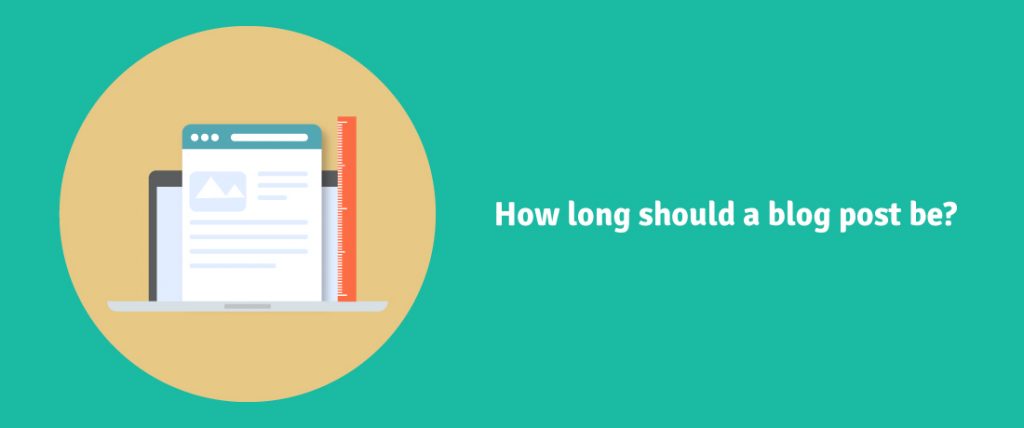 Most people who use voice search devices like Siri, Alexa etc ask detailed questions to find answers on the PAA section. So write in a simple language. Don't use jargon. Your content should be easy to consume.
Too few or too many words will murder your PAA ranking. There is no hard and fast rule when it comes to how many words it should be in the description, but the general consensus seems to be ~60 words, maybe a little less.
This is not to mean that your content should be super short and concise. You can (and probably should) elaborate further below the question-answering paragraph on the topic. The idea is to give concise answers, not writing bite-sized articles.
4. Use Subheading Smartly
Subheadings have an important role to get featured in PAA boxes. You need to use subheadings in a smarter way.
Make sure to use subheadings that end with questions. For instance, if you're writing a blog post around "Content curation", you can use subheadings like;
What is content curation?
Why it's important to follow content curation?
How to curate content?
And so on
5. Breakdown Your Answer to Steps or Numbers (1,2,3,…)
You can create a "Table of Contents" to easily divide your content into various sections (use subheadings). These quick jump links help your site visitors to quickly navigate to the answer that they want.
Apart from it, when you're breaking down any topic to make it easily understandable, make sure you go with 1,2,3,… pointing system. Let's assume, you're writing a blog on "How to Manually Setup WordPress Staging Site Using cPanel", you should break it down as follows:
STEP 01 – Create a subdomain
STEP 02 – Create an FTP account
STEP 03 – Upload files to WordPress site
Step 04, Step 05,…..
And don't forget to add descriptions under each point. This helps to get featured in the PAA boxes.
6. Add FAQ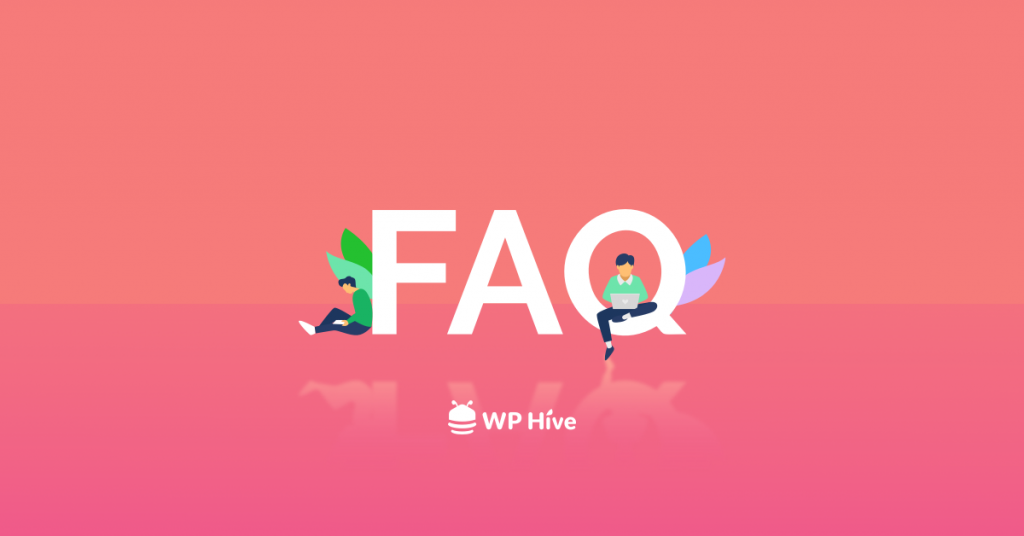 You can use Question schema to enable the FAQ schema markup on your website. If you're using WordPress, you can install free plugins for FAQ schema to easily add schema markup.
Another thing you can do to rank for PAA is to use an FAQ section for most of your content. If you're a regular reader of our blog, you'll notice that we often use an FAQ section for most of our blog posts.
FAQ sections not only help your blog audience but they can increase your chances of ranking for People Also Ask SEO.
7. Keep Your Content Updated
One important thing you need to remember is PAA-related queries get updated with useful content. That means, if your competitors are already ranking for some PAA-related questions, you can also try creating better content around them to outrank their listings.
Even if you're already ranking in the PAA box, your answer listings can disappear sooner or later. So the bottom line is to keep them up to date with useful content and answers.
How to Track Ranking for People Also Ask
When you are giving effort to anything, it's important to track the result of your effort. Because without knowing how is performing your effort, you can't improve it if it's needed.
In the same way, you need to track the ranking of your answers that you have done to get featured in the PAA boxes. To check the ranking, there are a few SEO tools available around you. Among them, here we have used SEMrush to get our job done easily.
Here's how it works.
Once you're on the SEMrush dashboard, go to the SEO Toolkit > Organic Research report and enter your domain.
Now, click on the "Positions" tab. Here's how it looks like;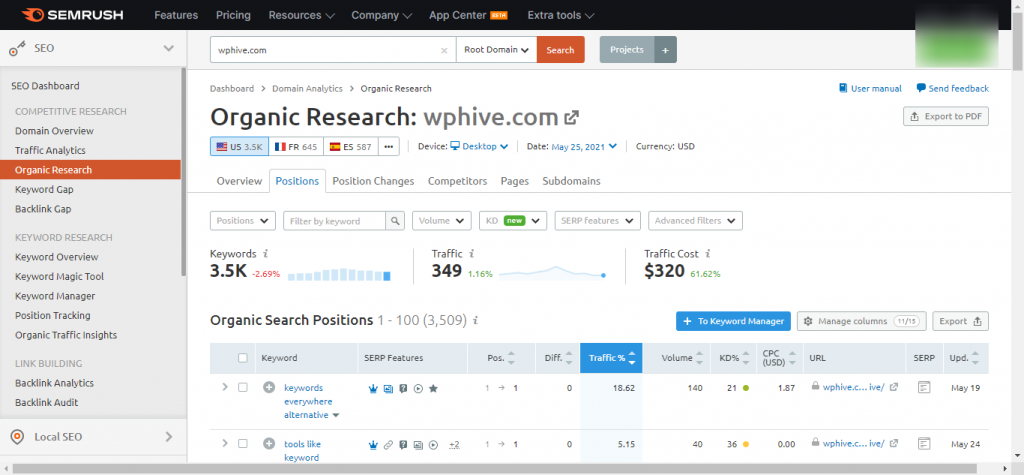 Now simply click on the "SERP Features" dropdown.
Then, select "Domain ranks" >> "People also ask".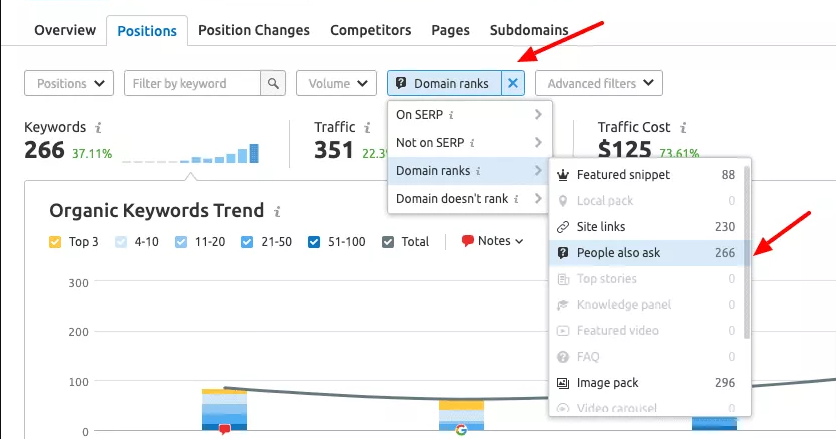 As you can see above, by choosing the above filter, Semrush Organic Research tool will show you a list of all the keywords that are ranking in the People also ask section for our blog WP Hive.
That's how you can easily track and monitor all your PAA related questions that your domain is currently ranking for.

People Also Ask – FAQ
What is "People Also Ask" in Google?
People also ask boxes are also known as "Related questions" which provide answers or text snippets to users' search queries. Each one of these questions can be further expanded using a drop-down menu to see the answer.
What are people also ask questions?
The People Also Ask box is an interactive, universal search result from Google that will display a box of questions that other searchers have asked in relation to your original search.
Are people also asked accurate?
The People Also Asked is highly accurate. Google itself filters answers from numbers of answers for a specific question and then shows it to the PAA box. So, the chances of getting inaccurate answers from PAA are almost zero.
What is a featured snippet?
Featured Snippets are short text snippets that answer a searcher's query and appear at the top of Google's search results. Featured snippets are also known as "answer boxes" as they provide instant relevant answers to users' questions.
How do you write for people also asking?
1. Provide short, but complete questions and answers.
2. Write in plain, non-salesy, language.
3. Write content with the questions you found during research in mind.
What is the people also ask section in Google?
The 'People Also Ask' (PAA) box is a Google SERP feature that answers questions related to the user's search query. Each answer comes from a web page, and Google provides a clickable link to the source below each one.

Are You Ready to Optimize Your Contents for PAA Boxes?
It's proven that the chances of getting more clicks from PAA boxes are much higher than any other position of SERP. It also ensures multiple positions on the first page of SERP.
So, if you haven't optimized your content yet for PAA, it's time to do that. Follow this blog and do it by yourself. If you face any complications or have any questions regarding this topic, you're more than welcome to ask us through the comment box below.
If you think this content deserves a share, do it with your friends. So that they can learn it as well. And don't forget to follow us on Twitter and Facebook closed group.
https://wphive.com/seo/how-to-optimize-content-for-people-also-ask/
Shams Sumon
Shams is a content writer with a passion for making WordPress topics easy to understand for everyone through conversational and storytelling approaches. With a background in the WordPress industry since 2019, he has developed a knack for breaking down complex technical concepts into digestible bites. When he's not crafting engaging content, Shams can be found watching football matches, catching up on the latest movies, or exploring new destinations to rejuvenate himself.

Subscribe To Our Newsletter