All in One SEO vs Yoast – Which One is Better for a Beginner?

When you have a WordPress website, you already know how crucial SEO is for you. Without properly optimizing your site for SEO, you can't even think to get a better ranking in search results.
This is why a WordPress SEO plugin is pretty much mandatory for you. There are actually several SEO plugins available out there that you can choose from for your site. Every plugin has its own approach, benefits, and shortcomings. So, you have to be very careful while choosing an SEO plugin for you.
To help you in this regard, today, we are going to compare two of the most popular SEO plugins for WordPress sites- All in One SEO vs Yoast. Both are popular, feature-rich, and beginner-friendly.
As you have to choose one plugin between them, so go through this detailed comparison post to know which one could be the best choice for you. Let's get started!
Quick Navigation:
All in One SEO vs Yoast – Overview


All in One SEO Pack Plugin Overview
All in one SEO, also known as AIOSEO is one of the most popular SEO plugins for WordPress websites. It gives you an in-depth SEO optimization analysis and an actionable SEO checklist to optimize your WordPress site. This helps you to easily optimize every page on your website for higher SEO rankings and traffic.
It also contains a readability analysis which gives you an in-depth insight on how to improve your content for better SEO benefits.
All in One SEO pack offers XML Sitemap optimization and search appearance optimization. It also performs analysis of SEO titles, keywords, and meta descriptions. Apart from this, you can additionally integrate this plugin with social media, search console, local SEO, schema markup, and much more.
Yoast SEO Plugin Overview
Yoast is another popular SEO plugin for WordPress websites. It provides automated and technical SEO improvements such as canonical URLs and meta tags. It even makes it easy for Google to understand your site's structure by providing XML sitemaps.
Yoast SEO allows for title and meta description templating to showcase your brand and achieve consistent snippets in search results. Additionally, this plugin integrates with Schema.org to improve your likelihood of being featured in rich results by helping search engines understand your content.
When writing posts or pages, Yoast SEO constantly analyses your content to make sure you are using the right keywords. It also offers readability analysis to make sure that both humans and search engines can easily understand your content.
How Many People Use All in One SEO and Yoast SEO Plugin?
As we have said earlier that both All in One and Yoast SEO are popular plugins for WordPress sites. You'll hardly find any WordPress enthusiast who hasn't heard about these plugins yet.
All in One SEO plugin has more than 3 million active installations as of now. It has 4.6 ratings out of 5 and got 2,172 reviews till date.
On the other hand, Yoast SEO plugin has more than 5 million active installations and got 27,474 reviews as of now. It has 4.8 ratings out of 5.
So, you can easily understand the popularity of these two plugins.
All in One SEO vs Yoast – What's the Difference?

We will compare All in One SEO vs Yoast in 6 major categories. Here is the list of those categories:
Let's get started with the first one – Installation and setup process.
Installation and Setup Process


All in One SEO Pack Plugin Installation and Setup Process
Installing All in One SEO plugin is as simple as installing other plugins.
Also read: How to Install a WordPress Plugin – Step by Step for Beginners
You can install it right from your dashboard. Go to Plugins > Add New plugins > Search for All in One SEO and install it by clicking the install button. Then click the activate button to activate it.
Once it's installed, you can head over to All in One SEO » General Settings: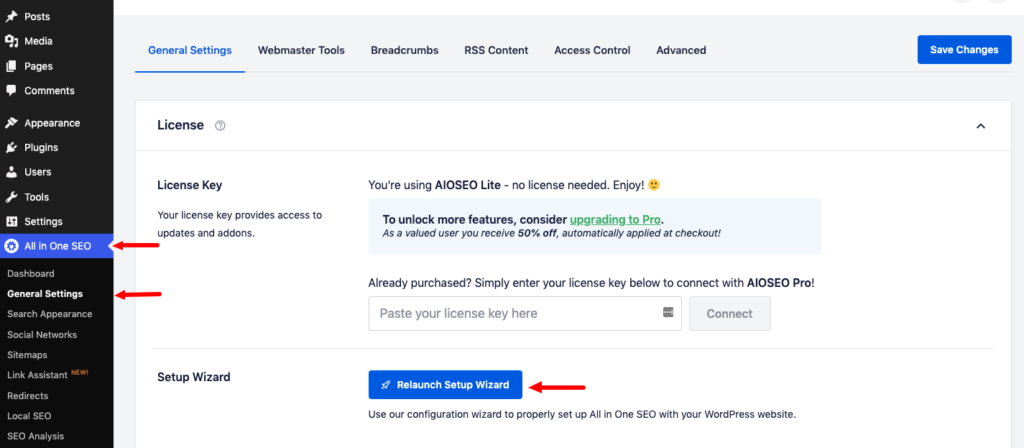 Click on the Relaunch Setup Wizard. The wizard will take you step by step through the installation process.
That way, it can start collecting your site's information and optimizing it for search. When you're done, it'll direct you back to your WordPress dashboard.
AIOSEO's settings are on a single page and divided into categories, so it's easy to choose what settings you want to change: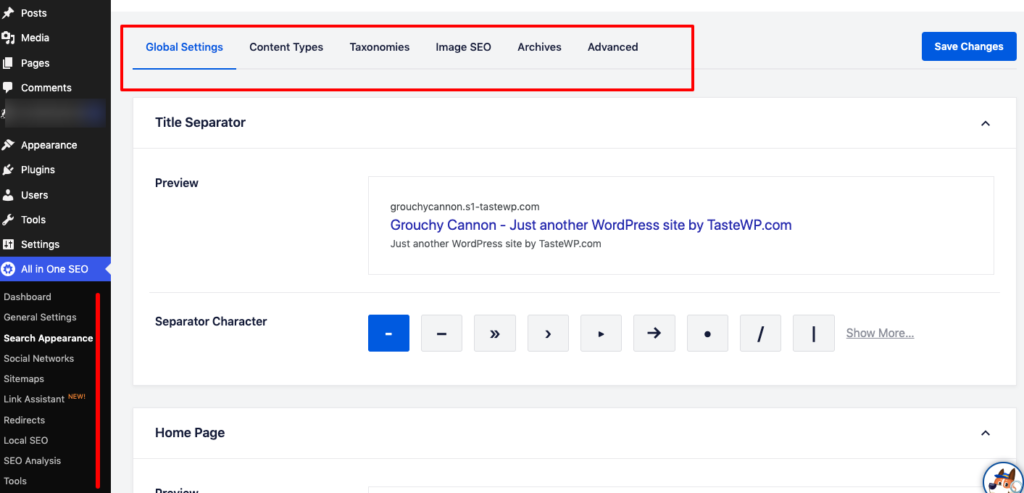 If you need additional assistance, you can click the question mark icon at the top right-hand corner.

When you scroll down, you can see additional documentation and get Support from AIOSEO's team by submitting a ticket if you can't find a solution.

This ensures that all AIOSEO users receive the help they need to properly install and use the plugin and receive the utmost benefits.
Yoast SEO Plugin Installation and Setup Process
You can install the Yoast plugin from your WordPress Admin Dashboard, just AIOSEO. After it's installed and activated on your WordPress site, you can head over to SEO » General from your WordPress dashboard.
You'll see a box asking you to finish setting Yoast up with the configuration wizard. This is perfect for beginners who prefer a simple step-by-step setup that makes it easy to integrate the plugin with their website.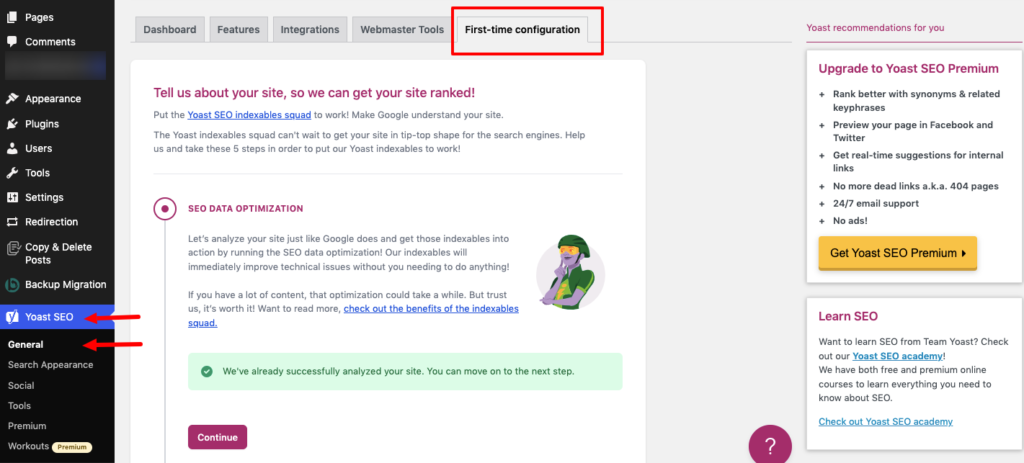 From here, you can answer each onboarding question so Yoast SEO can configure your site.
When you're finished answering all the questions, it'll redirect you to your WordPress dashboard and show that your settings are configured.
Yoast SEO divides its settings into tabs at the top of the page, so it's easy to access and make necessary changes.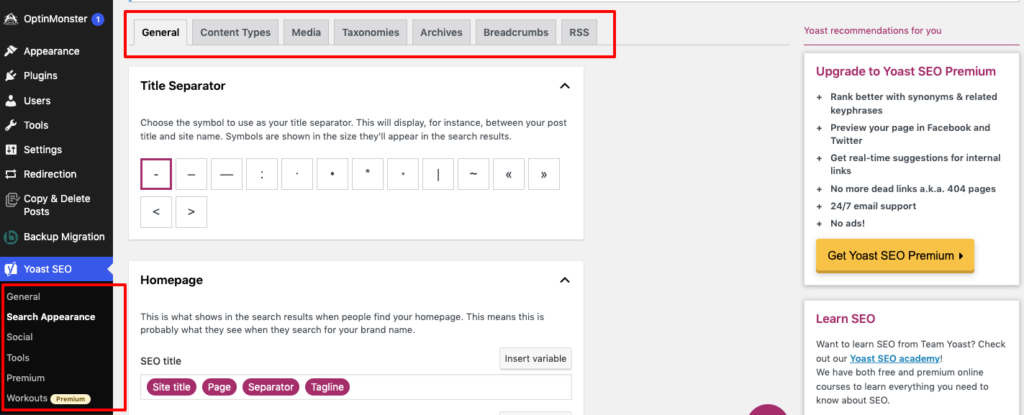 The easy-to-use configuration wizard and simple settings layout make Yoast SEO a beginner-friendly plugin for all users.
Content Analysis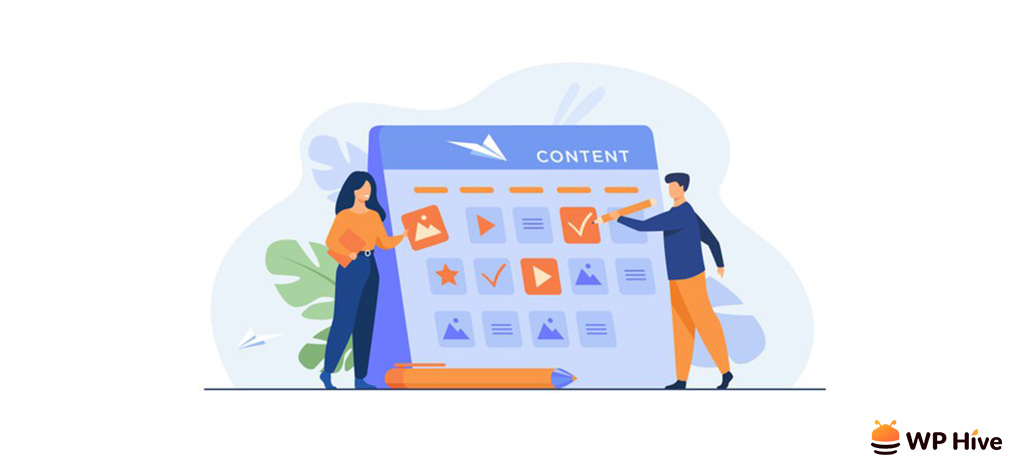 All in One SEO Pack Content Analysis
AIOSEO uses a snippet box at the bottom of a post or page to optimize for SEO. You can edit the title, description, preview, and more.
Scroll down and you can add focus keywords, additional keyphrases, and page analysis: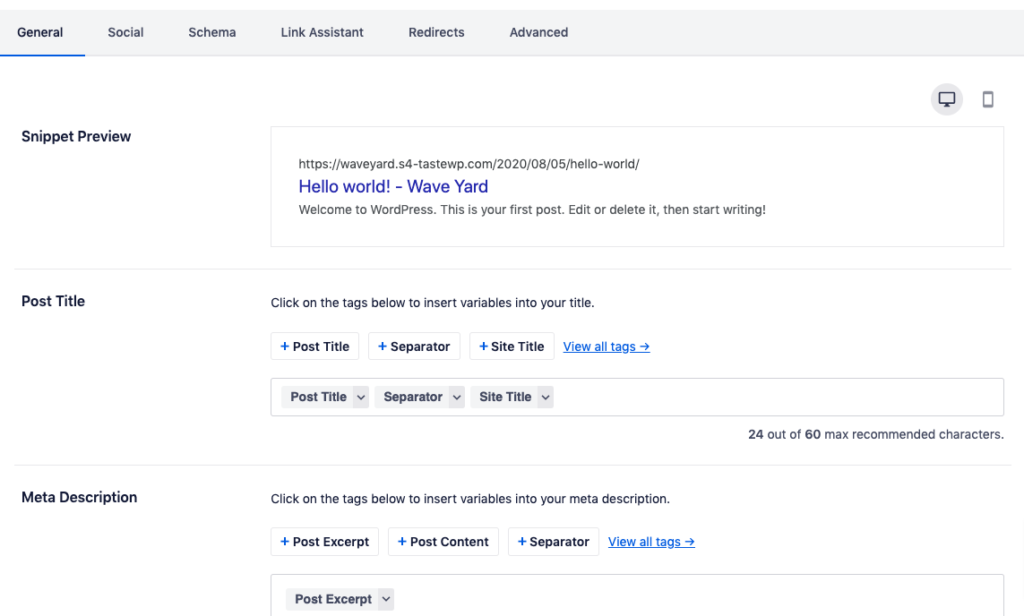 AIOSEO also comes with a social media feature so you can optimize your social posts for the best results. For Facebook or Twitter, add a title, description, video URL, image source, and tags by clicking on the social media icon: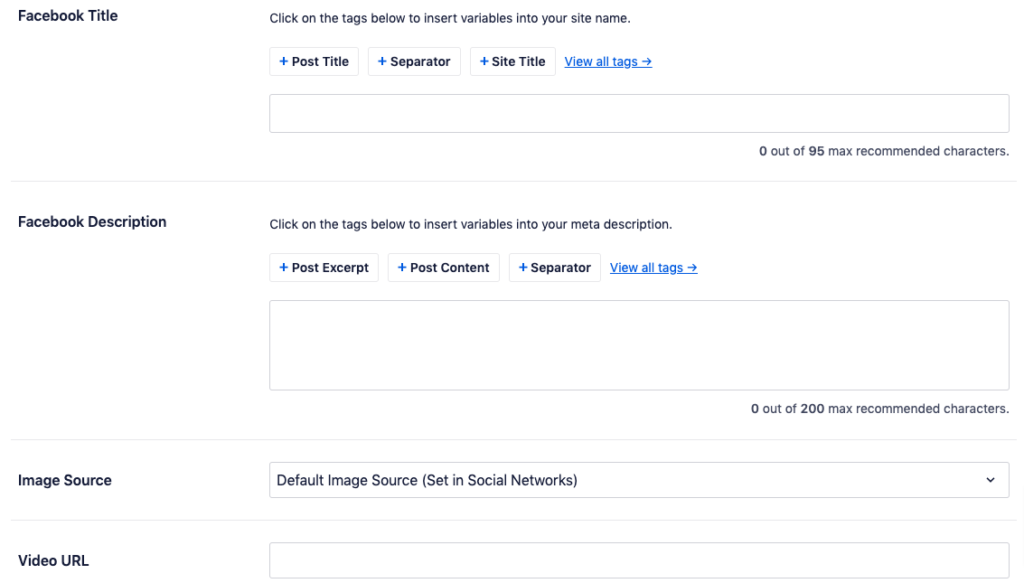 Clicking on the Advanced tab gives you the option to change your robots settings, canonical URL, and a priority score: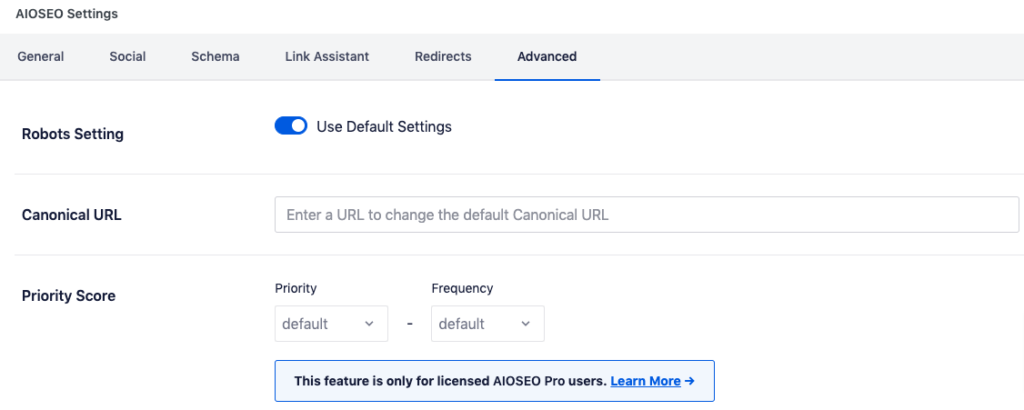 All of these features work toward helping your page or posts rank higher on search engines like Google.
Related: All in One SEO Pack: Features, Configuration, Pros and Cons
Yoast SEO Content Analysis
Yoast SEO has a meta box with a snippet preview, focus keyword field, and content analysis section underneath each page and post.
When you're ready to publish, you can simply scroll down and add the necessary information, including SEO title, slug, permalink, and meta description.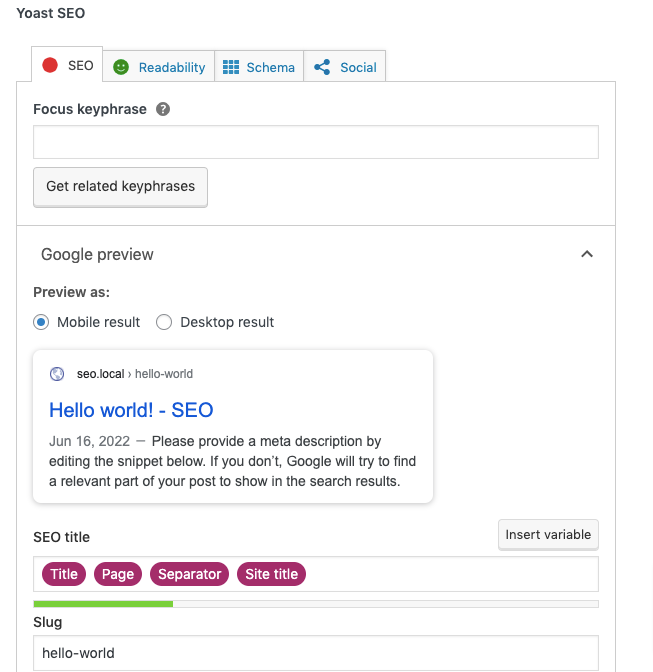 The snippet preview shows how your content will look in search engines so you know what users see. By default, Yoast SEO uses your post title as your SEO title and your excerpt as the description, so you don't have to manually fill out that information if you don't want to.
Also read: SEO Friendly URLs: Tips to Create Search Engine Friendly URLs
When you enter the focus keyword, Yoast SEO analyzes your content for that specific keyword. You can view the analysis in the content analysis area where the plugin will make the appropriate suggestions to improve your SEO score and site rankings.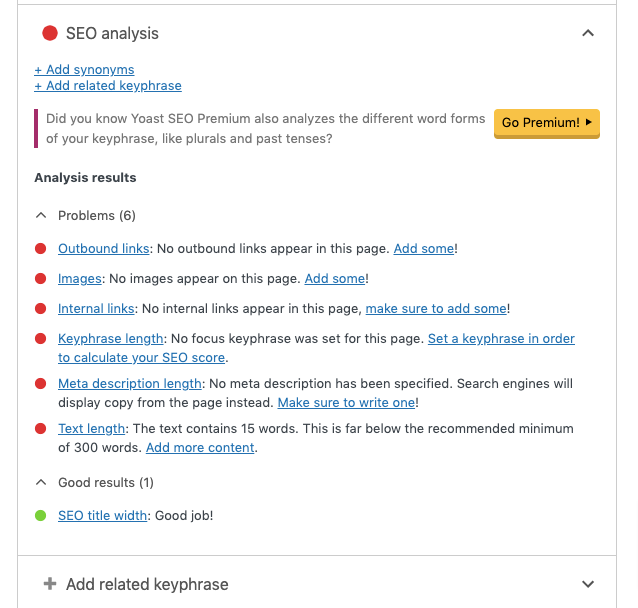 Clicking the social icon will make another box appear where you can edit your SEO for Facebook. You can add an image, title, and description to get the best result in this field.
Indexing and Sitemaps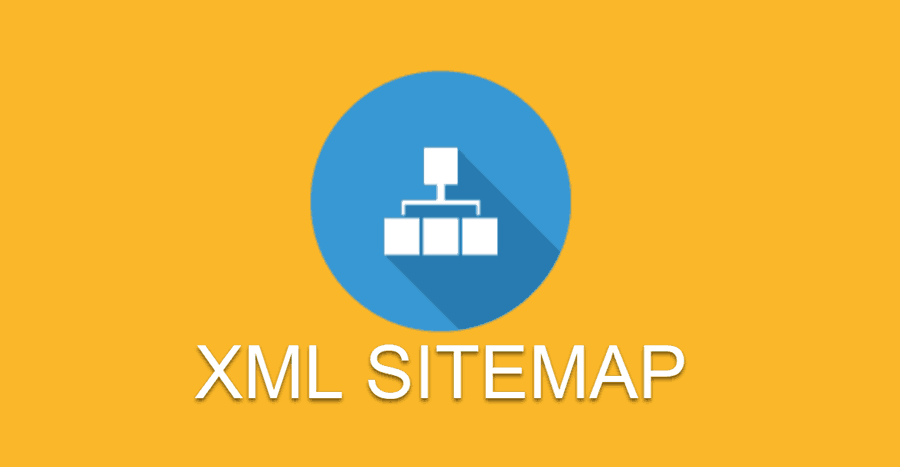 All in One SEO Sitemap
All in One SEO Pack supports XML Sitemap functionality. To access this feature, go to your WordPress Admin Dashboard > All in One SEO > Sitemaps.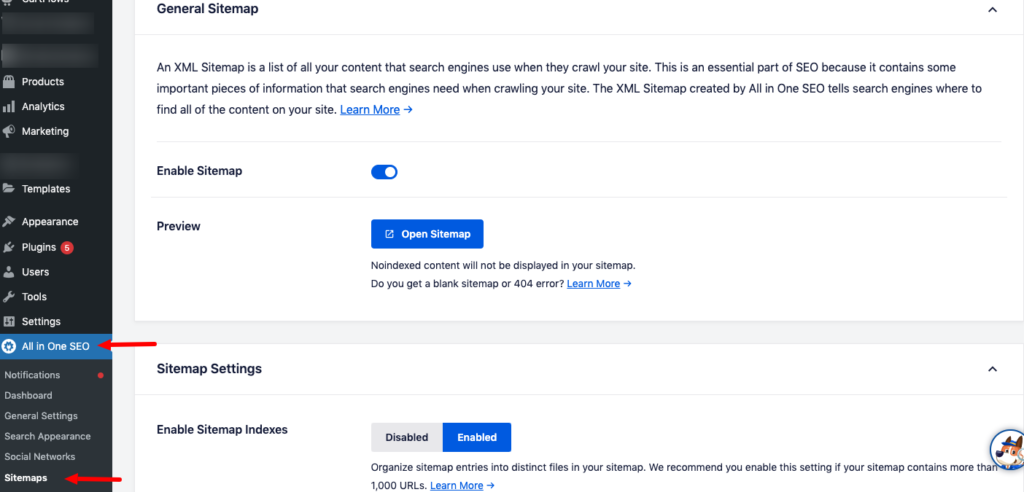 Once the module's been activated, All in One SEO Pack creates your XML Sitemap automatically. However, as you may expect by now from All in One, there are plenty of settings for you to tweak.
For a start, you can select which search engines are notified of sitemap updates, or you can specify a notification frequency. You also have full control over which post types and taxonomies make the sitemap — or, specifically, which are excluded.
Also read: The Ultimate SEO Guide for WordPress Developers
Further down the screen, you also get to configure the Priorities for your homepage, posts, and taxonomies. Priorities tell the search engines how important a particular post/page is relative to other internal pages.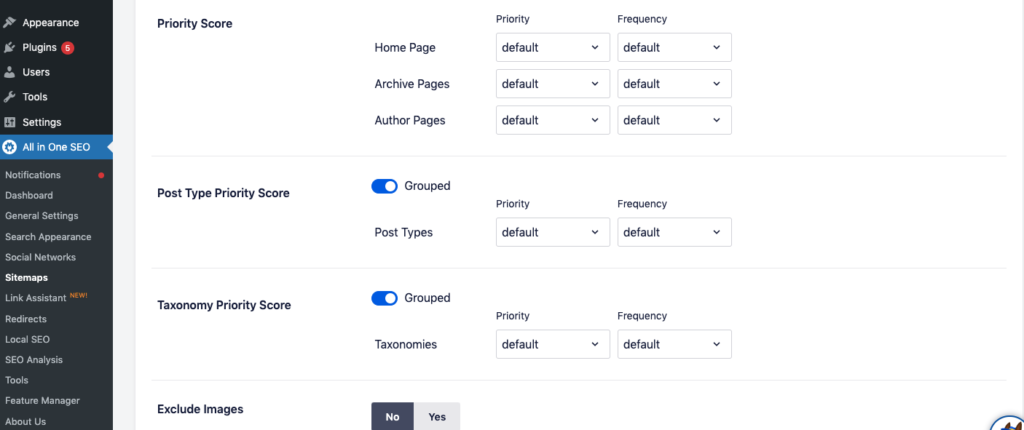 Frequencies let them know how often a post/page is expected to change — and, therefore, how often each needs to be crawled for updates.
Before you can rank well — or rank at all, your content needs to be indexed. If the search engines aren't indexing you, no amount of SEO optimization can save you.
Yoast Sitemap
Like All in One SEO, Yoast SEO also offers built-in XML Sitemap functionality. Enable XML Sitemaps by navigating to SEO > XML Sitemap and turning on the toggle button.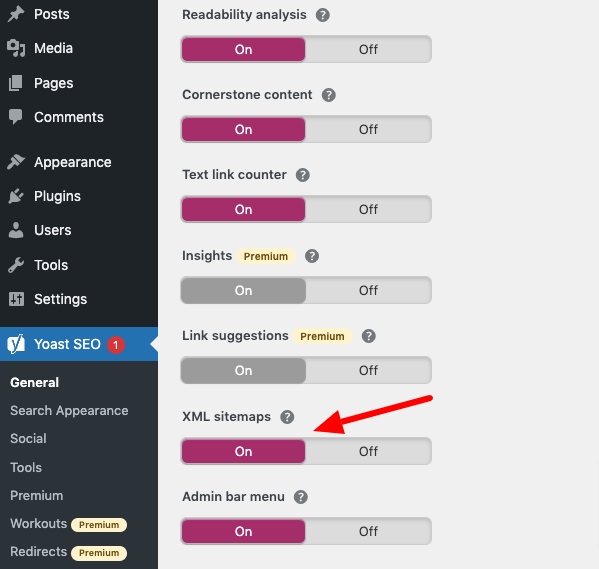 With the Sitemap functionality activated, Yoast SEO notifies the search engines every time you publish new content. This makes it the quickest way to get new posts indexed. Your images are also indexed, meaning you can show up in Google Image searches, too.
For greater control, Yoast SEO lets you exclude certain post types and taxonomies, should you wish. You can also choose to exclude individual posts by entering the relevant post IDs.
Social Media Support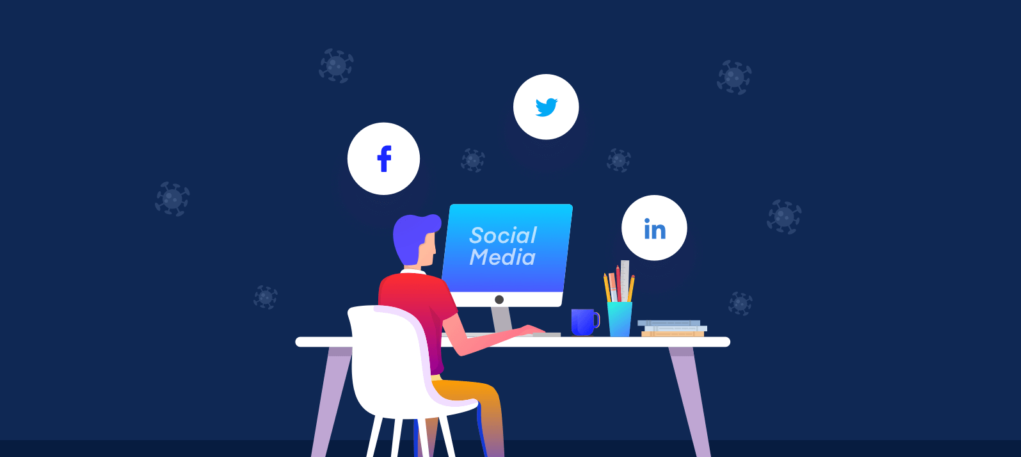 All in One SEO Social Media Support
Social Meta is a feature offered by All in One SEO that allows you to configure social media settings from one place. You just need to activate it by clicking on the Social Networks settings.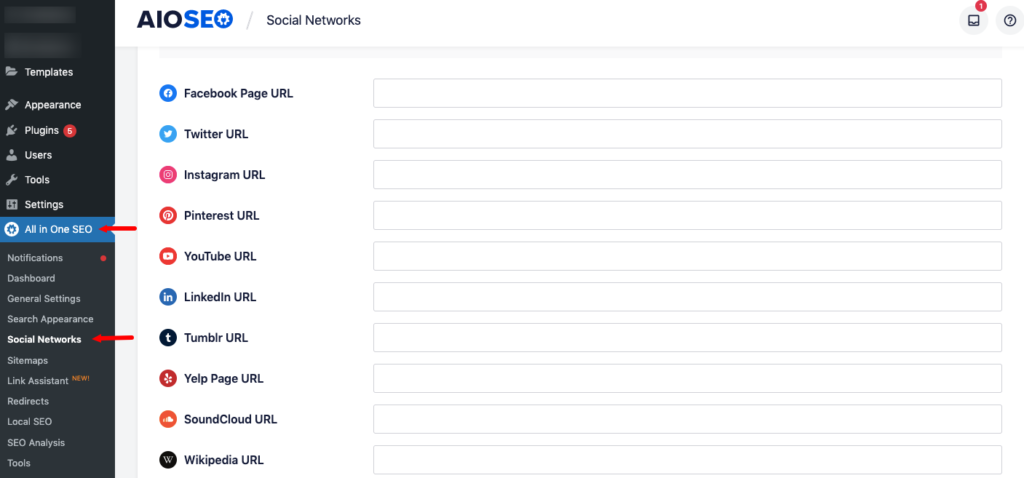 All in One SEO has more social settings than Yoast and also each feature has a detailed explanation. Moreover, you can link your website with an unlimited number of social profiles. You can connect with Facebook Open Graph and Twitter Cards.
The Open Graph settings are pretty detailed in that you can change default image and video sources and dimensions for social posts. This gives you more control over how your posts look.
Yoast SEO Social Media Support
Yoast SEO also extends its functionality to social media. For instance, you can indicate to Google the URLs of the 8 most popular social networks by navigating to SEO > Social.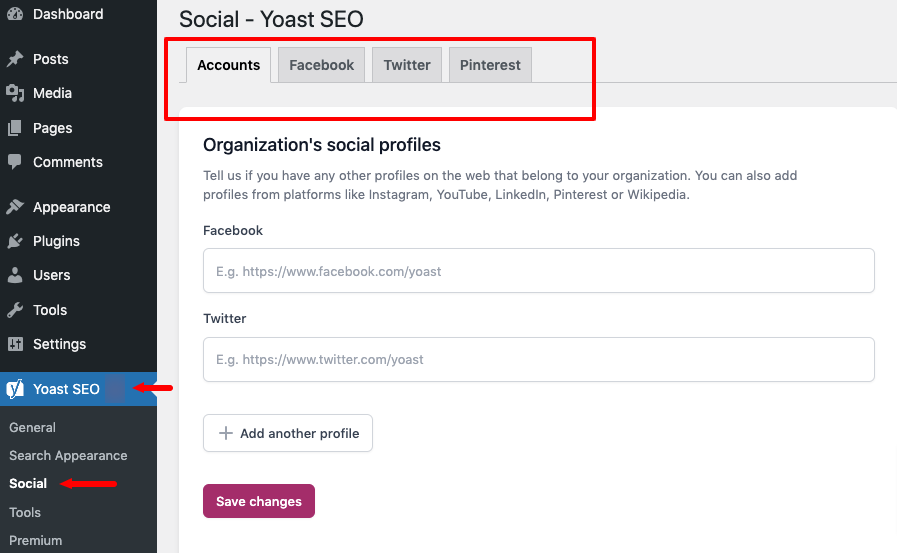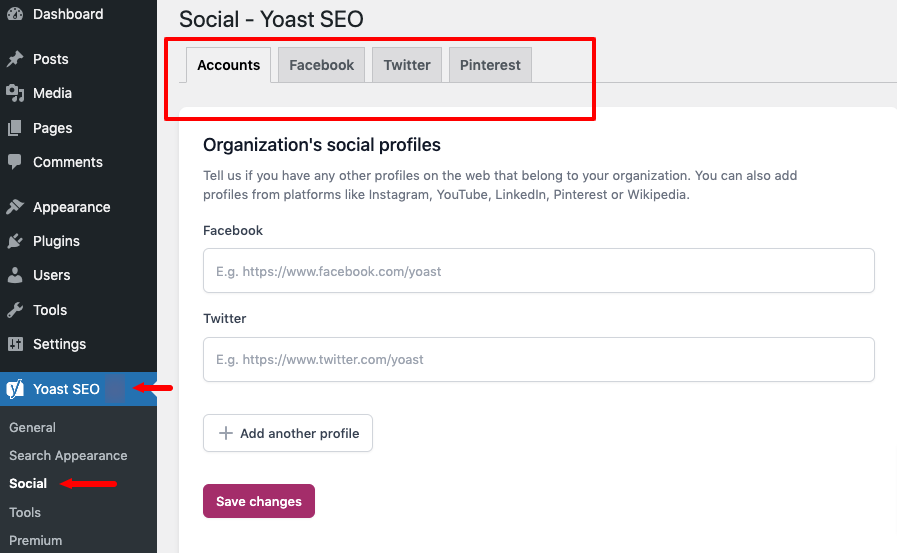 In this way, by switching tabs, you can integrate your website with 3 popular social media tools such as Facebook Open Graph, Twitter Cards, and Pinterest Open Graph.
You can also find social media features in the content analysis meta box. Just scroll down to the bottom of the WordPress text editor, and locate the Social tab.
You can customize the way your content is shown on social channels by editing the title, and meta description and uploading a custom image.
eCommerce Support

All in One SEO Pack Plugin eCommerce Support
All in One SEO for WordPress offers extensive eCommerce support options out of the box. As soon as you add a product it correctly identifies it as a Product in schema markup without you having to do anything.
It also allows you to add more eCommerce schema data which helps your store grow. For each product, you can change the schema markup and provide more rich details like brand, colours, manufacturer, and more.
All in One SEO also automatically generates XML sitemaps for your products and product categories.
Yoast SEO eCommerce Support
Yoast SEO also offers out-of-the-box support for eCommerce websites. For websites using WooCommerce, Yoast SEO has a separate Yoast WooCommerce SEO plugin.
By default, you can add product titles and descriptions just like you would for your posts and pages. Yoast SEO also creates a product category XML sitemap for your store.
Support and Pricing

All in One SEO Support and Pricing
The free version of AIOSEO only comes with forum support unless you purchase a paid plan.
When you purchase its Basic and Plus plans, you receive Standard Support. When you upgrade to Pro, you get Priority Support.
The Basic plan is $49.50/year, the Plus plan is $99.50/year, and the Pro plan is $199.50/year.
AIOSEO comes with advanced eCommerce SEO support for WooCommerce to optimize product pages, categories, and so much more. It also provides Local SEO so you can rank in your area on Google Maps and submit your business information to search engines.
Yoast Support and Pricing
Yoast SEO's free subscription plan doesn't offer customer support. As stated, free users can access support through forums from other users encountering the same problems.
It's not ideal for those who don't purchase a plan but still want the same level of service as paying customers.
Yoast Premium gives you 24/7 email access to their support team. It's $99/year for one website and increases as you add more.
Pros and Cons of All in One SEO vs Yoast SEO Plugin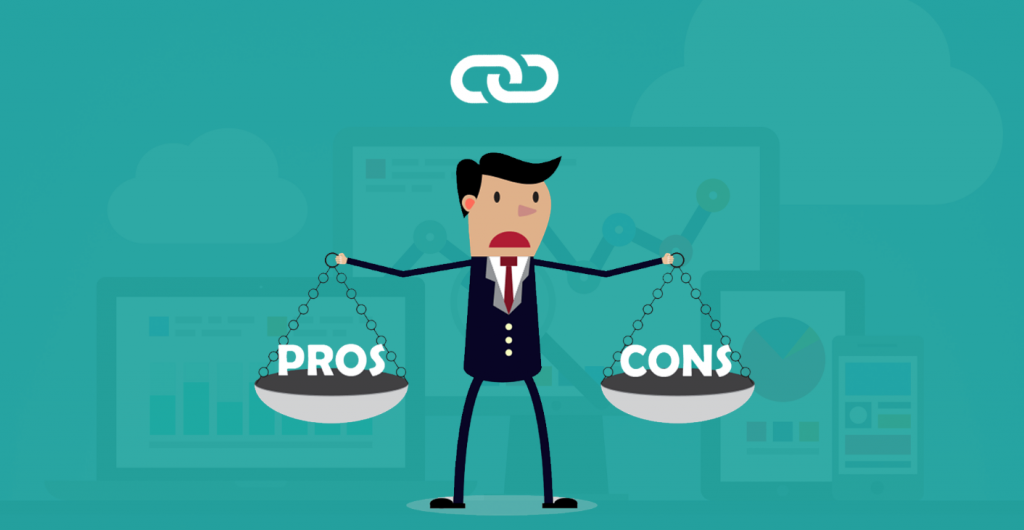 Pros of All in One SEO Pack
Pros of All in One SEO
Simple and easy setup with a beginner-friendly interface.
Suitable for any type of website such as business blogs, designers, developers, etc., and also for client websites.
Comes with advanced tools for indexing, tagging, and search engine following. Along with that, it allows you to disable it for specific posts or pages.
Content preview is available not just in search engines but also on various social media platforms.
Cons of All in One SEO
Lacks customer support in the free version.
You can add only 1 focus keyphrase in the free version to optimize your content.
No breadcrumbs in the navigation and data from the Google Search Console can't be imported.
Pros and Cons of Yoast SEO Plugin
Pros of Yoast SEO
A user-friendly tool with a good interface.
Displays the SEO of each of your web pages.
Improves the readability of your content.
Ease in managing title, meta description, and URL slug.
Helps you with minimizing content duplication and other indexing issues.
Integration with Schema.org makes it possible to structure your results in search engines.
Cons of Yoast SEO
Lets you add only one focus keyphrase in the free version.
Too many features can be overwhelming for beginners.
Yoast results can be misleading sometimes.
All in One SEO vs Yoast SEO- Our Verdict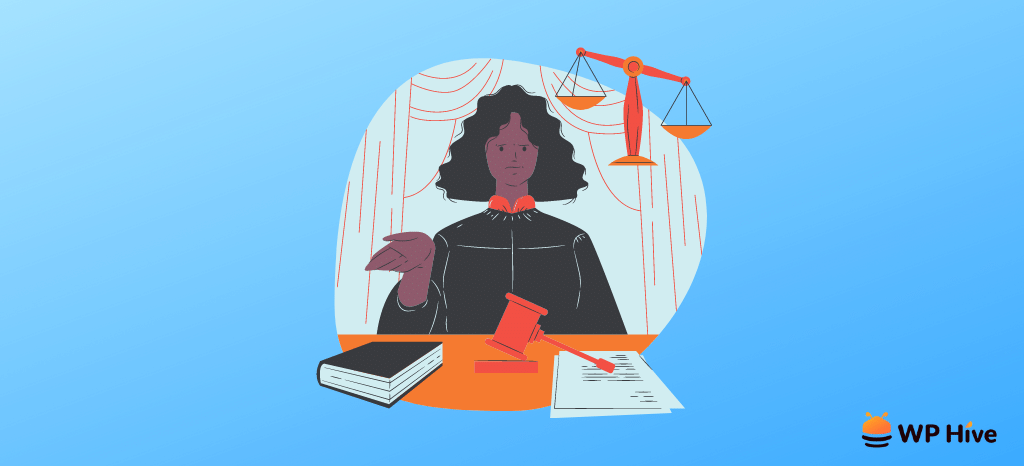 Remember SEO plugin is a supplement, not a strategy. SEO plugins can help and guide you to optimize your site in a better way. Following its guideline enhances the possibility to get better rankings in search engines, but doesn't give you the guarantee to get so.
However, you can choose one of them to optimize your site.
If you'd prefer to work with a plugin that's stripped down and straightforward, offering everything you need in a quick and accessible way – All in One SEO Pack might be your best choice.
If you're looking for a plugin that works in an advisory role, is simple, easy to use, and is constantly upgraded, consider Yoast SEO as your solution. Unlike its competitors, it's pretty much a no-nonsense tool that gives you the core SEO assistance and lets you do the rest with your content.
Otherwise, keep in mind that there are a variety of other SEO plugin options that may suit your needs even better. All in One and Yoast are popular for a reason, but a few other plugins are rising stars. You can check them as well.
Which Plugin Would You Choose for Yourself?
Now you know which plugin can help you the most. That means which plugin will match your requirements the most. So, choose the best SEO plugin from All in One SEO Pack vs Yoast SEO and optimize your site now.
Which plugin are you going to choose for yourself? Or, which SEO plugin are you already using on your site? You can let us know through the comment box below. It'll help the new users to make their decision between Yoast vs All in One easily.
Also, you can follow us on Facebook and Twitter to get regular updates from us. And you can post anything related to WordPress in our social media community. Thank you.
https://wphive.com/seo/all-in-one-seo-vs-yoast-seo/
Shams Sumon
Shams is a content writer with a passion for making WordPress topics easy to understand for everyone through conversational and storytelling approaches. With a background in the WordPress industry since 2019, he has developed a knack for breaking down complex technical concepts into digestible bites. When he's not crafting engaging content, Shams can be found watching football matches, catching up on the latest movies, or exploring new destinations to rejuvenate himself.

Subscribe To Our Newsletter