What is WordPress Default Theme and How to Change It

WordPress started its journey in 2003 with its first default theme, WordPress Classic. Since then, WordPress has released a number of default themes for its users.
Every year since 2010, WordPress has been releasing a new default theme.
Most of these themes are used and loved by professional developers and general users alike. Anyone can create a basic-level website right away using the WordPress default theme.
However, these themes aren't suitable for any web niche online. For example, they lack many necessary features needed to uplift an NFT or business website online.
This article is going to cover everything you are looking to know about the WordPress default theme, why you should change it, how to change it, and so on.
What is WordPress Default Theme


The WordPress default theme refers to the theme that you get pre-installed and activated right after you install WordPress on your site. It immediately gives a front-end view of your website and allows you to explore the features of new WordPress versions.
Default themes also meet the objectives of fallback themes. It means in case your preferred WordPress theme stops working for any reason, your website will automatically fall back to the default theme.
The present WordPress version comes with the default theme which is called WordPress Twenty Twenty Three.
A Brief History of Default WordPress Themes
As WordPress evolves, default themes are periodically updated to reflect current design trends and ensure compatibility with the latest WordPress features. These themes have been serving as starter themes for building templates and style variations, as well as for testing new WordPress features. Here's the list of all WordPress default themes that were introduced over the past years.
Kubrick (Default in WordPress 1.2-1.5): Also known as "Default," Kubrick was the original default theme. It featured a clean design, a prominent header image, and a two-column layout.
Classic (Default in WordPress 1.5-2.9): The Classic theme was simple and uncluttered, featuring a single-column layout with a customizable header.
Twenty Ten (Default in WordPress 3.0): Twenty Ten marked the beginning of annual default theme releases. It introduced a customizable header, custom backgrounds, and a clean, traditional blog layout.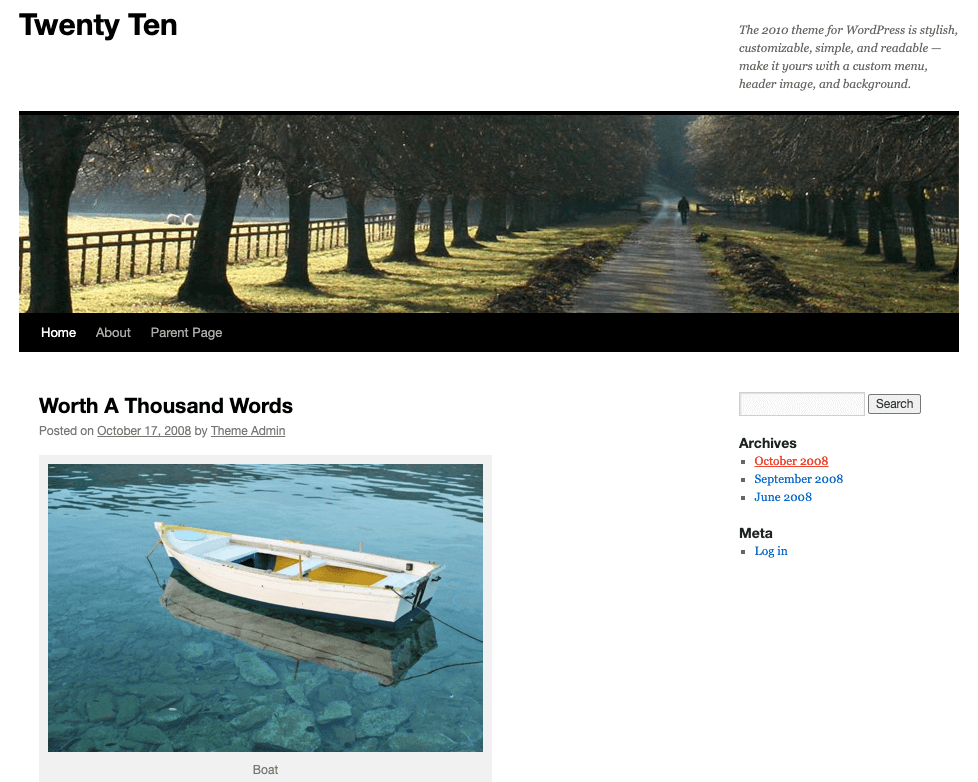 Twenty Eleven (Default in WordPress 3.2): This theme focused on elegance and readability. It featured a customizable showcase page template and multiple layout options.
Twenty Twelve (Default in WordPress 3.4): Twenty Twelve emphasized responsive design, making it adaptable to various screen sizes. It had a strong focus on blogging.
Twenty Thirteen (Default in WordPress 3.6): This theme embraced bold colors, modern typography, and a single-column layout. It introduced a customizable front page with widgets.
Twenty Fourteen (Default in WordPress 3.8): Twenty Fourteen featured a magazine-style layout with a grid of posts on the front page. It emphasized visual content and readability.
Twenty Fifteen (Default in WordPress 4.1): Focusing on blogging and readability, Twenty Fifteen showcased a clean, mobile-responsive design with bold typography.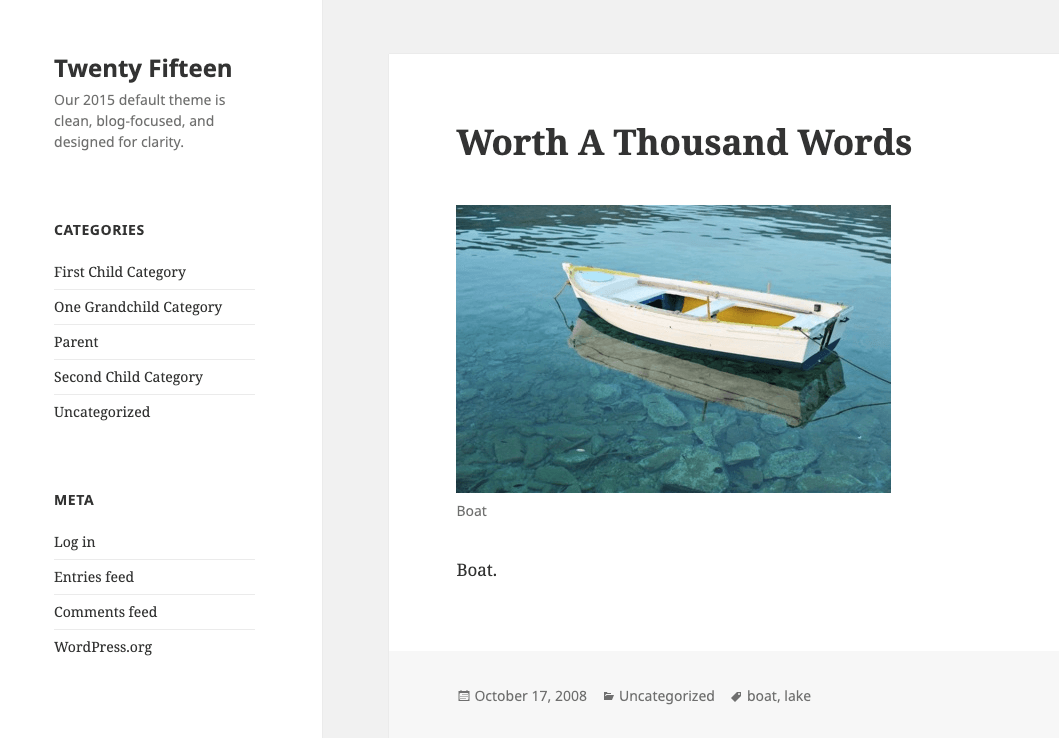 Twenty Sixteen (Default in WordPress 4.4): This theme combined a blog-oriented layout with a header image and a sidebar. It provided a polished, content-focused experience.
Twenty Seventeen (Default in WordPress 4.7): Twenty Seventeen introduced video headers, featured content areas, and a unique panel-based design, suitable for business websites.
Twenty Eighteen (Default in WordPress 4.9): Featuring a simple and minimalistic design, Twenty Eighteen focused on readability and large featured images.
Twenty Nineteen (Default in WordPress 5.0): This theme emphasized the beauty of the block editor (Gutenberg), offering wide and full-width content layouts.
Twenty Twenty (Default in WordPress 5.3): Twenty Twenty brought a modern and elegant design, along with a custom typeface. It offered ample whitespace and focused on content clarity.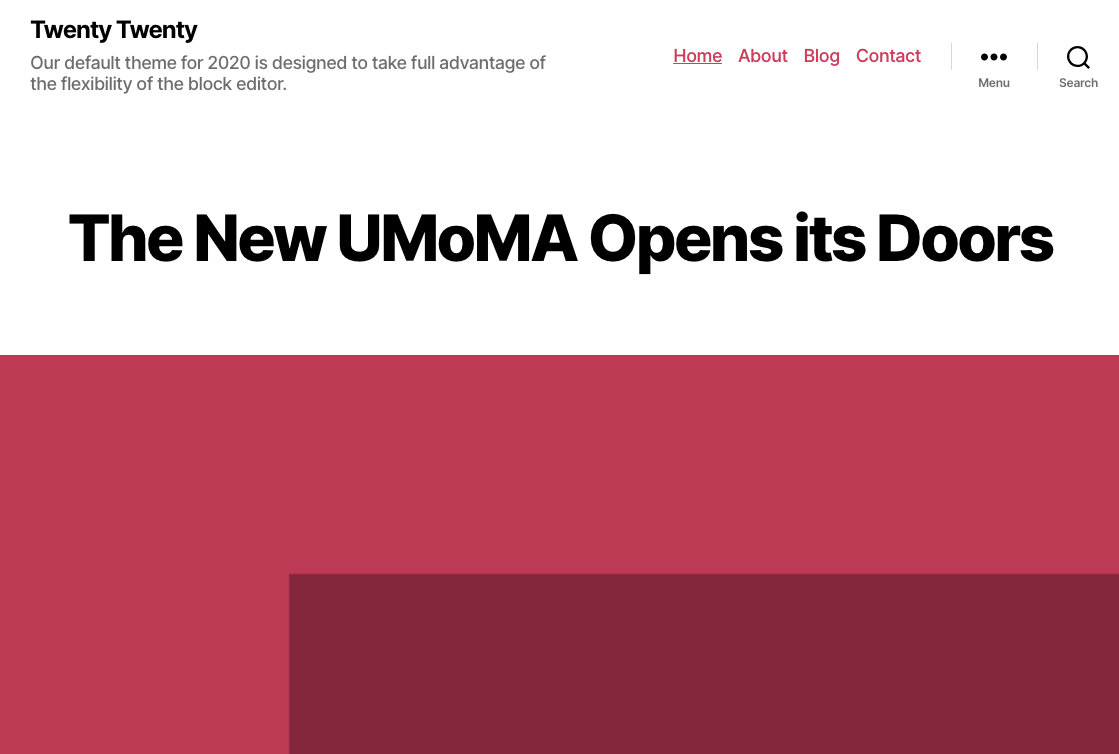 Twenty Twenty-One (Default in WordPress 5.6): Twenty Twenty-One showcased a minimalist and flexible design. It supported a wide range of use cases with its simple yet customizable layout.
Twenty Twenty-Two (Default in WordPress 5.9): The theme embraces Full-Site Editing and Global Styles, offering extensive customization possibilities. It follows a minimalist design inspired by birds and nature, featuring avian-related elements and a color scheme influenced by the environment.
Twenty Twenty-Three (Default in WordPress 6.1): This theme emphasizes community involvement in its design and offers a set of ten global style variations, each showcasing different color combinations, font families, and font sizes.
Twenty Twenty-Four (Default in WordPress 6.4): This WordPress default theme will be introduced soon along with the 6.4 release. It aims to be versatile, suitable for various types of websites and is not limited to a single topic. It includes templates for entrepreneurs, photographers, artists, writers, and bloggers.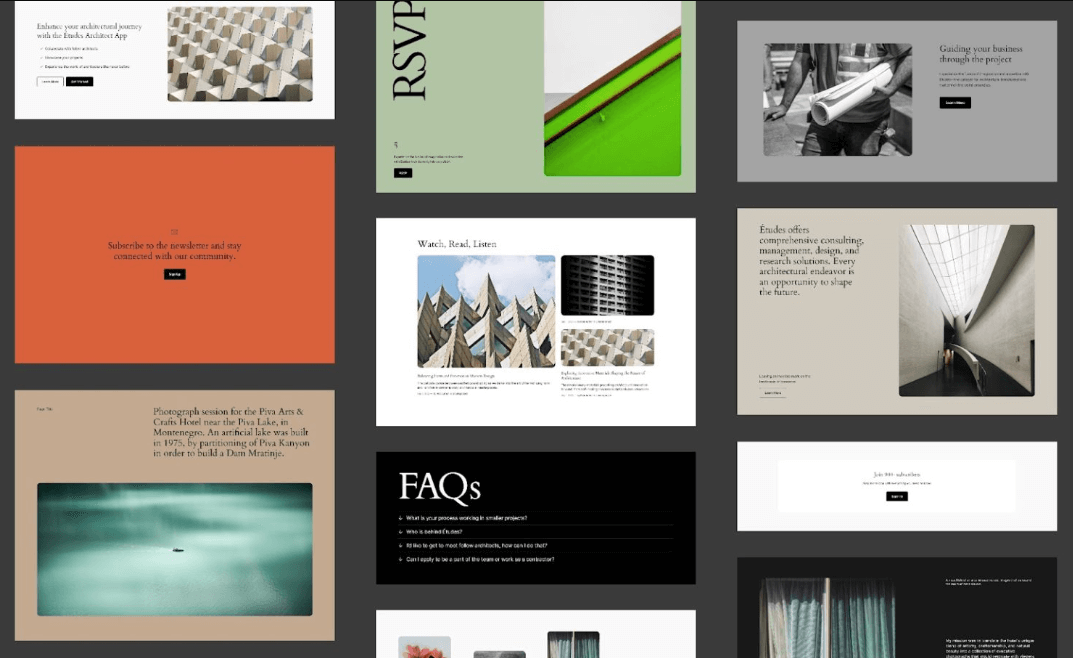 The theme's development is led by Maggie Cabrera and Jessica Lyschik. Anticipated to ship in early November, the theme's design and concept were recently unveiled by project leaders on WordPress.org. Twenty Twenty-Four will be fully compatible with site editor tools and will introduce new design elements like the details block and vertical text.
Why Should You Change Your WordPress Default Theme
WordPress default themes are released every year with many latest trendsetting features. Yet not too many people seem to use them, even though they are free. Rather they love to use a third-party theme instead of the default one. Possible reasons for this are:
WordPress default themes aren't niche-oriented. So, they lack many important features required to run a niche-based website. Such as eCommerce, NFT sites, membership sites, etc.
Default themes don't have as catchy outlooks as professional third-party themes. Also, they don't offer much flexibility in customizing their design and layout.
Premium themes offer you 24-hour online support which isn't available in default WordPress themes. In case of any conflict or theme error, you won't get any quick support.
Another important point about default themes is they aren't as SEO-focused as some of the most popular third-party themes. So, you might miss some crucial SEO-related features.
Many modern websites use page builders to create complex layouts without coding. Default themes might not be fully optimized for popular page builders like Elementor, Beaver Builder, or Divi.
Default themes have limited options for customizing the header and footer of your website. Some websites require specific elements in these areas for branding, navigation, contact information, and more.
Some websites need to adhere to accessibility standards. Default themes often don't include features that make your website more usable for people with disabilities.
Default WordPress themes don't offer any pre-made templates. So, you have to create layouts to present your pages and get ready for your website which is really time-consuming.
There are many other reasons as well why WordPress users usually change their default themes. Again, there are many themes whose free versions are so rich that many users find it enough to meet their needs.
How to Change WordPress Default Theme
Changing the default theme is a common scenario among WordPress users. This is very easy to do. First, navigate to Appearance > Themes. Then, click on the Add New button.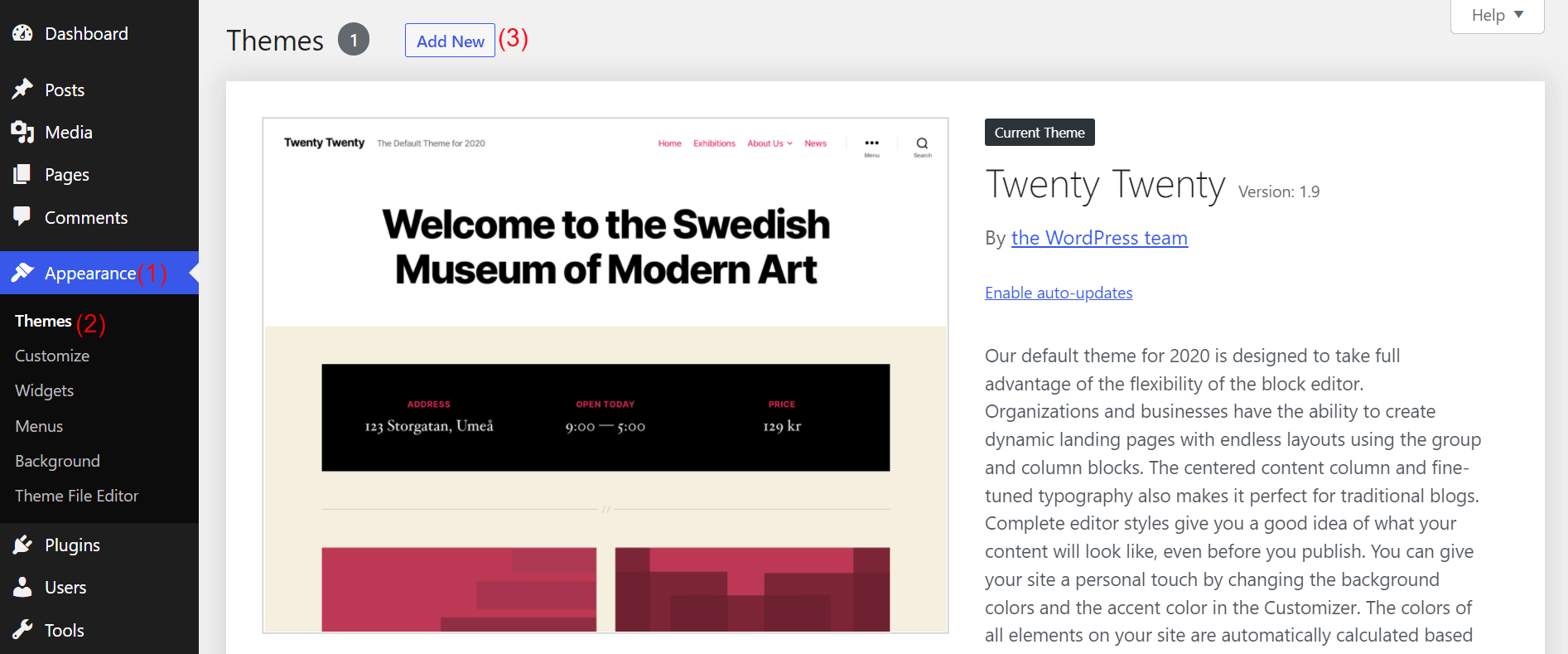 Here, you will find two options to change your default theme: clicking on the Upload Theme button and from the Search themes box.
Option One: From Upload Theme Button
To use this option, you must have downloaded your theme files. In WordPress Repository, you will get almost 10,000+ themes available from where you can download your preferred one.
Once you complete downloading your theme file, click on the Upload Theme button.

You will get the Choose File button. Click on it and select your theme file from your drive location. Afterwards, click on the Install Now button. Reload your front-end and see if it is working.

Option Two: From Search Themes Box
You can even change your default WordPress theme without downloading the theme file. How to do that? Take your cursor on the Search themes box.
Type your desired theme name.
Suppose we are selecting the Astra theme. So, type Astra on the box.

You will get your desired theme in the top-left corner. Click on the Install button and then Activate it.

This is how you can change your WordPress default theme quite easily.
How to Set Default Theme for WordPress Multisite
Multisite is a popular feature that allows WordPress users to create and manage multiple websites from the same WordPress admin dashboard using a single network. It enables you to update all your websites at once from one single point.
However, when you create a new website and add it to the multisite network, initially it takes on the WordPress default theme which is currently Twenty Twenty Three.
You have to change them manually to your preferred WordPress theme. But you can override the manual procedure by slight editing on your wp-config.php file. Include the following code before the line wp-settings.php file.
define( 'WP_DEFAULT_THEME', 'name-your-default-theme' );
require_once(ABSPAH . 'wp-settings.php' );
Just type your theme name in place of 'name-your-default-theme'. It will set your theme as the default over your multisite network.
Default WordPress Theme vs. Other Themes – Which is Better?
While the default WordPress theme is suitable for various websites, users with specialized needs often explore third-party or custom themes. Deciding between the default theme and other themes depends on your goals and customization requirements.
Default themes are simple to set up, consistent with WordPress guidelines, and receive regular updates. However, they might lack advanced features and unique customization. Third-party themes usually offer advanced features, customization options, and professional designs. Let's see the pros and cons of both types of themes.
Default WordPress Theme:
Advantages:
Simplicity: Default themes are straightforward and easy to set up, making them great for beginners.
Consistency: They often adhere to WordPress design guidelines, providing a familiar user experience.
Updates: Default themes receive regular updates from WordPress, ensuring compatibility with the latest features and security standards.
Starter design: They can work well for simple blogs, personal websites, or content-focused sites without complex requirements.
Limitations:
Limited Customization: While they offer some customization options, default themes might not provide the flexibility to achieve highly unique designs.
Specialized Features: Default themes lack advanced features such as e-commerce integration, portfolio layouts, and complex page builders.
Branding: If you want your site to stand out with a distinct brand identity, default themes might be limiting.
Other Themes (Free, Premium, or Custom):
Advantages:
Advanced features: Third-party themes often include specialized features like e-commerce, advanced portfolio layouts, and various content types.
Customization: Many premium themes offer extensive customization options, allowing you to create a unique look and feel.
Professional design: Other themes are often designed by highly skilled professionals, offering visually appealing and modern layouts.
Support: Premium theme providers typically offer dedicated support, which can be valuable if you run into issues.
Functionality: Specialized themes are designed to cater to specific niches, like business, photography, e-commerce, or portfolios.
Limitations:
Learning curve: Some themes might have a steeper learning curve due to their additional features and customization options.
Cost: Freemium themes usually come with a price tag, although they are often more affordable than custom designs.
Updates: While third-party themes receive updates, the frequency and quality can vary depending on the theme provider.
In the end, your choice depends on your priorities. If you need basic content publishing, the default theme might be sufficient. For more specialized features or designs, other freemium or custom themes are options to consider.
Keep in mind that you can start with a default theme and later switch to a third-party theme (freemium, premium, or custom) as your website grows and your needs change.
Bonus: Some Great Third-Party Themes to Use
Being able to choose the perfect WordPress theme can create a catchy online presence for your website. If the WordPress default theme does not cut it for you, you will find countless themes in the WordPress repository and various third-party marketplaces online.
It is your task to find out the best one that can give a unique stand out to your website. Here, we are going to brief you about the three best multipurpose WordPress themes that you can use on any website
1. Astra

Astra is a lightweight, fast, and top-notch multipurpose WordPress theme in terms of SEO optimization. You will find 180+ stunning starter templates available in it. Just choose the one that matches your need and start running it right away.
2. Divi

With hundreds of high-quality responsive templates, Divi is an all-in-one WordPress theme to give an elegant appearance to any website online. You will find drag and drop page builder, 800+ pre-made designs, 100+ start templates, and so on in this theme.
3. OceanWP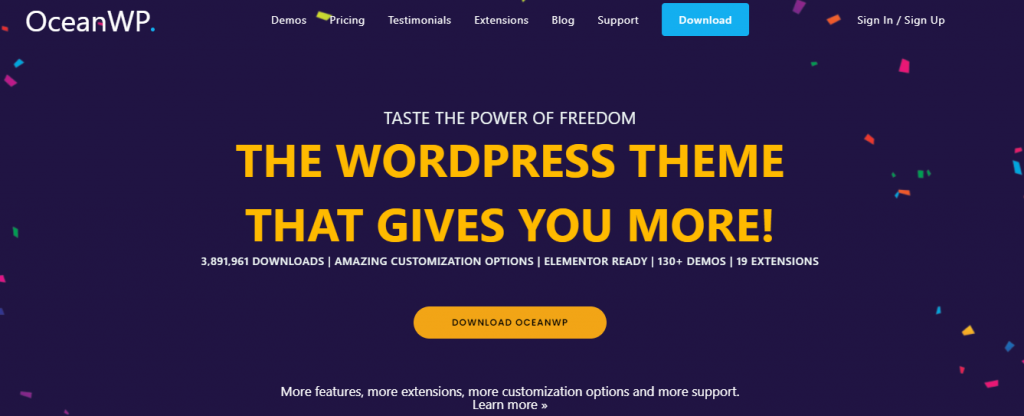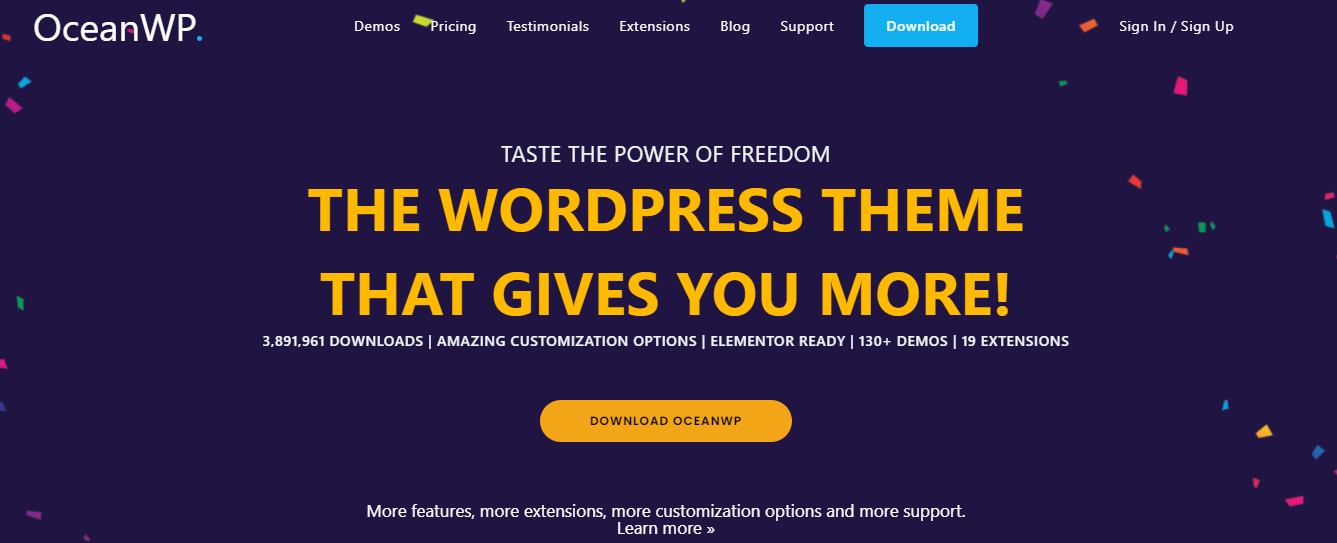 OceanWP is another multipurpose WordPress theme. Alongside, drag and drop page builder, it offers you 220+ Gutenberg-ready WordPress templates. You can import your favorite template with just one click and build your website from scratch.
FAQ on WordPress Default Theme
We are going to cover some frequently asked questions and solutions to them in this section.
What is the latest WordPress default theme?
Twenty Twenty Two is the latest WordPress default theme released on 25th January for the WordPress core version 5.9.
What if I change my WordPress theme?
If you change your WordPress theme, you will get a new appearance for your website. But it doesn't mean it will affect your web content. Most of your content will remain safe and nothing will happen to your posts and pages.
Are WordPress default themes good?
If you are satisfied with the outlook of the WordPress default theme and don't need any customization options, then the default theme features are good enough to meet your needs.
How do I set a default theme in WordPress?
Type the below codes before the line wp-settings.php file in your WordPress to set a default theme.
define( 'WP_DEFAULT_THEME', 'name-your-default-theme' );
require_once(ABSPAH . 'wp-settings.php' );
Just you have to type your theme name in the 'name-your-default-theme' section. It will be set as a default theme.
How do I delete WordPress default themes?
Hover your cursor on the default them you want to delete. You will get the Details & Preview option. Click on it. It will open a new page where you will get the Delete option in the below-left corner. By clicking on it you can delete your default themes.
However, we are advising you to keep at least one theme available. If there is any conflict on your site it will automatically get back to the default one and save your site.
Can I start WordPress without a theme?
No, you cannot start a WordPress website without a theme. Because without a theme it is quite impossible to define how to present your content and web pages.
Should I update themes in WordPress?
Yes, you should. Updating themes isn't mandatory, but if you want to use the latest features, and save your website from security threats, you should update your themes if a new version is on offer.
Final Takeaways
Whether you should use the WordPress default theme or not, the choice is yours. If you want to build a more professional website with lots of features and customization facilities, the WordPress default theme will not be a good option.
Just keep in mind, if you want to use a third-party theme to decorate your website, don't run for cheap and unofficial sources. Because most of them have aren't 100% perfect in terms of security and compatibility.
So whether you look for free or premium products (plugins and extensions), you must get them from reliable third-party sources. Also, maintain a child theme so that your changes don't get overwritten while you update your theme.
Subscribe to us if you love to receive more articles like this one and follow our Facebook and Twitter pages for regular updates.
https://wphive.com/reviews/themes/wordpress-default-theme/
Fuad Al Azad
Fuad Al Azad is a creative writer who loves to blog on everything in between tech, marketing, and eCommerce. Alongside, he is an admirer of fact, fiction, and philosophy.

Subscribe To Our Newsletter