What is WordPress Default Theme and How to Change It

WordPress started its journey in 2003 with its first default theme, WordPress Classic. Since then, WordPress has released a number of default themes for its users.
Every year since 2010, WordPress has been releasing a new default theme.
Most of these themes are used and loved by professional developers and general users alike. Anyone can create a basic-level website right away using the WordPress default theme.
However, these themes aren't suitable for any web niche online. For example, they lack many necessary features needed to uplift an NFT or business website online.
This article is going to cover everything you are looking to know about the WordPress default theme, why you should change it, how to change it, and so on.
What is WordPress Default Theme


The WordPress default theme refers to the theme that you get pre-installed and activated right after you install WordPress on your site. It immediately gives a front-end view of your website and allows you to explore the features of new WordPress versions.
Default themes also meet the objectives of fallback themes. It means in case your preferred WordPress theme stops working for any reason, your website will automatically fall back to the default theme.
The present WordPress version comes with the default theme which is called WordPress Twenty Twenty Two.
Why Should You Change Your WordPress Default Theme
WordPress default themes are released every year with many latest trendsetting features. Yet not too many people seem to use them, even though they are free. Rather they love to use a third-party theme instead of the default one. Possible reasons for this are:
WordPress default themes aren't niche-oriented. So, they lack many important features required to run a niche-based website. Such as eCommerce, NFT sites, membership sites, etc.
Default themes don't have as catchy outlooks as professional third-part themes. Also, they don't offer much flexibility in customizing its design and layout.
Premium themes offer you 24-hour online support which isn't available in default WordPress themes. In case of any conflict or theme error, you won't get any quick support.
Another important point about default themes is they aren't as SEO focused as some of the most popular third-party themes. So, you might miss some crucial SEO-related features.
Default WordPress themes don't offer any pre-made templates. So, you have to create layouts to present your pages and get read your website which is really time-consuming.
There are many other reasons as well why WordPress users usually change their default themes. Again, there are many themes whose free versions are so rich that many users find it enough to meet their needs.
How to Change WordPress Default Theme
Changing the default theme is a common scenario among WordPress users. This is very easy to do. First, navigate to Appearance > Themes. Then, click on the Add New button.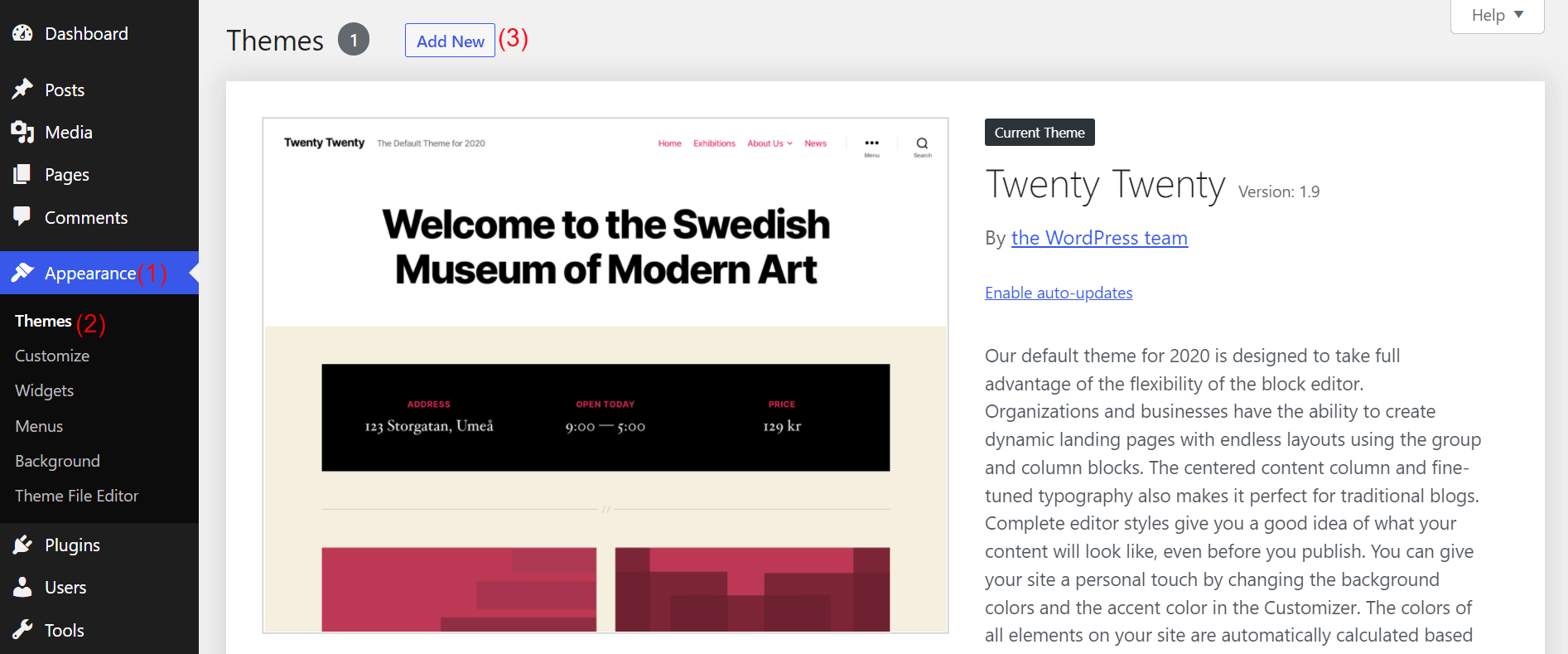 Here, you will find two options to change your default theme: clicking on the Upload Theme button and from the Search themes box.
Option One: From Upload Theme Button
To use this option, you must have downloaded your theme files. In WordPress Repository, you will get almost 10,000+ themes available from where you can download your preferred one.
Once you complete downloading your theme file, click on the Upload Theme button.

You will get the Choose File button. Click on it and select your theme file from your drive location. Afterwards, click on the Install Now button. Reload your front-end and see if it is working.

Option Two: From Search Themes Box
You can even change your default WordPress theme without downloading the theme file. How to do that? Take your cursor on the Search themes box.
Type your desired theme name.
Suppose we are selecting the Astra theme. So, type Astra on the box.

You will get your desired theme in the top-left corner. Click on the Install button and then Activate it.

This is how you can change your WordPress default theme quite easily.
How to Set Default Theme for WordPress Multisite
Multisite is a popular feature that allows WordPress users to create and manage multiple websites from the same WordPress admin dashboard using a single network. It enables you to update all your websites at once from one single point.
However, when you create a new website and add it to the multisite network, initially it takes on the WordPress default theme which is currently Twenty Twenty Two.
You have to change them manually to your preferred WordPress theme. But you can override the manual procedure by slight editing on your wp-config.php file. Include the following code before the line wp-settings.php file.
define( 'WP_DEFAULT_THEME', 'name-your-default-theme' );
require_once(ABSPAH . 'wp-settings.php' );
Just type your theme name in place of 'name-your-default-theme'. It will set your theme as the default over your multisite network.
Bonus: Some Great Third-Party Themes to Use
Being able to choose the perfect WordPress theme can create a catchy online presence for your website. If the WordPress default theme does not cut it for you, you will find countless themes in the WordPress repository and various third-party marketplaces online.
It is your task to find out the best one that can give a unique stand out to your website. Here, we are going to brief you about the three best multipurpose WordPress themes that you can use on any website
1. Astra

Astra is a lightweight, fast, and top-notch multipurpose WordPress theme in terms of SEO optimization. You will find 180+ stunning starter templates available in it. Just choose the one that matches your need and start running it right away.
2. Divi

With hundreds of high-quality responsive templates, Divi is an all-in-one WordPress theme to give an elegant appearance to any website online. You will find drag and drop page builder, 800+ pre-made designs, 100+ start templates, and so on in this theme.
3. OceanWP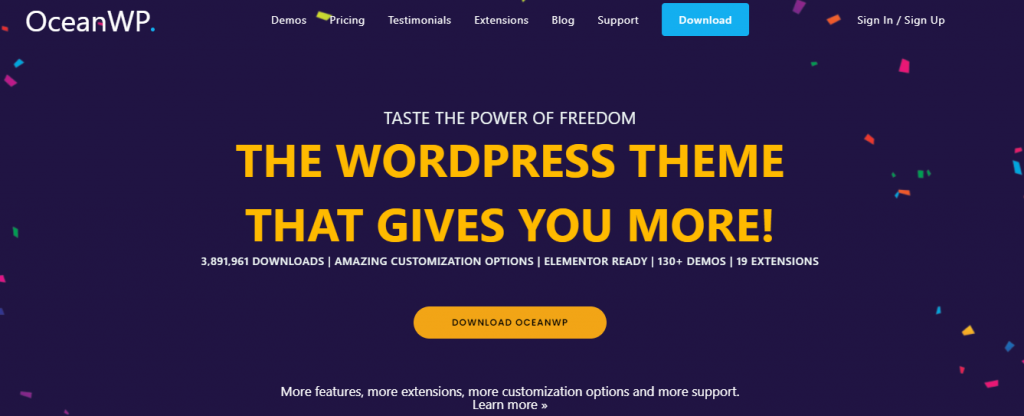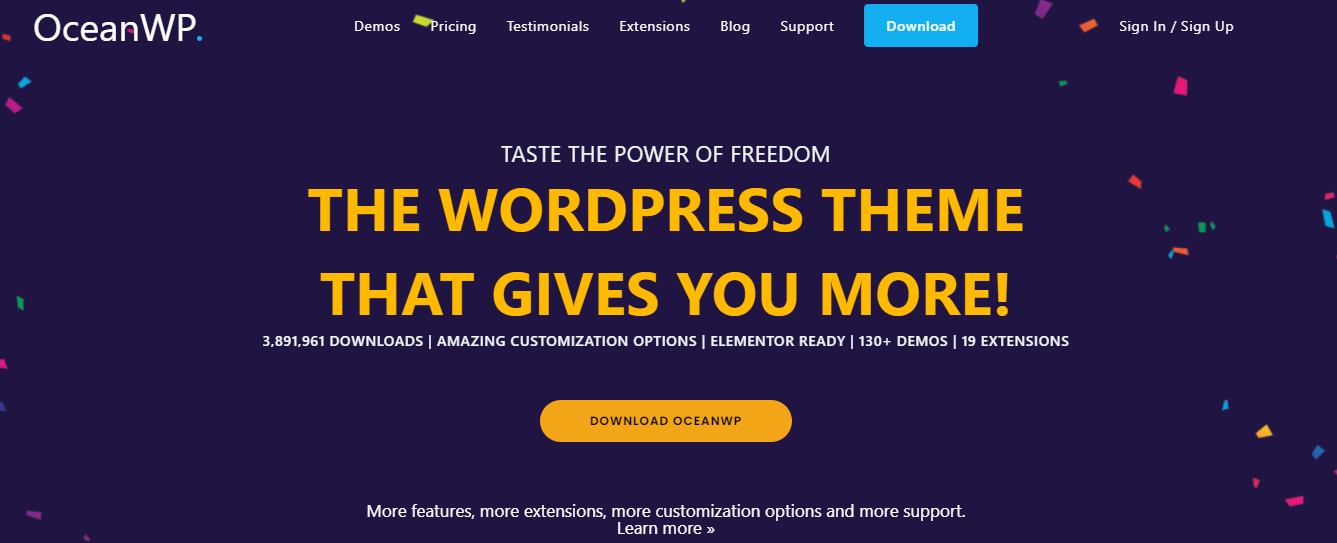 OceanWP is another multipurpose WordPress theme. Alongside, drag and drop page builder, it offers you 220+ Gutenberg-ready WordPress templates. You can import your favorite template with just one click and build your website from scratch.
FAQ on WordPress Default Theme
We are going to cover some frequently asked questions and solutions to them in this section.
What is the latest WordPress default theme?
Twenty Twenty Two is the latest WordPress default theme released on 25th January for the WordPress core version 5.9.
What if I change my WordPress theme?
If you change your WordPress theme, you will get a new appearance for your website. But it doesn't mean it will affect your web content. Most of your content will remain safe and nothing will happen to your posts and pages.
Are WordPress default themes good?
If you are satisfied with the outlook of the WordPress default theme and don't need any customization options, then the default theme features are good enough to meet your needs.
How do I set a default theme in WordPress?
Type the below codes before the line wp-settings.php file in your WordPress to set a default theme.
define( 'WP_DEFAULT_THEME', 'name-your-default-theme' );
require_once(ABSPAH . 'wp-settings.php' );
Just you have to type your theme name in the 'name-your-default-theme' section. It will be set as a default theme.
How do I delete WordPress default themes?
Hover your cursor on the default them you want to delete. You will get the Details & Preview option. Click on it. It will open a new page where you will get the Delete option in the below-left corner. By clicking on it you can delete your default themes.
However, we are advising you to keep at least one theme available. If there is any conflict on your site it will automatically get back to the default one and save your site.
Can I start WordPress without a theme?
No, you cannot start a WordPress website without a theme. Because without a theme it is quite impossible to define how to present your content and web pages.
Should I update themes in WordPress?
Yes, you should. Updating themes isn't mandatory, but if you want to use the latest features, and save your website from security threats, you should update your themes if a new version is on offer.
Final Takeaways
Whether you should use the WordPress default theme or not, the choice is yours. If you want to build a more professional website with lots of features and customization facilities, the WordPress default theme will not be a good option.
Just keep in mind, if you want to use a third-party theme to decorate your website, don't run for cheap and unofficial sources. Because most of them have aren't 100% perfect in terms of security and compatibility.
So whether you look for free or premium products (plugins and extensions), you must get them from reliable third-party sources. Also, maintain a child theme so that your changes don't get overwritten while you update your theme.
Subscribe to us if you love to receive more articles like this one and follow our Facebook and Twitter pages for regular updates.
https://wphive.com/reviews/themes/wordpress-default-theme/
Fuad Al Azad
Fuad Al Azad is a creative writer who loves to blog on everything in between tech, marketing, and eCommerce. Alongside, he is an admirer of fact, fiction, and philosophy.

Subscribe To Our Newsletter