Ultimate WordPress SEO Guide (15+ Proven Tips)

If you are looking for an ultimate WordPress SEO guide for beginners, you have come just to the right place. Our WordPress SEO tutorial will focus on all the essential aspects of SEO and how to optimize your site according to this guide.
Top-rated bloggers don't only have exceptional writing skills, they also take responsibility for their content performance in search engines.
Imagine you write an awesome blog post, what's the value of it if people can't get it to read? And deliver it in front of your right audience, SEO is the main weapon you can use.
So, now let us guide you on how and which tips you should use for getting a better ranking on SERP. Let's get started!
What is WordPress SEO
Content Strategies for your readers and Search Engine Optimization will help you become a better blogger.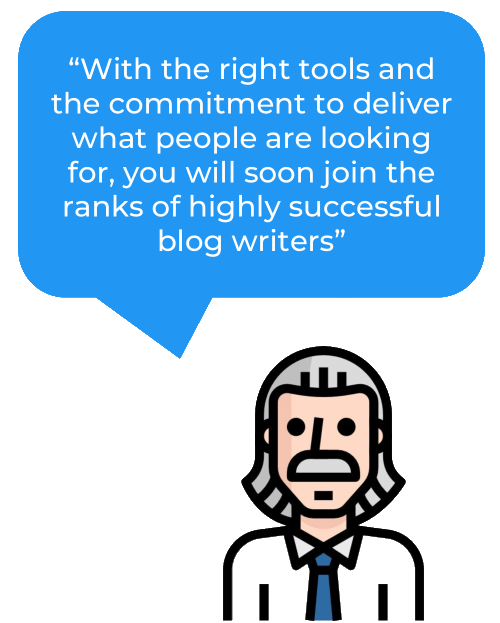 The key to blogging success is
thinking like your reader. You have to think like your readers so that you can provide the ideal content for them.
One of the glaring mistakes that many bloggers make is that they do not write their content specifically for their readers – they write it for the search engine.
As a result, sometimes the information and communication aren't expressed correctly. Although you might understand what you represented, your readers don't understand it at all and find the content hard to relate to. Optimizing a website for search engines is the main focus of SEO.
SEO means 'Search Engine Optimization.' If you take pride in your content and think that it will help others immensely, you can be sure your content will get rankings on Google.
However, always remember this: SEO Content speaks to search engines and people. For those of you who don't already know, SEO refers to a process that amplifies a site's traffic flow and rankings organically. The objective is always to increase your site's organic flow and rank at the top positions of the search engine result pages (SERPs)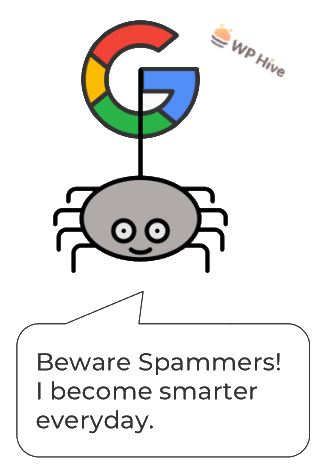 One thing you MUST KNOW and BELIEVE is that you cannot fool Google with shortcuts. Ultimately, your site will be penalized and will lose your rank on Google.
Every day, Google tweaks its algorithm to filter out
spammers. You must follow the best blogging practices to be a successful blogger.
WordPress SEO Guide for Beginners- 17 Proven Tips for You


We are making a checklist here that you should follow to make sure your content ranks higher on Google.
1: Original Content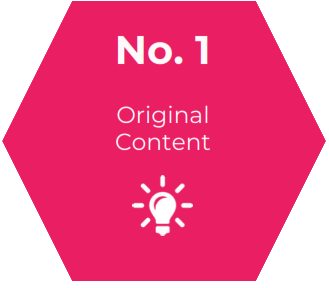 Unpublished, unique Content that is not published anywhere on the web before is known as original content. Original content is loved by Google.
Now, original content doesn't always mean new content. If your story has not been told anywhere on the internet before, that'll automatically mean it's original. However, giving a professional opinion on a particular topic counts as it being original too.
Above that, it is a great way to show your expertise in your specific niche to your audience. Always publish original content or information. If you can give something new to the community, you will be rewarded with increasing ranks. In any case, search engines like to filter out what
they view as duplicative content.
Pro WordPress SEO Tips: You must eliminate duplicate content on your website to get better ranks. Also, it is recommended to do keyword research before optimizing the content for search engines.
2: Bring Value to Your Readers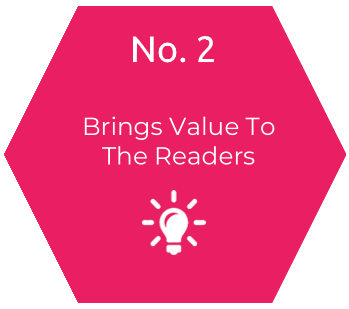 In the blogosphere, you often hear people talk about
giving "value" to the readers.
This means providing useful content that offers something
valuable for your readers – not just to boost your SEO or to gain traffic for ad viewing.
Whenever you are writing a blog, make sure you are providing more information than your competitors so that your audience can get more value from you.
3: Improve Page Speed for Better Ranking
Page speed and user experience play an essential role when Google ranks pages. Since January 2018, Google has been using page speed as a metric to rank websites on mobile searches.
The "Google Speed Update," will affect pages that deliver the slowest experience to users. It applies to all pages, regardless of the technology used to build the page.
You must make sure your pages load fast. Fortunately, it is quite easy to speed up a WordPress website. Follow our WordPress Speedup tutorial to explore 10 Ways to Speed up your WordPress website
WordPress Speedup means you must have to check the following list and make sure you are applying all the techniques
Choose a great fast hosting provider.
Combine JS, CSS, and Minify HTML
Use Caching on Your WordPress Website (Also Read: Top 8 best Caching plugins compared)
Using CDN
Enable Gzip compression and more.
Optimize images
Check the full list of WordPress speedup techniques here and make sure you apply every method to give your WordPress website a significant boost in speed.
4: Increase Quality Interlinks and Backlinks
Your website cannot perform well without others' backlinks. If other websites do not recommend you, do not mention you as a reference, chances are your site will not rank well. Backlinks are one of the important ranking factors.
A good website will attract links from a variety of sources.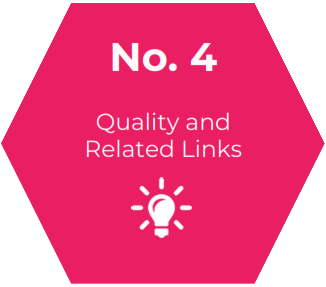 For example, you got mentioned on other blogs, new sites, Youtube videos, Twitter, and so forth. These mentions create a very healthy, organic website in Google's eyes.
In other words, other sites linking to your website act as a "vote" for it, and each vote would mean that the page the link points to is one of the best resources on a given topic. The more votes you get, the better for you. This whole thing is known as backlinking. More Backlinks from quality websites = Better SEO.
One of the best WordPress SEO tips is to increase the interlinking of your website.
This means including links to your own website for your articles. For example, if you are a WordPress user, you might want to know the best WordPress SEO plugins for your website, you can check our coverage of the best WordPress SEO Plugins of this year.
– See how I linked a relevant article? That is how you can increase your interlinking.
5: Use SEO Friendly Permalink Structure
If your article ranks for a distinct keyword, it's great to include that keyword to the URL of the page. This can be quickly done in WordPress. You have to go to Settings -> Permalink. You have to select the Post Name.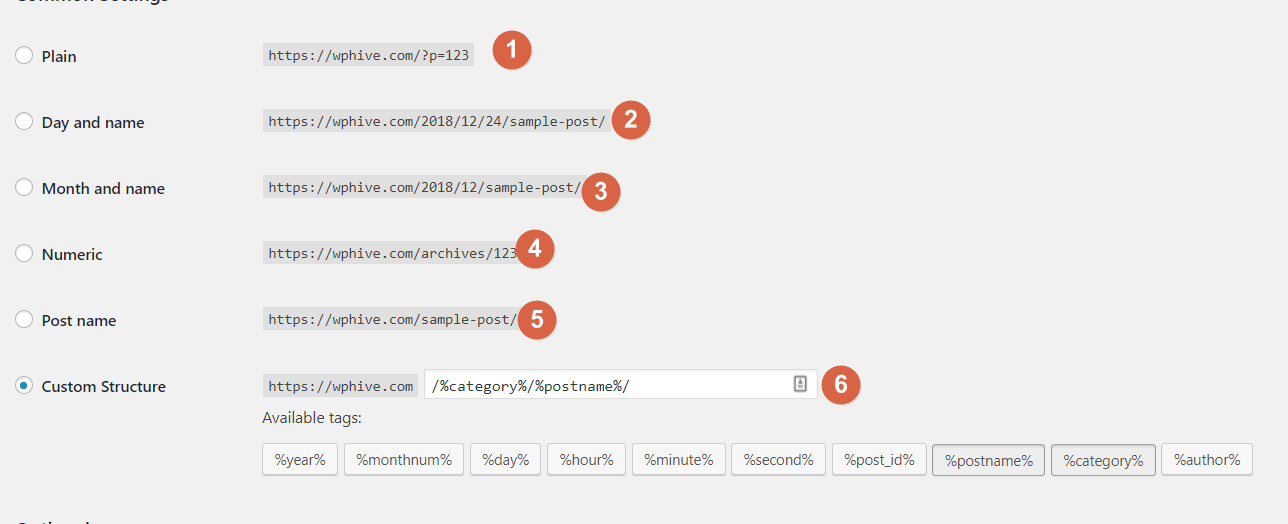 You can customize other permalinks too, but we prefer 'yourdomain.com/category/post-name/' format. You are free to experiment, but do not forget to include your Post Name.
Read more on SEO Friendly Permalinks to learn more about the importance of permalinks.
6: Nofollow Untrusted and Useless Links
A link with a rel="nofollow" attribute on a webpage means that the webpage is telling the search engine bots not to 'follow' the link and that the website doesn't guarantee the reliability of the linked page. Adding a rel="nofollow" attribute ensures that it gets no PageRank benefits from the page the link was posted on.
Related: Google Link Spam Update – Maybe You're Doing Linking in the Wrong Way
7: Use SEO-Optimized WordPress Themes
Pagespeed and SEO-friendly themes are crucial when you want to target good rankings on Google. Let's be honest. Nobody likes a slow website. If your theme takes forever to load, Google will not give you good ranks.
Check our coverage of the best free SEO-friendly WordPress themes below. These themes have properly been coded, load pretty quickly, and give users a great experience. These themes are highly responsive and mobile-friendly too.
Also Read: 7 Best Themes to Improve Google Core Web Vitals Score
8: Make Use of a Caching Plugin
The cache can slow down your website. As you know people don't like to visit a slow website.
According to Google, your website should load in two seconds or less. Any longer and visitors start to lose interest.
There is no way without making your site blazing fast.
47% of consumers expect a web page to load within two seconds or less.
40% abandon a website that takes more than three seconds to load.
79% of shoppers who are dissatisfied with a website's performance are less likely to return.
One-second delay reduces conversions by 7%.
To choose a perfect caching plugin for your WordPress website, check our recommendation.
7 Best WordPress Caching Plugins Compared
9: Link to Your Special Content More (Internal Linking)
If you want to give some posts more importance then link them more. You should link your special content more often than you do to other content. This will help search engines to know that it's special and deserves more user attention. Every SEO expert including Neil Patel suggests it.
Internal linking helps to execute your SEO strategy well. Internal links will not only help you to improve your search engine rankings but also get you more traffic from your pillar content.
10: Write Great Post Titles
Write engaging headlines for your content.
You can include how many of "something" on your headlines you will be talking about. This is a great WordPress SEO tip to increase user engagement.
"9 Ways Artificial Intelligence Will Impact The Future of SEO",
"The 8 C's of Effective SEO Explained",
"7 SEO Lessons I Learned: My Journey From Scriptwriter to Copywriter".It works because it tells your readers upfront who are looking for a quick solution. Users love the idea of what they are getting. Another tip to bring home is unique numbers like 11, and 7, are more likely to get clicked.
11: Use Focus Keyword Throughout Your Article
Before starting writing, your content, make proper keyword research. Pick the main keyword and write down the whole content based on that main keyword. Also, you should choose some LSI keywords to use throughout your content.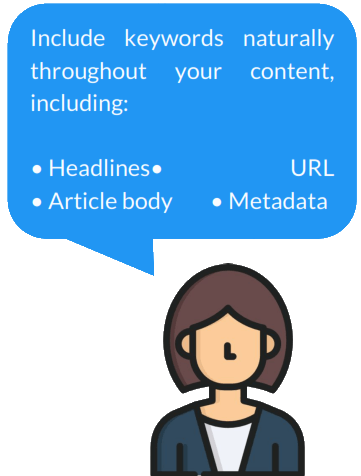 Make sure when you inject your keywords both main keyword and LSI keywords, try to be natural. Don't put it more than required.
Using more than enough keywords is bad for SEO. A 1800+ words content should contain 4-5 times the main keyword.
Writing the focus keyword naturally is the best way to please both Google and human readers.
12: Title Tag and Meta Description
When you search on Google, you see a title and a description like the following image. These are known as meta tags.

Title tags should be concise. You should keep the title tag short, max 50-60 characters.
A meta description is a short paragraph displayed under a title tag on search engine result pages. The optimal length of meta description is between 150-160 characters.
Use an SEO plugin to conveniently put Titles and Meta Descriptions for your blogs. Moreover, an SEO plugin suggests how your title and meta description should be.
Related: 5 Best Free WordPress SEO Plugins Listed & Compared With WP Hive
13: Alt-Text of Images
While multimedia elements are fantastic for appealing to human visitors, Google crawler relies on text to find out what information is contained on a page.
Alt-text helps the crawler to understand what it's about. It can also boost your SEO possibility for higher rankings. There is a best practice to put alt-text for images. That is blend your main keyword or LSI keywords with the alt text.
You should use this practice while putting ALT attributes in your tags to describe images on your site to search engines.
14 Use Proper Headings Tags
The Google bot checks HTML header tags, e.g. H1, H2, and H3 tags to determine the relevancy of your site content.
Screen readers also reference heading tags to understand how page content is structured and properly present the information to a user with disabilities. A screen reader will pick up on the code and tell the user that there is a heading (e.g. beeping, announcing the level, etc). Screen readers also use headings to navigate quickly through content, so users can jump from one heading to the next easily.
When the heading tags are incorrectly used, search engines and screen readers get mixed up about how content is structured and prioritized on the page. This can result in a confusing user experience and increased page abandonment rates.
The best practice is to have one H1 tag per article. Then you can have multiple H2s and H3s underneath that. The hierarchy is important. It's better to include the focus keyword on your heading, but do not overdo that.
15: Make the Best Use of a WordPress SEO Plugin
You must use a good SEO Plugin for your website. Check the SEO section on our best WordPress plugins to choose from a list of WordPress SEO plugins.
We have mentioned the pros and cons of plugins like WordPress SEO by Yoast, SEO Framework, and All in One SEO Pack. You must make sure you are using a sitemap with your WordPress SEO plugin.
Recent statistics from WordPress.org shows that more than 70% of users Yoast as their preferred SEO plugin
16: Remove Broken Links
Broken links or error links can harm your rankings on Google. It is advisable to prune out all the bad/error links from your website to improve your linking game.
You don't need to manually find the broken links and then remove them from your site. There are free WordPress plugins to help you out of this situation. Plugins like Link Checker will help you to find all the broken links on your WordPress site. Once you find all the broken links then remove it at your earliest time possible.
Be sure to check out the plugin installation tutorial if you are having trouble with a plugin.
17: Add Sitemap Link to Your Robots.txt File
You know about robots.txt file right? The file is also called the robots exclusion protocol or standard. If not, then do not worry. robots.txt file decides which portions of your website can be indexed by search engines. Usually, the robots.txt file is placed in the root directory.
For example, if your website name is example.com then you should be able to see a robots.txt file by accessing example.com/robots.txt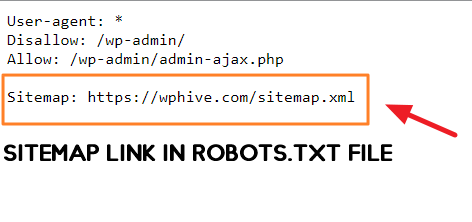 It is a good idea to add your sitemap link to your robots.txt file. Whenever bots will crawl your robots.txt file, they will know where to look up your sitemap. This small file is very important as it also communicates with web robots to let them know about pages not to crawl.
Leaving the sitemap link in robots.txt file has brought positive results in our studies.
Wrapping up: Should You Write for Google or Humans?
Writing content for your website or blog can mean balancing both search engines and human readers. On the one hand, you will need to write content that includes specific keywords for SEO purposes so that Google can find you. On the other, you also want to write materials that readers will want to read. Our best WordPress SEO tips are to optimize your content later and make sure the keyword comes naturally.
Write Your Article First, Then Keyword. Naturally
Write the article you want to write, then go back and find places where keywords will naturally fit in. Once you've identified your keyword, you may want to revise some of your sentences to blend them in.
Let's say your keyword is London Hotel. Initially, you may have written, "Four Seasons Hotel is one of the best hotels in London." Now, when you add the keyword in, you'd revise it into, "Four Seasons Hotel is a well-known London Hotel."
[Pro WordPress SEO Tip: Instead of "Best Strategy SEO," include a grammatically correct phrase "Best Strategies for SEO." On a side note, sites that are built and maintained with consistent and careful efforts are going to flourish far more than sites that are simply thrown together]
So in conclusion, the basic question still remains
Should I write for Google focusing on SEO or should I write for actual human readers?
Well, the best way is to balance both. Both are equally important to increase your chances of getting found in the Google search.
We outlined most of the on-page optimization here. Hope you find them helpful.
You also need to make sure your website has tight security, has all the best plugins, running the latest version of WordPress.
https://wphive.com/seo/ultimate-wordpress-seo-guide-beginners/
Saif Hassan
Product Manager by passion & profession. Lead Product Manager at weDevs, former PM @ Poptin. Passionate about writing & tech. He's an advocate of Human-Centered Design and believes that websites and the tools used to build them should be well crafted, intuitive, and accessible. Cyclist. Reader. A WordPress ninja 🥷, HCI expert & a design thinker 💡

Subscribe To Our Newsletter