How to Learn WordPress for Free in Less Than 72 Hours!


Want to learn WordPress? Keep on reading!
Learning WordPress as an absolute beginner can be tough if you do not have a proper guideline. WordPress is very easy, easier than you might expect it to be. But if you don't know how to start, and how to pace your workflow. One of the few reasons that worked in favor of WordPress for its popularity is how easy the whole system is.
WordPress has a staggering 32% market share of the whole web. That's a very large number.
If you look at the CMS distribution in top million sites, WordPress comes first with a head start of 62%.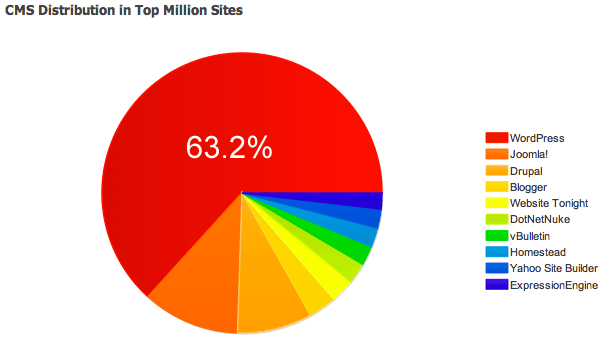 If you want to learn WordPress, you can learn it under 72 hours.
WordPress for Beginners: Yay or Nay?
Is WordPress great for beginners? Or is it better for skilled programmers and devs?
The answer is WordPress is the most suitable platform for both
In this article, we will mention how you can learn WordPress or WordPress development f0r free (in most cases). Granted, learning WordPress development like themes or plugins development is tougher than learning how to use WordPress. But, if you have a proper guideline, you can become a professional WordPress expert in no time. However, you must have your passion to learn and execute.
Learn WordPress with Free Courses
Learn WordPress With Official Docs
Many people do not know that WordPress team has developed awesome docs to make you familiar with the CMS. Check the WordPress Codex page for a full overview of WordPress.
WordPress Codex has all the resources to learn the WordPress basic. WordPress has listed all the important resources in one page that anyone can learn how to use WordPress in quick sessions.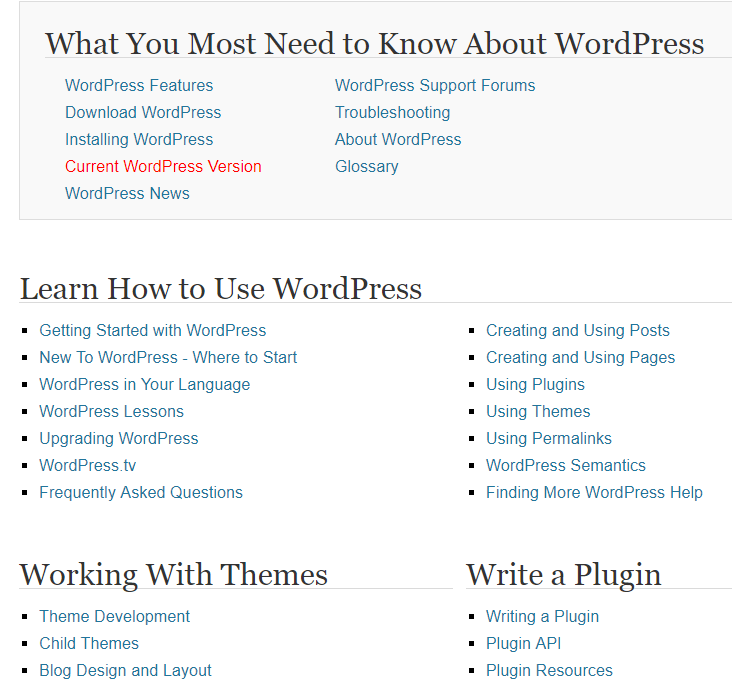 Take Free WordPress Courses
You can learn WordPress by taking other online courses too. There are lots of online WordPress courses available in the internet which provides top quality learning materials. All you have to do is to read/watch through the videos, and practice frequently.
We will list some of the best WordPress courses that are available online (both free and paid).
1. Udemy WordPress Course
Udemy.com is an online learning platform. Anyone can take a course at Udemy if Udemy accepts his/her course. Udemy uses resources from content creators to offer courses and makes a profit. Udemy provides course teachers to create a course, promote it. Content creators/teacher earn money from the enrolled students. Teachers can offer free courses too.
There are some great free WordPress courses available at Udemy. I am listing some of the WordPress courses here. The first few courses are the most basic WordPress courses.
2. Codecademy PHP Course
Codecademy has introduced a new free course named "Learn PHP". If you are serious to learn WordPress development, you should have a solid understanding of PHP.

Codecademy's PHP Course is very well renowned in the industry. The courses are very interactive and they have updated the course with the latest standard of PHP. You can stress-test your PHP knowledge by taking quizzes while taking the course. It will help you to memorize the course better.
Price: Free
3. Lynda WordPress Course
Lynda hosts some of the best courses in the world. You can take WordPress courses at Lynda to take your skills to the next level.
WordPress Plugin Development: This course is targeted for advanced users. You can learn WordPress plugin development by taking this course. You should already have programming knowledge (PHP, HTML, JS) to make sure you can understand the course.
How to Learn WordPress in 72 Hours?
As promised, follow our WordPress guide to educate yourself in WordPress in less than 24 hours.
Day 1 (Approx: 6 hours)
Know the difference between WordPress.com vs WordPress.org
Once, you install XAMPP you can explore different WordPress sections. Explore different WordPress sections, try writing a new blog, use the admin dashboard.
Day 2 (Approx: 6 hours)
Learn and install WordPress plugins
Learn how to install and upload themes. Choose a WordPress theme for your website
Keep exploring
Day 3 (Approx 6 Hours)
Wrap Up
Learning is a continuous process. If you know any other great WordPress resources, feel free to share in the comment section.
Meanwhile, read our WordPress SEO Guide to know how you can write content that works for both Search Engines and your audience.
Happy Blogging!
[Pss… If you love WordPress, do not forget to share the love of WordPress among your facebook friends by using this awesome facebook frame.]
https://wphive.com/tutorials/learn-wordpress-for-free/
Saif Hassan
Product Manager by passion & profession. Lead Product Manager at weDevs, former PM @ Poptin. Passionate about writing & tech. He's an advocate of Human-Centered Design and believes that websites and the tools used to build them should be well crafted, intuitive, and accessible. Cyclist. Reader. A WordPress ninja 🥷, HCI expert & a design thinker 💡

Subscribe To Our Newsletter