WordPress Keyword Tracking Tools: 10 Best Rank Tracker for Local SEO (Free & Paid)

If you own a website, chances are that you put a lot of effort into optimizing your website for search engines. So it's natural to think about checking how your efforts are holding up against your competitors. After all, all your hard work goes into taking your posts to the top of SERP, right?
However, it's not very easy to check the SERP manually to know the ranking of each of your posts and pages. So we've put together a list of some useful tools to do so. What's more, you can check the local SEO ranking of your page for a specific country as well.
Let's get to know about the 11 best rank tracker tools for local SEO. (Including some free ones!)
Why Should You Use a Rank Tracker Tool


In order to improve something, first, you have to know that you are lacking. The same goes for search engine optimization as well. If you can not track your performance, you will not know if that there is any chance of improvement. S0 it's not hard to see the importance of these tools if you are a website owner.
"What gets measured gets improved."

Peter Drucker
Rank tracker tools let you track the ranking for the specific country as well. As Google displays different search results for different countries, it's important to know how you are doing in your target destination.
If you haven't used a rank tracker for local SEO as of yet, you will be fascinated to see how helpful they are, once you start using it.
11 Best SEO Rank Tracker for Local SEO
So here you go, the collection of SEO rank tracker tools for local SEO. This list is divided into two-part. The premium tools, and the free tools. We're starting the list with the premium tools. If you don't want to start paying for rank tracking straightway, you can skip the first part and go straight to the free tools.

1. Ahrefs
Price: Starts at $99/month
Ahrefs is one of the most trusted SEO tools out there. Its unique feature-set and accuracy make it one of the best tools to go for when it comes to SEO. You can track the keyword positions of your posts/pages with it as well.

You can check the ranking for a specific country when adding the keyword to rank tracker list. After that, you will get the data of average position, traffic from that keyword and current position of that keyword with ease.
2. Wincher Rank Tracker
Price: Starts at €24/month
Wincher is another rank tracker tool that we came across lately. It's as good as the rest of the list, and given the list is full of heavyweights, it's no surprise that we were quite impressed with the SEO results that they offer.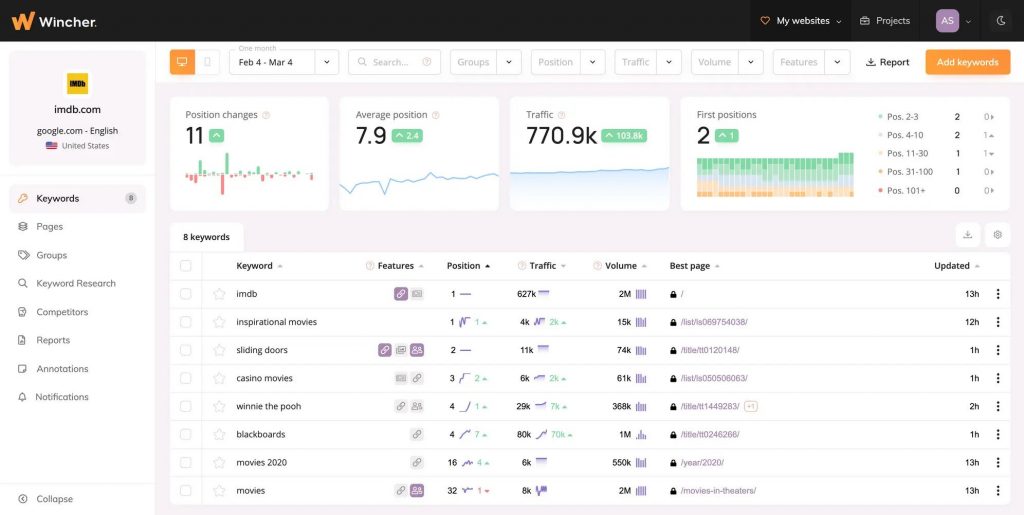 You can track up to 500 keywords with their starter pack, which we think is enough for small to medium scale websites. The data is so brilliantly and accurately visualized that you must at least check their 14 days trial to try it out.
3. SEMRush
Price: Starts at $119.95/month
SEMrush is another top of the line SEO tool that offers a rank tracker for local SEO. SEMrush's rank tracking let's you monitor a custom set of keywords and their position on a daily basis.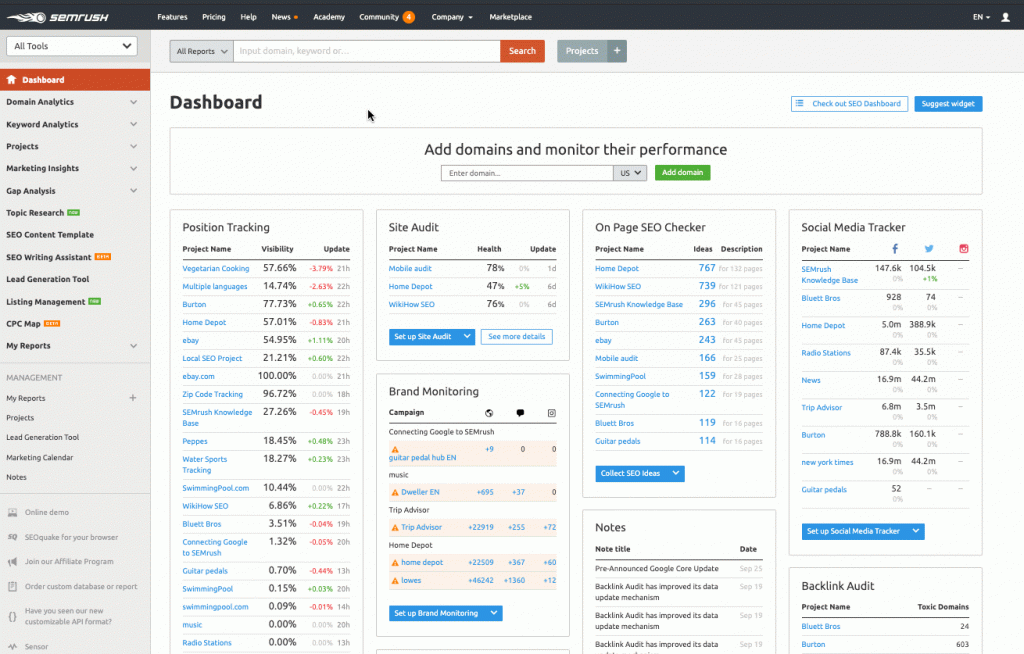 You can also track the position based on geographic location, language and even the kind of device the user is using. You can also compile the SEO rankings and download as PDF.
Also Read: Ahrefs vs SEMrush – Which is the Best SEO Tool?
Overall, you can expect accurate results from one of the top SEO tools in the industry. That's why SEMrush is always a good choice for rank tracking and SEO tool as a whole.
4. Accuranker
Price: Starts at $99/month
Another dedicated rank tracker among many comprehensive SEO tools. AccuRanker claims to be the world's fastest rank tracker, and from what we experienced, we can vouch for that as well. Except for a couple of times, we were getting accurate results.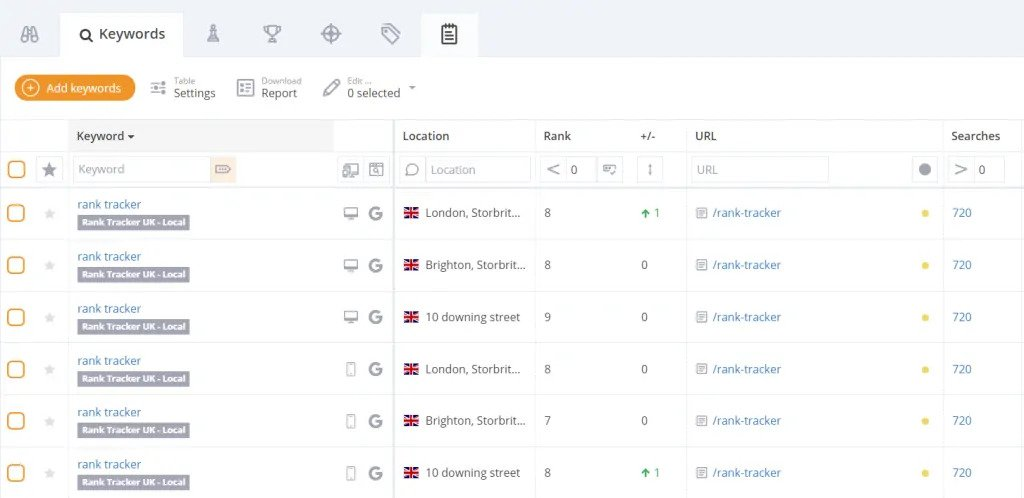 The localization of the tool is out of the world, and here's what they have to say about the local SEO tracking.
Want to track keyword rankings for a particular country, state, city, postal code or even an exact address? No problem!

AccuRanker
No problem indeed! As far as the localization goes, it's tough to beat this SEO tool. With overall accuracy is great as well, we do believe it's a good choice. But then again, it always comes down to the price in the end, doesn't it?
5. Moz Pro
Price: Starts at $99/month
Moz is another powerful SEO tool that has been around for a long time now. It offers a large variety of useful features starting from Keyword Research to Rank Tracker.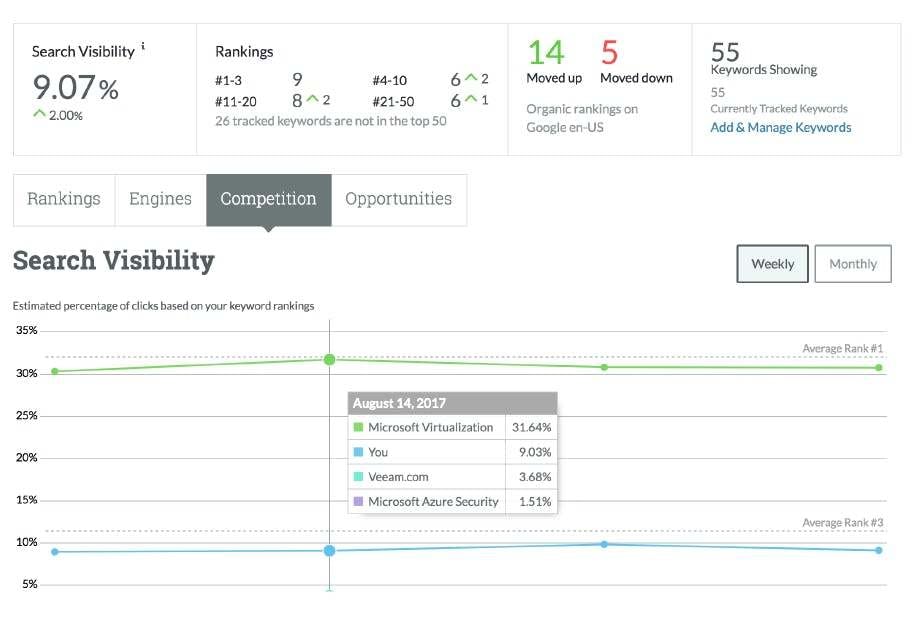 Moz offers the rank tracker option only on the pro version, just like the tools we have talked above. However, with the solid data that it provides, it will not be a big problem.
Moz Pro let's you track keyword rankings over the week, month, or specific range of time. You can also compare mobile vs desktop visibility of your keyword, which is always a plus.
6. SERPWatcher by Mangools
Price: Starts at $29.90/month
SERPWatcher is a dedicated rank tracker from Mangools. Having experience of creating some valuable SEO tools over the year, this is another great standalone tool from Mangools. With great visualization, you will never have a hard time understanding the results, even if you are not an expert.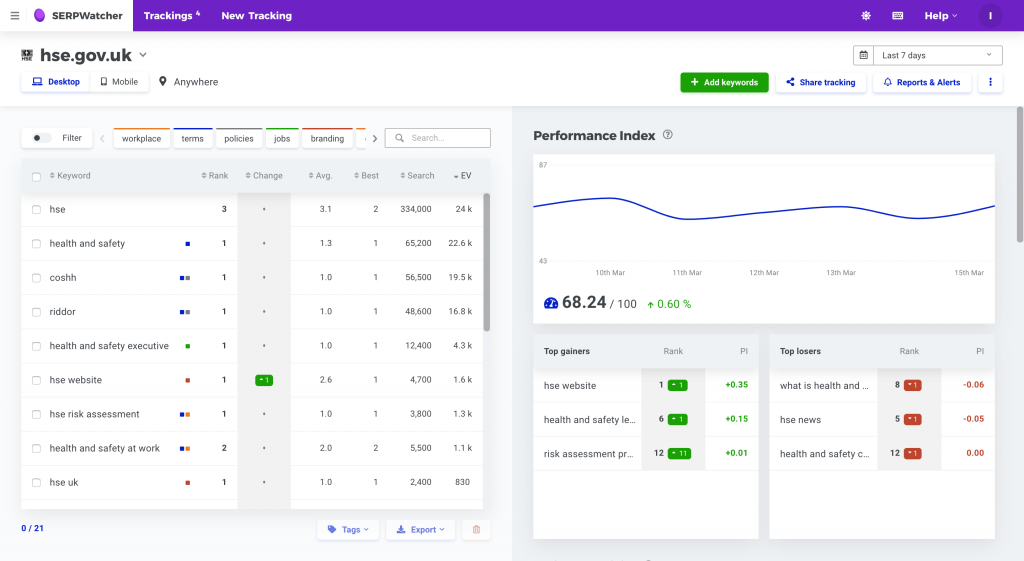 The data was accurate and reliable as far as we tried. If you are someone who does not posses a high level of knowledge in ran tracking, this is probably a good choice for you. Plus, it costs a lot less than the other options that we talked about.
7. The HOTH
Price: Starts at $15 for 100 Keywords
THEHOTH is an effective SEO solution provider. Their large range of SEO tools include a rank tracker for local SEO. The tool is quite fast to generate the results and shows you accurate daily results on your keywords position.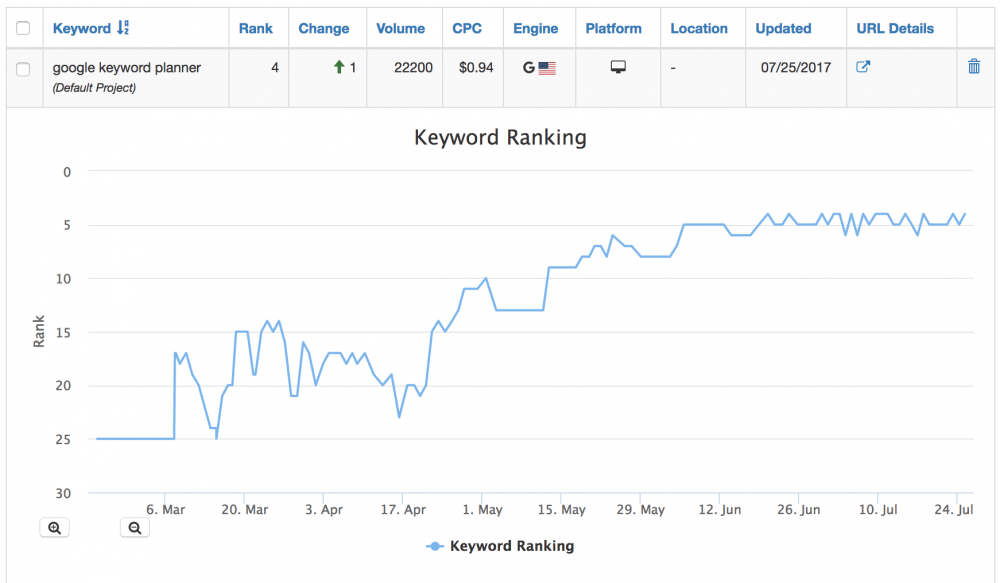 You can track mobile or desktop results independently. It's not the most featureful tool out their, but it is definitely one of the simplest.
8. FATRANK
Price: Free
FATRANK is a Chrome Extension developed by FATJOE. It is one of the easiest ways to track your keyword position. All you need to do is installing the free chrome extension. Then head over to your website, and click on the extension to insert your keyword and see where it ranks in.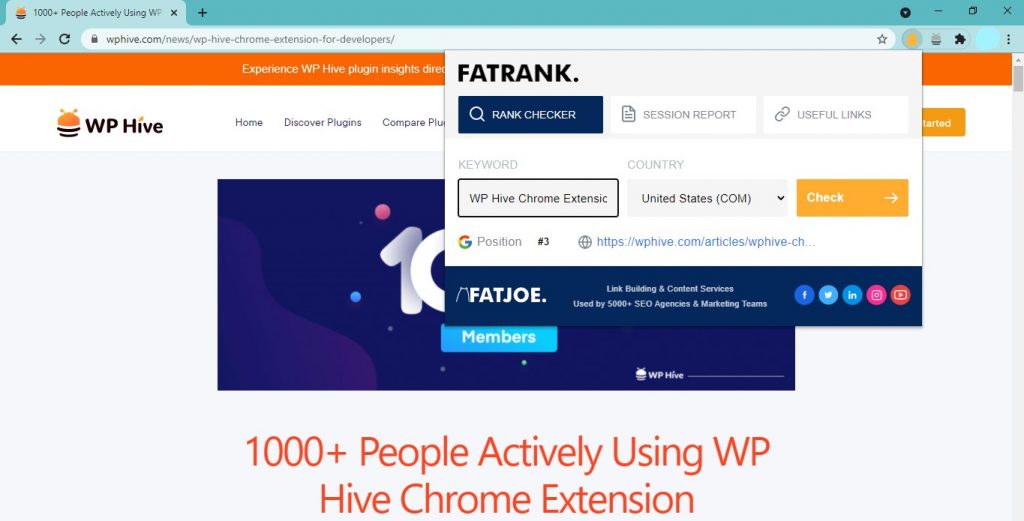 While you can't actually save or track your position, you can however see the keyword rankings for different countries. And considering it is a 100% free tool, that ought to do it for a starter site.
9. SEO PowerSuite – Rank Tracker
Price: Free, $299 for the Professional
This is a well-recognized tool in the SEO sphere as a powerful rank tracker. SEO PowerSuit's Rank Tracker is certainly one of the most affordable as well.
For a comparatively low yearly charge, it let's you track unlimited keywords, manage unlimited rank tracking projects and many more.

What's more, you can even track unlimited keyword with the free version of the tool. Albeit, in that way, you will be miss saving the projects for future use.
10. Small SEO Tools
Price: Free
Small SEO Tools provides some pretty handy SEO tools for free. Most have them have limitation in what they can do, and their Keyword Rank Checker tool is no different.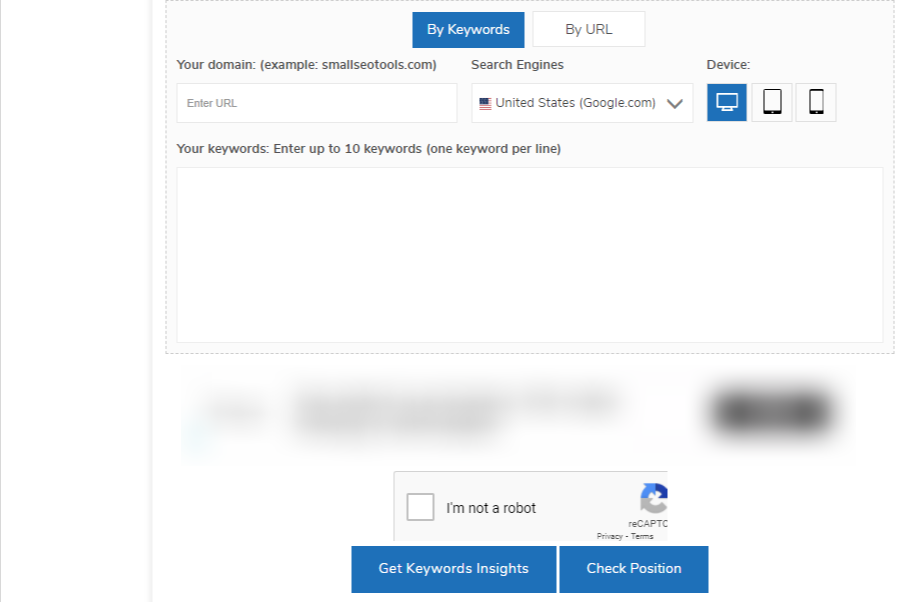 You can check position of as many as 10 keywords at a time, filtering by country and device type. Though, you can not get any option for continuous tracking, they are quite well-equipped being a free SEO tool.
11. Google Search Console (Editors Choice 🏆)
Price: Starts at $99/month
Google Search Console is the most comprehensive tool for rank tracking that you will ever use. As the data is from Google itself, you can be sure that it is 100% accurate and reliable.

You can check both the average position of all your keywords like above. Or you can check their position individually like below.

Because of the guaranteed authenticity and varied actionable data that you can get Google Search Console is our favorite keyword position tracking tool.
However, for a newbie, the results from the Search Console might seem a bit complex, but given some time you'll realize why we love to use Google Search Console. And if you need easier, visualized data, there is always the paid option, right?
Wrapping Up
SEO is the single biggest way of acquiring visitors to a website. That's why we spend a lot of time optimizing our posts, pages, and website for better SEO performance. However, to see what our efforts are resulting into, we must also measure the performance from time to time.
That is where the SEO Rank Tracker tools come in. We have talked about 11 free and premium tools in this article, that will help you track your ranking for keywords. Some tools let you track unlimited keywords and some limit you to a set number. Some let you track keywords continuously to help you better evaluate your performance.
Out of the tools, we hope you will be able to find the one that suits you most. If this article comes in handy, consider liking WP Hive Facebook Page and follow us on @HiveWP Twitter.

https://wphive.com/seo/best-rank-tracker-for-local-seo/
Faisal Sarker
Faisal is a tech blogger who excels at WordPress Content Writing. Apart from sharing useful info pieces that help people around the world, he also likes to travel and read books of all genres in his leisure time.

Subscribe To Our Newsletter