Webflow vs WordPress: Which One to Go for and Why

Webflow and WordPress both are popular website builders. You can create a visually stunning website using either of the builders without writing a single line of code. But which one is better?
An unwise move of not choosing a better website builder can cause you a slow-loading site or site crashing. A study shows that,
pages that load within two seconds have an average bounce rate of 9%, while pages that load in five seconds see their bounce rates skyrocket to 38%
So, before starting building your site, you need to know the answer – which website builder is gonna be your perfect choice.
To find out the answer, we have arranged a head-to-head battle between Webflow vs WordPress. So, let's see who wins the battle and eventually perceive our answer.
Webflow vs WordPress: Parameters to Compare


These are the parameters that we have fixed to compare WordPress vs Webflow. We have spent hours examining each of the parameters and eventually reached at our verdict on which one is better between these two website builders.
So, at first, go through this list of parameters and then we will make our deep dive.
Note: We have given our recommendation between WordPress vs Webflow at the end of this blog. So, don't forget to check that after getting finished with this head-to-head battle.
1. Market Share
WordPress was launched back in 2003. And Webflow was launched in 2013. So, there is supposed to be a huge difference between their market share. But the question is how much! Let's find it out.
WordPress Market Share
WordPress is open-source and free software. It means anyone can download and use it to create websites to make their online presence. This flexibility makes WordPress more popular than any other website builder.
Now, WordPress powers more than 40% of the internet. That means it is used by more than one out of every three sites around the world.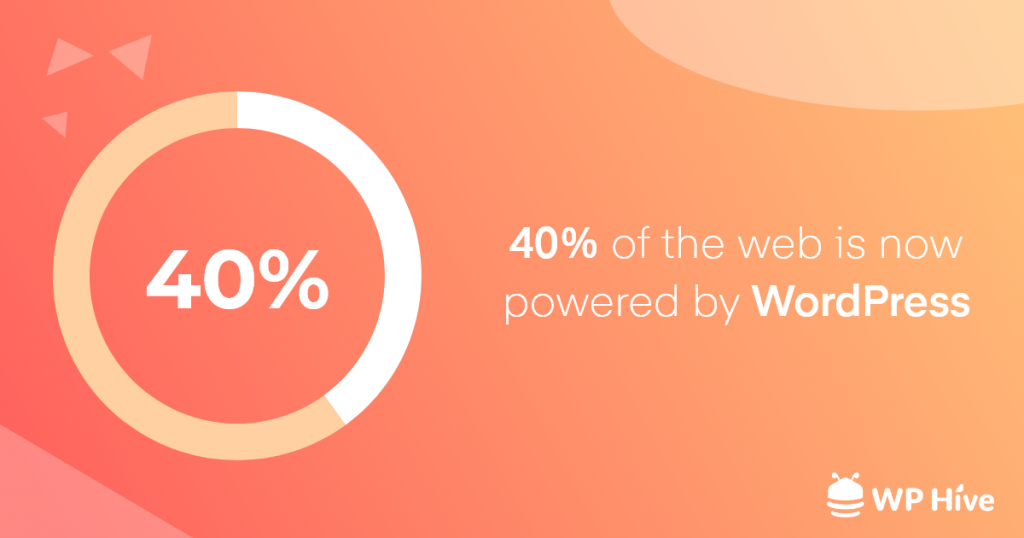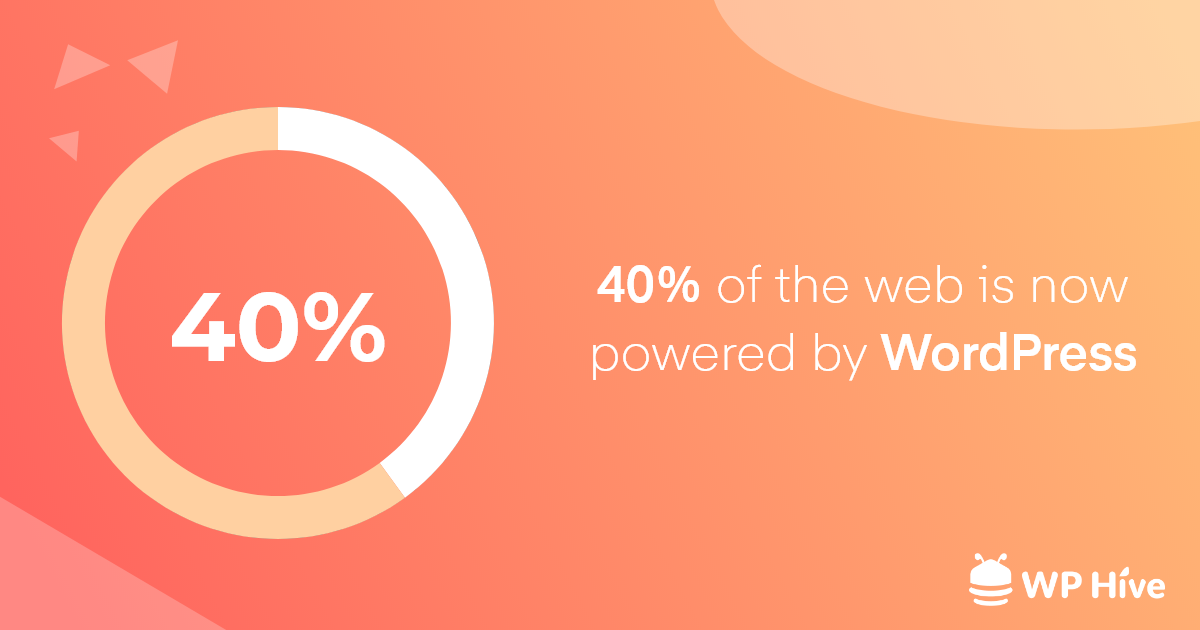 Moreover, it remains by far the most widely used CMS (63.6% market share) on the planet, far ahead of its main competitors. In total, it is estimated that more than 27 million sites on the web are running WordPress.
Webflow Market Share
WebFlow is like a canvas for web designers. You can design your website easily using its drag and drop builder. So, there is no need to be an expert in coding for building websites.
In total, Webflow is used by 0.3% of websites worldwide. And if we think about CMS market share then it covers 0.5% of the CMS market.
So, it is clear that WordPress covers a lot more of the internet than Webflow.
2. Ease of Use

When you have to choose an option over another between WordPress and Webflow, ease of use is a crucial point to check. You are not going to choose a platform that will make you frustrated while using that platform.
WordPress Ease of Use
The first step to using WordPress is to install it on your localhost or cPanel. If you are a very first-time user of WordPress, you need to know how to install it.
After getting to know about the installment process, you should not face any difficulties with further installations. After all, it's a fairly easy procedure to install WordPress.
After installing WordPress, you'll get a fresh dashboard to start your WordPress journey.
The main admin menu for WordPress can be found on the left-hand side of the admin area. Everything can be controlled from here, including posts, pages, themes, plugins, and settings.

You can install any WordPress plugin from the WordPress repository. There are thousands of free plugins available. You can choose according to your requirements.
You can create new pages or blog posts for your site using WordPress visual editor called the block editor. You can create your pages and customize content using blocks. This allows you to make beautiful layouts without ever writing any code.
If you don't like the block editor, there are plenty of drag and drop page builders that you can use instead.
Webflow Ease of Use
There is no installation process of Webflow. You just need to enter your email, desired password, and name. You will then be asked to answer a few questions about your technical experience and the type of website you want to create.
Everything related to publishing content can be found in the Webflow Designer. This includes your website design, pages, CMS collections, and eCommerce products.
Blog posts, categories, projects, events, listings, and other types of content can be created using CMS collections.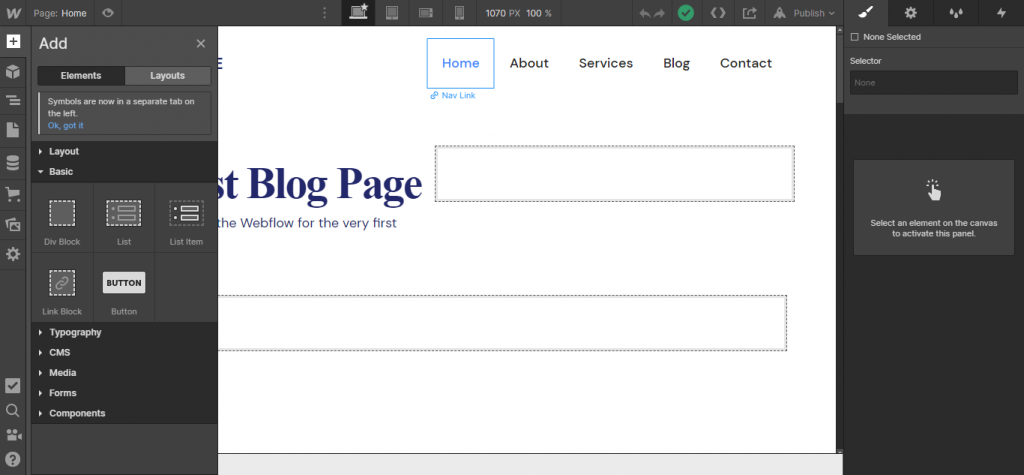 If you have never experienced Webflow Designer, you may face some complications. But there are video tutorials to help you out. The best way to get started with Webflow is to use its premade templates and seek help from the video tutorials if needed.
In the dashboard area, you can configure website settings, hosting, billing, SEO, backups, integrations with third-party services, and more.
Webflow is made for designers and developers. If you are a content publisher, then you may miss features that are quite common among other CMS platforms. This includes post types, categories, tags, discussions, comments, etc.
3. User Interface and Templates
Both WordPress and Webflow come with easy to use user interfaces and number of premade templates. Having said that, who provides the easiest user interface and more amount of templates is what we tried to find out.
WordPress User Interface and Templates
WordPress interface is just like a drag-and-drop editor. You can drag any block or add from the left side menu and drop it to your editor to edit the block as per your need.
Apart from WordPress built-in editor, there are a few popular editors like Elementor, Divi, and Beaver that you can use easily integrate and use with your WordPress dashboard.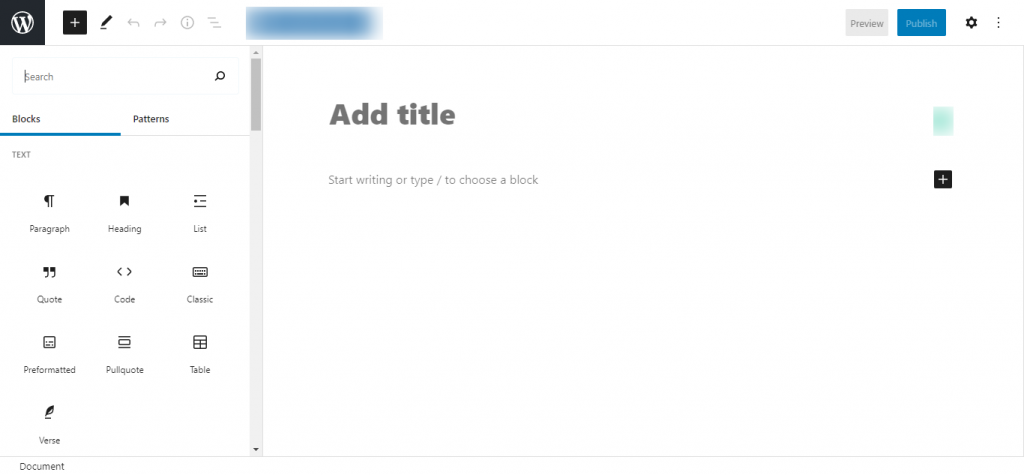 As WordPress has the largest community of website owners and developers online, you have access to a huge collection of free and premium themes and plugins.
There are around 4,000 free WordPress themes in the WordPress themes directory and thousands of free and premium designs are available from third-party developers.
You can install themes listed at WordPress.org directly within the admin area and third-party themes can be uploaded in ZIP format.
Webflow User Interface and Templates
Webflow Designer (interface) is filled with lots of settings, functions, dots, symbols, and many more. You can use premade layouts to construct pages in seconds and the structure of the page can be viewed using the built-in navigator.
All you have to do is click on a part of your page to change its design, size, colors, and more.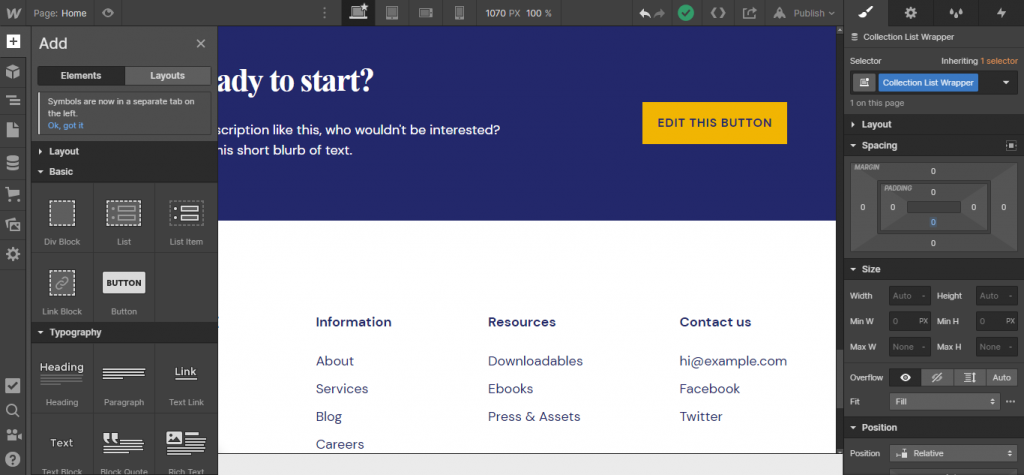 There are some useful options for developers, too, including a style manager and an option to export code such as HTML, CSS, and Javascript.
Interactions are an awesome feature as they let you set triggers for certain actions. For example, you can animate an element when a visitor hovers over a part of the page or when they are scrolling.
Webflow offers limited (around 100) but yet powerful templates to choose from. For each template, you can see a description, screenshot previews, and a list of features. Templates can be previewed in the browser or within the Webflow Designer.
4. CMS Functionality
Content Management System functionality includes the flexibility of creating and publishing content right from your dashboard. Both platforms help you to create and manage content but their working procedures are different.
WordPress CMS Functionality
WordPress is a true content management system. You can add as many posts, pages, users, or images as you need. WordPress can get a little bloated as you add more plugins, but there is no denying that it's one of the most powerful and flexible solutions available online.
Whenever you want to create and publish rich media content, you just need to choose the block and edit it as you need. It gives you full freedom to write, edit, update and manage content, adjust SEO settings, upload images, integrate social media files, etc.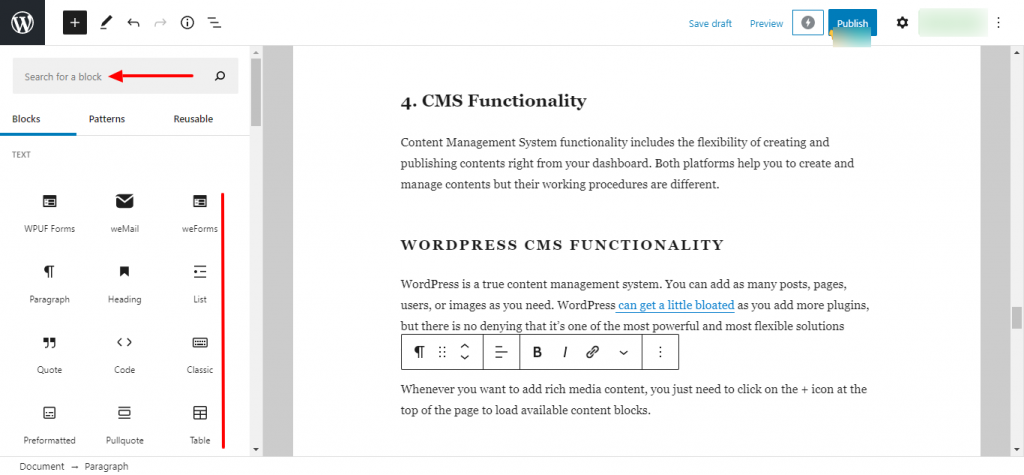 Webflow CMS Functionality
Webflow allows you to easily add pages and assign them to folders. For each page, you can define the title, page slug, and SEO settings. Pages can also be password protected.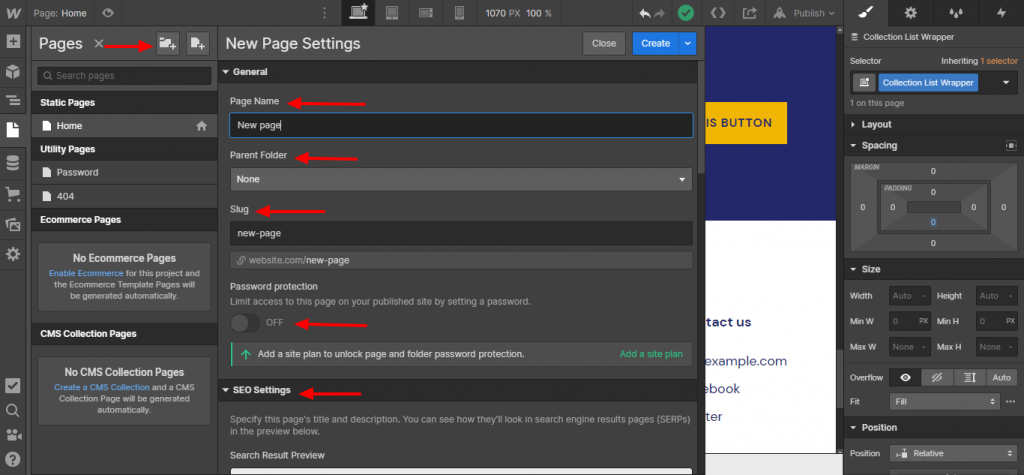 It enables you to create content easily but it can be a frustrating experience if you are writing a long article, especially as text formatting options are limited to bold, italic, and inserting links.
Another problem is that every Webflow website is limited to 100 pages. Although the CMS collection items such as blog posts, menus, and portfolios don't count as pages. But, definitely, it's a limitation.
5. Security and Maintenance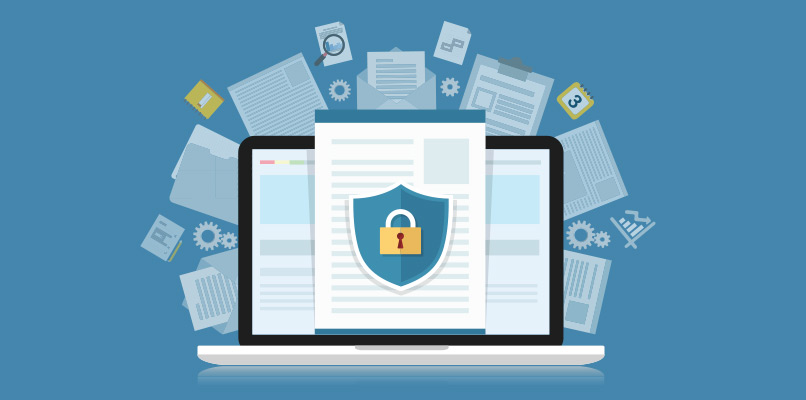 Security is a big concern while you manage a site. Getting your site hacked is an experience no less than a nightmare. Both WordPress and Webflow have some vulnerabilities and strengths in the security and maintenance phase. Let's check it out.
WordPress Security and Maintenance
It's a fact that WordPress is the most hacked CMS in the world. But it is also above all a victim of its popularity. Of course, a CMS with a 1% market share will suffer fewer attacks than one with more than 60%.
Though the WordPress core is very secure, the third-party themes and plugins that you overlay on it, webmasters' bad practices, and lack of software updates can get your site affected.
Taking proper security steps and using a security plugin can help you from these vulnerabilities.
Webflow Security and Maintenace
In terms of security, Webflow does a pretty good job. It automatically activates an SSL certificate on each of its installations. This certificate allows your site to pass through HTTPS, a protocol that secures the connection to a website.
Moreover, you don't have to worry about updates and maintenance: the tool takes care of it for you.
As Webflow doesn't allow you to use any third-party plugins. So, the chances of being hacked a Webflow website is lower than WordPress. It also automatically backs up your site, which you can restore at any time.
6. SEO Optimization
When you're thinking of creating a CMS website, SEO optimization is a must to get traffic to your website. Webflow will give you the opportunity to optimize SEO without using any third-party plugins.
On the contrary, WordPress needs a plugin to optimize your website for SEO. Let's check the procedures of how they work.
WordPress SEO Optimization
Though you will need an SEO plugin to optimize your WordPress site, using an SEO plugin you will get extensive features for SEO optimization.
It will let you optimize the URL, title, meta description, alt tag, internal and external links, keyword stuffing, and other crucial settings to get ranked on the search engine results page (SERP).
How well WordPress is in SEO optimization? Here is an example. If we search "WordPress vs Webflow" on Google, almost every ranked article belongs to the WordPress site.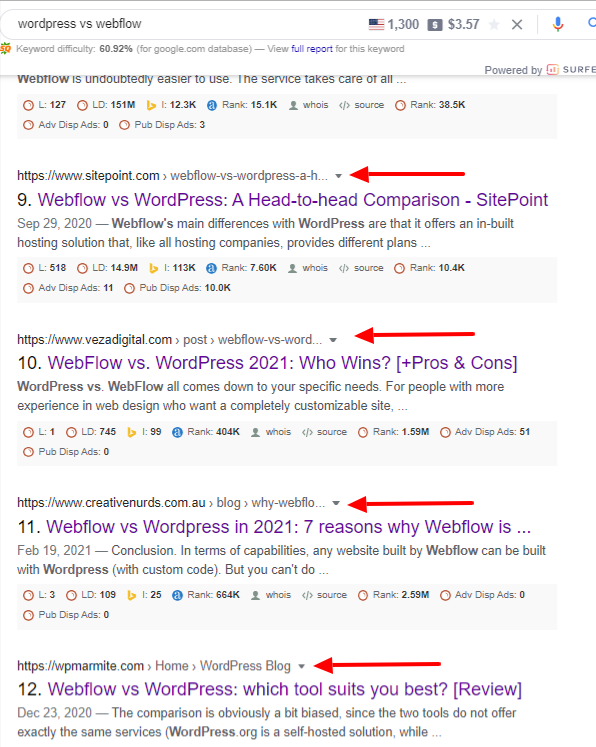 Core WordPress is automatically optimized for SEO. our recommendation is to use an easy-to-use SEO tool to make your site more optimized for SEO and ensure top ranking on search engines.
Webflow SEO Optimization
"Improve your SEO, without plugins" – Webflow.
With Webflow, you can natively edit very important SEO tags, such as title and meta-description tags.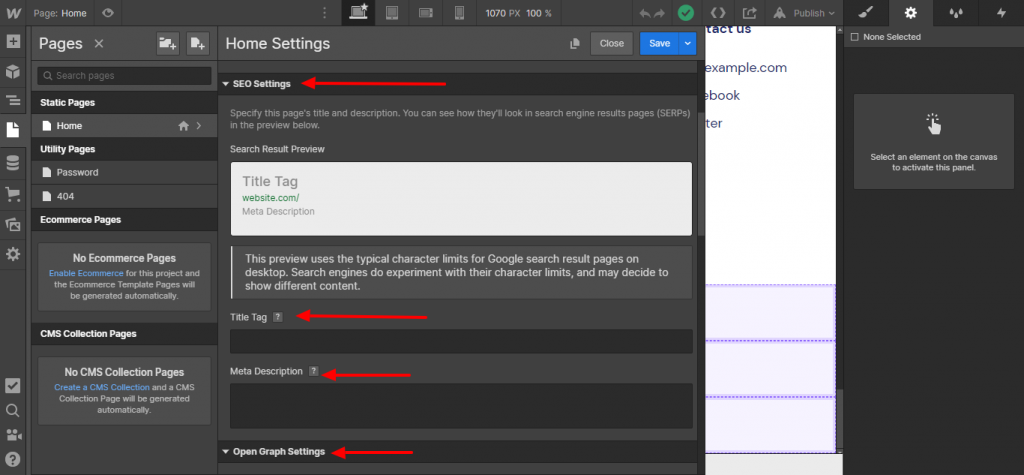 It is also possible to make Open Graph settings, adding a title, a meta description, and the URL pointing to your image.
Moreover, Webflow is able to automatically generate the sitemap of your site. It also lets you control the creation of 301 redirects and a Robots.txt file.
7. Addons and Integration

It's quite impossible to get all the features that you want to get for your website from a single website builder. That is why it allows third-party integrations. Let's find out how Webflow vs WordPress handles integrations and add-ons.
WordPress Addons and Integration
WordPress is famous for its flexibility to allow third-party addons and integration. WordPress has over 57,000 + plugins. It may exceed on the basis of premium plugins.
The features offered by these plugins include everything from security, backups, SEO features, installing Google Analytics, contact forms, etc.
WordPress invites all the third-party tools and services which may help growing businesses.
Apart from this extensive list of plugins, you can also choose third-party addons to your site if you need them. It works seamlessly with your WordPress website
Webflow Addons and Integration
Webflow also allows third-party integration. But the amount of third-party integrations is comparatively fewer than WordPress. Most of the integrations require you to follow the demo tutorial in order to connect them to your project.
The integrations may also affect you negatively if you switch hosting services. Such as, the new hosting may not support forms and you will need to find ways to fix them.
8. eCommerce Opportunity

If you want to sell online products, creating an eCommerce site is a must. You can turn your website into an online marketplace in a few clicks using both WordPress and Webflow. You just need to know the right procedures.
WordPress eCommerce Opportunity
Using WordPress, you can easily create and manage an online shop or marketplace. For doing that, you will need an eCommerce plugin like WooCommerce.
WooCommerce is the most popular one. Of all the online stores on the web, WooCommerce powers 28% of the total. It is easy to use and reliable. Not to mention, it's FREE.
Like WooCommerce, every other eCommerce plugin has a free version, so you can create an eCommerce website freely using this plugin. And needless to say that you can go for the pro version anytime when you feel you need more features.
Webflow eCommerce Opportunity
Using Webflow you can also run an online shop or marketplace easily. For doing so, you will need to buy a Webflow pro plan. Plans start from an effective rate of $29 per month.
Webflow gives you complete control over your website. All the pages are equally customized either it's the product page or the checkout page. It also lets you accept payments from over 200 countries using credit cards, Stripe, Apple Pay, Google Pay, and PayPal.
Though Webflow is an interesting eCommerce option, WordPress remains the most popular website platform for shop owners.
9. Support System

Support system is important. Because everyone from veterans to newbies may need support while using these website builders. So, when you need help, how would you approach them? And how will they respond to you? Let's find out that.
WordPress Support System
WordPress offers different approaches for its support system so that users never feel alone.
You can learn everything from WordPress official documentation. It includes;

Requirements for getting started
How to install WordPress
Basic usage
Customizing process
Security
Troubleshooting, and many more.

You can ask anything and everything to the WordPress forum if you have any queries to sort out.
Apart from these, there are some renowned communities where you can learn about WordPress. We know asking something in front of thousands of people like a WordPress forum may make you shy if you're a beginner.
To help you out of this situation, there are some close communities where you can ask everything and there are experts who can answer back to your queries. So, you can join;
to know what's going on in the industry right now.
Webflow Support System
Like WordPress, Webflow has a few ways to get to know about it and ask questions if you have any.
Webflow hosts a massive library of articles and tutorials called Webflow University. There you'll get;

Video tutorials
How-to guides, and
Step by step articles

Unfortunately, Webflow doesn't provide 24/7 support. Their support ticket system is active between 6:00 am and 6:00 pm (Pacific Time) from Monday to Friday.
Active discussion forum where you can raise your voice.
10. Pricing
Here is our last but not the least point – pricing. When we want to start our business, we try to minimize the cost especially if we are about to start our first business. Let's compare the costs of building a website with Webflow and WordPress and what are your options to keep the costs down.
WordPress Pricing
Be clear of one thing WordPress is completely free to download and use. You can download WordPress from its official site as many times as you want without paying a single penny.
However, you'll need a domain name and hosting plan to get started with a WordPress website. You'll also be paying for any premium plugins, themes, or any third-party service you may need for your business.
You can kickstart your WordPress website-building journey by seeking help from these definitive guides.
Webflow Pricing
Webflow offers a limited free version that allows you to make your website and host it using a subdomain with Webflow branding. If you want to get the fullest of Webflow, you will be needing to buy its pro plans.
Webflow comes with 2 different pricing plans.
Site Plans: This one is priced per site, allows you to use your own domain name (domain price not included), and is priced based on the type of site you want to make. They are divided into Basic, CMS, Business, and Enterprise levels. Each level increases your account limits and adds new features.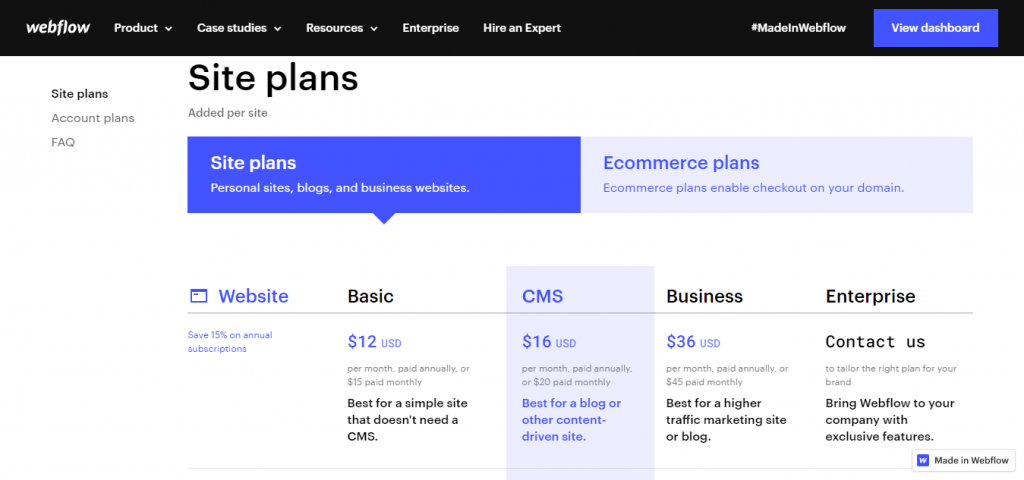 Account Plans: It allows you to manage multiple websites as projects, you can host them with Webflow, or download the code and host them elsewhere. However, things like forms and eCommerce checkout may not work if you export the site code.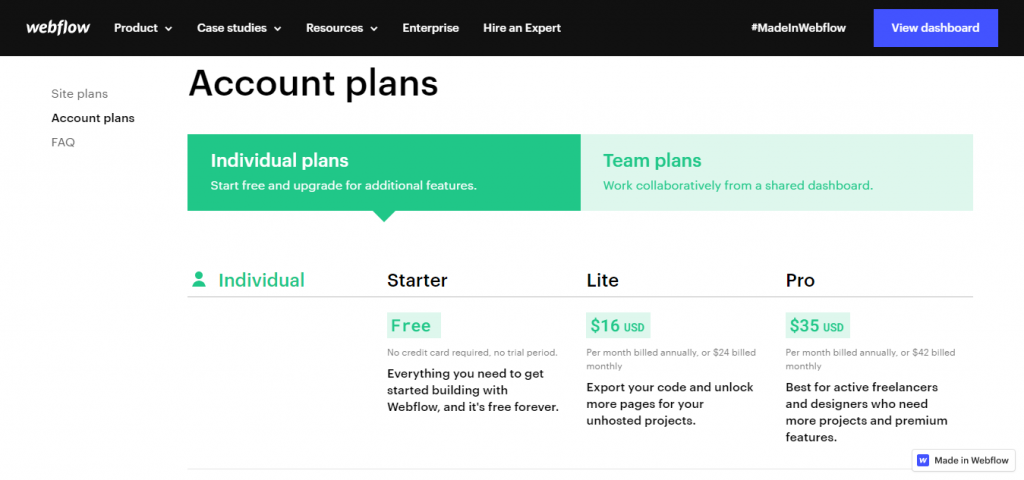 The starting cost of Lite plan is as low as $16 per month. The eCommerce plans start at $29 per month.
Webflow vs WordPress – Comparison Table at a Glance
| | | |
| --- | --- | --- |
| | Webflow | WordPress |
| Market Share | 0.3% of the Internet & 0.5% of Total CMS | 40% of the Internet & 63.6% of Total CMS |
| Ease of Use | 4/5 | 5/5 |
| User Interface and Templates | 100+ Free Templates | 4000+ Free WordPress Themes |
| CMS Functionality | 4/5 | 5/5 |
| Security and Maintenance | 5/5 | 4/5 |
| SEO Optimization | 4/5 | 5/5 |
| Addons and Integration | Very Limited Free Integrations | 57,000+ Free Plugins |
| eCommerce Opportunity | 5/5 | 5/5 |
| Support System | 5/5 | 5/5 |
| Pricing | Both Free and Pro | Free |
So, What's Our Recommendation- Webflow or WordPress?
If we take a close look at the above points that we have discussed elaborately, we can confidently say that WordPress is a way better option than Webflow.
WordPress comes with more design options, flexibility, support, and eCommerce options, and all of this at a lower price.
On the contrary, Webflow was created specifically for web designers and developers who want to bring their ideas to life quickly, aesthetically, and in responsive design. However, it has limited CMS features, flexibility, integrations, and support.
Not mandatory that our recommendation will match yours. You can freely share your feedback and opinion through the comment box below, doesn't matter, if it doesn't match with ours. Thank you.
Also Read: WordPress vs Blogger: Which One is Better? [2023]
https://wphive.com/articles/webflow-vs-wordpress-comparison/
Shams Sumon
Shams is a content writer with a passion for making WordPress topics easy to understand for everyone through conversational and storytelling approaches. With a background in the WordPress industry since 2019, he has developed a knack for breaking down complex technical concepts into digestible bites. When he's not crafting engaging content, Shams can be found watching football matches, catching up on the latest movies, or exploring new destinations to rejuvenate himself.

Subscribe To Our Newsletter