How to Publish a WordPress Site in 2023 (Step by Step)

Nowadays, websites can be created by anyone and everyone. Even if you don't have any experience in graphic design or coding, you can still publish a website.
There are many free platforms that you can use to create your website. The most popular one is WordPress, which is very easy to use and has lots of features. You can also use other tools like Wix, Weebly, and Squarespace.
In this article, we will show you how to publish a WordPress site step by step. We will also share how much it costs and what to keep in mind before and after publishing a website.
Let's get started.
What Does Publishing a Website Means?

Before we get started with publishing your site, let's talk about what publishing a website means in general terms.
In simple terms, publishing a website means that you are officially in business. Your website is now open for the public to browse.
To be more specific, you have a domain name that people can access. You will need to have content on that website that people would want to read and know about.
So how to publish a WordPress site and start your business presence online? Here's all you need to know about how to publish a WordPress site.
How to Publish a WordPress Site (In 5 Easy Steps)


Publishing a site is a lengthy process, especially if you have to do it by manual coding. However, WordPress has made the process of publishing websites way easier to do. You can create and publish a whole website in just 5 simple steps.
Get a Domain Name
Purchase Hosting Service
Install WordPress
Choose a Theme
Install a Page Builder
If you follow these 5 steps, you'll be able to publish your site. So, let's get started with the process.
Get a Domain Name
A domain name is needed to publish a website. Without it, you won't be able to use a web address like www.yourwebsite.com and share your site with the world.
A domain name is what gives your site identity on the Internet — and it's an important part of creating a professional-looking, search-engine-friendly site that people will want to visit.
The primary purpose of having a domain name is to distinguish one internet presence from another. It's like having your own online business card on the internet. While purchasing a domain name, make sure to choose an easy-to-remember and a short one.
Purchase Hosting Service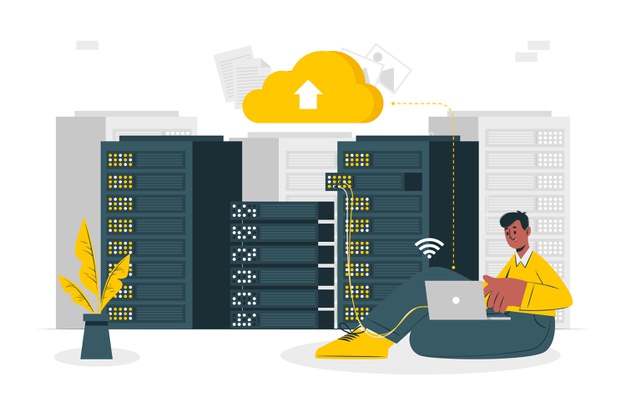 The next thing you would require to publish a website is hosting. Hosting is a computer server that stores, manages, and distributes files on the Internet. A web host is a place where your website will be stored.
Whenever a visitor will enter your domain name on their browser, the website will load from the hosting server.
A web host also handles things like website email, database, encryption, and many other server-side features.
There are different hosting types that you have to choose between.
Shared hosting – Best for small-scale websites like portfolios or business websites.
Dedicated hosting – Best for medium to large-scale websites like eCommerce.
VPS (virtual private server) hosting – Best for high-traffic websites that require constant uptime.
Cloud hosting – Best for websites that needs to be fast and gets traffic from around the world.
You may also want to try WordPress-focused hosting for better performance on your WordPress site. Your hosting also dictates how many websites you can host.
So if you need to host multiple websites on single hosting, choose your service accordingly. Furthermore, make sure to purchase from the best hosting service providers for better uptime and service.

Install WordPress
This is the main step to publishing a WordPress site albeit it's the easiest one. Once you purchase your hosting service, installing WordPress will become very easy. Almost all of the hosting service providers have pre-built options to install WordPress.
Once you find the option, all you need to input is the site name, admin username, and password, while also filling up the basic information. After that, just proceed to install WordPress on your hosting.
Choose a Theme

Since WordPress does not require you to do manual coding to design and develop your website, themes become a crucial part of publishing your website.
Themes provide the basic look and feel of your site. They define how your website will look like, what colors will you use and what fonts will you use. Themes make it possible for you to have complete control over the design of your site without having to customize every element by coding.
Most WordPress themes also bring starter templates and allow users to build their websites using ready-made designs.
These designs usually include logos and images that will be used throughout the entire site; however, there can also be customization options available that allow users to modify or add more elements.
Although Gutenberg (a built-in WordPress feature that allows full site editing) made it easy to customize how the WordPress site looks, for more detailed customization, most people use page builders.
Related: How to Install a WordPress Theme (Three Easy Ways for Beginners)
Install a Page Builder

For a WordPress website, installing a page builder is not mandatory. You can design your website by just using themes. However, page builders make it easy to customize the look of a website using drag and drop editing.
They are easy to use and let you create an interactive experience using common elements like images, videos, text, and such.
Top page builders also have multiple addons to further extend their feature-set. The most popular page builder for WordPress is Elementor, followed by Beaver Builder, WP Bakery, Brizy, and many others.
Publish Your Website
Once you are done with creating a unique design and adding appropriate features to your website. You would finally be ready for the final step, publishing your WordPress site.
You can start by installing an SEO plugin, submitting your website to search engines, and promoting it on your social channels.
And there you go. You have finally unveiled your brand new website to the world. Are you ready to brag about it?
Related: 20+ Best WordPress Plugins You Must Have in 2023
How Much Does it Cost to Publish Your WordPress Site?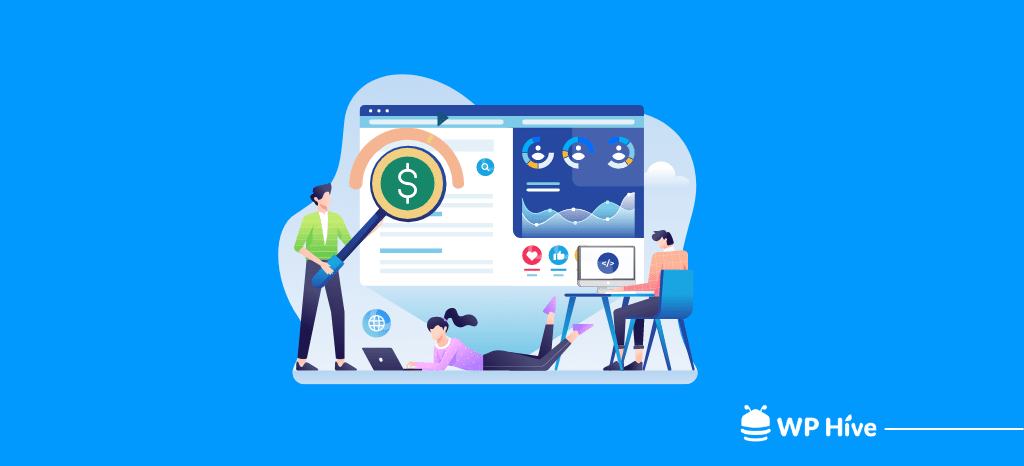 So what is the total cost to publish a WordPress site for a personal, business, or eCommerce website? This question can appear on your mind, which is in fact a valid question.
So we also accumulated the cost of publishing a WordPress site. Here's how much it costs to publish a WordPress site.
| Details | Cost | Payment Type |
| --- | --- | --- |
| Domain Name | $12 | Recurring (Yearly) |
| Hosting | $1.99-$50.00 (Approx) | Recurring (Monthly) |
| Theme | $0-$100 | Recurring (Yearly) |
| Page Builder | $49-$300 | Recurring (Yearly) |
| Other Plugins | $100-$500 | Recurring (Yearly) |
| Security | $0-$200 | Recurring (Yearly) |
| Other Costs | $0-$500 | Recurring (Yearly) |
Overall, the cost to start a website can start from $150 to $1000 depending on the size and features needed.
What to Make Sure of Before Publishing Your WordPress Site?

After you complete all the process of publishing your WordPress site, there are some things you should check. Here are the things you need to make sure of before you hit that launch button of no-return.
Manually check everything, again – Even after you are done with everything, make sure to double-check each and everything, starting from content, button, link, image, and other elements. Overall you should make sure that –

It has all the sections you have planned for.
Everything is tested again and again
You have external feedback
It is good enough both content and UX-wise for launching
Test responsiveness of your website – Responsiveness is a must in modern websites. That's why you should always test your website with different devices before launching.
Set up Google Analytics – After launching you need to track how many visitors you are getting, their demographics, and their behavior on your site. To get all this data, you need to set up Google Analytics before on your website before you release it to the public.
Creating business email/s – Almost all hosting comes with 1 or more business email support. Before launching a website, create 1 or more business emails from your hosting control panel. This will increase the trust and reliability of your website.
Optimize your website for SEO – Withing SEO optimization, no one can find your website on the internet. That is why SEO optimization is a must for any website. Consider installing an SEO plugin and optimizing your pages and posts for SEO.
Steps to Take After Publishing Your Site


So you've published the website. Now you are done with all the work, and you're going to get a lot of traffic overnight, right? Wrong!
Even after you launch your website, you need to take sufficient measures to drive relevant traffic to your website.
Submit your website to multiple search engines – Submitting your website to the search engines will help them find your website faster. This is will gear you up for traffic in a quick time. Consider installing an SEO plugin like Rank Math SEO to easily submit your site to search engines. SEO plugins will also automatically create robots.txt and sitemap files required for search engines to crawl your website.
Promote your website through proper digital marketing practices – Start promoting your website through multiple channels by following the digital marketing best practices to reach your target audience. This will help you get more traffic outside of the organic search.
Create new content – Content builds trust and that's why they are called the king. Creating valuable content is great to grow a loyal audience base.
Related: How to Write a Blog Post (Step By Step Guide)
Publish Your Dream WordPress Site Today
Indeed, many entrepreneurs and small businesses have already taken advantage of WordPress, the powerful platform to build a website.
Given the popularity of WordPress among developers, it's a great choice for those who want to customize their site or blog in ways that aren't available through most other platforms, and that too without a single line of code.
It also has the appeal of being free to use and relatively easy to set up.
We hope this guide has been helpful for you to plan how to publish a WordPress site. If you have any more queries, do let us know in the comment section below.
https://wphive.com/wordpress/how-to-publish-a-wordpress-site/
Faisal Sarker
Faisal is a tech blogger who excels at WordPress Content Writing. Apart from sharing useful info pieces that help people around the world, he also likes to travel and read books of all genres in his leisure time.

Subscribe To Our Newsletter