How to Schedule WordPress Posts – Step by Step [2023]

WordPress is popular nowadays and above 32% of the websites of the whole internet use WordPress on a daily basis. Recently WordPress had its latest launch with WordPress 5.0: Gutenberg which has made the entire experience a lot better than before.
Immense popularity also has some cons. WordPress has the highest infection rate among other CMSes like Squarespace, Typepad or Wix.
Writing a WordPress post is easy. You just have to log in to your dashboard, Add a new post and as soon as the editor opens, you can start writing and publishing. That is why WordPress is very popular with businesses, regular users, writers, eCommerce businesses, and developers. You can use our tutorial to learn how to schedule a post for a later date in WordPress.
WordPress currently has more than 30000 themes and plugins on its plugin and theme repository. You can check out coverage of the best WordPress plugins list to know more about the best plugins.
How to Schedule WordPress Posts Easily?
Publishing and drafting a WordPress post is also very easy. However, there may be cases when you do not want to publish a post right away, and you want to schedule them.
If you want to schedule WordPress posts according to your reader's time zone, then you have to change your WordPress Dashboard's time zone first.
Changing WordPress Dashboard Timezone:
Go to WordPress Dashboard,
Go to the Settings section.
Click on General.
Select the appropriate time zone in the Time Zone Option & Save Changes.
You can schedule a WordPress post for a later date easily. All you have to do is to go to the date section in the WordPress post editor.
How to Schedule a WordPress Post to Publish on a Later Date?
Step 1
After you have completed writing your post, adequately implemented all the best SEO tips, incorporated all the best blogging practices and you are ready to schedule a WordPress, then go to the Publish meta-box section of WordPress post publishing. Click on Edit
Step 2
A date picker will pop up, and you can select your desired date and time from there. However, you have to remember that, you have to specify the time in the 24-hour clock time format. e.g., 2 PM will be written as 14:00.
The time will be based on your Time Zone settings in your Settings -> General page.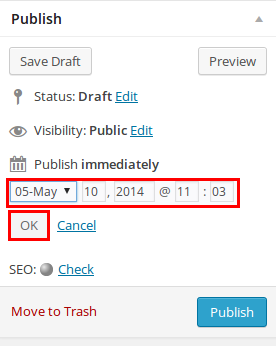 Click on OK & then on Schedule button like the following image.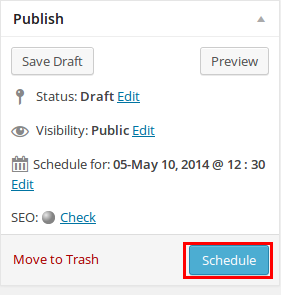 If you want, you can repeat the whole process to re-schedule WordPress posts.
How to Edit WordPress Posts Date to a Past Date?
Also, you can change a WordPress post date to a past date if you want. Just click the "Edit" button on Post Metabox like before and select a past date from the present time. Click update, and you will notice that your post will be updated with an older date.
WordPress Plugins to Schedule Post
Easy Scheduled Posts
Easy Scheduled Posts makes it really easy to add scheduled posts to any theme. This plugin provides options to developers to create a list of upcoming events. The events can be displayed in a WordPress theme.
Auto-Schedule Posts
Auto-Schedule Posts enables users to distinguish their writing schedule from their publishing schedule. It is very important in some cases because, in multilingual or multi-author blogs, there are schedules to maintain. You can set the publication dates, or set a minimum time period between posts. Scheduling WordPress posts become easier using this plugin.
3. Editorial Calender
Editorial Calendar
Editorial Calendar gives you an overview of your entire blog and when each post will be published. You can schedule WordPress posts efficiently using this plugin.
Drag and drop to change your post dates. (Really helpful!)
See all of your posts in a calendar
Manage your drafts with our new drafts drawer.
Quick edit post titles, contents, and times.
See the video to have a demo!
4. Strive Content Calendar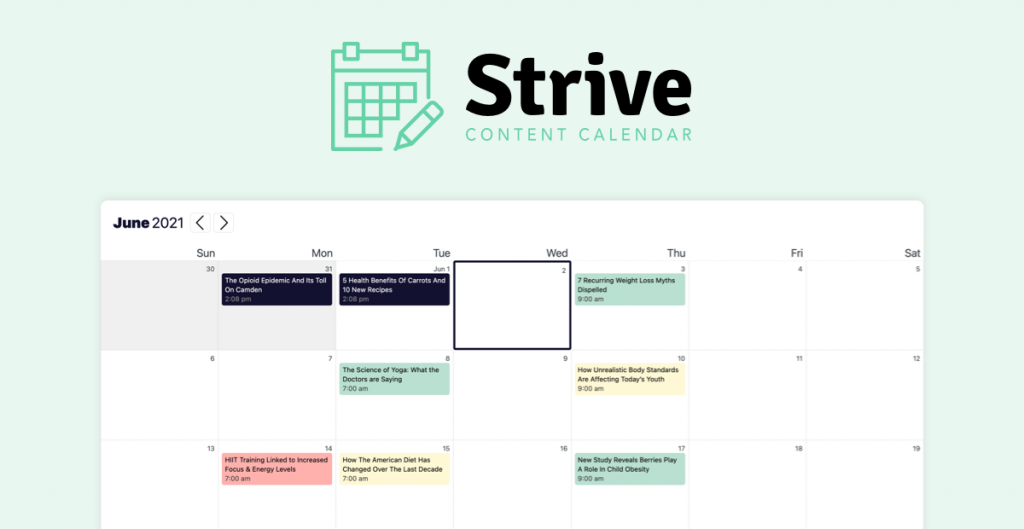 Strive Content Calendar makes it easy to plan and visualize your publishing schedule. Use the editorial calendar to add, edit, and schedule your posts. It also includes a few other handy features, such as revisions for republishing outdated articles, custom checklists, and editorial statuses.
Wrapping Up
So that's it. It is effortless to change the date in WordPress post or scheduling WordPress posts for a later date. It is critical that you take care of your WordPress site security. You can check our WordPress security guideline to secure your WordPress website from malicious attacks.
If you want to speed things up on your WordPress site check out our coverage on ten ways to boost your WordPress site speeds.
If you have liked our tutorial, then please share it on Facebook or Twitter.
https://wphive.com/tutorials/how-to-schedule-wordpress-posts-step-by-step/
Saif Hassan
Product Manager by passion & profession. Lead Product Manager at weDevs, former PM @ Poptin. Passionate about writing & tech. He's an advocate of Human-Centered Design and believes that websites and the tools used to build them should be well crafted, intuitive, and accessible. Cyclist. Reader. A WordPress ninja 🥷, HCI expert & a design thinker 💡

Subscribe To Our Newsletter